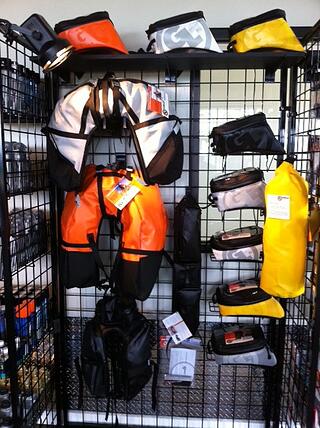 A quick Friday-congrats goes out to Acme Rider Supply for the launch of their new website and excellent selection of tankbags, riding gear, and various tools and accessories that all revolve around Dual Sport RIDING!

Stopping by their shop recently, I noticed the great selection of the ultra-tough tank and saddlebag offerings from Giant Loop Moto (picture right) and other top parts & gear manufacturers. Looks like the Shorai Lithium batteries which are gaining huge popularity are in high-demand at Acme Rider as well.

Acme Rider Supply's management and ownership comes from long experience both in riding and the motorcycle parts & accessories industry, so you can rest assured that their product knowledge will help make your shopping experience easy.

Perfectly positioned near the north Georgia Mountains, Blue Ridge Parkway, and Smoky Mountains area, Atlanta area riders in particular will find plenty of dual sport motorcycle needs along the way to their weekend rides. When we're not out of the country on international dual sport motorcycle tours, you just might see the RIDE Adventures BMW R1200GS Adventure there as well! Enjoy your shopping, and don't hesitate to share your product experiences with us as we continue to blog about various motorcycle parts and accessories as well.