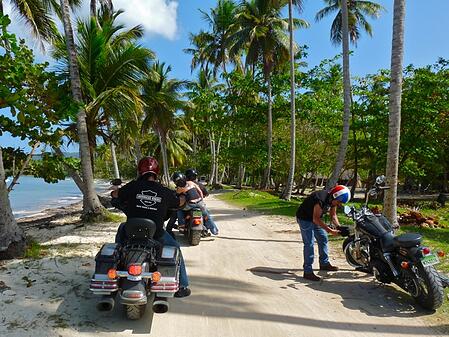 If you haven't booked a winter motorcycle trip yet or some opportunity to eliminate those grey, sun-deprived days, you might be sorry once again...
OR, you could be one of the lucky Harley-Davidson riders that are booking our Harley-Davidson in the Caribbean tour and your riding itch, Vitamin D needs, partying desires, and adventure ideas will all be taken care of in this fantastic 6-day, 7 night all-inclusive vacation. Harley Included!
Check out the pictures shown on the webpage, and of course the dates where public spots are available for you or a couple of friends to join. The remaining dates throughout the year are left open for private group tours, corporate functions, H.O.G. Chapter getaways, and the like. Keep in mind that H.O.G. Chapters get discounts.
The weather might be great now in the Northern Hemisphere, but do you seriously think you'll be riding much in February?