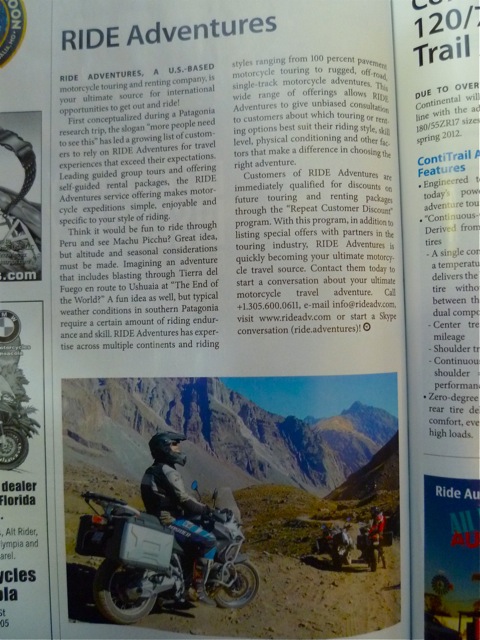 Our thanks to the BMW Motorcycle Owners of America's Owners News magazine for publishing this press release about RIDE Adventures, LLC!
Such a large part of our marketing strategy has been traveling to motorcycle events and rallies and actually trying to meet with riders in person that little has been done until now to have a print media presence. Juggling this intense travel schedule along with researching and guiding tours sure can be overbearing at times, so this press release serves as a good reminder that there are other ways to remind everyone that, RIDE Adventures is here to help you with your motorcycle travel wishes.
Be sure to join the BMW MOA if you already haven't, no matter what brand of motorcycle you own. (It's not a brand-specific organization.) Members get access to great motorcycle industry information, safety tips & advice, and great inspirational stories from motorcycle travel experiences, all together in the monthly Owner's News Magazine. In fact, as you get further involved in this rider's community, you'll be sure to recognize the stories of other riders and their amazing expeditions. For example, Doug Laird's journey from Deadhorse, Alaska to Ushuaia, Argentina was listed on Page 54 of this same ON issue. We had dinner with Doug in Santiago, Chile just about 6 months ago as he was nearing the end of that same trip!
All good fun and good people in this motorcycle community...looking forward to seeing you out there, and helping you plan your next motorcycle trip.