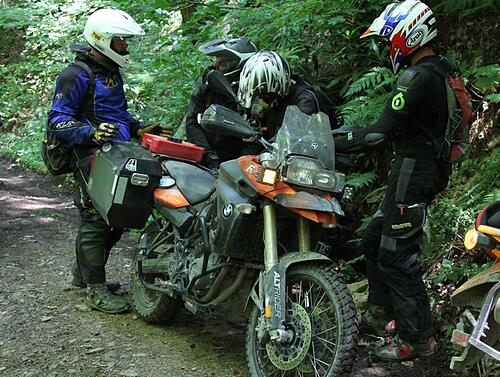 Looking back at this photo from the recent AltRider "Conserve the Ride" event in Pennsylvania, I'm reminded of how often the question arises: "Aren't those riding pants hot?"
There we were on a hot summer day, back in the woods with little air circulation, and putting a cameraman's bike back together after a small tumble. On the left in the Blue jersey, I'm wearing Klim's Adventure Rally Pants as always, and am perfectly comfortable in the heat. The airflow they offer with those enormous intake vents combined with a breathable GORE-TEX Pro Shell material works great. Yea, I sweat....but it's not like other riders I've seen who have to drop their pants around their ankles at every rest break because their "junk" is too hot! (Hello, Barking Spider Gang? Dry Balls Dave? Thor? Marc? Paulo? Are you there?)
This wouldn't be so amazing, except for the fact that these pants are the best in the rain, sleet, and snow as well. Trust me...doing motorcycle tours in places like Patagonia, I've ridden through it all...
Anyway, just wanted to mention how fantastic Klim's gear continues to perform. Once described to me as the "Nike" of the snowmobiling world, it's no doubt they're on the way to similar status in the adventure motorcycle touring and travel world as well. (Want to learn more about packing for your motorcycle vacation?)