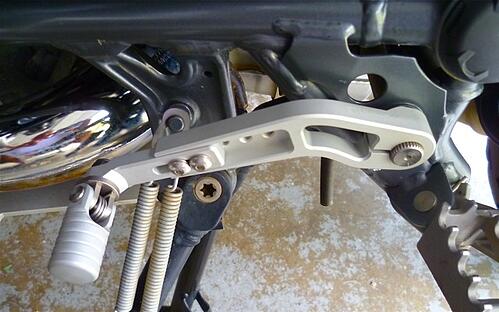 As fine a bike as BWM's R1200GS Adventure is, the motorcycle is not without its shortcomings.
Speaking of "short," the original shift lever is exactly that for many of us, and especially if you wear full protection motocross or trail boots, you'll probably need a longer shift lever.
Wunderlich's Adjustable/Folding Shift Lever addresses 2 key issues with one great motorcycle accessory: First, with a couple of simple allen bolts, you can custom fit the shift lever to your boot or shoe size. Second, the "tip" of the lever...that part most vulnerable in the event of a crash...folds back with spring action. Chances are good that this feature could save you some trailside woes any given Sunday.
As pointed out in our review of the BMW R1200GS (compared to the KTM 990), one of the BMW's biggest shortcomings is its transmission. Wunderlich's Adjustable Shift Lever is easy to install with their included instructions, looks absolutely great on the BMW, and makes the BMW's "transmission shortcomings" much less of an issue now that you'll have shift lever perfectly fitted to your boot size!