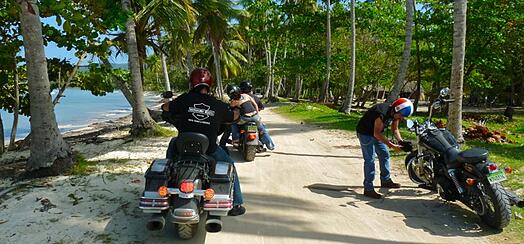 Especially if you're researching a new vacation destination, deciding how to best spend your time and money can be a daunting task. This simple list of the Top 5 Things to do in 1 All-Inclusive Caribbean Vacation should help make it simple for first-timers, and we'll reveal how there's 1 island, 1 country, and 1 incredibly fun way to see it all...
1) Enjoy the Highest Mountains - Be sure to enjoy the highest mountains in the Caribbean Islands, home to the highest peak called "Pico Duarte." If you're feeling fit an adventurous enough, you can climb to the 10,614 foot summit from the town of La Ciénega and enjoy the best views of the country below.
2) Witness that Blue Caribbean Seawater - You've seen it in photographs for years and probably figured those pictures are fake. Truth is, they're NOT! Waters more shallow than the surrounding ocean and a mostly sandy floor beneath combine for a blue sight that pictures will never do justice.
3) SEAFOOD! - You'll be surrounded by it, so why not take advantage of local seafood cuisine, in many cases, watching it carried out of the sea right before your eyes.
4) Enjoy culture, hospitality, and smiles - With a relaxed demeanor, casual way of living life for each day and typically fantastic climate to live in, how could the people of the Caribbean not be a delight to visit? Often curious about visitors from the rest of the world, and proud to show you their country, you'll feel welcome from the moment you arrive.
5) Try Watersports - Whether it's a simple glide on a sea kayak or a kite surfing, paddle surfing or regular surfing experience, the year-round warm weather makes all of the above a pleasure.
We said there was 1 island, 1 country, and 1 single best way to enjoy all this right?
All 5 of these pleasures are found on 1 island: Hispaniola
All 5 are found in 1 country: The Dominican Republic
And the best part is, all 5 of these and so much more can be enjoyed in 1 single ALL-INCLUSIVE HARLEY-DAVIDSON MOTORCYCLE TOUR!