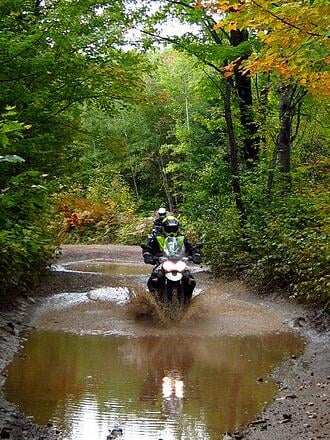 Excitement for our upcoming Trans Wisconsin Adventure Trail tours is building, and each inquiry or booking comes with questions about preparedness. ("What do I need to bring???")

For tires, you'll definitely need something in the "dual sport" category, hopefully with about a 50/50 split of pavement vs. non-paved capability. For this, check with Waukesha, Wisconsin-based Cyclenutz for the Heidenau K60 Scout or other options for your bike.
Another thing to consider is how you'll keep your weekend clothes clean and dry, as we're sure to come across puddles, rain, mud, and dirt. Some might riding with watertight sidecases, and that'll be fine. But if you prefer just using a bag or backpack of sorts, then Cyclenutz also carries the Wolfman Brand dry bags that are perfect for a trip like this.
Planning on bringing your own GPS unit to record or try and follow the route? No need to, as it's a professionally guided tour. But in the event you need to mount a GPS or cell phone on your motorcycle, they also have the RAM brand mounts to secure these items for the tough upcoming riding conditions.
All this and more is available, so call ahead to see if they have what you need to make it through this fantastic weekend journey. Just 2 dates are available this year, September 20-23 and October 11-14. See you soon!