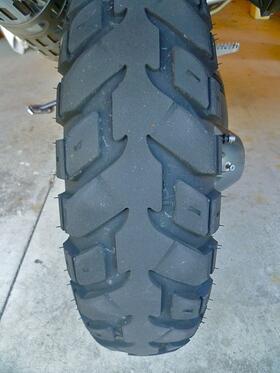 Our riders are gearing up, inspecting their motorcycles, and making last-minute changes for the Trans Wisconsin Adventure Trail tour set to start this Friday morning! One item on everybody's list was to upgrade to a more aggressive, dirt, mud, and sand capable set of dual sport tires.
As the Triumph 1200 Explorers and Tiger 800 XC's, BMW GS models, and Yamaha Super Tenere's seem to be arriving from their factories with fairly docile "80/20" tires meant mostly for pavement, the Trans Wisconsin Adventure Trail demands more of a "50/50" tire, a perfect case for the Heidenau K60 Scout.
Having ridden the Heidenau tire on almost exclusively non-paved terrain in Patagonia before, I knew about it's off road prowess and could vouch for it's aggressive grip on the rocks, sand, mud and dirt in Chile and Argentina.
Back in the U.S. though, I've only recently had the chance to test this tire on more pavement, and am thoroughly impressed by how well the tires stick through the paved twisties as well on my new BMW R1200GS Adventure. What's more, it looks like they'll be good for about 9-10,000 miles! (Shown above with 7,600 miles)
A quick breakdown on the first pair I've used for 7,600 miles so far in the U.S.:
Approx. 1,200 of 7,600 miles were non-paved
Rear tire still has 6mm of tread in the center (about 10mm brand new)
Front tire still has 5mm of tread in the center (about 7mm brand new)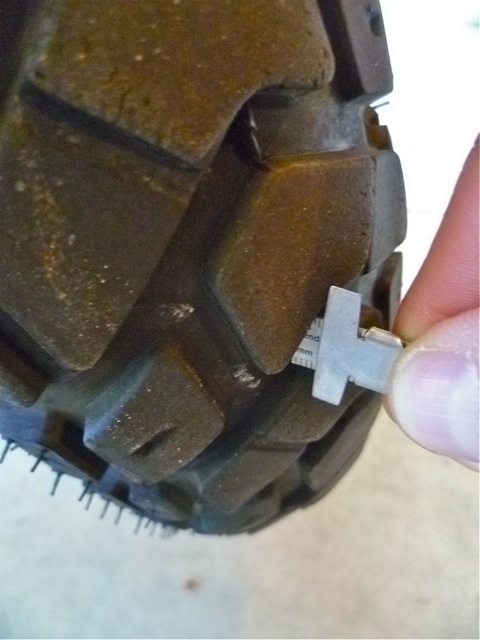 With this much tread still available, (see pic) I would normally finish riding this pair of Heidenau's out for the next couple thousand miles. HOWEVER, this coming weekend's adventure has rain in the forecast, and with the Trans Wisconsin Trail usually being fairly muddy to begin with, I'm going to swap out for a new pair I just ordered from Adventure Designs in California last week.
As it turns out, most of the other riders have made this tire choice as well in preparation for this coming weekend. Heidenau tires will be put to the test in the northwoods of Wisconsin just like they continue to be around the U.S. these days. Careful about this...quite a few retailers have been sold out, so plan ahead and order your next set now!
"Keep the Heidenau side down," and RIDE safe out there. Thanks for your comments.