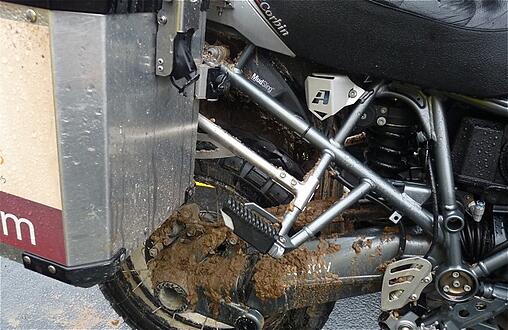 It's working! Look at how clean the rear shock is in the picture...
With the ESA (Electronic Suspension Adjustment) option included on this new 2012 BMW R1200GS Adventure, the thought of getting mud, sand, and dirt all over such sensitive electronics and moving parts sure is unsettling.
Fortunately, the folks at MachineartMoto made the MudSling™ that you see in the picture (notice the logo) and it's designed with the right width and positioning needed to keep mud and dirt off the rear shock and other important parts. Just think about your shock seals and moving parts taking on all the grit you'll be riding through. Think those parts will last much past your warranty period if you don't protect them?
MachineartMoto makes a variety of other products worth noting as well. While we haven't tested it yet, their Avant Front Fender Extender will add protection for the front of your engine and various parts, as it keep rocks and dirt from spitting up so high.
Check out your options for buying the MudSling™ from MachineartMoto, and plan on about 10-15 minutes to install it with a couple of tools you probably already have on your bike. Your rear shock assembly will thank you!