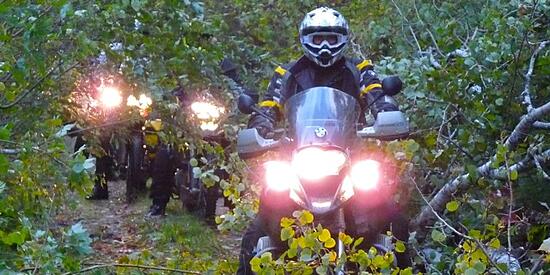 Our first T.W.A.T. tour was a great (but cold) success for sure!
Just being honest here...while our 1st running of the Trans Wisconsin Adventure Trail this past weekend went over great, the unseasonably cold weather in September sure did keep us bundled up to stay warm!
Riders met up at the Chestnut Mountain Resort in Galena on a Thursday night before enduring all the mixed weather, mud, sand, gravel, and dirt the T.W.A.T. route had in store for us. An early start in the rain the next day was followed by a sunny afternoon, and the exact type of mixed riding these Adventure Riders were looking for. In a typical hour of riding, we bounce back and forth between pavement, mud, sand, and gravel at least a half-dozen times.
Of course there were a few "get offs," as the deep sand and mud can shake a rider off their bike from time to time. Nobody was hurt though, and neither were the bikes, so everything continued as planned. Especially for those who had done prior offroad riding training, there was a certain sense of satisfaction about them after each rough section.
Please check out the pics we posted on Facebook, and of course the web page devoted to the Trans Wisconsin Adventure Trail tours. You can still register for a trip this year, and we'll be announcing more dates for the summer of 2013 soon!