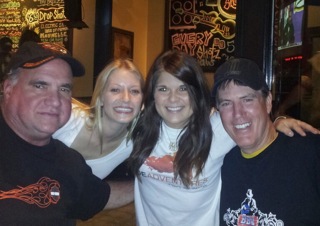 Hey, let's not kid about this: While there's certainly a mix of motorcycle manufacturers represented at Bikes, Blues & BBQ in Northwest Arkansas every year, the Harley owners represent the overwhelming majority!
From the "Miss BBB" contest showcasing some of the prettiest biker girls present to the "Battle of the Bikes" which pits everything from dressers, sport bikes, and cruisers against each other, there are no secrets kept about why this annual bike rally draws such an enormous crowd every year. Live music by great bands, great southern BBQ eatin' obligations, and riding opportunities all around in the gorgeous northwest Arkansas area all make this an event any person (motorcycle rider or not) must witness.
Did you get a chance to meet Rachel and Kaci representing RIDE Adventures, though? (Rachel, don't cover up the company logo with that beautiful long hair!) They were bar-hoppin' right along with you, trying to make sure you know about some winter getaway possibilities we're hosting on a weekly basis down in the Caribbean. That's right: If you missed it, make sure you check out the All-Inclusive Harley-Davidson Riding vacation opportunity we've got waiting for you!
We'll be at BB&B in 2013 as well, more likely as an actual vendor with a booth for you to stop by and visit. While the weather in 2012 was "iffy" at times, let's hope for nothing worse next year and we'll RIDE together through the Ozarks!