Hello Riders!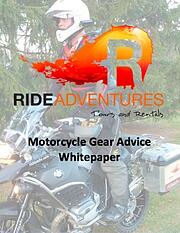 Our Free Whitepaper Download about Motorcycle Gear and our explanation what we use as motorcycle tour guides is now available on this link. Just to give a preview of some of the items we discuss in the document, here's a clip from the part about Waterproof & Abrasion Resistant Outer Shells & Innovative Padding Solutions:
First: Some Typical Mistakes Riders Make
Buying a jacket and pants that claim to be waterproof, but aren't in actual use
Buying a jacket and pants that

are

waterproof, but wearing them without the neck, wrists, waistline, or ankles completely sealed off (then blaming the riding gear)
Choosing gear that has a waterproof liner on the inside, thereby designed to let the entire outside to get soaked and extremely heavy
Wearing non-breathable waterproof gear, and sweating inside to the point of being cold and wet inside anyway
Assuming that if a jacket and pants come with padding built in, that's the best protection
Buying jackets and pants that are too small for them, not allowing extra layers to be added or a "heat pocket" to exist within their outer shell
Believing that you need to wear a "jacket with padding" in order to stay protected, and dealing with all that insulation under the hot sun
Enjoying heated electric gear, and accidentally depending on it
Waterproof Outer Shells: Klim USA
Anything made from GORE-TEX is typically an excellent choice. Why? GORE-TEX products keep the water out while allowing your body to breathe, and therefore keep perspiration from building up and soaking your inner layers. If there are non-GORE-TEX products that claim to be waterproof and breathable: Test that gear before depending on it and heading out on your next big adventure ride.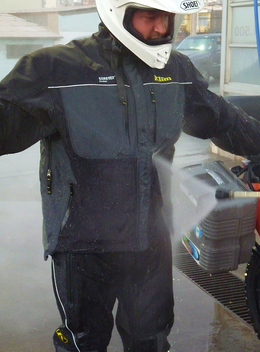 Make sure you're able to completely seal off your neck, wrists, waistline, and ankles with a Velcro enclosure or drawstring that typically comes built into these products. Riders will often blame their expensive riding gear for being falsely advertised as "waterproof," when in fact it's these 6 points on their body or an air vent left open that allowed water to slowly creep into their gear during a ride.
Avoid motorcycle gear that uses an "inner shell" for waterproofing, as it's typically a cheap way to cause you considerable inconvenience. If your outer layers are completely soaked, that means everything in your pockets is soaked too, not to mention the 10-15 lbs. of water weight you've taken on during a short rain shower! Use products that keep the water on the outside.
Maintain the ability to add inner layers for warmth without making your gear too tight, because as altitudes and climates change, so does our need to adapt throughout the ride. Keep in mind though, that packing yourself in there too tightly will keep a warm "heat pocket" from developing, and you might be just as cold as you were without the extra layers. With regards to using heated electric layers to stay warm: Surely they are popular for a reason. But should you really leave extra layers behind and depend on your bike's electrical system or the heated gear itself to keep you warm when the sun goes down?
Click here to see Klim's Motorcycle Jackets
Click here to see Klim's Motorcycle Pants