Got questions about motorcycle travel or you're heading out on an international motorcycle trip you've been planning? A portion of Part 1 from our "International Motorcycle Travel Guide" is shown below, and as always, the entire guide is available as a Free Download on our website!
Part 1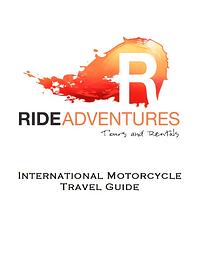 Preparing for departure
Flight needs
Passport
Visas
Driving License
Bank accounts
Shots & Vaccinations
PART 1
PREPARING FOR DEPARTURE

FLIGHTS
Aside from the obvious flight needs getting yourself in and out of your destination countries, do you need to show proof of an "Onward Bound Ticket?"
To help limit the number of travelers that arrive and never leave, some countries require proof upon your arrival that you intend to leave, and an Onward Bound Ticket (flight out of that country) might be required to prove this. Not sure if this is a requirement for you? Check the State Department website of the country that your passport is from, and read through their instructions regarding your travel to each country. For motorcycle/vehicle travel on land between countries, this is rarely a concern. It's the arrival at an international airport that sets the stage for this requirement. Again, check with your home country's State Department.
PASSPORT
Is your passport valid for at least 6 months from the end of your trip? Be sure to check with the State Department of your home country to determine if this is necessary for your passport to be accepted into your destination countries.
VISAS
Requirements for citizens of each country around the world are different depending on which countries you'll be traveling to. Be sure to review your State Department's website regarding the visa options and requirements necessary for entry departure from your destination countries.
DRIVING LICENSE
As a customer of RIDE Adventures, surely your vacation involves the operation of a motorcycle, pickup truck, car, or other type of vehicle. The requirements to operate each type of vehicle might vary according to who the rental provider is, and in what country you will be driving. However, it is generally a requirement in each country (by the local law enforcement authorities) that you hold the international version of your vehicle operator's license. In some countries these can be obtained by a AAA Office or other travel agency, or in some cases it's best to consult with your local government's Driver Licensing Division.
NOTIFY YOUR BANK
As Travellers Cheques are pretty much a thing of the past, you'll be depending on the ability to withdraw funds from Automated Teller Machines (ATM's) in order to replenish spending cash. Western Union is still a widely used option for transferring funds internationally, however this can be quite expensive compared to traveling with your own ATM or credit card.
Be sure to notify your bank(s) that you're going to be traveling internationally, and report to them which countries you'll be travelling to. This does 2 things: a) it notifies the bank that you'll be there, so that when they see activity outside of your home country that each card remains active and available for use. b) It gives you the opportunity to inquire with your bank about your ability to use the card(s) at the typical ATM's in the countries you're going to.

SHOTS & VACCINATIONS
Much like with visas and passports, the requirements for shots & vaccinations will vary by country and depending on which country you're from. Be sure to review the instructions listed on your State Department's website regarding what is both recommended and required for your entrance into each country.
Often a "yellow card" is issued with vaccinations that have been administered, documenting the types of shots you've received and the dates and locations each were done. Be sure to keep this multi-language card with your passport at all times, as it might be the only way you can prove these vaccinations with local authorities.