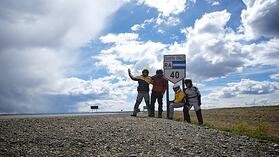 We keep getting similar questions about Tierra del Fuego and motorcycle travel in this mysterious and wind-torn territory. Riders from around the world want to test their skills on the way to Ushuaia at "The End of the World," but the logistics and timing around getting there remain somewhat of a puzzle for people. Also of concern to many riders is the amount of paved vs. non-paved riding they'll have to endure.
Hoping this posting helps you in your quest to arrive in "El fin del Mundo," please see some explanations below. Also keep in mind that you don't even have to think about these things if you plan your guided Patagonia motorcycle trip with us!

Q: Is Tierra del Fuego in Chile, Argentina, or both?
A: Definitely both. Once you cross the Strait of Magellan from either Punta Delgada or Punta Arenas, you're still in Chile until you cross the border at San Sebastian on the way to Rio Grande. Much like Patagonia, Tierra del Fuego is both Chilean and Argentine territory and you'll need specific papers to cross the border in any such case.
Q: If I want to ride a motorcycle to Ushuaia, do I need to ride off-pavement?
A: As of now, that section from Cerro Sombrero, Chile to San Sebastian (the border crossing) remains the only stretch of non-paved road necessary to ride from southern Alaska to Ushuaia. (Although we strongly recommend avoiding the pavement for much of the Alaska-Ushuaia route, as it's the dirt riding, gravel roads, and routes less traveled that typically reveal the best riding and travel experiences. Sure, parts of the Pan-American Highway in southern Colombia and Ecuador are absolutely stunning, but most of that highway is seen as just a "means of travel." If you have the bike and the skill to do so, consult with us about the best motorcycle routes.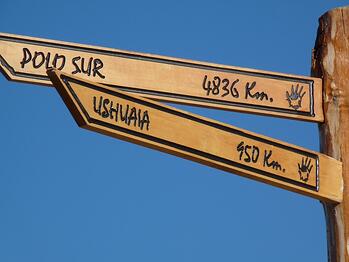 Q: How far can I ride from Torres del Paine if I'm going to Ushuaia?
A: Generally speaking, riders will leave Torres del Paine and finish the day in Cerro Sombrero, just across the Strait of Magellan, but still in Chilean Tierra del Fuego. If you are staying in Puerto Natales, it's possible to ride from there to Rio Grande, Argentina the same day. This is done not riding all the way into Punta Arenas, but instead, going over the top of Tierra del Fuego to Punta Delgada. Riding from Puerto Natales to Rio Grande in 1 day is only possible if the ferry service at Punta Delgada (on the north edge of Tierra del Fuego) is running every 90 minutes like it's supposed to. Sometimes the high winds on the Strait of Magellan will shut that ferry service down, and it doesn't start again until about 9 or 10pm. If that happens, then you are best staying in Cerro Sombrero, Tierra del Fuego.

With that same thought: Punta Arenas to Ushuaia in 1 day is an incredible challenge, unless you take the 9am ferry from Punta Arenas to Porvenir. If you miss that ferry and have to try to use the Punta Delgada ferry, and the Punta Delgada ferry is shut down for the winds, it becomes quite unrealistic to try and ride to Ushuaia that same day. Ferry reservations for Punta Arenas to Porvenir are made through http://www.tabsa.cl/
Q: Do I need a 'carnet de pasage' for motorcycle travel in South America?
A: Folks, with over 15 years of combined living and traveling experience in South America between us, none of the RIDE Adventures team here has ever encountered this need. It seems that some tour companies out there (some of the "uninformed" ones) still are warning their customers to arrange these expensive documents, when in fact there is no need (at least not between Colombia, Ecuador, Peru, Bolivia, Chile, or Argentina. Yes, that includes Tierra del Fuego and Patagonia.) If you're renting a motorcycle: Yes, you'll need a special "authorizacion" from the company that owns the bike. But this "carnet" thing is not required (at least not by that name.) It might not hurt for you to have one, but needing one is a different story!
As always please feel free to ask questions in the comments section below, or directly to us at www.rideadv.com, or using one of our Contact Forms. We want to help riders whether their plans are to rent a motorcycle with RIDE Adventures, or venture out on their own!