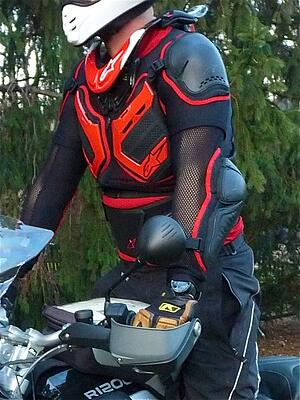 Just when I thought I'd ran out of good things to say about my Alpinestars Bionic Jacket, I swapped out my 4-year, 250,000+ mile old jacket for a newer version. The old armor jacket is still fine, and I'll find some use for it someday, but Alpinestars has clearly done it right again with this newer version: The Bionic Jacket for BNS.
"BNS" in this case refers to their "Bionic Neck Support," another great motorcycle safety product with life-saving potential. By acting as essentially as a "restraint" positioned between your helmet and shoulders, the BNS prevents extreme head movement in the event of a crash. "Extreme head movement" of course would be anything beyond which our necks are naturally meant to bend, which for obvious reasons would result in injury or worse.
Motorcycle riders are always asking, "If it restricts head movement, how can you safely view your surroundings and ride?" The answer is, if properly fitted, it's only going to block the extreme head & neck movements...the ones that lead to injury. Many riders these days are using neck braces these days both in motocross racing and adventure riding type motorcycle travel, and obviously our neck braces aren't so restrictive that we can't ride safely.
One of the issues manufacturers have had as they aspire to keep us protected is finding ways for all this motorcycle gear to work together in terms of fit, comfort, and functionality. Well, Alpinestars sure has taken care of that by making the Bionic Jacket specifically for use with the Neck Support, and the result is the perfect combination of fit and functionality.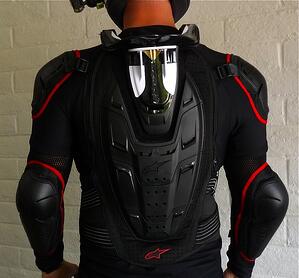 When using the BNS, simply remove a small section of the hard backplate to accommodate for the BNS's rear stabilizer, and you're not only then protected in that part of your spine but the BNS and jacket fit together perfectly. On those occasions where don't want to wear the BNS, (some riding jackets don't allow you to zip up all the way with neck braces on) just put that small section of backplate in it's place using the Velcro on it, and the top of your spine is protected once again.
The Bionic Jacket itself has been the source of some conversation after a crash I had a couple of years ago. (Well, let's call it a "chosen" crash.) Check out this video and note that the Bionic jacket's elbow pads not only stayed perfectly in place during this crash, but also kept the bones in my arm from being pulverized on the rock and gravel I was riding on.
That hasn't been my only crash in 250,000+ miles though, so let's just say I've got plenty of reason to be a true fan of the Bionic Series gear from Alpinestars. In addition to being extremely well made and having held up over so many miles and motorcycle tours, the key reasons I opt for this system are:
Keeping Cool: As we talk about in our Free Motorcycle Gear Advice Download, I can take off the hot and heavy jacket anytime and ride cool and comfortably with full upper body protection still in place.
Best Padding: While most motorcycle jackets come with padding built in, once you feel the CE rated hard plastic shell and foam inner layer of these pads, you'll understand why this is a huge step up from whatever came in your jacket.
Padding Stays in Place: We need motorcycle jackets that are just a little loose for adding layers and creating heat pockets to stay warm, right? Well that "looseness" could allow spots like your elbow pads to rotate out of place in the event of a crash. A properly fitted Bionic Jacket for BNS stays in place firmly and comfortably to keep you protected when you need it most.
Having tried other neck braces out on the market, some key features I like about the Alpinestars Bionic Neck Support are:
Fit & Design: Aside from having a very high quality fit & feel, the BNS simply sits on the body better than others and combines remarkably well with the BNS Jacket. Realizing that this feeling could vary for each body type, trying one on for yourself is certainly worthwhile.
Packability: Quickly disassembling in a matter of seconds, the 3 main pieces that make up the BNS are much easier to transport when not in use than other neck braces. This is especially useful when you're trying to fly a bag full of motorcycle gear to the starting point for your motorcycle tour with RIDE Adventures!
Trapezius & Collarbone: Because of their solid 1-piece design, the side rails of the BNS are less likely to damage your collarbone or trapezius muscle in the event of a crash, as compared to other designs on the market that have bolts, fittings, and other pieces directly over the collarbone. If a product like this is going to save your neck, no sense in sacrificing other body parts in the same moment.
Folks, we're going to continue writing about motorcycle gear, hoping to get every motorcycle rider possible wearing the all of the very best protective gear available. Not only because we want you to avoid the injury and setbacks that often come with motorcycle riding, but also we want you to stay safe and healthy so you can see more of the amazing places we can take you to on motorcycles!
Please ask questions or add comments below.