A bit belated, time to share below some of what our self-guided Patagonia tour customers emailed about during their trip in March. This coming from Mark Larson of Arizona, while he and his riding pal Joe made their way from Osorno to Ushuaia in Patagonia and Tierra del Fuego, entirely self-guided!
------
"WOW! Unbelievable riding and landscapes. Everything you described and more. We're now halfway through the trip, safely esconced in Estancia los Toldos for the night, and I thought I would give you a quick trip report.

DAY 1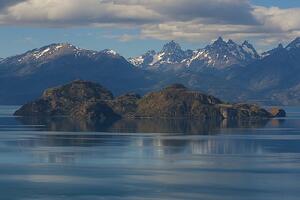 We spent a good night at Hotel Sonesta -- a very nice place -- had dinner right next door at the Italian restaurant. Good food. The following morning, we opted against heading north to Pucon and instead rode due east to the border crossing at Paso del Cardenal Samore. But we also knew that we wanted to ride a lot more than 240 kms the first day (the recommended route to Bariloche). So after completing our first border crossing, we headed north to San Martin de los Andes on the famous Ruta de los Siete Lagos. It was very pretty and there were some nice, high-speed sweepers on the paved portion. The dirt portions were in great shape and we arrived in San Martin in relatively short order (after a large hawk somehow flew into and impaled itself on Joe's crash bar). After a quick lunch, we then headed down route 63 to cross Cordoba Pass, a route I had heard good things about. Amazing scenery and fun dirt roads. After reaching Confluencia, we immediately headed west to Villa Traful along the lovely shores of Lago Traful. We ultimately rejoined La Ruta de los Siete Lagos and headed down, at a good clip, to Villa La Angostura and Bariloche. The hotel was just OK but the food at Nuevo Gaucho was great. We totaled 529 kms for the day. Now we're talking . . . .
DAY 2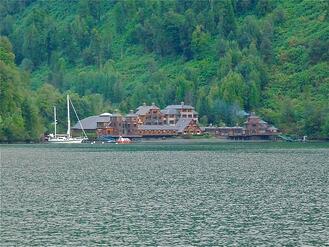 We immediately headed west to complete the "Circuito Chico" to the lookout overlooking Llao Llao Resort. A fun, albeit short, run through the forest and some great views. We then headed south on Ruta 40. And what a surprise! Eric never mentioned the fantastic, high-speed sweepers along the route. Brilliant road and a blast to ride. We had lunch at Rotiseria Pao in Epuyen -- the only restaurant in the entire town -- and got to spend quality time with the owner and her very charming, very outgoing 10-year-old daughter. She wanted to demonstrate for us her command of English and proceeded to name off every color of the pallete. We then headed through Parque Los Alerces and thorougly enjoyed it. Unfortunately, we then had to take the gravel road from Trevelin to the border crossing at Futaleufu. Lots of new gravel, lots of washboards and, worst of all, lots of dust with no wind of any kind to blow if off the road. Bit of a pain, but asi es la vida. We checked into Posada Ely in Futaleufu. It is a very basic, modest B&B, but I hit it off with Ely and she made the stay worthwhile. She recommended Restaurant Martin Pescador, right down the street. Great food. We logged a solid 500+ kms.

DAY 3
Great ride from Futaleufu to Puyuhuapi, but for some reason, it took us much longer than we anticipated. Joe had a close call with a camper van that refused to yield any ground and I had an interesting encounter with a local family that asked for a "donation" after helping with the bike. But we found a great place to eat lunch in La Junta -- the restaurant at the Hotel Espacio y Tiempo (just south of the gas station). Afterwards, we raced down to the dock to catch the 5:30 boat to Puyuhuapi Lodge. What a place! Eric had told us we had to experience it and, yet, it was much better than we expected. We arrived after the last weekend of summer vacation and the hotel only had 10 guests on the premises. It only added to the mystery of the place. Unbelievable location, unbelievable views from our rooms and altogether amazing. We had the hot springs to ourselves and topped the night off with a great meal and a game of pool on their antique table."
------------
Stay tuned as we'll reveal how the rest of Mark and Joe's motorcycle tour in Patagonia turned out. You can do this route yourself as a self-guided tour and choose what level of hotel accommodations you want. Click here to see more about the "Patagonia, Tierra del Fuego & Ushuaia!" tour!