POST UPDATE: As of 2020, we no longer offer the the motorcycle rentals mentioned below in the Southeast, but instead, riders can choose from our Oregon-based adventure motorcycle rentals for access to the Cascade & Rocky Mountains, the entire Pacific Northwest, California's Pacific Coast Highway, and many of the Backcountry Discovery Routes. The Tail of the Dragon is also accessible with our Oregon-based rental fleet, but only if you have multi-week rental plans to ride from Bend, Oregon, all the way to North Carolina before returning to Oregon.
--------------
ORIGINAL POST BELOW
--------------
Ever heard of the "Tail of the Dragon," the Blue Ridge Parkway, or the Great Smoky Mountains? Of course you have, and all for good reason as each are representative of a motorcycle rider's paradise.
Our promise was and always will be to find the best opportunities possible for you to RIDE. As such, this is an announcement that we now have motorcycle rentals available in the Southeastern U.S, so if you're looking for unique riding experiences this coming riding season, look no further!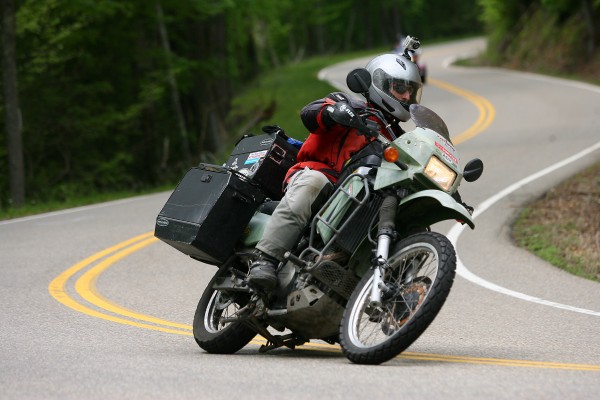 Take for starters the Tail of the Dragon, where 318 twists and turns await you in just an 11-mile stretch. At either end, you'll typically find a party of motorcycle riders hanging out and mingling, kicking the tires and getting ready to head back and ride the route all over again. As you're flipping your bike back and forth from one side to the other on curves separated by only a few rotations of your wheels, it might seem laughable that "they intentionally built the road like this?" (Above, is that Ben Slavin, or "Been Scrapin'?)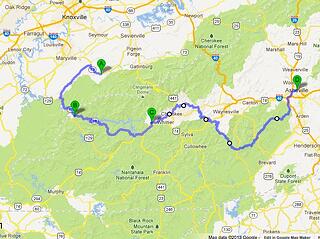 Surrounding Deal's Gap (a.k.a. U.S. Route 129) is the Great Smoky Mountains National Park, and even more reason to go riding in this area. With routes cut out through the thick foliage covering 800 square miles, the biodiversity and motorcycle riding diversity are a surprise to any first time rider. Elevation changes, routes carved out beneath tree canopy, and a steady mix of weather changes all make for an energizing riding experience.
Of course the Blue Ridge Mountains (which are part of the larger Appalachian Mountain range) are known by motorcycle riders for the Blue Ridge Parkway, and one amazing set of long sweeping curves and amazing viewpoints over the forests below. With fantastic restaurants in the area, access to cities like Asheville, North Carolina and plenty of Bed & Breakfasts or Hotels and Resorts, riders could easily spend a week between Tennessee and North Carolina and never get bored with all there is to see and do. Don't forget you can also spend some time off the motorcycles and try the world class rapids of the Ocoee River if your timing is right. The same river used in the 1996 Olympic games held nearby in Atlanta, it's just a different opportunity to RIDE!
Again, the point here is to tell you that there are motorcycle rentals in the Southeastern U.S. available for you. Shipping your own motorcycle can be an enormous hassle, and sometimes the extra 2, 4, or however many days it might take to ride to and from this area might keep you from making the best of your vacation time. SO, why not choose from one of the dual sport bikes already waiting there for you. This fleet of bikes is based just about 45 minutes from the Knoxville (TYS) airport, so you can land and be riding easily within a couple of hours. If you need help figuring out what non-paved, dual sport type routes are worth checking out, we're just waiting for you to contact us via the form on this page so we can help.