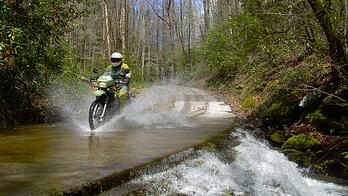 With more incredible dual sport motorcycle route opportunities than anyone could cover in weeks of riding, there are certain events you might want to arrange your motorcycle rental around this or next year.

Just this past weekend, you might have missed the 2013 FIM Trials World Championship, held in Sequatchie, Tennessee. The best trials riders from around the world were all there, bouncing from rock to rock, tree stump to log, and inspiring motorcycle riders of all types with nimbleness and creativity. Don't expect to use your rental bike for the same thing, (we don't have trials bikes for rent....yet!) but just being there around such athleticism is a site for any motorcycle enthusiast.
Earlier in May was the Georgia Mountain Rally hosted by the BMW Motorcycle Owners of Georgia in Hiawassee, Georgia in the foothills of the Great Smoky Mountains. Doesn't matter if you're renting a BMW motorcycle or some other brand we offer, any rider will fit in around this crowd! With a steak dinner on Saturday night, great presentations from fun folks who continue to travel the world by motorcycle, and a good array of motorcycle vendors there to scratch your parts-farkling-itch, perhaps it's just the people of the southeast U.S. that make this event so fantastic.
While it's not an "event," the Barber Motorsports Museum isn't too far from the motorcycle rental depot and simply cannot be missed if you're a fan of anything motorsports related. Think folks are exaggerating when they tell you "it's incredible?" Having been to quite a few museums with a motorcycle or vehicle focus in my days, I assure you, the Barber Museum will not disappoint. Plan on at least a half a day there inspecting the world history of motorcycles, or for the more "avid" enthusiasts, a couple of days could easily be needed.
On topic with the great motorcycle museums of the world but not to be over looked is the "Wheels Through Time" Museum in Maggie Valley, North Carolina. Dale Walksler has put together another opportunity for us to see an incredible collection of rare motorcycles and artifacts that have been highlighted in the likes of Cycle World Magazine, American Motorcyclist, and plenty of others.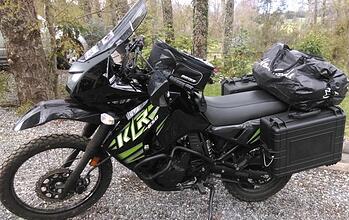 But again, the point of this article is to say that there's PLENTY to do aside from just riding when you rent a dual sport motorcycle through us in the Southeast U.S. The Smoky and Blue Ridge Mountains are home to an endless array of off-road routes, and when you want to get on the pavement, options like the Tail of the Dragon and Cheroholla Skyway aren't too far away. Be sure to Contact Us Here if you'd like to start arranging your rental. Part of the service we offer is making sure you know where to go on your trip, and how long it'll take to accomplish your mission. The bikes can be picked up in Townsend, Tennessee, just a short drive from airports like Atlanta (ATL), Knoxville (TYS), or Asheville (AVL.)