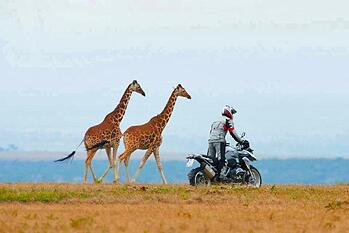 Did you see the news? RIDE Adventures now has South Africa Motorcycle Rentals available!
As we're about to celebrate 3 years in the motorcycle renting and touring business, it's great to say we're the American company with motorcycle travel options for our customers all across the Southern Hemisphere. (Of course we've had options for you in South America since the beginning, plus New Zealand and Australia for a while now.)
This latest announcement for motorcycle rentals in South Africa comes thanks to our new alliance with GS Africa, and owner Paul Blignaut. With all the BMW GS models available, plus a few scooters and Harley-Davidson's, anyone visiting South Africa can find something to enjoy whether it's within cities like Cape Town, or barreling out across open wild landscapes of the region.
We'll be writing more about the many great riding opportunities in the South African region, but don't forget the many off-bike adventures customers are having. Adrenaline-seekers might find themselves swimming with the Great White sharks in the region, (yes, cages are provided.) Other more "tranquil" souls can enjoy rafting or kayaking on the Orange River near Namibia. We'll cover this more soon, but the point is that there's plenty of adventure to be had in Southern Africa.
Our Repeat Customer Discount Program could come in handy for those who have relied on us in the past. Motorcycle trips are never "cheap," but at least we're able to help Repeat Customers with this discount offer.
So again, please join us in celebrating yet another new option for your motorcycle travel wishes. Check out our South Africa Motorcycle Rentals here and let us know when you want to RIDE!