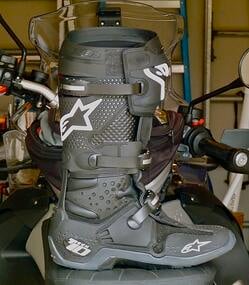 My recommendations on motorcycle gear only come on the heels of actual experience with each product. In this case, the Alpinestars Tech 10 boot deserves all the praise and recommendation a motorcycle boot could possibly get.
First of all, the Tech 10 is a motorcycle boot that doesn't necessarily have to be used only for motocross or enduro racing, as it's typically listed on websites. (For example, on Motorcycle Superstore's website, you'll notice that it tends to be cateogorized under 'dirt bike motocross gear.') RIDE Adventures is entirely focused on adventure motorcycle travel, and helping riders explore new places to ride around the world. Part of successful and enjoyable motorcycle travel is staying safe and healthy enough to continue doing so, right? Well, let's think of it this way: If riders like Ryan Villopoto and Andrew Short are depending on these boots for their safety in motocross racing, couldn't we draw the conclusion that they're the most protective option for us adventure riders? Here's a few other key categories:
Agility & Usability: Some riders might complain that a full motocross-style boot like this is "too restrictive, or too cumbersome" to be used for adventure riding trips. Are they really though? If such was the case, I don't think Villopoto or these other incredible athletes would competing at the levels they are. Think about it: If racers can run and pick up their bikes after a crash and often times regain the lost track position, are these boots really restrictive and cumbersome?
Boot Fit: Alpinestars has done an incredible job with the fitting, in that the boots wrap my leg, ankle and foot with its protective means, but don't protrude beyond what is necessary in any direction. Compared to some other boots I've worn where, for example, an extra 1-3 centimeters is open on top of the foot, the Tech 10's enclose the foot efficiently. This is hugely important in regards to upshifting ability, as a size 14 boot already struggles to fit under most shift levers! After what was a very brief break-in period, shifting gears and rear-braking are as easy as they are wearing tennis shoes.
Standing Position: The motorcycle tours I guide still involve periods of standing, as we deal with customs when crossing international borders and have occasions to stand plenty. It's clear that Alpinestars put good effort into making a footbed that supports me (240 lbs lately) such that I can stand as long as I want without my feet killing me. Likewise, I have no problem riding in the standing position on the footpegs, as the footbed and boot structure is so stiff in just the right places that the pegs don't bother and get painful.
As written about in other rideadv.com blog articles, the importance of proper protection cannot be understated. I think back to a customer (who will remain anonymous) that broke his ankle on the 3rd day of an 18-Day Patagonia trip we were on a couple of years ago. When he fumbled and the BMW F800GS he was riding landed on his left ankle, I'd be willing to bet he had spent the extra money to buy a boot like the Alpinestars Tech 10. Remember: Just because a boot is called a "motorcycle boot" doesn't really mean that it offers any protection above just being a couple of leather flaps wrapped around your ankle. Make the investement in true protection like the Tech 10 offers and you'll see what I'm talking about in regards to superior protection.
Click this link for more information about the technology and craftsmanship that goes into this Alpinestar boot, and feel free to post comments or questions below.
(Below, a break from the bikes near Futaleafu, Chile as my Tech 10's on the right are comfortable sitting or standing.)