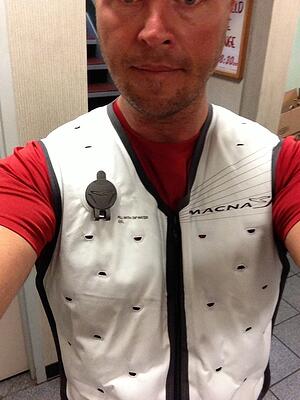 I just realized something: I wasn't even sweating during this video take! (See video below.) Just me and an iPhone on the side of a road with full motorcycle padding on in 105F/40C degree temperatures in the middle of July in northern California. Guess this says something about the Macna Dry Cooling Vest.
With a 12-hour ride planned for that day, the pressing heat made me realize it was about time to try the Dry Cooling Vest I had ordered a few weeks earlier. At the rate I was drinking water from my hydration pack, it just made sense to see if this thing works.
The concept is simple: Evaporating water makes for a cooling effect, much the way when you blow on hot pizza before biting it you're less likely to burn your mouth. (Please don't force me to start quoting laws of physics! Just trust me, it has a cooling effect.) So Macna has built this vest to essentially be one big water bladder that somehow allows the water to slowly evaporate while you're riding. The vest essentially stays cool all day, and instead of having ride all soaked and sweaty, or intentionally drenching your shirt with water and being soggy all the time, you stay cool, dry and comfortable.
I still don't want to abandon my body armor system where I remove the padding from my jacket and just wear separate armor. (See more about this on our Free Motorcycle Gear Advice Download here.) So it's great to see that the Macna Cooling Vest fits beneath what I'm used to wearing already and only adds about 1-2cm of thickness throughout my torso. Heck, it's actually one more barrier of protection that could help if something ever went wrong!
So as described in the video, this vest definitely works, and could play a major role in keeping motorcycle riders cool and comfortable in the mid-summer heat. Actually, it's something that could be used off the motorcycle as well. Are you cutting your lawn or doing some yardwork this weekend? Wrap yourself in a cool vest like this, and you'll be much more comfortable in the heat.
For more info, you can read about the Macna Dry Cooling vest via Twisted Throttle here.
WHAT TO READ NEXT: Watch the video above, then be sure to check out our review of the best
motorcycle gps
.