Even though BMW's new F850GS will be available soon, this post is being written with hopes of helping Riders considering the many new and used F800GS's that will be available for years to come.
As was recently noted in my Honda Africa Twin review, comparing this bike to the F800GS comes naturally, as they share a very similar size, stature, weight, capability, fuel capacity, etc. Within these general categories below though, it'll be clear which of the 2 bikes I would choose on any given day.
If you're so inclined, remember that many Riders book one of our motorcycle trip packages so they can test ride these bikes before making a purchase. Oh, and I'll be commenting on the "base" model of each bike, not the GS Adventure version of the BMW, or the Africa Twin that is coming out with a larger fuel tank soon.
As perhaps a point of credibility, I/we have been offering the F800GS as a rental bike since it first came out in 2008, and the Africa Twin these past 2 years that it's been available. Combining the feedback of hundreds of Customers with our own experience as Motorcycle Tour Guides, here we go:
Overall Capability & Use: As I just mentioned, one could really consider these bikes about the same in terms of "what they are good at." Neither bike will be the best for all scenarios, but the charm of these big adventure bikes is that they're very good for many situations. --- Both tipping the scales at over 500lbs when ready to ride, neither the F800GS or Africa Twin will be a single-track Rider's dream come true, yet they can still be heaps of fun for some light tree-dodging and berm-riding on the local dirt trails near your home when the itch arises. Just expect more of a workout than you would on a single-cylinder 250lb dirt bike, and to be lagging behind your 250/450cc buddies in the whoops :)
Onward to fire roads, paved twisties, or any for a multi-day, mixed-terrain adventure with luggage on the back and arms wrapped around you, and both bikes will shine. Wondering where that random dirt road goes to on the way home from work each day? Either bike will answer the question here in the Swiss Army genre of motorcycles. Winner between F800GS and Africa Twin: Tie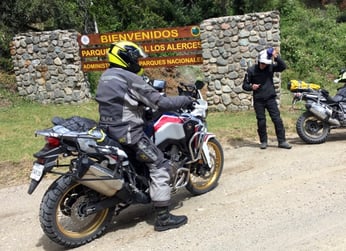 Suspension/Chassis/Handling: This is a tough one to explain, but I just never got comfortable with the layout of the F800GS. The fuel tank is beneath the seat, and a bit rearward on the bike, which leaves a fairly "scrunched" sensation of a tight, smallish front end between and beneath my arms (not as much on the GSA version.) Then there's the 21" front and 17" rear wheel, which is a unique combination in this genre of motorcycle. Yes, having that fuel weight low on the bike is a smart design, and yes it's still a fun bike with the strange wheel size combination, but the F800GS just always felt a little mismatched to me. Add to this some fairly uninspiring suspension componentry from the factory, and it's just "okay" at soaking up bumps or springing through turns. (And yes, I know my 270lb fully suited ATGATT bod isn't what BMW built the bike for. Aftermarket components and appropriate springs do help plenty.)
The Africa Twin on the other hand, appeared and has felt balanced to me from the get go. Even with my nearly 100lbs in excess of the average weight most bikes are built for, the stock suspension feels active instead of dead, and despite being heavier than the F800GS, the AT somehow feels lighter to me (more lively and active suspension.) With a 21" front and 18" rear wheel, a traditionally positioned fuel tank, and all-around smart and comfortable chassis design, I think it's clear which bike I prefer to navigate multiple terrains with. - Winner: Africa Twin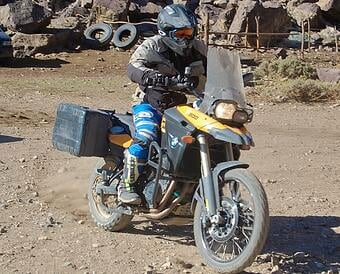 Tranmission: The 6-speed gearbox on both bikes is fine, and it seems as the years go on, the F800GS somehow has less of an issue downshifting consistently. Back on 2009/10 bikes, frequent feathering of the clutch was needed to get down to 1st gear. -That the Honda comes with 2 gearbox options, however, and that both appear to be completely reliable and easy to use, sets this bike aside a bit. While I prefer the simple task of shifting gears manually, an automatic-shifting Dual-Clutch Transmission is available to those who prefer to let technology shoulder some burden. Interestingly, the DCT Transmission has not been requested much as the Standard one by our rental Customers though. Seems most of you are like myself, in that caressing the controls of a motorcycle with my hands and playing footsie still feels good :) Winner: Tie (with a nod to Honda for at least offering an option)
Engine & Soul: The first couple of years with the F800GS in rental operations might have tainted my long-term impressions of the engine. We dealt with valve cover leaks, air bubbles in the cooling system, voltage regulator issues (not an engine part) and lots of general annoyances. Now less problematic, it's a smooth and powerful parallel twin that really pulls hard by about 4500rpms. Saying it's "smooth" however, I actually mean that the engine is too smooth for my liking, in that I've just never been inspired by the pulsations, vibrations, or sounds that come from the F800GS. Give them credit for balancing it out so well, but I think BMW missed an opportunity to arouse a Rider's adrenal glands by making it feel and sound a bit too electric.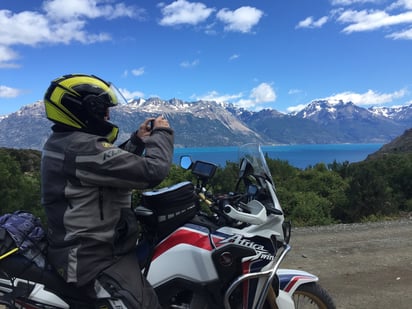 Then there's the 1000cc parallel twin tower of power that Honda so perfectly placed into this updated classic adventure bike. Not only does it provide greater pulling power at all RPM's (200cc's more should) but the sensations ... the pulsations ... the vibrations ... the roar that it stomps down into the ground ... it just gets my attention far more than on the BMW. Low-end torque and grunt is a huge highlight for me with any bike, and Honda soars above the BMW in this case. (Side note: Apparently BMW has followed Honda's lead with a 270-degree phased crankshaft system for the new F850GS coming out, so I guess I'm not alone in this "pulsation" matter.) Winner for now: Africa Twin
Quality, Finish & Features: Where to even begin with this category, as all bikes have their quirks and idiosyncrasies. We've had some strangely early fork seal leaks on the Africa Twins that I'd never seen on sub-3000km motorcycles before, and other Riders have reported similar. Aside from that, I'd just like to know why Honda, how did you not include simple heated grips, a charging outlet, or center stand on this bike? We all like farkling our bikes, but usually for power or other gains, not the standard stuff. --- Noting that the quality and reliability has improved dramatically since the early 2009/10 days, I'll report that the F800GS has been a reliable motorcycle for our touring operations since then. Sure the floating front brake discs are annoying, and those strangely soft front wheels sure do need to be pampered, but even as I write this, I don't recall the last time an F800GS gave us a mechanical issue (knocking on wood.) Winner: Tie
In Summary, yes, I'm leaning toward the Africa Twin, but without suggesting there's anything incredibly wrong with the F800GS. It just lacks a certain feel and character that I I'm attracted to. Plenty of our Customers have enjoyed in depth exploration of South America, Africa, and Europe since RIDE Adventures launched in 2010 on F800GS's, and they will on Honda Africa Twins and F850GS's, too :)