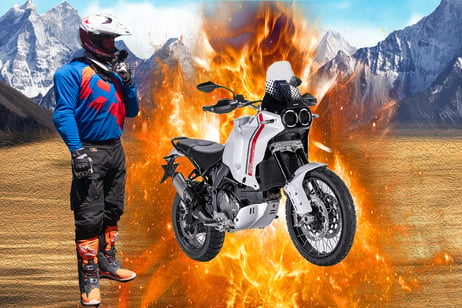 Disclosure: RIDE Adventures is a participant in the Amazon Services LLC Associates Program as well as other affiliate programs, designed to provide a means for us to earn fees by linking to Amazon and affiliated sites at no extra cost to you. Please see our Disclosure for more details.
What better way to test the new Ducati Desert X than a 1,000-mile romp through Patagonia? Here's our take on Ducati's first dirt-specific ADV after a week of wind, rain, dirt, and pavement.
The Ducati Desert X fills a much-needed space in the Bologna manufacturer's lineup: A true, dirt-focused adventure bike.
Sure, the Multistrada has been around for decades, but as anyone who's ridden one will tell you, the 'Strada is a ferocious sport tourer in sheep's clothing, and isn't the kind of thing most riders want to take off-road.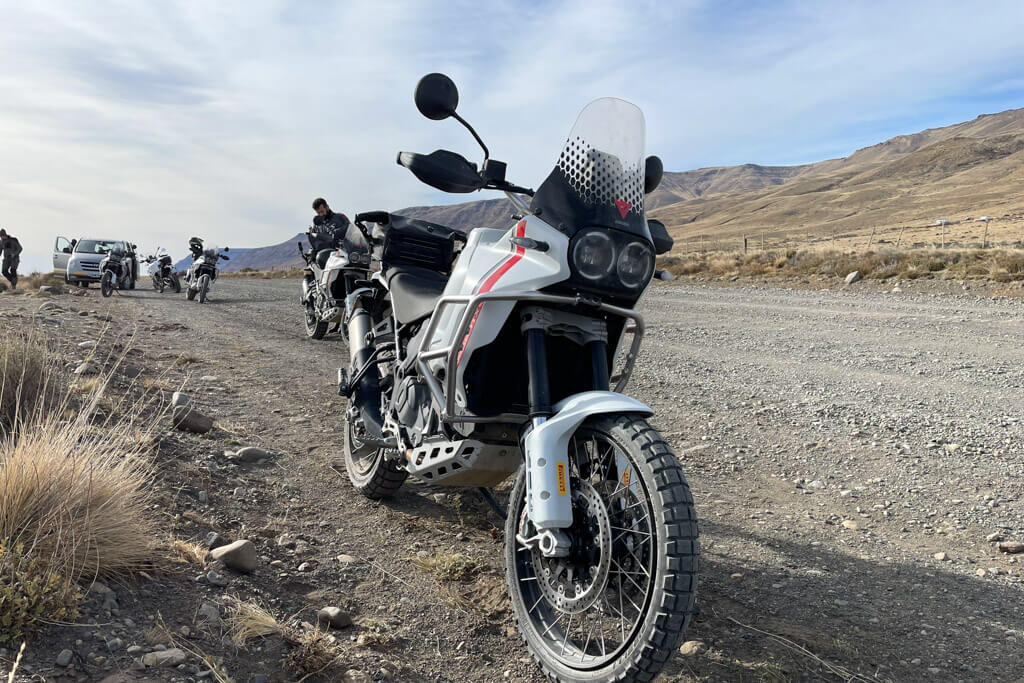 "The Ducati Desert X is ready for the dirt"
The all-terrain "Rally" version is much better, but also comes in at a jaw-dropping $30,000, which is an awful lot of money for a bike that you intend to crash and crash often.
Enter the Desert X with its sub-500-pound weight, proper 21"/18" wheelset, knobby tires, and off-road focused geometry.
Few bikes have garnered this much media hype since their launch, and we knew from the first time we watched Antoine Meo whip one around a motocross track that we had to experience the Desert X firsthand.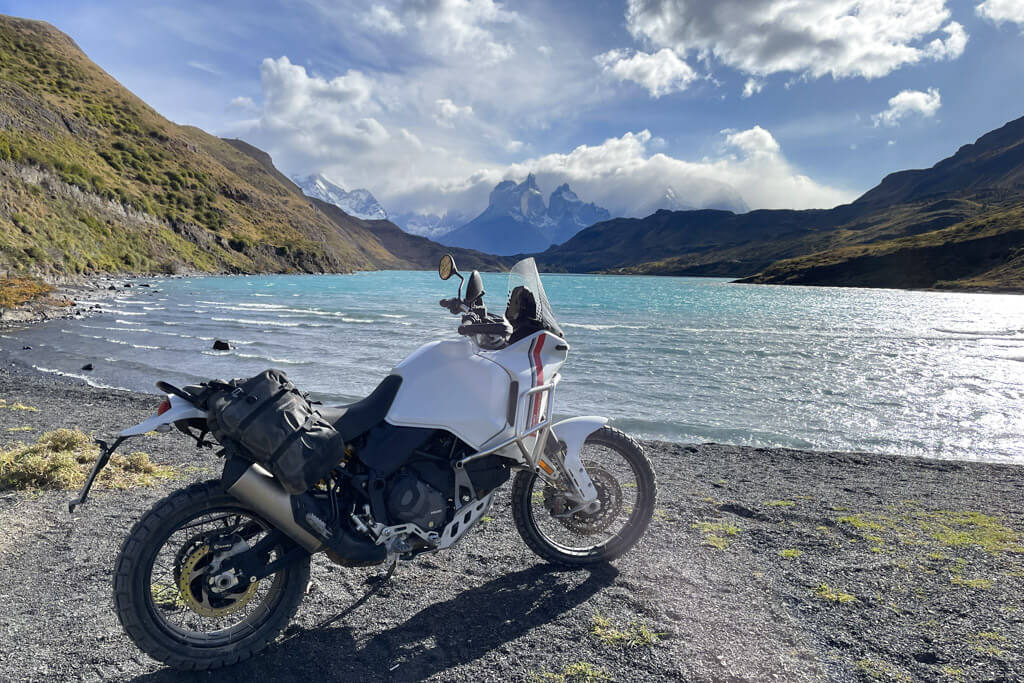 "My 1000-mile test run on the Desert X luckily came with views like this"
We finally got that experience this month when the stars aligned to put a Desert X between our legs for a weeklong journey through some of the most remote parts of South America. 1,000 miles of all-terrain touring later, here are our thoughts on Italy's new "middle-weight" contender.
A Little Background on the Ducati Desert X...
The Desert X is a brand new model from Ducati, which is to say that there's really no history to share on the model.
It first debuted at EICMA back in 2019 as a retro-futuristic sketch, and as you can see below, the finished product didn't stray too far from the initial design.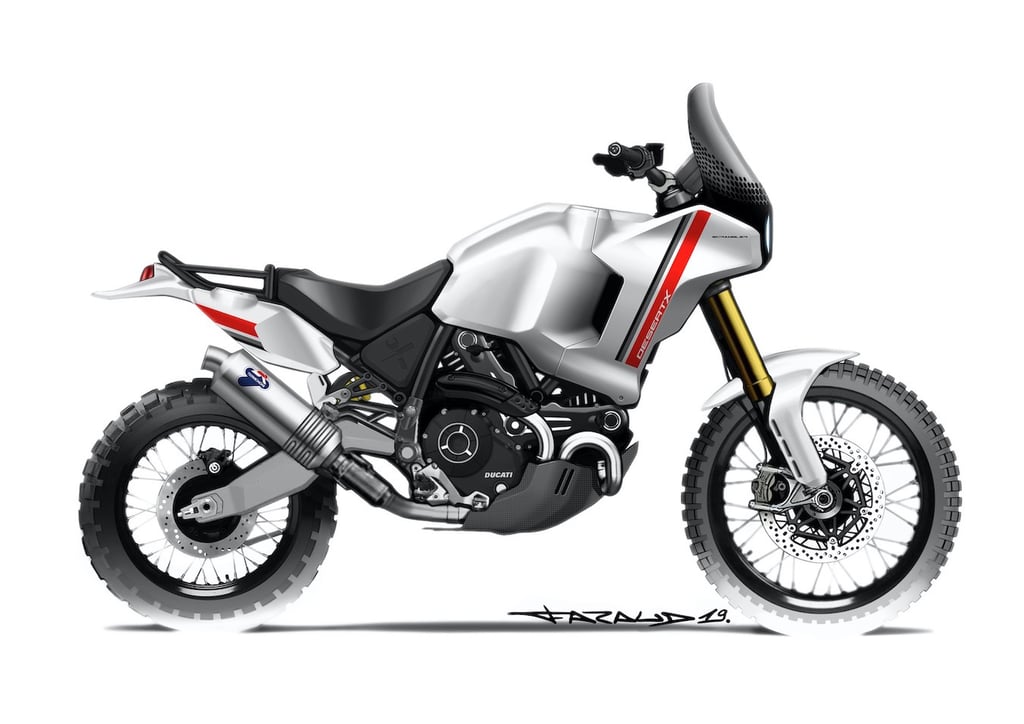 "Desert X concept Sketch, Credit: Ducati"
As is the case with any "retro-inspired" design, the main story here is where that inspiration came from. In the case of the Desert X, there's no denying Ducati took a page from their own early '90s playbook, specifically from the Cagiva Elefant 900IE.
The Elefant 900IE was a special bike, built as a production homage to Cagiva's 1990 Dakar-winning Elefant 944 Lucky Explorer. Now you might notice that one important factor is missing here: The Cagiva Elefant 900IE isn't a Ducati...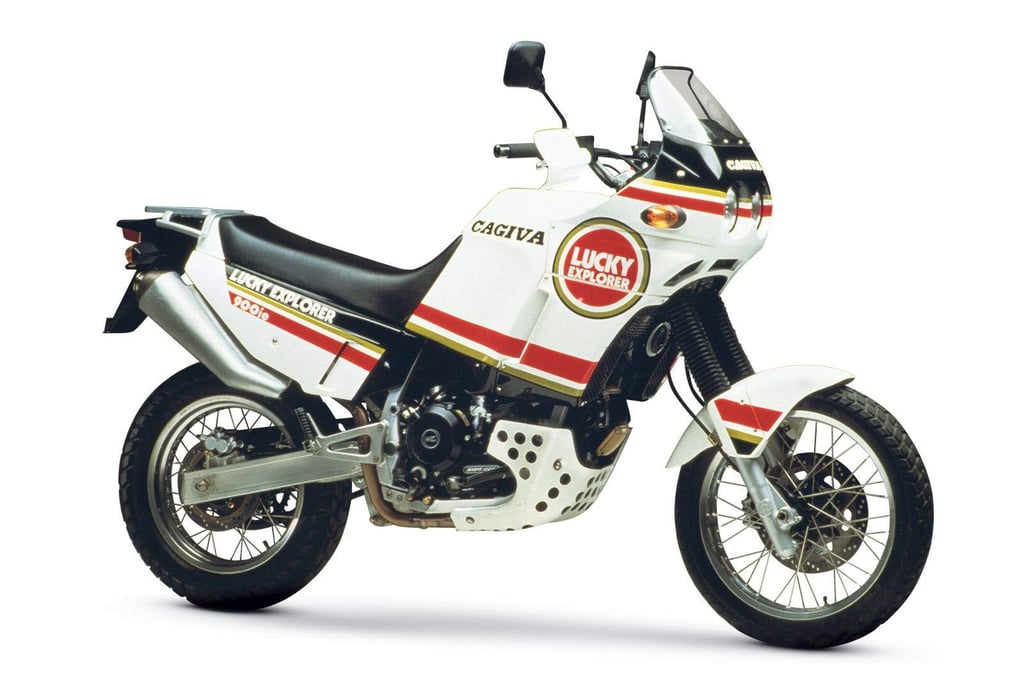 "Cagiva Elefant 900IR Credit: MotorcycleSpecs.com"
So why did Ducati choose the Elefant as fodder for their new Desert X? Long story short, Cagiva actually owned Ducati for a period between 1985-1996, during which time they sourced Ducati engines for their large-displacement motorcycles.
Both of Cagiva's Dakar winning bikes from the era (a Elefant 944 also took the championship in 1994) were built with modified versions of the 900cc V-twin found in the Ducati 900SS, so you can credit the "heart" of these one-off prototypes to Ducati performance and engineering.
1991 Cagiva Elefant 900 IE was a limited production run of fewer than 1,000 bikes, but each one that came off the production floor bore the "Ducati" brand stamped proudly on the side of its engine.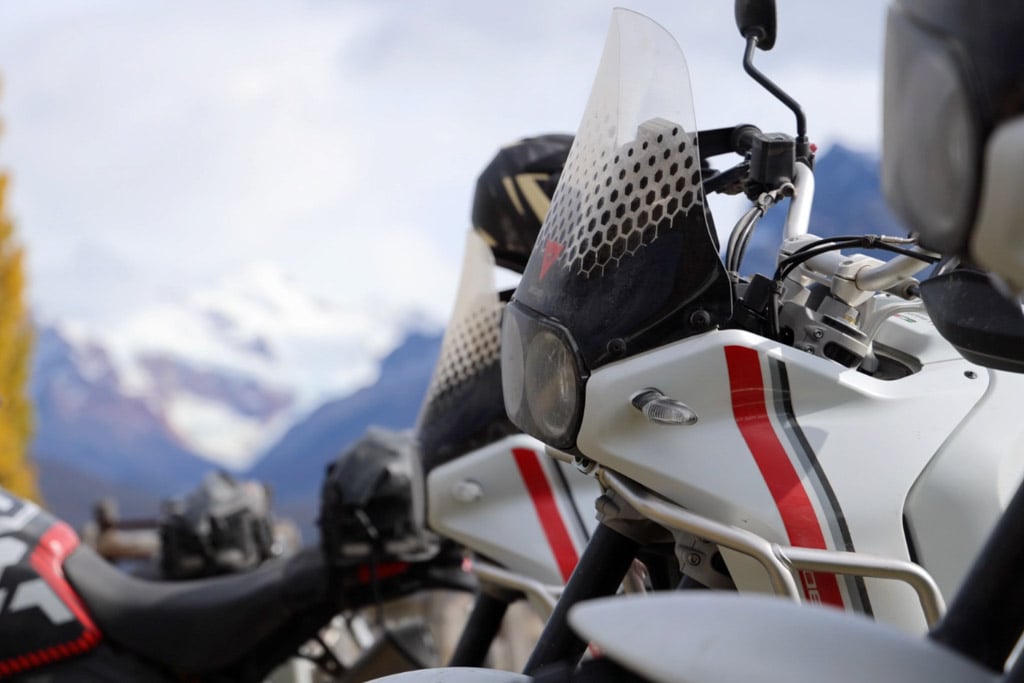 "And then there was the Desert X. Credit: Ducati"
The Desert X is covered front to back in nods to Ducati's two-time Dakar winner, from the shape of the fairings to the large slotted skidplate, and who could miss those two distinctive round headlights?
The rest is history, as they say, but Ducati made one thing clear with the Desert X's styling: This bike was built for the dirt.
2023 Ducati Desert X Specs
While the Ducati Desert X shares its engine with the Multistrada V2, the similarities between the two bikes (or any other motorcycle in Ducati's lineup, for that matter) end there.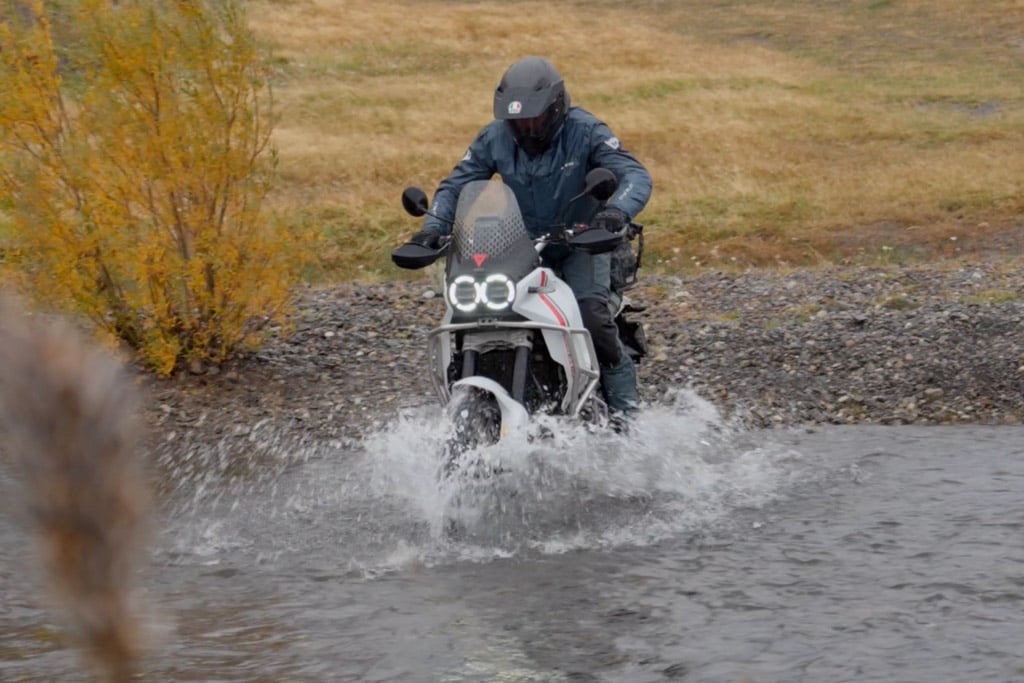 "Taking the Ducati Desert X on a swim. Credit: Ducati"
Ducati built the Desert X from the ground up with true dual-purpose performance in mind, and everything from the frame geometry to the lightweight spoked wheels are unique to the new model.
Ducati Desert X Engine:
Engine Displacement: 937cc
Type: Testastretta 11° / 90-degree L-Twin
Cooling: Liquid-cooled
Bore x Stroke: 94.0 x 67.5mm
Valve Train: DOHC 4-valve desmodromic
Fueling: Fuel Injection
Max Power: 110 hp @ 9,250 rpm
Max Torque: 68 foot-pounds @ 6,500 rpm
Transmission: 6-Speed
Clutch: Cable actuated/slip assist/wet
Final Drive: Sealed o-ring chain
Desert X Chassis, Suspension, And Brakes:
Front Suspension/Travel: Fully-adjustable KYB 46mm/ 9.1 in
Rear Suspension/Travel: Fully adjustable KYB monoshock/ 8.6 in
Front Brake: Brembo M50 monoblock 4-piston/ 320mm disks
Rear Brake: Brembo 2 caliper/ 265mm disk
Front Wheel: 21-inch, spoked, tubeless
Rear Wheel: 18-inch, spoked, tubeless
Front Tire: Pirelli Scorpion Rally STR 90/90R21
Rear Tire: Pirelli Scorpion Rally STR 150/70R18
Desert X Dimensions:
Rake (Caster Angle): 27.6 degrees
Trail: 4.8 in.
Ground Clearance: 9.8 in
Seat Height: 34.4 in
Wheelbase: 63.3 in
Fuel Capacity: 5.5 gal
Fuel Economy: Approx. 50mpg
Wet Weight: 492 lbs
Desert X Instruments and Electronics
Headlights: LED
Tail light: LED
Instruments: Full-color 5" TFT display
Rider Aids: Selectable ABS, rider modes, lean-sensitive traction control, cruise control, wheelie control
2022 Ducati Desert X: The Good and Bad
We're going to start off with what we like about the Desert X, and spoiler alert: There's a lot to like here, so pull up a chair and get comfortable.
This is quite possibly the most well-rounded adventure bike currently on the market, middle-weight or otherwise.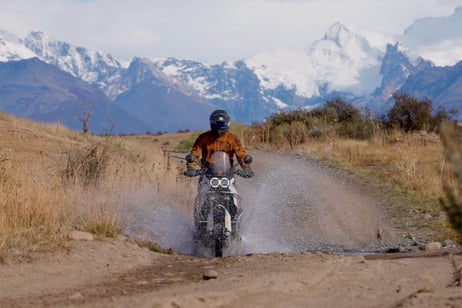 "Photo credit: Ducati"
2022 Ducati Desert X: The Good
Solid off-road performer
Best street manners we've had with a 21" front
Real-world useable power
Fun and character rich V-twin engine
Advanced electronics
Great ergonomics
Looks damn good
Our recent tour through Patagonia was pretty evenly split between on-road and off, and all together we've logged about 1,000 miles of seat time aboard the new Desert X.
It's hard to have a bad time in such a special place, but the Duc happened to be an ideal machine for the trip.
On Road Impressions
As for the on-road portion, you've gotta give it to Ducati for refusing to make a machine that isn't an absolute blast on a curvy road.
We can't say we've ever ridden a 21" front end that worked so well on pavement before, and even with the Desert X's fairly knobby Pirelli Scorpion Rally STR tires mounted up, the bike had no issues digging in and holding a line at speed.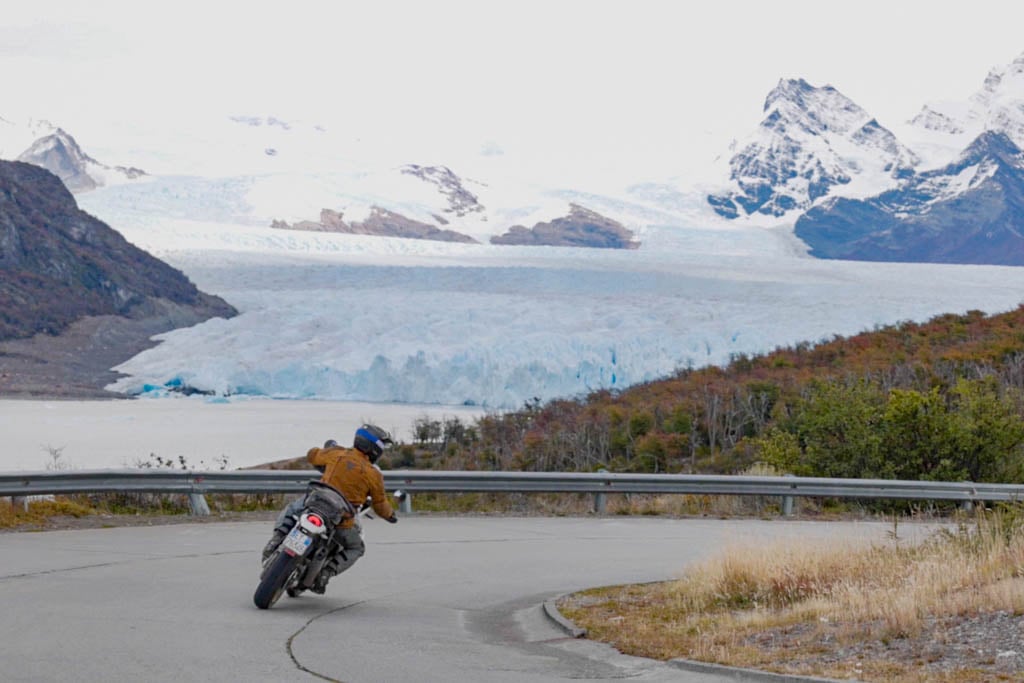 "Taking the Ducati Desert X around the twisties with Perito Moreno Glacier in the background. Credit: Ducati"
The suspension feels nice and taut despite its 9-inches of travel, and even on tighter, technical roads, it settles in nicely between bouts of braking and hard acceleration. Speaking of brakes, we'll also note that those fancy Brembo M50 monoblocks more than earn their keep when riding at a spirited pace.
We'd go as far as to say this is the only 21-inch equipped ADV that you might actually forget is an ADV at all on the pavement, and that's high praise indeed.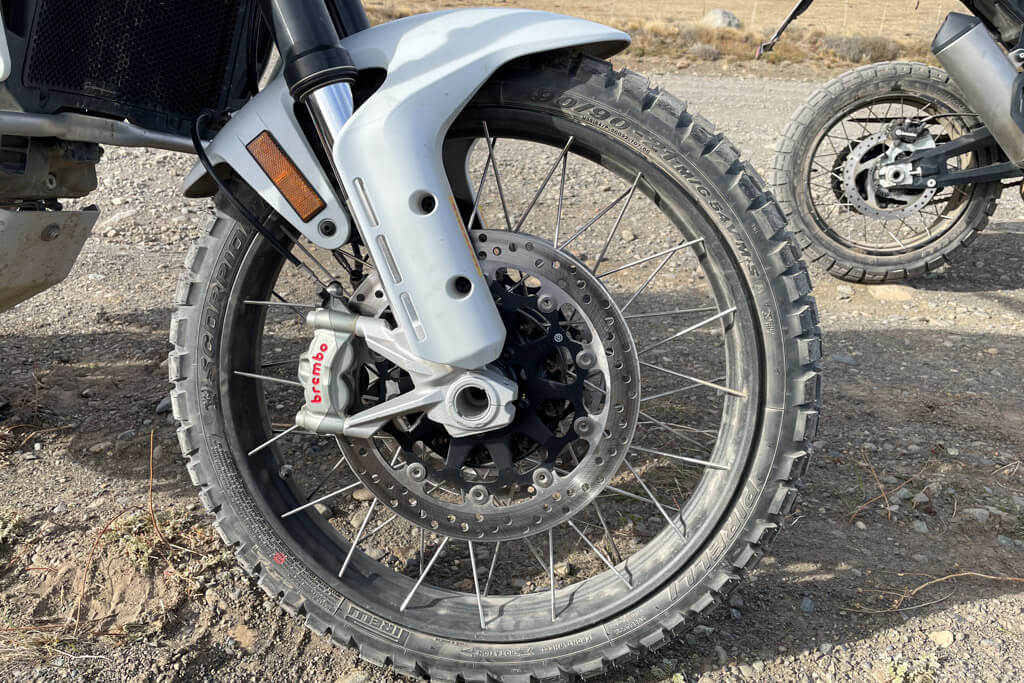 "21/18 wheels, Brembo brakes, 9-inch travel, oh my"
Out on the freeway, it's more of the same. The windshield and wide front fairing do a great job of limiting fatigue over long stretches of pavement, and the Desert X is more than fit for long-distance touring duty.
A comfortable seat, wide bars, and electronic cruise control round out its touring prowess, and make the cockpit of the Desert X is a great place to hang out while you burn through a tank of gas.
Off-road Impressions
What's even more impressive though is that the Desert X doesn't sacrifice any off-road chops to achieve it's above-average on-road manners.
We rode through dirt, gravel, mud, and even a few water crossings during our field test, and the Ducati never felt out of its depth.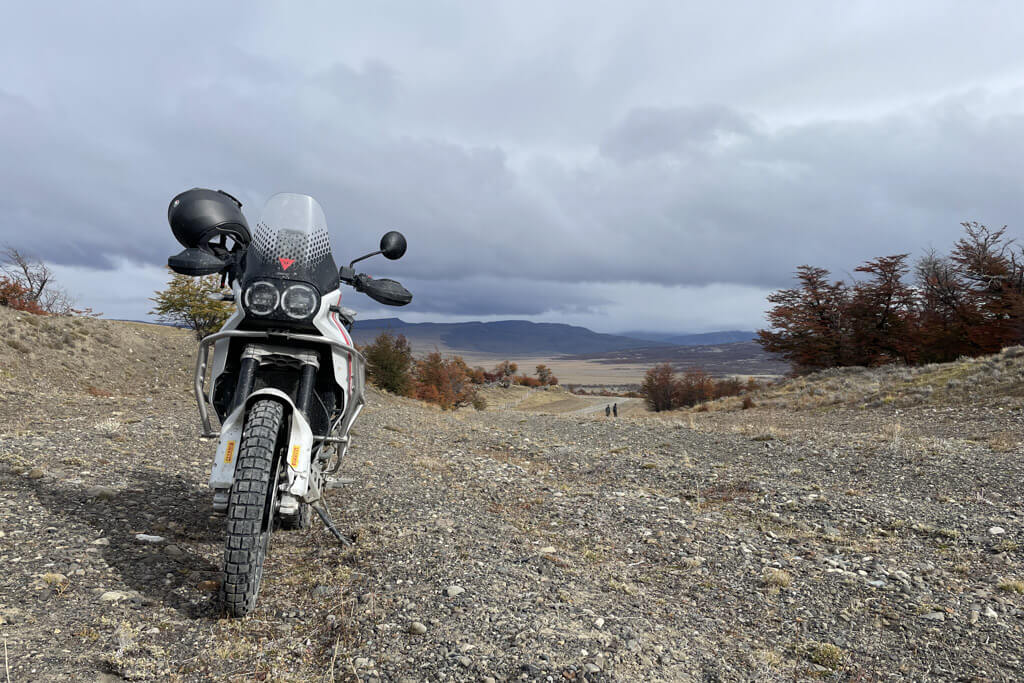 "Ducati was built with dirt in mind"
We noted three highlights in particular that really stood out here: Power delivery, high-speed stability, and low-speed balance.
In terms of power delivery, Ducati has really hit the nail on the head here, both with the excellent low-end grunt of the Testastretta V-twin and with the absolutely dialed off-road riding modes.
We typically found ourselves sticking to "Enduro" mode when the pavement stopped, which cuts the engine's output from a claimed 110 ponies down to a much more dirt-friendly 75hp.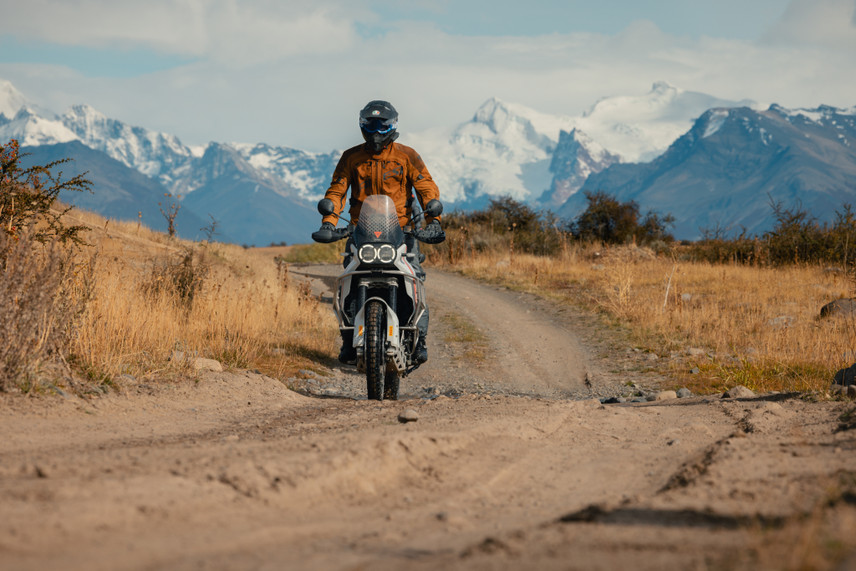 "High-speed stability offroad is uncanny. Credit: Ducati"
We found this was still more than enough power to slide the rear end around fast corners and appreciated the limited intervention of the Duc's off-road traction control in keeping that rear end from hanging out too far.
As for high-speed stability, we can't say enough about how well this bike handles itself at speed. We hit more than our fair share of baby boulders at 70mph+, and thanks to the dialed front end and effective steering damper, the Duc turned what should have been butthole-puckering tank slappers into minor inconveniences.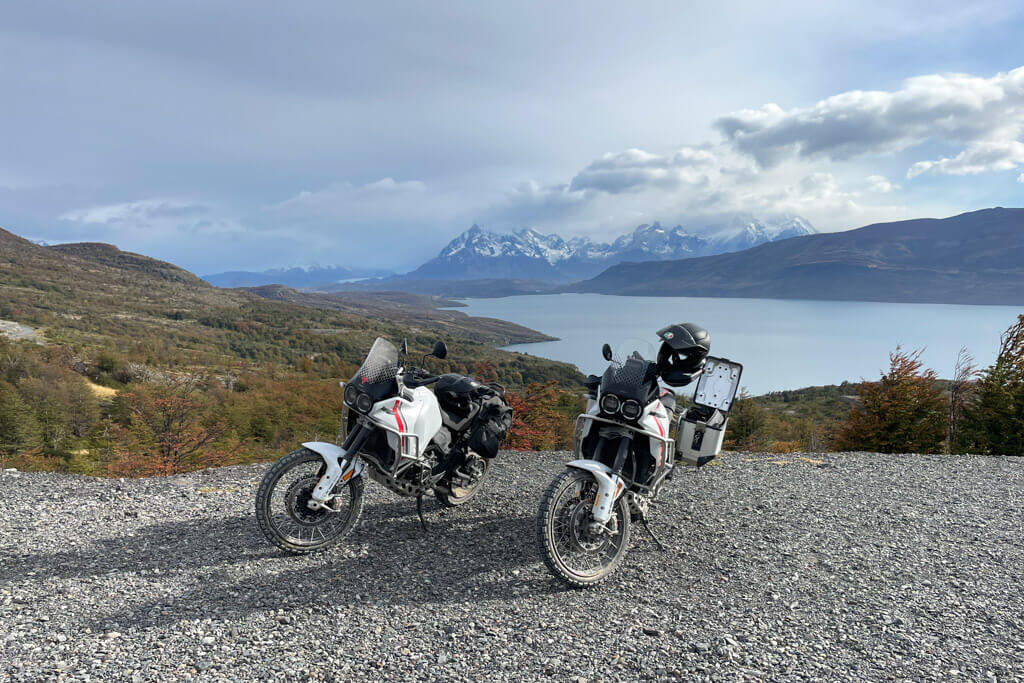 "Great performance in low speeds situations as illustrated here during our lunch break 😋"
Lastly, let's talk low-speed performance. This is a heavy bike (a full 40 lbs more than a comparable T7), but you'd never guess that standing on the pegs cutting tight U-turns or picking your way through rocks.
She feels a bit top-heavy (especially with a full tank), but the sizable pegs and narrow tank make for an easy bike to grip below the waist, and we never felt out of control when speeds fell to the single digits.
2022 Ducati Desert X: The Bad
Costs a lot more than a Yamaha Tenere
Multitude of rider aids makes for complicated menus
Gearbox isn't the smoothest
OEM accessories add considerable expense
Let us start by saying that this is a hard bike to complain about. We haven't ridden anything on the market that works as well both on and off-road as the Desert X, and if you've got the pocket change to buy one yourself, chances are somewhere between minuscule and non-existent that you won't love this bike.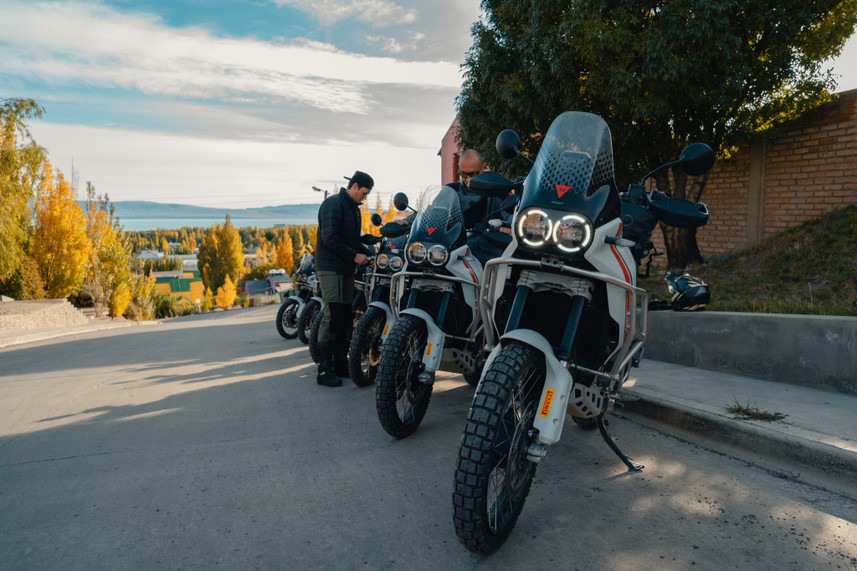 "MSRP for the Ducati Desert X starts at 17,695. Credit Ducati"
But, while we're on the topic of pocket change, price is certainly our main complaint here. Current MSRP for the Desert X starts at $17,695, which is over $7,000 more than a Yamaha T7, but also several thousand dollars more than other premium "middleweight" options like the Triumph Tiger 900 and KTM 890 Adventure R.
After adding a few essential accessories like engine guards and a proper bash plate, chances are you're looking at something closer to $20,000 invested, and that's before you've had the pleasure of your first warranty service at the Ducati dealership.
Our other main gripe here is that while the Desert X's suite of electronic rider aids is impressively customizable, it takes quite a while to master navigating its bottomless pit of menus.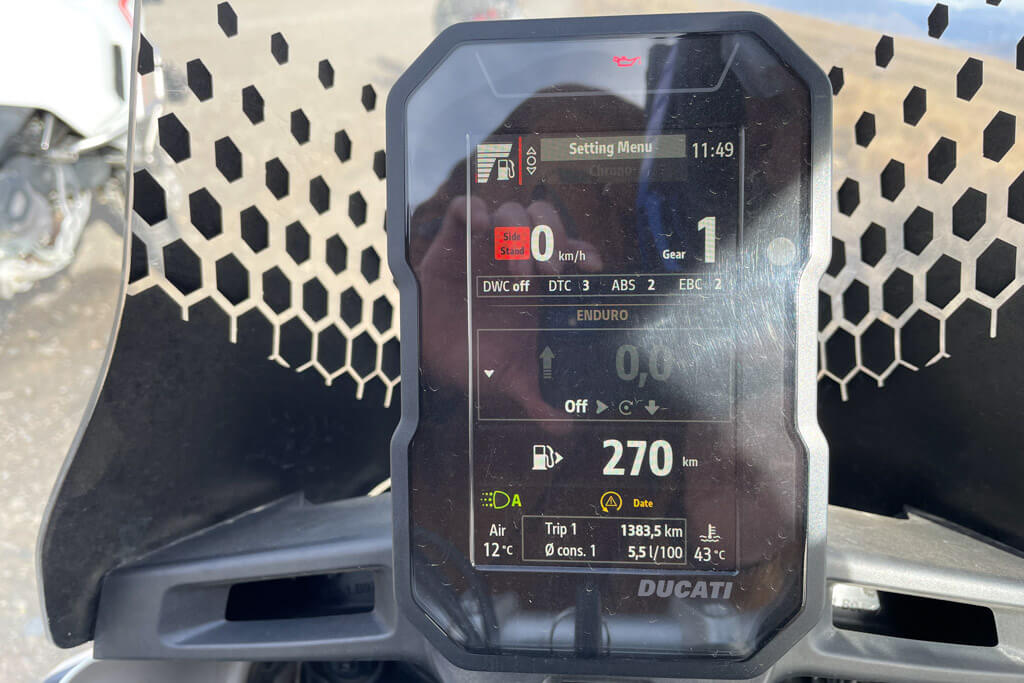 "Ducati Desert X's Display"
Every rider will want to tweak the Ducati's settings to their liking at some point, which means adjusting traction control, wheelie control, power settings, ABS intervention, and then some.
Aside from that, the only real complaint we have with actually riding the Duc is that the gearbox isn't the smoothest we've tested.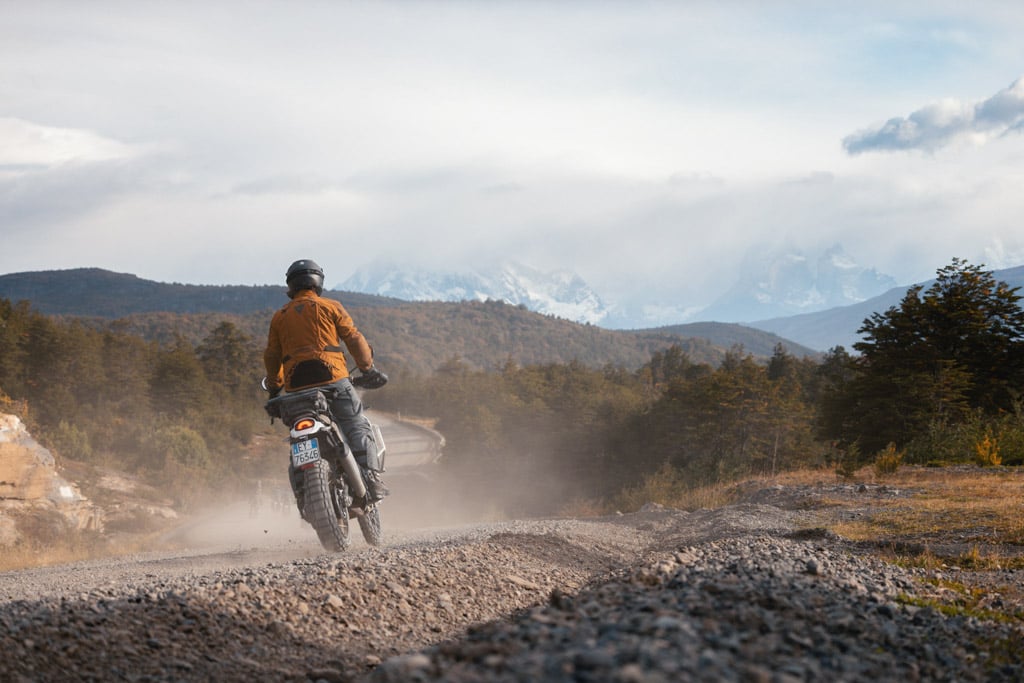 "Not the smoothest gearbox out there"
Our test bike only had a few hundred miles on the clock, so this could become a bit smoother with more break-in time, but gear shifts can be downright clunky (even with the factory quick shifter), and we don't think we've ever ridden a bike that was so frustrating to get into neutral at stoplights.
Final Thoughts on the 2022 Ducati Desert X
The middleweight ADV category is arguably the most hotly contested on the planet at this point, and just when we thought there couldn't possibly be room for another contender, the Ducati Desert X went and proved us wrong.
This is, quite simply, the best mix of both street and off-road performance we've experienced in an adventure bike.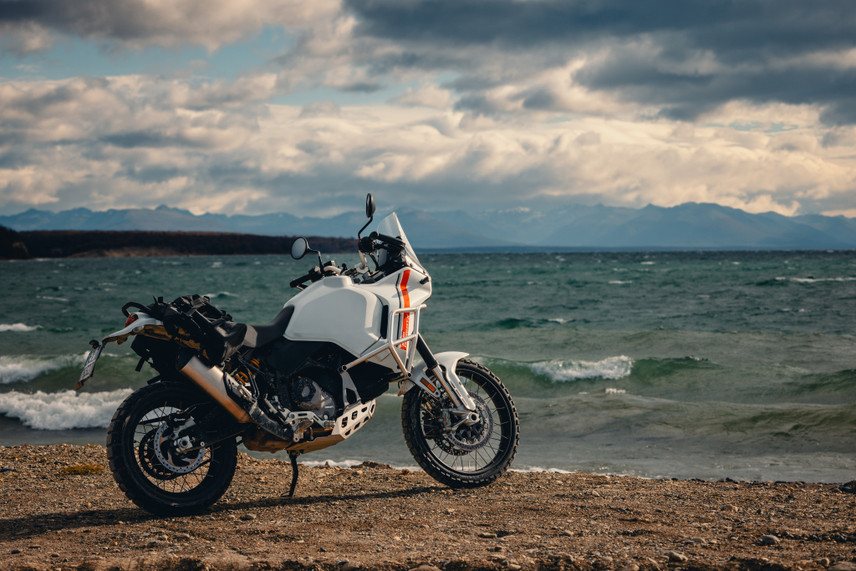 "Couldn't have asked for a better place to test the new Ducati Desert X than here in Patagonia"
Super-aggressive options like the KTM 890 Adventure R will slightly outclass it in the dirt, and street-biased models like Ducati's own Multistrada will be better suited to pavement duty, there's nothing else out there that delivers both ends at such a high level of play.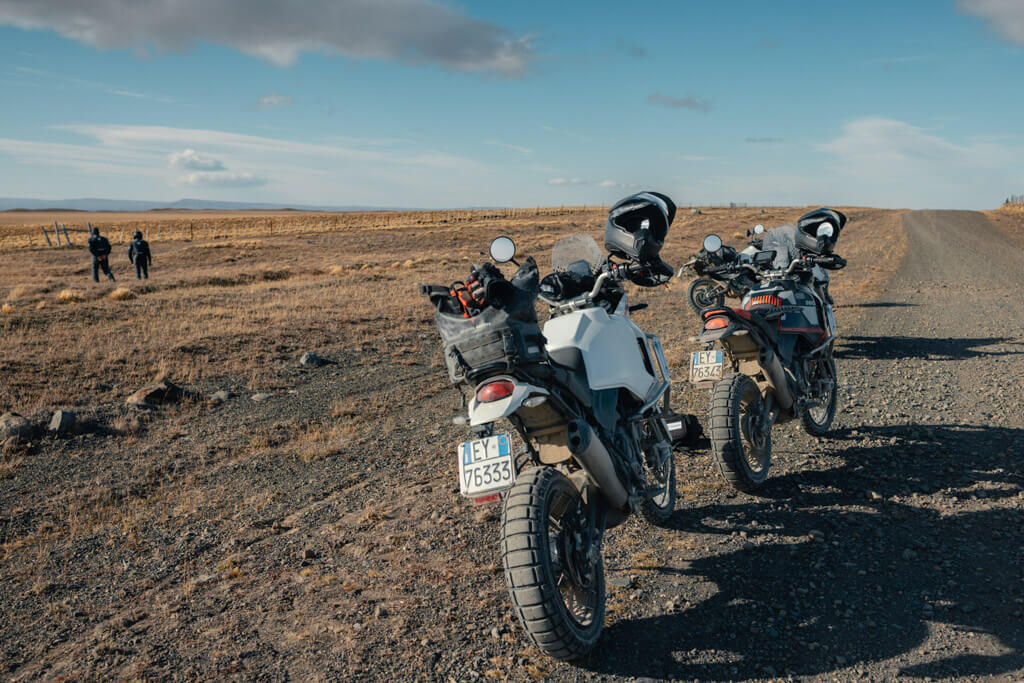 "The next question is where will it take you"
It ain't cheap, but there's no question where your money's going either: Fantastic suspension, top-tier brakes, class-leading power, and a full suite of high-performance electronics.
The Desert X lacks little to nothing in terms of quality or performance, and as an added bonus, it looks great and comes in colors that aren't orange.
→Read More: 2023 Honda Transalp 750: What to Expect and Best Adventure Motorcycle Gear for any RIDE.