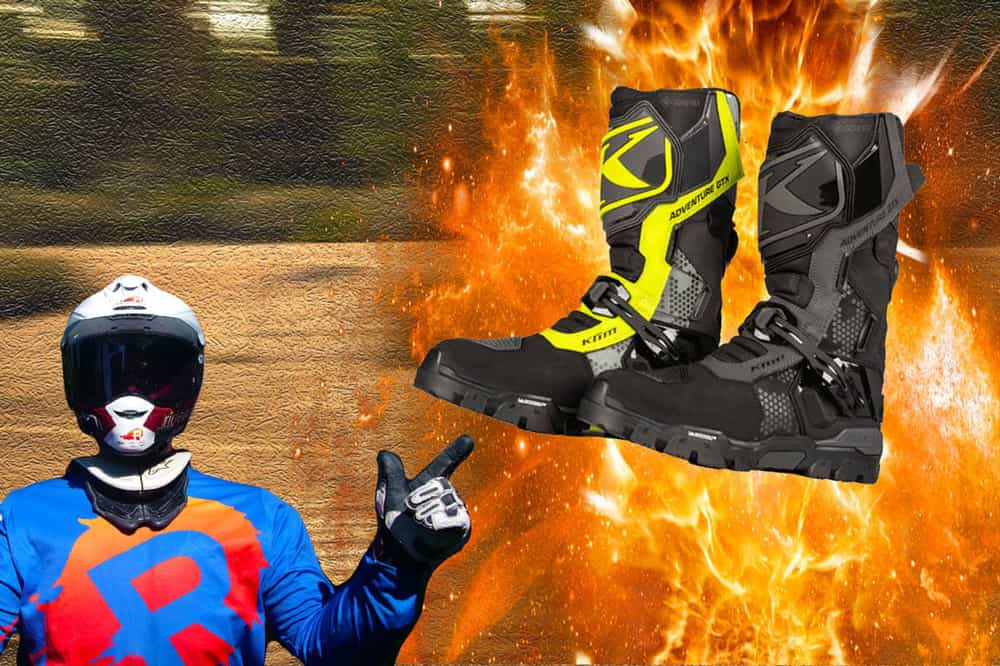 Disclosure: RIDE Adventures is a participant in the Amazon Services LLC Associates Program as well as other affiliate programs, designed to provide a means for us to earn fees by linking to Amazon and affiliated sites at no extra cost to you. Please see our Disclosure for more details.
The Klim Adventure GTX boots are what you get when one of the biggest names in technical adventure gear tries their hand at ADV footwear. Here's our take after running in these boots for the last three years.
Klim is one of the first names in adventure gear for a reason: Products like their Badlands suits and Krios helmets are some of the most durable, technical, and purpose-built ADV products on the market, and they've proven themselves time and time again on our motorcycle tours and in our adventure skills classes.
The Klim Adventure GTX boots are the brand's first major foray into the world of technical motorcycle footwear, so naturally we couldn't wait to get our hands on a few pairs when they first dropped back in early 2020.
These were billed as the "perfect adventure boot" for their combination of protection, comfort, and weatherproofing, but did they really deliver?
"Garrett stoked on the new arrival of his Klim Adventure GTX Boots"
In the article below, we'll share our first hand impressions on how these adventure boots stack up against other popular options on the market.
Before we dive into the specifics though, let's take a second to review the essential features we look at when evaluating any boot worth buying.
What Makes A Good Adventure Motorcycle Boot?
The answer to this question always comes down to your intended use: Because adventure riding covers such a diverse range of terrains and riding styles, there really isn't one boot out there to rule them all.
A good adventure motorcycle boot is all about protection, but different riders need protection from different things. Clear as mud? Consider the following:
You've probably noticed that a few of our adventure tour guides ride in motocross boots year round.
These guys spend thousands upon thousands of miles each year riding in the dirt, both on our tours and out scouting new routes, so they choose to wear boots that protect them from injury above all else.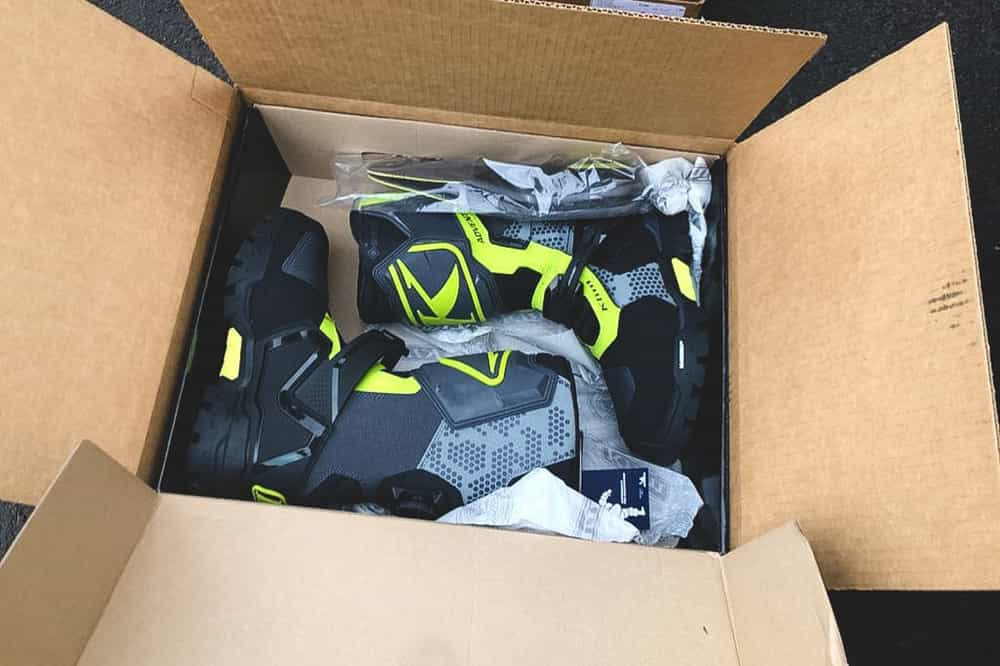 "Nice touch including some Ortholite gel sole inserts"
If you spend the majority of your time riding on pavement with the occasional forest service road thrown into the mix, however, you'll have different priorities when it comes to protection.
Buying boots that protect you from the cold, the wet, and from general discomfort (both on an off the bike) will be money much better spent.
The Klim Adventure GTX are designed to deliver above-average protection from common off-road injuries while also keeping your feet dry and providing above-average comfort when walking off the bike.
So how well do that succeed in that aim? We're glad you asked...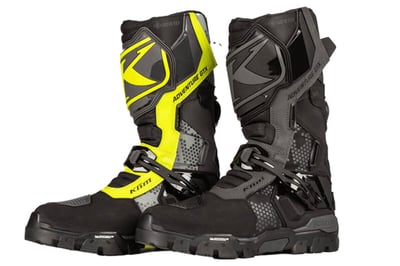 CHECK CURRENT PRICE:
Klim Adventure GTX Boots: Three Year Review
Taking the above into consideration, the Klim Adventure GTX looks like an obvious choice at first glance: Klim bills these boots as super-protective, super-comfortable off the bike, and 100% weatherproof thanks to that world-famous GoreTex guarantee.
So how do they actually fare compared to the dozens of models, brands, and styles of ADV boots we've used over the last decade? Here's our team's no-BS take after logging thousands of miles in Klim's latest flagship boot.
Protection on the Adventure GTX
Protection is our first priority in a serious motorcycle boot, and an especially important consideration when riding in crash-prone off-road scenarios.
There's a reason many of our team members opt for a full motocross boot year-round like the Alpinestars Tech 10, and comfort isn't it.
The Klim Adventure GTX boots aren't as protective as a top-tier MX boot, but Klim did a great job of working in above-average protection features throughout this model.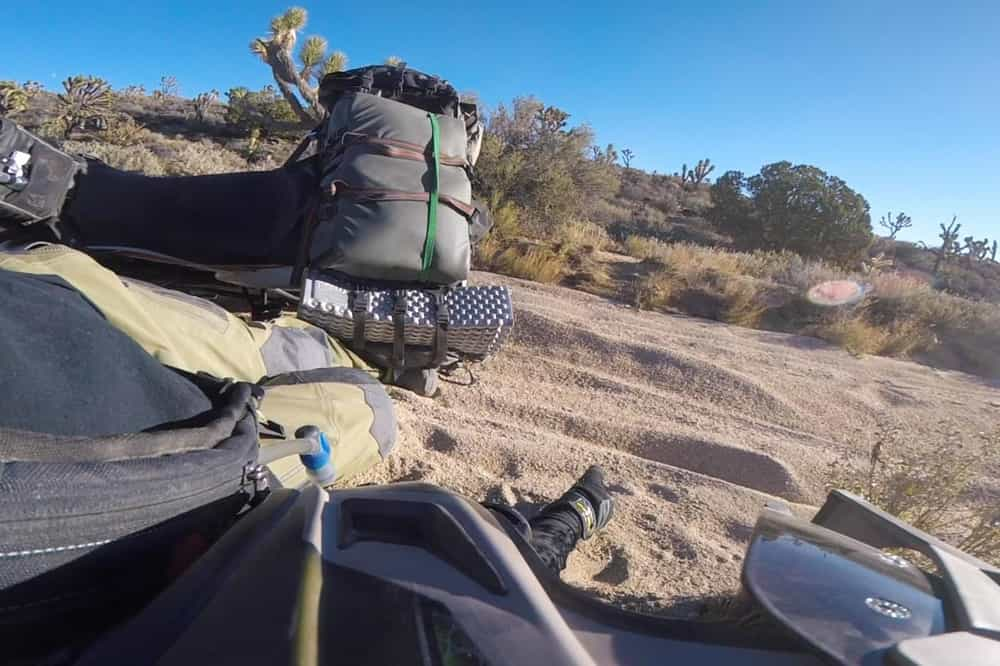 "Aftermath of a spill on our CABDR tour route that left one of our team riders foot wedge under the bike"
The reinforced shank sole limits flexing and feels utterly crush-proof, the TPU shin plate offers excellent coverage against roost and road debris, and there's ample reinforcement against impact and crushing forces at the heel and toe.
The main area where these boots fall short is torsional/lateral protection: The Klim Adventure GTX flex easily above the ankle from side-to-side, putting them at a serious disadvantage to a full-length motocross boot.
They're more rigid overall than your typical touring boot, but they definitely have their limitations.
With that being said, we've been through a few more crash scenarios in these boots than we care to admit, and they've kept our riders injury-free so far.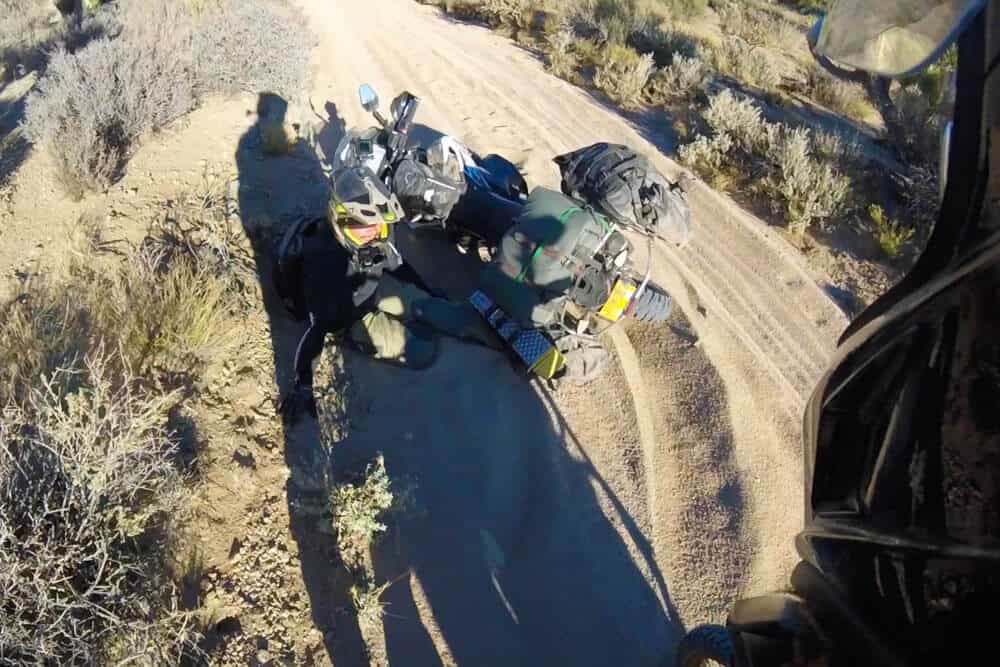 "Garrett getting his foot pinned under the bike on the CABDR tour"
We had a particularly nasty get off during a recent CABDR run when our media guy's foot got pinned under his fully-loaded bike, and he noted after the incident that the boot had no issue keeping the full weight of the bike off his leg.
Weatherproofing on Klim's Adventure GTX
Weatherproofing is one area where boots like these will always outperform off-road specific options.
Klim teamed up with the best in the business for the Adventure GTX's waterproof membrane, and we're happy to report that GoreTex still keeps the wet out as reliably as ever.
The Adventure GTX's liner stops about where the boot's shin plate begins, so protection extends well above the ankle.
These boots are designed for use with over-the-boot type pants (as opposed to MX boots, which most riders tuck their pants into), and we've had zero issues with rain so long as we're wearing the right pants the right way.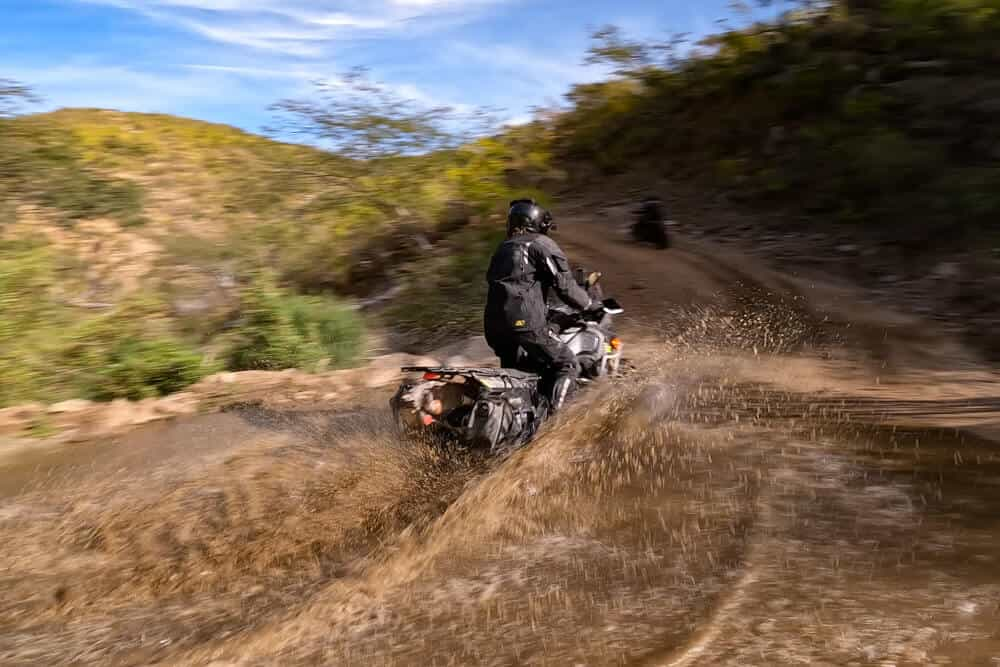 "Tyler guiding us through some wet spots on our Baja tour. A good test for Klim's Adventure GTX"
With that being said, we know of one model out there (Sidi's Adventure 2 GTX boot) that delivers objectively better protection courtesy of an even taller waterproof gaiter.
We haven't encountered any situations over the last two years where we found ourselves wishing for a taller membrane, but we can see where it would give added confidence over water crossings or through deep puddles.
Comfort/Walkability
One of the areas where the Klim Adventure GTX boot really impresses is its overall comfort and/or walkability.
Despite the commendable level of protection we've experienced with these boots, they don't feel anything like their stiffer and klunkier motocross boot alternatives.
Klim partnered with the folks at Michelin (as in the tire) to develop the rubber compound and lug pattern of the Adventure GTX's sole.
Their stated purpose here was delivering a boot that worked well with off-road footpegs but was still comfortable when walking around off the bike.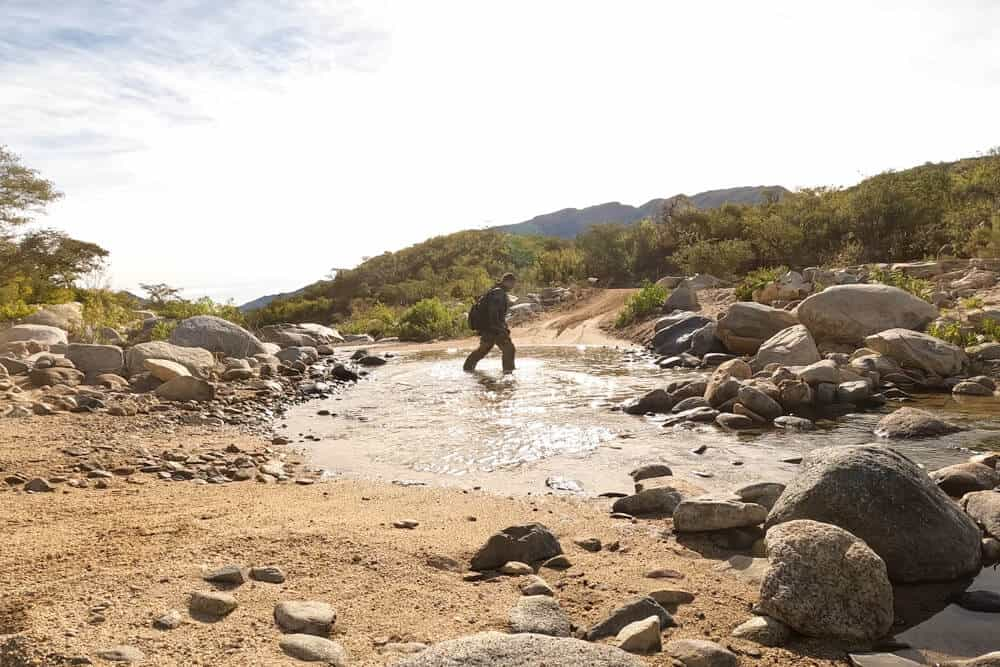 "Taking the Adventure GTX for a dip on our Baja tour"
We're of the opinion that Klim knocked it out of the park in this regard, and the Adventure GTX sports one of the best combinations of comfort and safety that we've experienced.
After a short break-in period (about two days of riding), the Adventure GTXs were one of the most natural-feeling boots we've used off the bike.
We'll also give Klim the nod here for including multiple foodbed inserts with the Adventure GTX.
The boots come with an antimicrobial gel sole installed, but there's also a spare Ortholite sole included in the box, as well a nifty 1/2 size insert for folks who fall between sizes.
Durability on the Klim Adventure GTX
We've been riding in the Klim Adventure GTX boots for about three years now, and all things considered, we think they've held up pretty well.
Our current pair is still hanging on, but they're definitely starting to show their age, so let's talk about that.
First things first: As a touring outfit, we put more miles on a pair of boots in a season than most people do in a year, if not two or three.
We'll also point out that our riding is always rain-or-shine, and about half of it takes place off-road.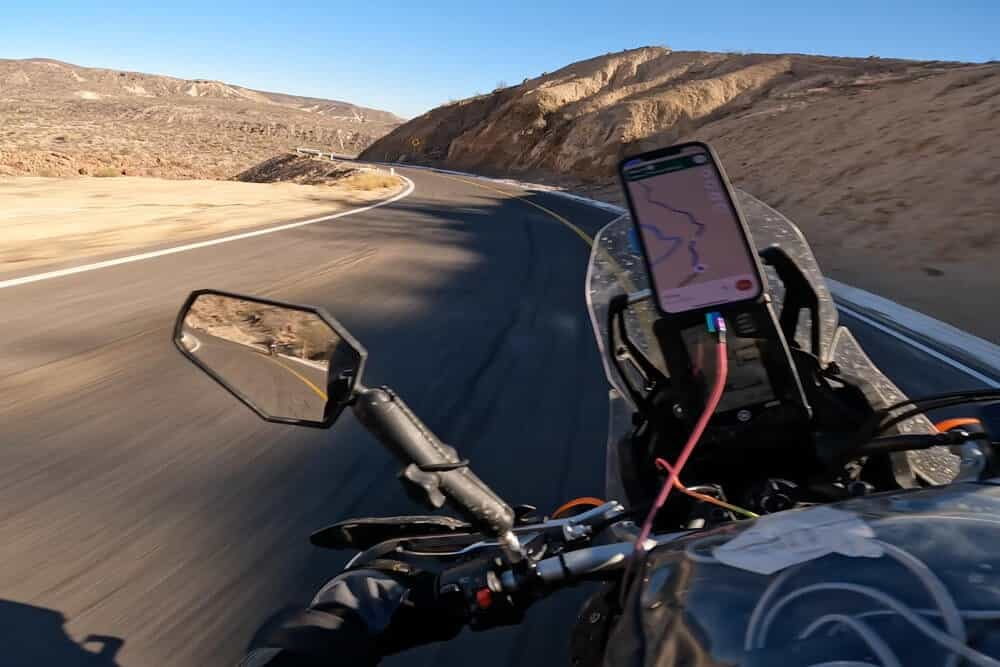 "Moments before Garrett put his foot down on a rear slide out in Baja"
With those caveats out of the way, we don't mind sharing that our Klim Adventure GTX boots have taken some damage.
Whether your average person will have the same experience we can't say, but here's what we've encountered so far.
First, while the BOA system is undeniably sweet and makes the boots a breeze to take on and off, we began having some issues with it after we hit the 12 month mark.
We started experiencing the same "sticking" of the BOA dial that some other riders have reported, which made getting the boot off frustrating when the dial didn't want to cooperate.
At one point we had a rider attempt to force the BOA open during one of these sticky experiences, which caused the stitching of the wire guide to tear from the boot.
The boots are still usable, but we can't help but wonder if they might be better off adding a second buckle and scrapping the BOA entirely.
We also managed to tear the sole off the tip of the boot on a recent Baja trip while attempting to correct a rear slide with a quick foot dab.
We've done this same maneuver countless times in hardcore motocross boots like the Alpinestars Tech 10 and Tech 7 without issue, so we were a little disappointed in that regard.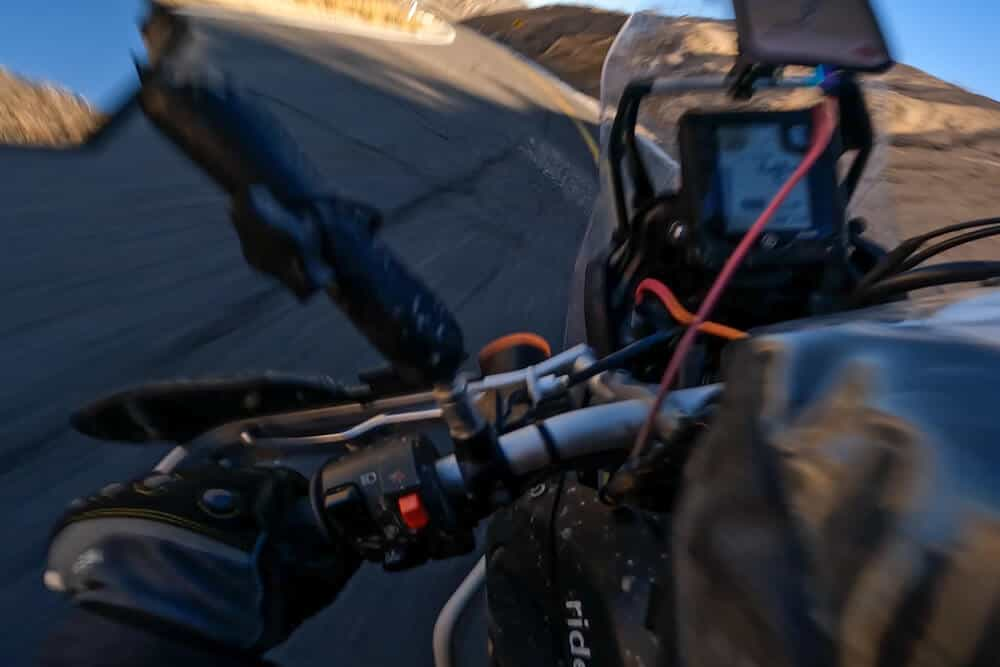 "This is about the time the left boot hit the ground during a 44mph rear slide out tearing the sole off the tip of the boot"
It's still worth mentioning that despite some of the potential durability issues, the Klim Adventure GTX boots have kept us safe for as many months as we've been wearing them.
We've had our fair share of tumbles in these boots, and they've left us unscathed every time, so kudos there.
Value
The Klim Adventures aren't the most expensive ADV-focused boot out there, but at $450 a pair they're definitely not the cheapest either. With that being said, we're of the opinion that there's no denying the value here feature-wise.
Gore-Tex waterproofing, elevated safety chops, a sweet BOA dial system, and a comfortable-yet capable Michelin rubber sole?
There are much more expensive boots out there delivering much less bang for your buck.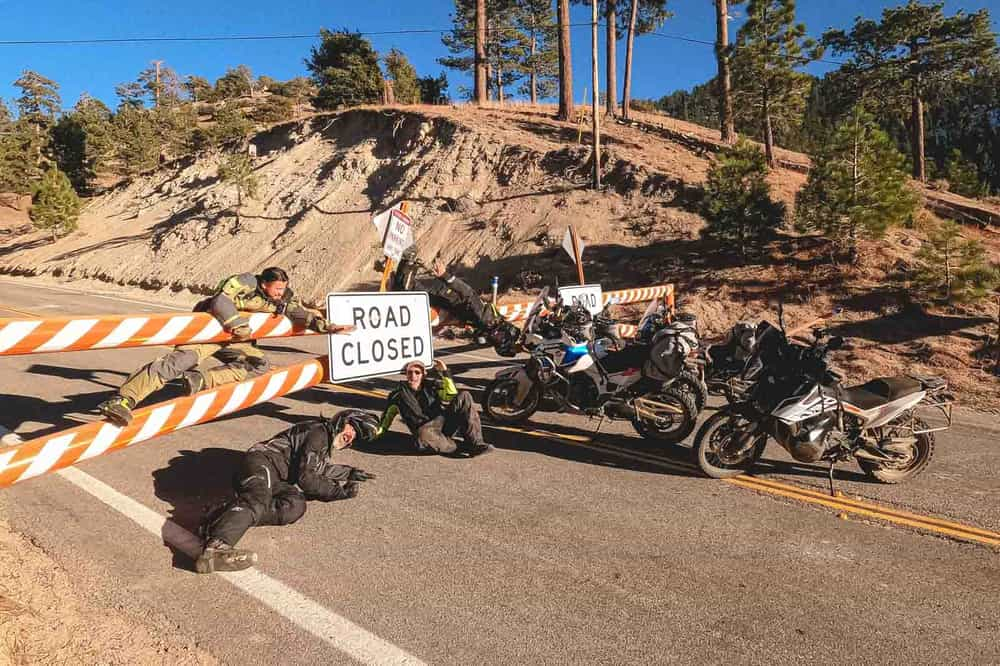 "The Klim Adventure GTX is also good for goofing around. Garrett and the team on our Pacific Coast Highway + Tour"
The only thing that potentially puts the value of these boots at risk for us is durability, with the BOA system being our chief concern.
Again, we chalk the BOA's eventual "stickiness" up to the constant dirt and dust exposure we experience riding through places like Baja, so depending on your riding style, this may be a non-issue for you.
It's also worth pointing out that Klim didn't design these boots to be rebuildable, so they lose a bit of value for us from a longevity standpoint as well.
The buckle can be replaced as needed, but the BOA system can't, and unlike similarly priced MX boots, the sole isn't designed for repair/replacement.
Final Verdict: Klim Adventure GTX Boots
All things considered, we feel the Klim Adventure GTX boots will be a smart buy for your typical adventure rider.
Klim designed these boots to deliver above-average protection without sacrificing much in the way of rider comfort, and we believe they succeeded in that regard.
No, they won't protect as well as a Tech 10 or Crossfire, and no, from what we've observed they won't last as long either if you log a lot of hard miles in the dirt.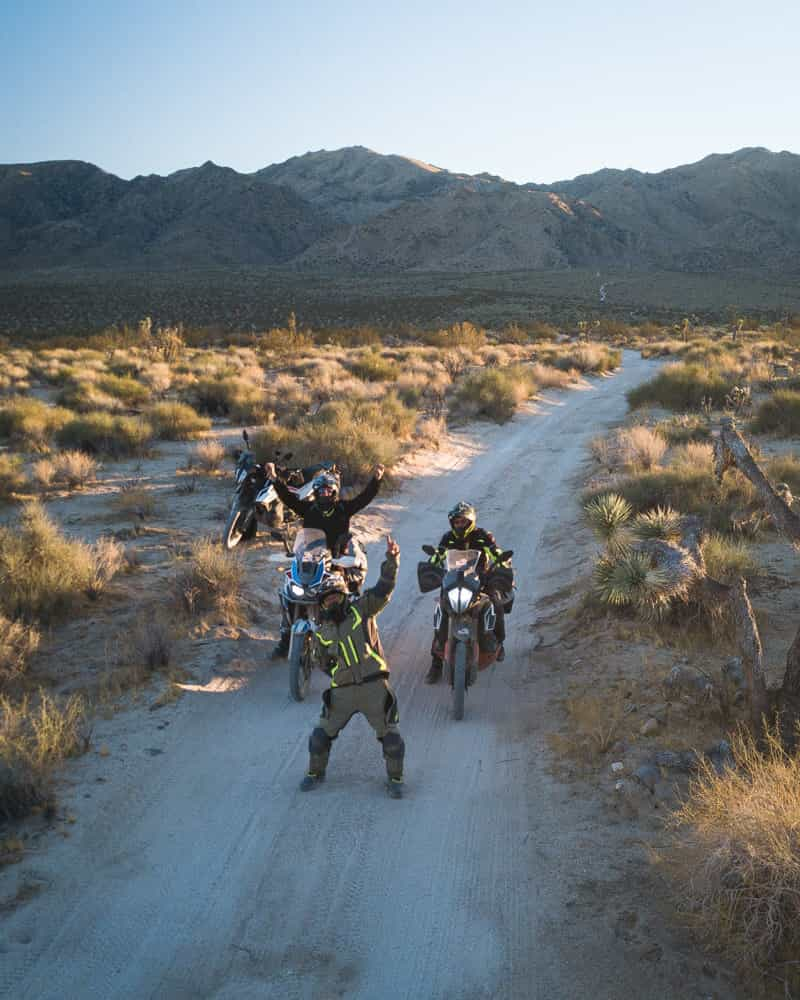 "Garrett with customers celebrating in Joshua Tree National Park near the end of the Pacific Coast Highway + Tour"
Neither of those boots will keep your feet dry, however, and unlike the Klim Adventure GTX, they're not particularly pleasant (or quiet) to walk around in either.
If your ideal boot is one that handles every aspect of adventure riding well, we give these boots the nod for their outright versatility.
They also happen to be less expensive than their similarly premium competition as well (Alpinestars Toucan, Sidi Adventure 2 GTX, Rev'it! Expedition GTX, etc), so if a capable all-rounder is what you're after, you won't be disappointed with Klim's latest.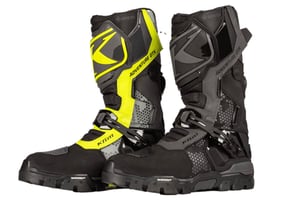 CHECK CURRENT PRICE:
Klim Adventure GTX Boots

Thanks for reading our Klim Adventure GTX Boots review article. We hope this helped you decide which motorcycle boot is right for you.
→Read More: 8 Best Adventure Motorcycle Boots and Best Adventure Motorcycle Gear for any RIDE.