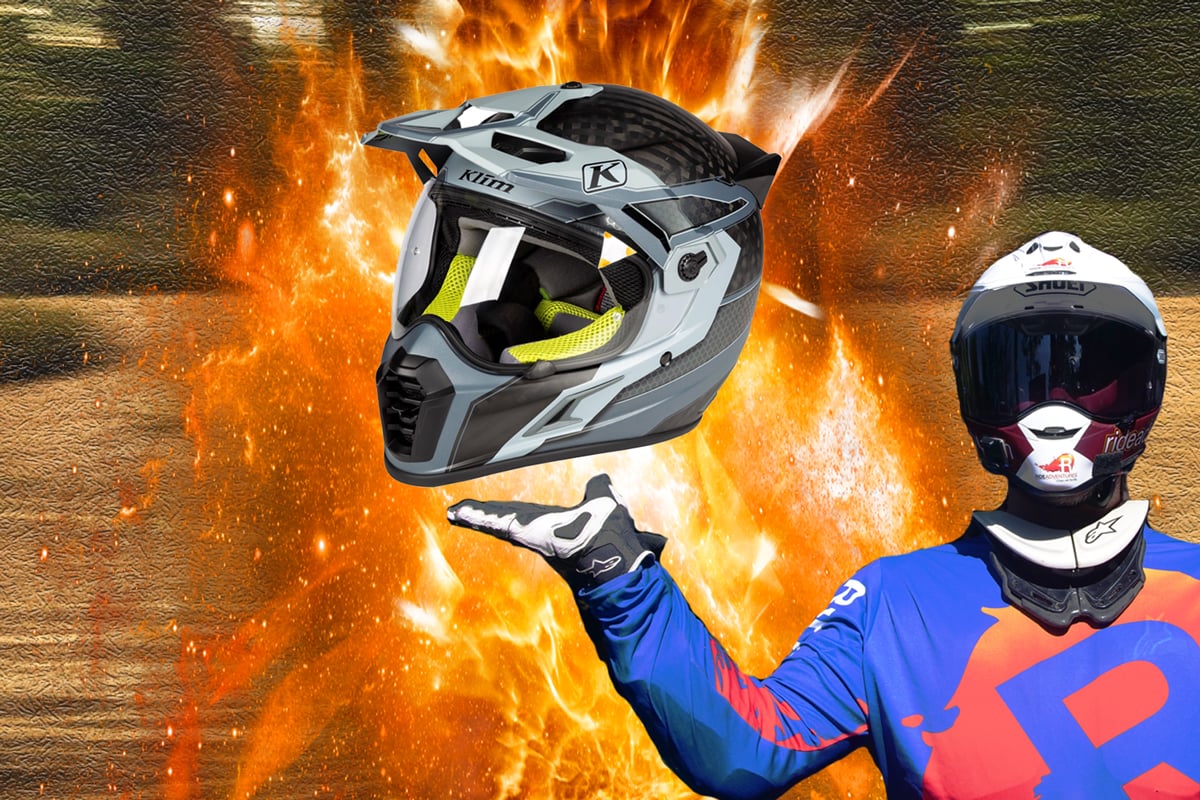 Disclosure: RIDE Adventures is a participant in the Amazon Services LLC Associates Program as well as other affiliate programs, designed to provide a means for us to earn fees by linking to Amazon and affiliated sites at no extra cost to you. Please see our Disclosure for more details.
Klim is arguably the first name in high-performance adventure gear, so you'd do well to take note when they introduce a premium adventure helmet like the Klim Krios Pro. Ultralight, well-ventilated, and packed with the latest tech, could the Krios Pro be the best dual-purpose helmet in the game?
Many of you will remember the introduction of the original Klim Krios back in 2016. Full-grown adults were walking into busy intersections trying to catch Pokemon on their iPhones, the loss of Harambe was still fresh in our hearts and minds, and the prospect of a lightweight adventure motorcycle helmet seemed unfathomable.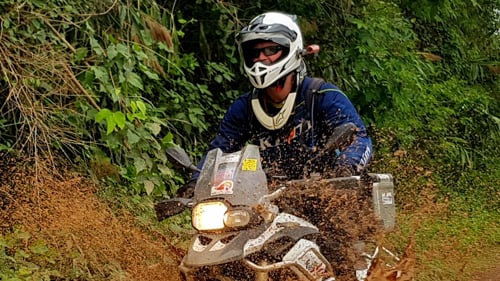 "Eric rocking the original Klim Krios helmet during a tour through Thailand."
Clearly the Krios didn't fix all of the problems of 2016, but it did raise the bar for lightweight comfort in the ADV segment, being stuffed to the gills with premium materials and weighing in at a spritely 3.3 pounds. We put countless miles on the original Klim Krios ourselves, and while it was an outstanding helmet for true all-terrain riding, it had one glaring issue: The chin vent simply didn't work.
Klim heard our cries, went back to the drawing board, and in 2020 dropped the latest and greatest Klim Krios Pro helmet we know and love today. We've been living with the Pro ourselves ever since, and lucky you, we're here to tell you all about it.
What Makes A Good Adventure Motorcycle Helmet?
Before we get into the nitty-gritty, we'd like to take a moment to qualify why we believe the Klim Krios Pro is a great helmet. If you read our dedicated article on all our favorite adventure motorcycle helmets, feel free to skip ahead to the main review, but if not, here are the cliff notes.
In addition to a reliable safety certification (DOT, ECE, Snell, etc.), the first thing we look for in an adventure helmet is compatibility with goggles. Whether you wear goggles 90% of the time or 9% of the time, the ability to use them as needed for dusty and/or sweaty offroad work can't be overstressed.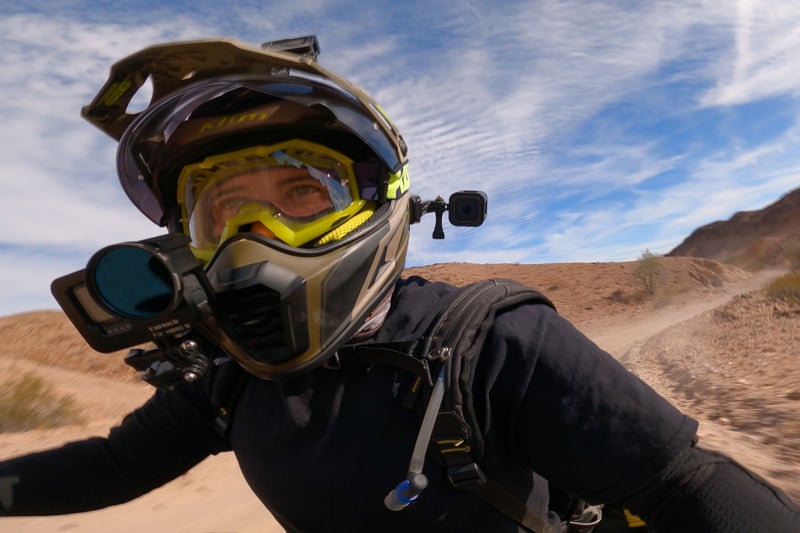 Speaking of which, we also require any proper "adventure helmet" to flow enough air for legit off-road riding. The ventilation on pretty much any helmet from a reputable manufacturer will be enough to keep you comfortable at speed on the street, but for the low speeds and high exertion of off-road riding, the bar is much higher.
We also look for decent aerodynamics at highway speeds. This is one of the major reasons most people can't stand wearing a motocross helmet on the street, and if your "adventure helmet" catches wind like a sail and jerks your head around all day, you might as well just save your money and rock a dedicated dirt lid.
Lastly, if at all possible, we prefer our adventure helmets to be much, much quieter than a motocross helmet, especially on the highway. Spoiler alert: The Klim Krios Pro does all the above pretty damn well, but here are our detailed notes from the field after spending a few years and a few hundred thousand miles with this helmet.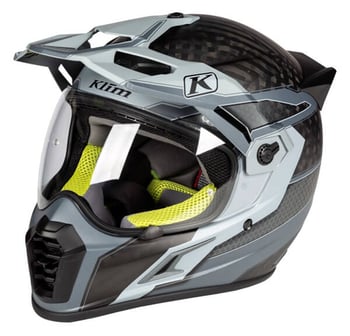 CHECK CURRENT PRICE:
Klim Krios Pro Helmet: Our Long-Term Review
If you're considering buying the Klim Krios Pro helmet, chances are you're in one of two camps: Either you're (a) trying to justify the cost over the original Klim Krios or (b) you're looking at any number of other dual sport helmets instead. Wherever you fall along that divide, here's what you need to know before deciding one way or another.
What You're Getting For Your Money
Ok, here's the deal: If you're shopping the Krios Pro against the original Krios and wondering "Where is my extra $200 going?" we've good news for you: You're getting more than an upgraded face shield.
Of course the face shield in question is a name-brand Transitions shield, which would typically set you back another $150 or so regardless of the brand you're shopping. This eliminates the need to carry both a clear and a smoked shield, and in our experience, is well worth the extra cost in convenience alone.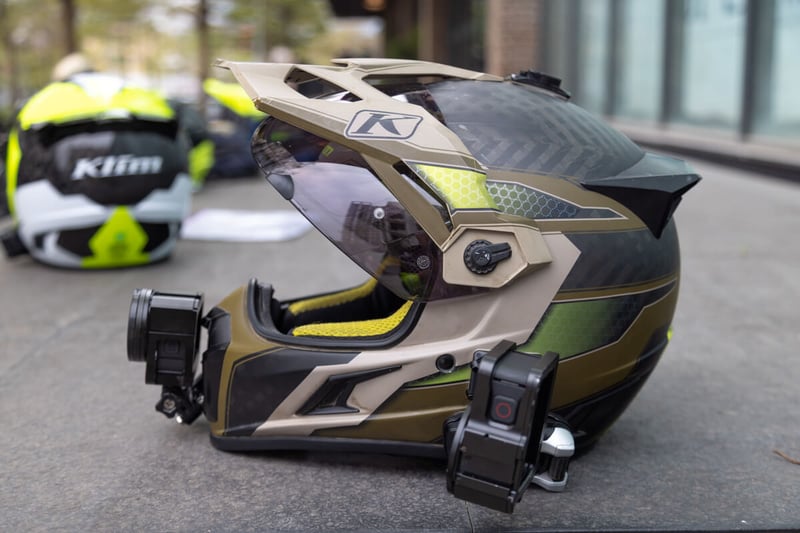 "The Krios Pro In all her glory"
In addition to that shield, you're also getting a Pinlock insert included in the box. This is typically a $30 upgrade to the original Krios, so although the OG Krios does ship "Pinlock-ready," the insert itself will set you back another couple of dollars.
OK so we're within striking distance price-wise of the original Krios, but believe it or not, we've yet to touch on the most important upgrades here. The first being the revised chin vent (aka the main reason for buying the Pro), which now vents air directly to the mouth like a proper motocross helmet, and therefore fixes our main complaint with the original Krios.
If you're still not convinced, we'll also note that the Krios Pro gets upgraded safety: Yes, the DOT/ECE ratings of the two helmets are the same, but the Krios Pro benefits from the latest and greatest Koroyd technology, which delivers improved impact protection while also boosting ventilation and lowering the helmet's overall weight.
On Road Performance
Ok, with that out of the way, let's focus on the day-to-day specifics of the Klim Krios Pro. This is a proper ADV helmet, but we'll start with its on-road manners in the name of suspense.
Long story short, we've got no major complaints with the Klim Krios Pro on the road, whether we're riding high-speed Oregon interstates or less-than-ideal international two-lanes. Much like the Klim Krios before it, the Krios Pro's sun visor is impressively aerodynamic for its size, and we never feel like we're being pulled one way or another when the speeds pick up.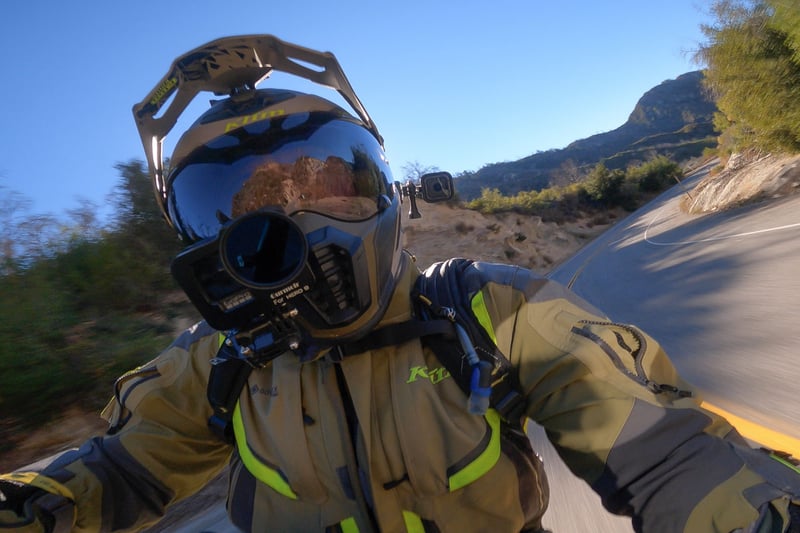 "The Krios cutting air in the twisties on our Pacific Coast Highway Trip"
In addition to its outright aerodynamics, we'll also give the Klim Krios Pro props for its go-anywhere, do-anything construction. Whether you're riding through freezing cold weather (and partly frozen roads) in Patagonia or through the unforgiving heat of a California freeway in the middle of summer, the Krios Pro keeps its cool and the Transitions visor/Pinlock combo never fogs up, period.
We will note that the Krios Pro is a bit noisier than its premium competition. Whether you're considering the similarly priced Arai XD-4 or Shoei Hornet, you'll get a bit more noise through the Krios (especially at speed), but it's still significantly quieter than any of our favorite budget-focused helmets like the Bell MX9 Adventure or Scorpion AT950.
Off-Road Performance
While the Klim Krios Pro's street manners are commendable, it's when the pavement ends that this lid really shines. Klim's addition of a motocross-style chin vent pushes a ton of air directly to your mouth, which is arguably the most important aspect of ventilation for off-road work.
This was our main complaint with the outgoing model, which basically just blasted air straight up into the shield (aka inside your eyelids) and nowhere else. While this was nice for keeping the visor of the original Krios as fog-free as possible (Pinlock not-withstanding), it did little to nothing for the actual ventilation of the helmet.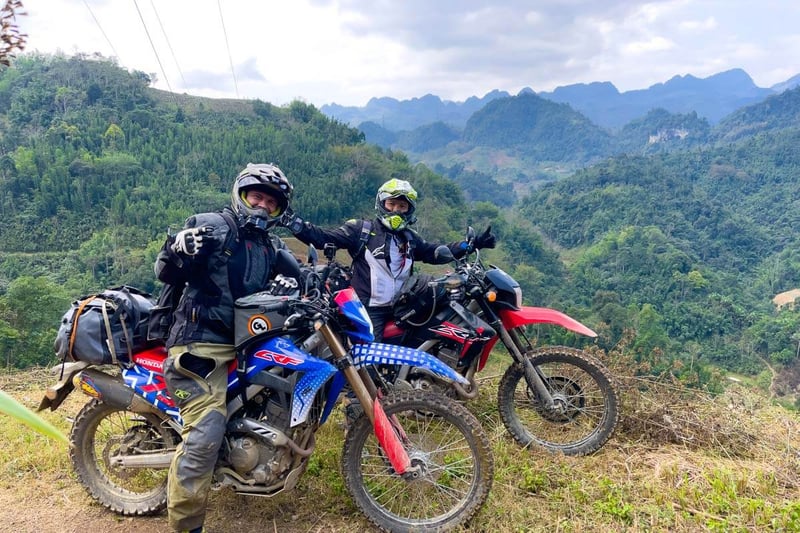 "Garrett taking the Krios Pro offroad on his trip to Vietnam to scout some routes for a new expedition option"
We'll also note that the upgraded Koroyd impact protection really makes a difference here. Because Koroyd technology utilizes hollow tubes rather than a solid layer of foam with a few holes drilled in it, the entire helmet breathes exceptionally well from top to bottom, and is just what the doctor ordered for sweaty off-road shenanigans.
Last but not least, we have to mention that we're big fans of the upgraded Fidlock helmet strap system. If you're not familiar with Fidlock, it's basically a magnetic locking mechanism that replaces the standard double-D-ring strap you'll find on the original Krios as well as 99% of helmets currently on the market.
We love the Fidlock buckle because regardless of whether you're bare-handed or working with the nastiest, muddiest gloves in a 200-mile radius, it takes all of two seconds to undue, and can be done one-handed, gloves or no gloves. This might sound trivial if you've been working with a traditional strap up till now, but trust us, once you go Fidlock, you'll wonder how you ever did without.
What We Don't Like About the Klim Krios Pro
No helmet is perfect, and while the Klim Krios Pro is undeniably one of the most well-made, premium helmets on the market, it's not without its faults. Our main complaint is the extra road noise we previously mentioned, and again, while it's by no means a deal breaker, it's a definite drawback when comparing the Krios to other similarly priced adventure helmets on the market.
The only other real complaint we have here is the visor pivot point. While this is definitely a minor nit-pick, a few of the folks on our team have commented that it feels much less robust than many of the helmets we've owned, and after a few thousand miles, the Krios' visor feels much more prone to snapping closed at highway speeds than the competition.
It's generally not an issue for lower-speed riding, particularly during off-road terrain where you'll want to keep the visor open and rely on your goggles to keep dust and debris out of your eyes. Once you get over 30 mph or so, however, its tendency to fall down can definitely get a little annoying, so you'll want to keep that in mind if you're considering the Klim Krios Pro.
Final Verdict: Klim Krios Pro Helmet
At risk of over-stating the obvious here, we're big fans of the Klim Krios Pro. This is arguably the best true 50-50 helmet out there, and while a few of the best adventure motorcycle helmets on the market might outclass it when it comes to street manners, there's no lighter or better-ventilated helmet on the market.
We also can't overstress just how good the visor of this helmet is. The Klim Krios Pro is the helmet that converted us to lifetime Pinlock enthusiasts, and combined with an actual Transitions lens, you've basically got a perfectly tinted, fog-free lens 24-7, 365 days a year.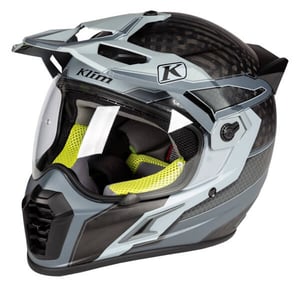 CHECK CURRENT PRICE:
Klim Krios Pro Helmet

Thanks for reading our Klim Krios Pro helmet review article. We hope this helped you decide which motorcycle helmet is right for you.
→Read More: Best Dual Sport Helmets in 2023 and Best Adventure Motorcycle Gear for any RIDE.