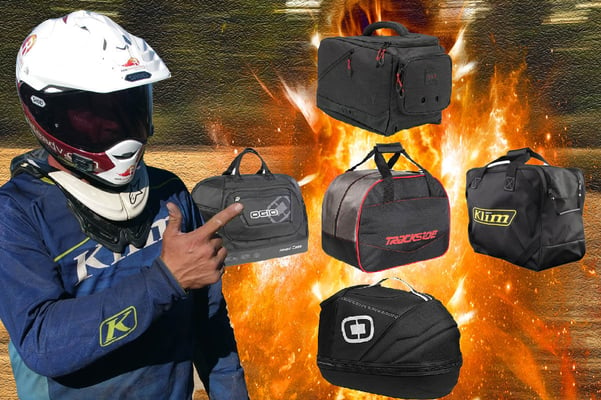 Disclosure: RIDE Adventures is a participant in the Amazon Services LLC Associates Program as well as other affiliate programs, designed to provide a means for us to earn fees by linking to Amazon and affiliated sites at no extra cost to you. Please see our Disclosure for more details.
Your helmet protects your brain, so shouldn't you protect your helmet? Motorcycle helmet bags are cheap insurance for your most expensive piece of gear.
We've all been there a time or two: You get a shiny new motorcycle helmet to replace your moldy old lid, and within the first month, you manage to treat it to a nice fat scuff.
Yes, it's heartbreaking, but we've only got ourselves to blame for mistreating our most prized piece of protection. Who knows how many more months of new helmet bliss we could have had if we'd stashed that bad boy in a proper motorcycle helmet bag?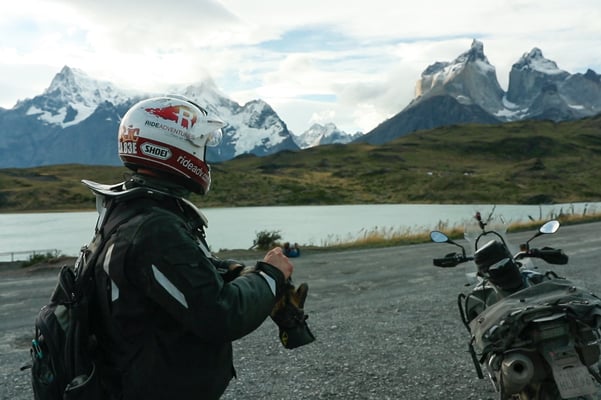 "Helmets like Eric's Shoei Hornet go for $600+, who wouldn't drop another $20 to protect them?"
Truth be told, if your helmet didn't come with a nice bag from the factory, there's just no excuse not to have an aftermarket case in your quiver. A good helmet bag can be had for less than a case of beer in this day and age, so save yourself some grief and consider the following.
What Makes A Good Motorcycle Helmet Bag?
Assuming you're still with us at this point, we can all agree that a helmet bag is a smart way to protect your investment. The question now is what makes any motorcycle helmet bag worth paying for?
Hard Bags v. Soft Bags
Motorcycle helmet bags generally come in one of two styles: Those with rigid exterior shells, and those with soft/flexible fabric construction. Both have their pros and cons, so here's our 10 cents on each.
Soft bags are by far the most common option, and will be just what the doctor ordered for 99% of riders. A good soft bag provides plenty of protection from bumps and scratches, is rugged enough to hold up to daily wear and tear, and usually costs a good bit less than comparable hard-case options.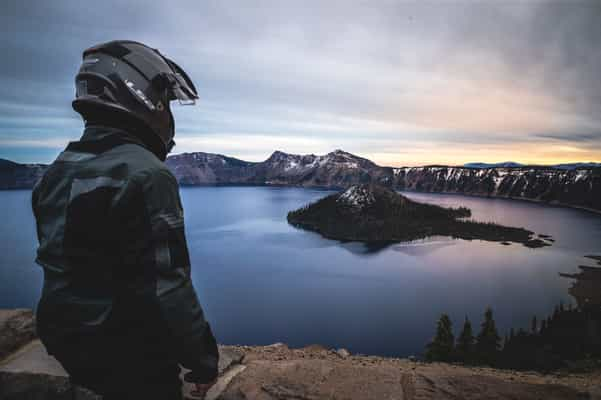 "If you're bringing your own lid for excursions like our "best of the southwest" trip, you'll want to travel with a helmet bag"
While soft shell motorcycle helmet bags range from simple fleece lined totes to thickly padded and highly-protective cases, there's still nothing quite like hard protection.
For this reason we recommend shelling out on a hard case if you often travel with a helmet, especially if there's any chance of having to check the bag for flights rather than using it as a carry-on.
Interior Protection
Our main reason for owning a helmet bag is to protect our helmet in transit, so both the type and quality of interior protection in a given bag should be high on your list.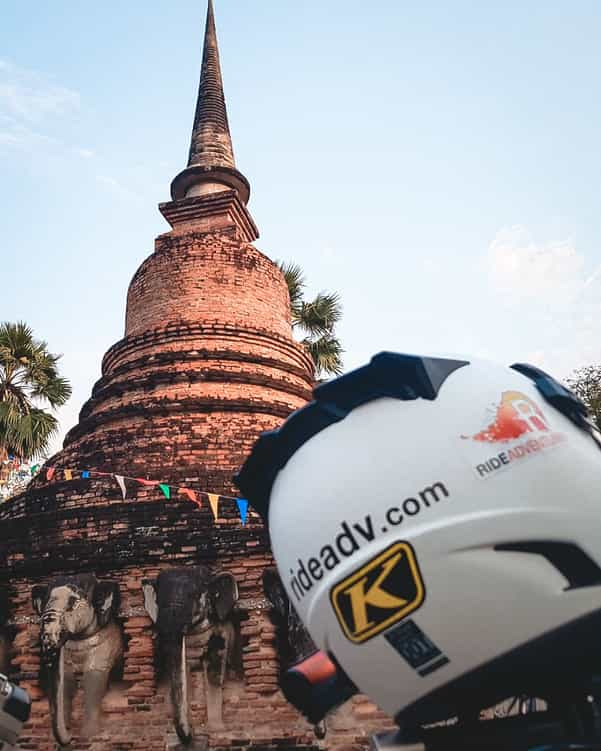 "On our tour in Thailand this helmet made it in pristine condition courtesy of a simple soft bag."
We consider the bare minimum for protection to be a soft liner of some kind, whether it's streamlined microfiber or high-pile fleece. We'll take a thicker fleece when we can get it, but ultimately these liners are only intended to protect the finish of your helmet and/or goggles from scratches.
The best motorcycle helmet bags also include some kind of foam padding, which adds a degree of impact protection to the mix.
Ideally that padding will be adjustable to accommodate various sizes and styles of helmets, but you can expect to pay more for that level of protection.
Storage & Organization
One of the major factors that separates basic motorcycle helmet bags from their premium counterparts is how they handle storage, both internally and externally.
Your specific needs will differ depending on the type of helmet you're hauling, but there are a few universally useful features to keep in mind.
As far as internal storage goes, most motorcycle helmet bags are designed to fit a wide variety of helmets, but if you're got too much extra space inside the bag, your helmet is more likely to get knocked around a good bit.
For this reason we look for bags with either adjustable dividers on internal straps to keep your helmet secure in transit.
The other main feature we look for here are storage pockets, whether they're additional compartments inside the bag or stand-alone exterior pockets.
Ideally the bag should have at least one pocket that's large enough to stash a pair of goggles, but if there's room for extra visors, hardware, cleaning supplies, or gloves, it's always a bonus.
Capacity
Capacity refers to the total interior volume of a motorcycle helmet bag, and just like any proper gear hauler, it's typically listed in liters. Not all helmet bags list their total capacity, but it's a smart idea to verify whenever possible.
We say this for two reasons: First helmets come in different shapes and sizes, and unfortunately, not all motorcycle helmet bags are one size fits all.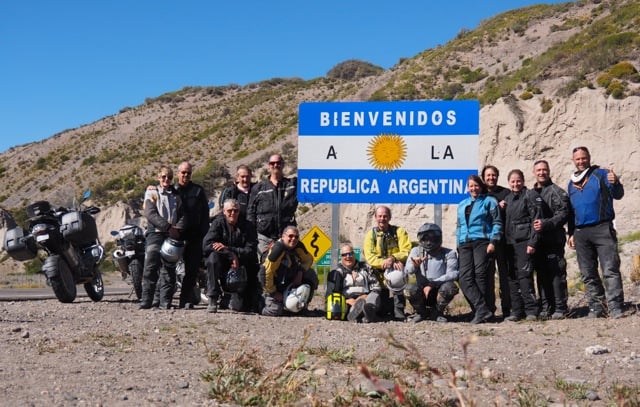 "It's good to think about capacity on long flights like the ones that you will take when riding one of our Patagonia tours. "
Second, bags with higher capacity leave more room for stashing extra helmet accessories, be it goggles, tear-offs, cleaning kits, or neck braces.
Ideally we look for helmet bags with around 30 liters of capacity, as this size almost always fits damn near any type of helmet without going overboard.
That includes both streamlined road racing helmets and more awkward dirt/dual sport helmets with extended sun visors.
Our Recommendations for Motorcycle Helmet Bags
Keeping the above points in mind, we have a few helmet bags worth considering if you're ready to step up the protection for your lid.
The list below includes models for every sort of rider on any budget, so regardless of what you're wearing, there's a bag below to match.
1. Klim Helmet Bag
We've been outspoken fans of Klim helmets (their Krios Pro is particularly good for ADV/dual sport riding), and we're happy to report that their helmet bags are made with the same quality and attention to detail.
This soft shell bag delivers reliable protection from scratches and scruffs with an insanely thick woven nylon exterior and a buttery-soft microfiber lining.
A dual-pull zipper with a tough plastic handle makes for easy access, and a padded velcro carry handle and embroidered Klim logos round out the package.
It's a major upgrade from your basic drawstring slip-cover, and one that will last for years to come with a reasonable price to boot.
Our main complaint here is that this motorcycle helmet bag is pretty bare bones with zero pockets or internal organization to speak of, but it's roomy enough to fit all types and sizes of helmets with space to spare for an accessory or two.
Pros:
Rugged materials and quality construction
Thick microfiber liner
Works for on and off-road lids
Cons
:
No extra padding
No extra storage/organization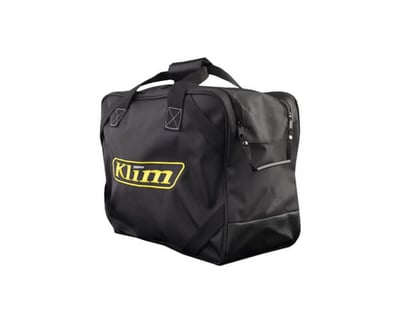 CHECK PRICE:
Klim Helmet Bag

2. Ogio Head Case Helmet Bag
Ogio is known for their next level motorcycle luggage, whether it's streamlined hardshell backpacks or premium motorcycle helmet bags like the Head Case.
We consider this model as the starting price point for a serious helmet bag, as it packs a few premium perks that set it apart from more budget-conscious options.
The first is that in addition to a tough exterior fabric and soft fleece lining, Ogio adds a layer of protective foam to the mix. This adds a degree of impact protection for your helmet, which adds peace of mind when you're stuffing it into an overhead bin before takeoff.
We also love that Ogio built the bottom of this bag out of an extra-tough rubberized fabric, which makes it waterproof and easy to clean similar to a high-end duffell bag.
There's also a nice fleece-lined exterior pocket with plenty of room for a pair of goggles.
The Head Case costs a bit more than some of the other soft bags on our list, but it's money well spent for anyone that regularly travels with a helmet.
We'll also note that while the oversized shape of the bag allows for universal fitment, it can be a bit more room inside than we'd like for more streamlined street/race helmets.
Pros:
Padded and fleece lined for outstanding protection
Rubberized bottom for added durability and easy cleanup
Exterior fleece-lined goggle pocket
Cons:
Step up in cost from other soft bags
Oversized construction overkill for street helmets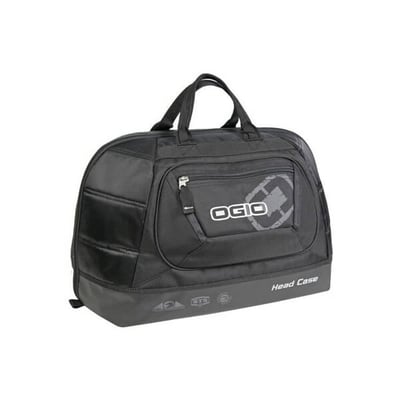 CHECK PRICE:
Ogio Head Case Helmet Bag
3. Trackside Helmet Bag
If bang for your buck is what you're after, you'll find no better deal on the market than this motorcycle helmet bag from Trackside. This bag is priced like a no-name Amazon special, yet comes from a reputable brand. What's not to love?
For about $20 (even less when it goes on sale), you're getting all the essentials: Rugged 1680D nylon exterior, a plush fleece liner, and there's even an external fleece stash pocket to boot with room for a pair of goggles.
Trackside even managed to spec this bargain bag with YKK zippers, adding even more value to an already sweet deal.
The Trackside helmet bag also boats enough space to accommodate helmets with sun visors, making it a great option for club racers and adventure riders alike.
So what's not to love here? Not much, honestly. Your total protection is limited thanks to the simple softshell construction and the bag doesn't look particularly flashy by any standard, but at a price this good, who can complain?
Pros:
Super affordable
Enough capacity for all helmet types/sizes
Extra storage for goggles/accessories
Cons:
Softshell construction limits protection
Bare bones look and feel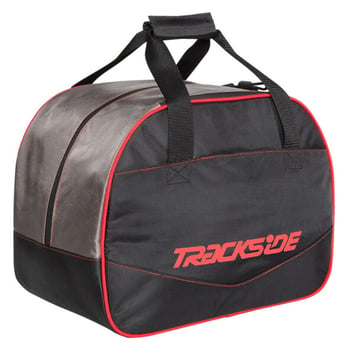 CHECK PRICE:
Trackside Helmet Bag
4. Ogio ATS Helmet Case
The Ogio ATS Helmet Case is widely regarded as best motorcycle helmet bag on the market, and would be our first pick if money were no object.
With a hardshell construction made from molded EVA foam, the ATS is one of the only helmet bags in existence we'd be comfortable checking for a flight.
The interior is lined in fleece microfiber, but also includes an adjustable insert that securely holds any size helmet and a neck brace in place.
The other big perk of the ATS Helmet Case is that Ogio includes an adjustable storage pocket on the exterior, designed to hold four separate pairs of goggles.
A set of velco foam dividers allow you to divvy-up this pocket as you see fit, making it ideal for adding sensitive electronics like Go-Pros as well.
The primary drawback here is price, and at well over $100, the Ogio ATS Helmet Case is a serious investment. We consider it a fair price to pay to protect some of the $500+ lids out there though, so if you've got the cash, it's well worth the money.
Pros:
Outstanding rigid protection
Room for your helmet, neck brace, and goggles
Adjustable interior padding
Cons:
Goggle pocket isn't fleece lined for some reason
Expensive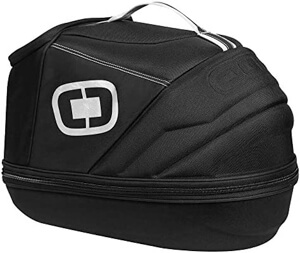 CHECK PRICE:
Ogio ATS Helmet Case
5. Fly Racing Helmet Garage
If you're digging the frugality of the Trackside bag above, but don't mind spending a bit more for some extra refinement, check out the Fly Racing Helmet Garage. This motorcycle helmet bag goes for about $40 all day, but looks and feels like bags twice its price.
A few good examples include the weather resistant plastic bottom, metal eyelets for ventilation (to keep the stink factor down), and a hefty molded rubber carry handle.
You'll also get two extra exterior pockets for the money (that's three total), making the Helmet Garage one of the better organized bags out there at any price.
This bag will be the perfect fit for 90% of riders, but it's lack of padding (fleece liner only) keeps it from competing with premium options from brands like Ogio.
We'll also note that while the extra pockets are a nice touch, they'll be a tight fit for most goggles, so you'll likely end up stashing yours inside your helmet.
Pros:
Ton of bag for the money
Wide-mouth zipper for easy access
Ample exterior storage
Cons:
Exterior fabric doesn't feel as durable as some
Exterior pockets are a tight fit for goggles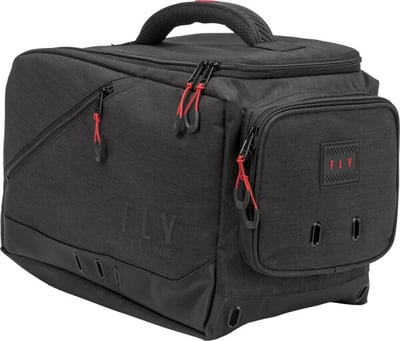 CHECK PRICE:
Fly Racing Helmet Garage
Closing Thoughts on Motorcycle Helmet Bags…
Traveling with a helmet can be an awkward experience. Whether they're riding shotgun in your truck or accompanying you through a crowded airport, some degree of protection is always a good idea.
With that being said, we realize some helmets cost significantly more than others, and dropping $100 on a motorcycle helmet bag just isn't in the cards for everyone.
At the end of the day, however, your helmet protects your skull, and taking good care of your brain bucket is just a no brainer, especially when a good helmet bag can be had for around $20 nowadays.
→Read More: 6 Best Adventure Motorcycle Helmets and The Shoei Hornet X2 Helmet Review.