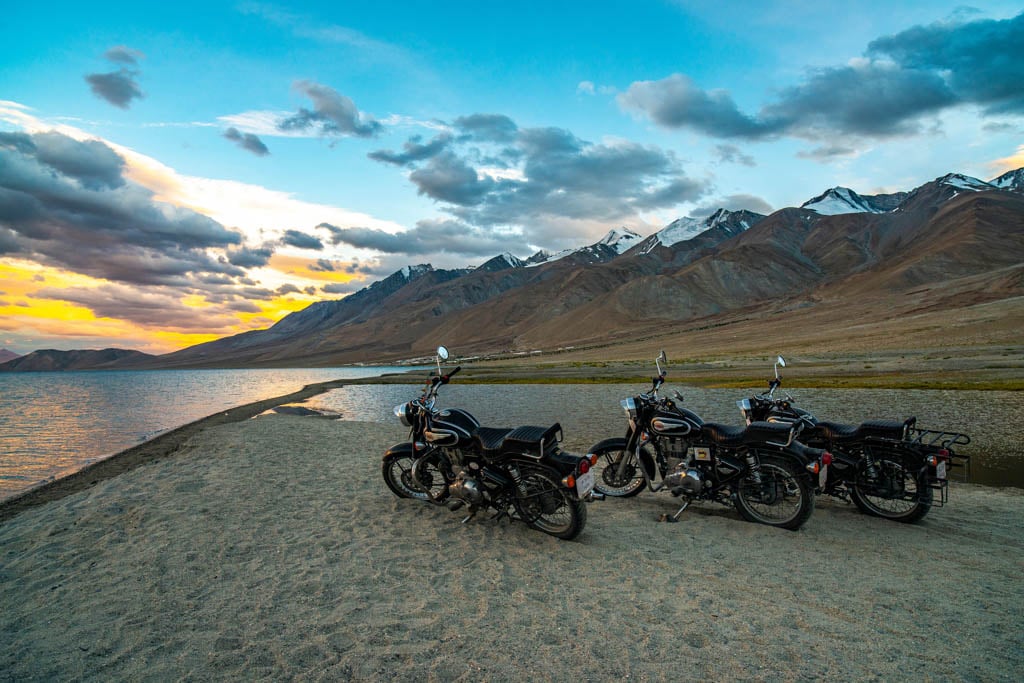 You can keep your five star resorts, overpriced drinks, and tourist traps. We've learned from experience that a proper motorcycle holiday is the only vacation that'll truly scratch the itch.
There's nothing like spending six month sitting behind a desk to give you the travel bug. Just get the hell outta' dodge, turn off your phone, and focus on getting some headspace.
While we've got nothing negative to say about headspace here at RIDE Adventures, we don't mind sharing that we've got a far superior alternative: Helmetspace.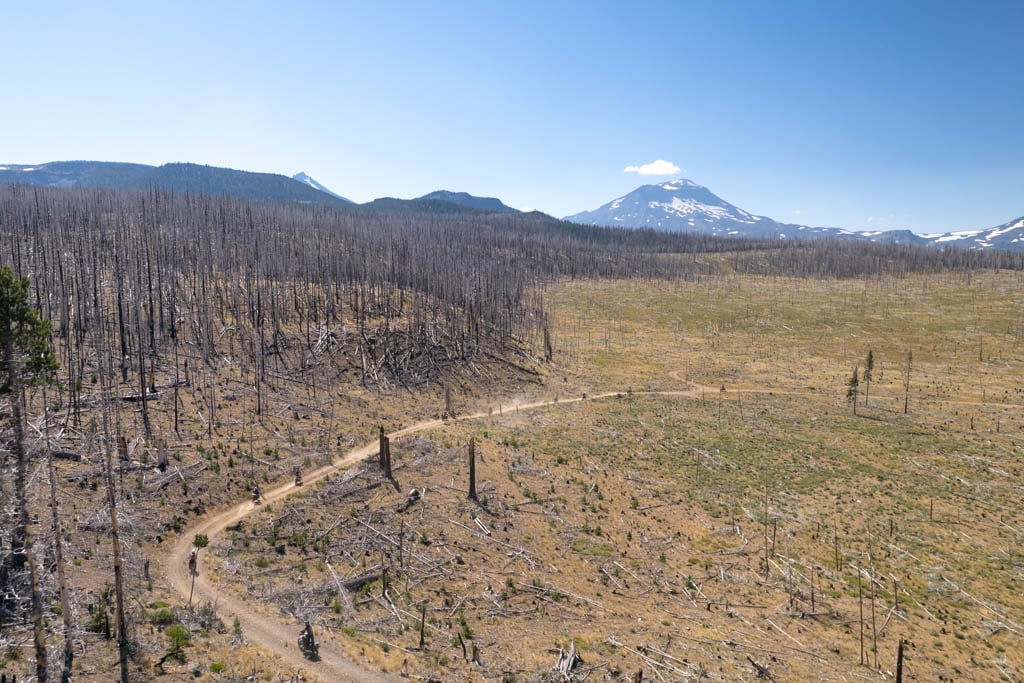 "Central Oregon is breathtakingly beautiful and home to some of the most peaceful backcountry dirt roads you've ever seen."
Family vacations have their place and we understand no grown adult in their right mind actually wants to go to Disney to relax, but a motorcycle holiday simply can't be beaten when it comes to getting the most out of your time away.
To that end, we've put together nine of our favorite two-wheeled getaways on the planet, both domestic and abroad.
Our recommendations include ideal motorcycle trips for summer and winter travel as well as year-round options that always work regardless of what the weather looks like in your home town.
Best Motorcycle Holidays During Summer
Nothing like getting a little wind in your hair (or lack thereof) to beat the heat in the months of summer. If you're looking to cool off somewhere new and exciting, here are your best options for two-wheeled touring.
1. United States: Utah & Oregon
Who said you had to leave the States for an epic motorcycle holiday? If summer destinations are what you're after, our two favorite stops are our home state of Oregon and a little off-road fun around Utah.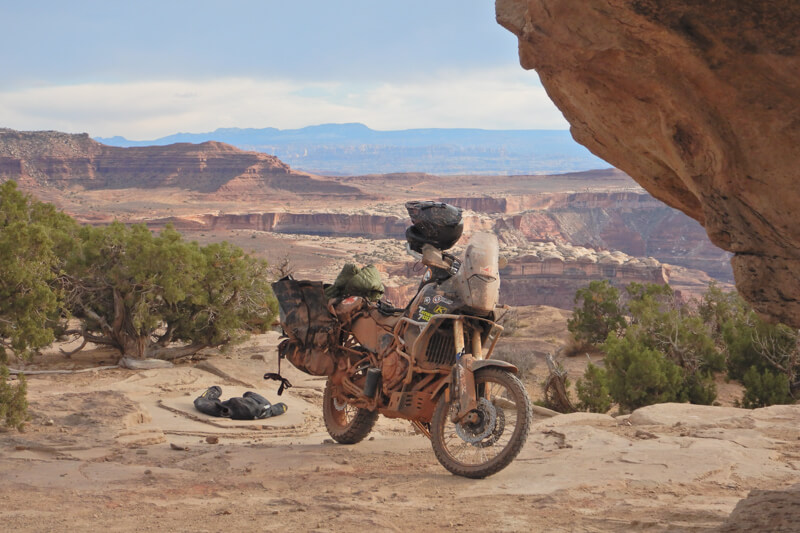 "Red dust, slick rock, and canyons everywhere you look. Summer motorcycle holidays in Utah are not to be missed."
Oregon is an absolute gem in the summer after the snow pack melts in June, and our route of choice leaves from Bend and dives straight into epic adventure riding and postcard views on day one.
Our favorite loop packs Smith Rock State Park, Belknap Crater, Oregon Redwoods, and even Oregon's famous Crater Lake into an action-packed six day route.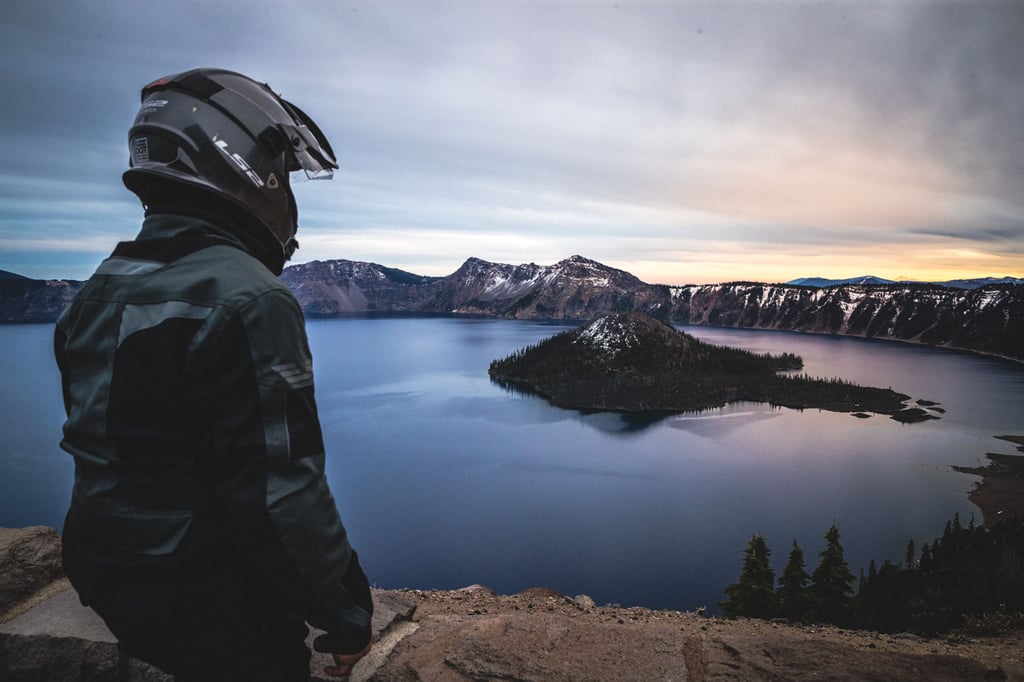 "Riding along the Cascades Mountain range Is an unforgettable experience"
If you prefer to get your boots as dusty as possible, Utah is the move. Tours around the off-road mecca that is Moab include opportunities to ride everything from shifting sands to sticky slick rock trails.
This one also works earlier in the year (May is a great time to go), so if you get a window before summer's official start date, don't miss it.
2. Europe
A proper European motorcycle tour is a mindblowing undertaking, and as luck would have it, some of our favorite destinations across the pond are ideally situated for a summer holiday.
Our top two recommendations for this time of year are riding through the picturesque Alps starting in Germany, or heading east for an adventure tour of the Balkans.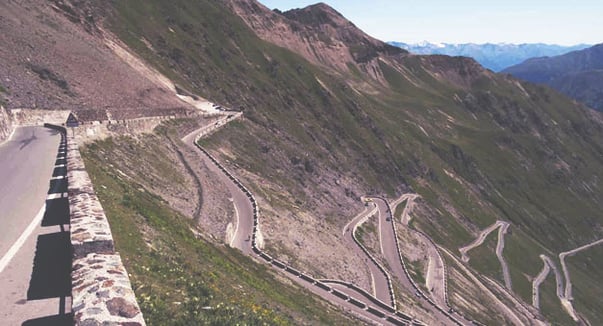 "Don't miss the infamous Stelvio Pass, one of the world's premier sport riding roads.."
While the Alps themselves will likely need no introduction, our route of choice is worth discussing: It starts in Munich, then winds its way through Austria, Italy, France, and Switzerland for the full Alps experience.
This route includes the legendary Stelvio Pass, an absolute bucket-list motorcycle destination which Top Gear famously referred to as the "greatest driving road in the world."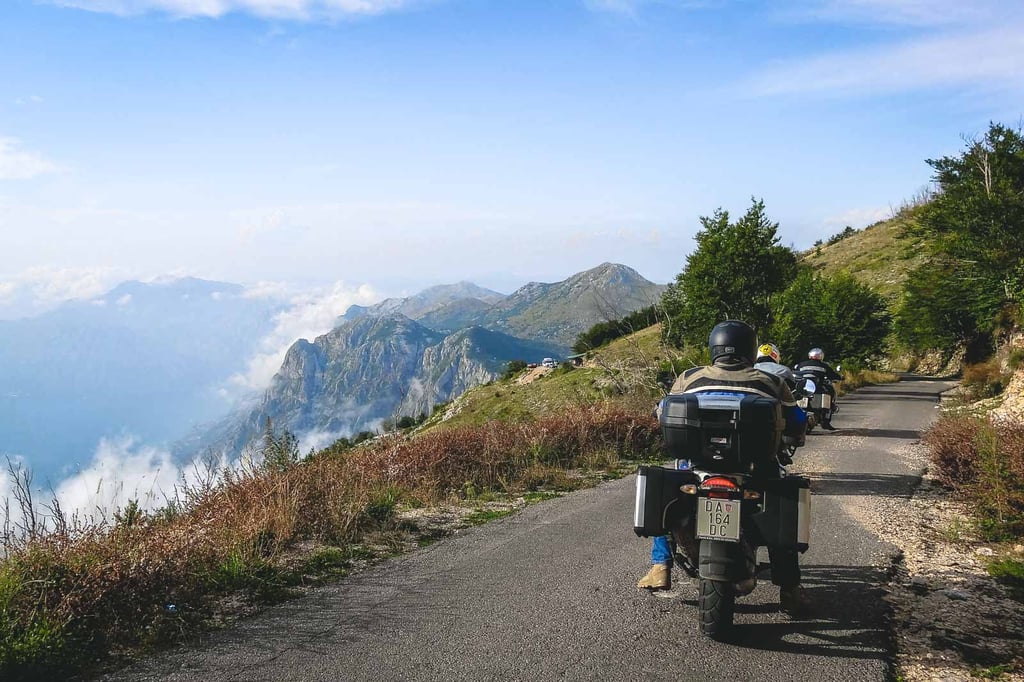 "Croatia has some spectacular high altitude mountain views"
If you prefer a little coastline action on your ideal summer motorcycle holiday, a tour through the Balkans can't be beaten. Our favorite route combines massive stretches of the Adriatic Coast via Croatia with the epic primeval forests and mountain twisties of Bosnia.
3. Himalayan Mountains
Towering mountain passes, old-world monasteries, vast deserts, and damn good food: That's what a motorcycle holiday through Tibet's Himalayan range has to offer.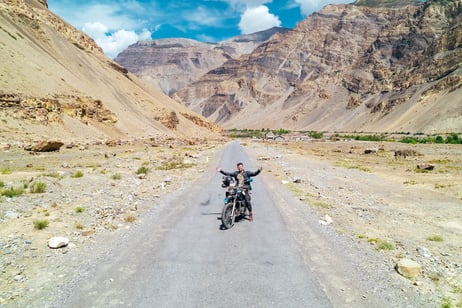 "While there are plenty of great dirt roads around the Himalayas, the majority of the routes are shockingly well paved."
Tours through the Himalayan range are about as zen as they come: Quiet mountain roads dotted with sleepy settlements, pristine pavement, and easy-going dirt roads.
This is also your opportunity to ride a motorcycle to one of the highest drivable points on the planet, Khardung La Pass, which tops out at a mind-blowing 17,582 feet.
Best Motorcycle Holidays During Winter
Some folks claim winter brings seasonal depression, but we're pretty sure going three months without riding is the real culprit when cold weather rolls around. Our recommendation?
Take a winter motorcycle holiday and go where the riding weather is.
4. Baja California/Mexico
Wild, scenic, and always a damn good time, taking your two-wheeled travel south of the border has always been a surefire way to cure what ails you. Nothing screams vacation like long days of dual sport adventure followed by laid-back afternoons spent sipping drinks by the ocean.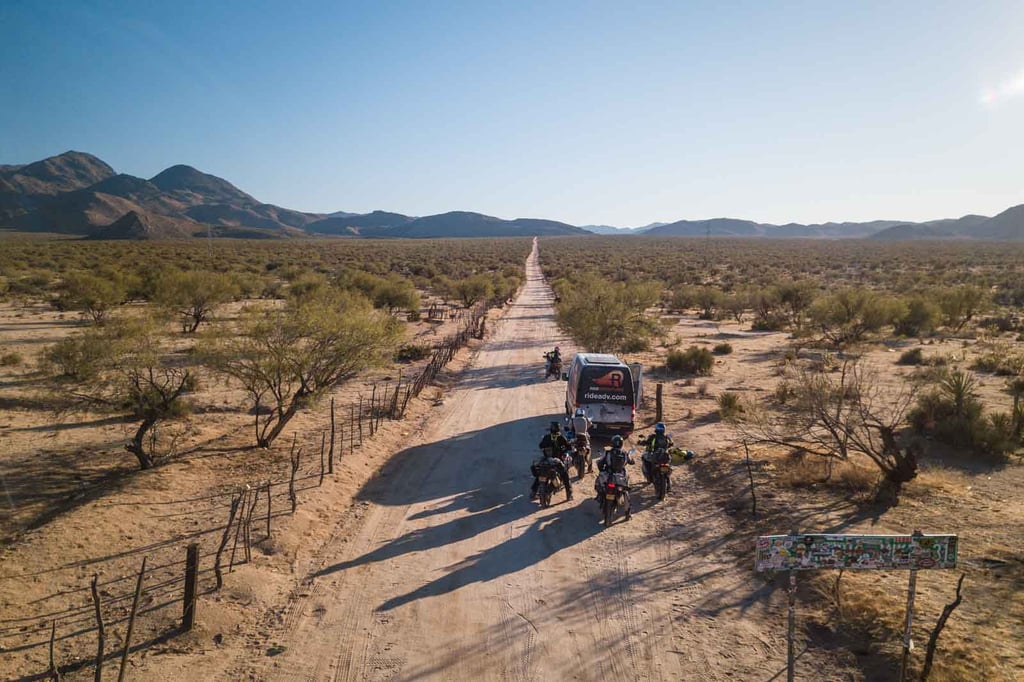 "There's nothing like a trip down south to keep the winter blues at bay."
Temperatures in Baja range from warm to mild during the day all winter long, so it's perfect riding weather without the typical heat and sweat associated with desert regions.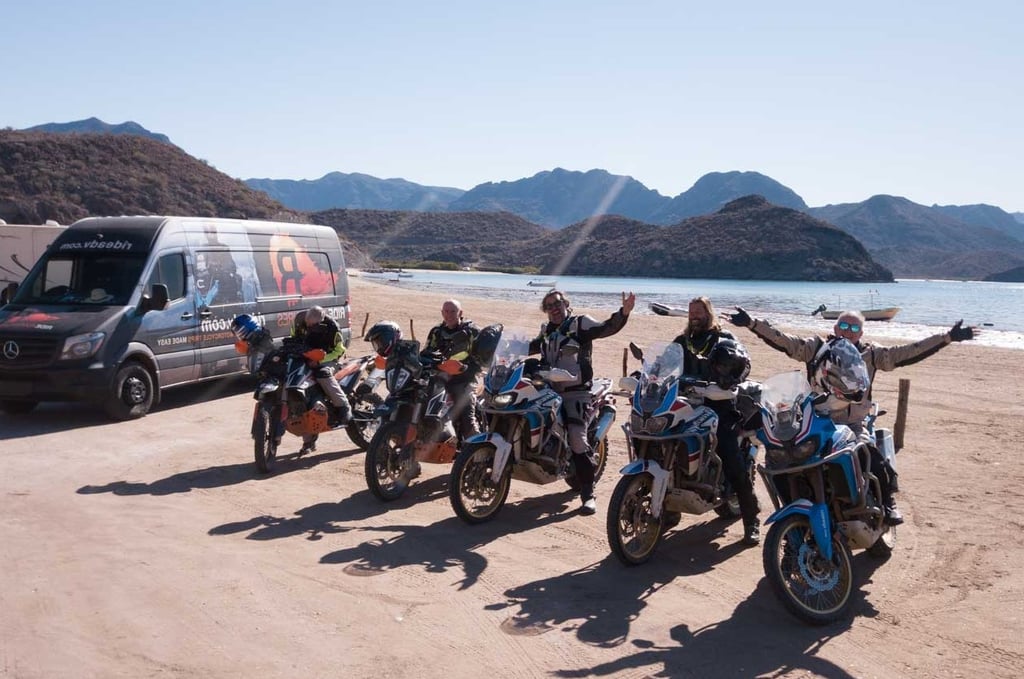 "Aqua blue Tranquil coastlines await you in Baja"
Our Baja tours are genius in their simplicity: Start in San Diego, then ride south until you run out of road. If you've still got the wind in your sails, you can always just turn right back around and do it all in reverse.
5. Patagonia
Winter may seem like a strange time to point your motorcycle toward the south pole, but the weather in South America is actually damn fine this time of year.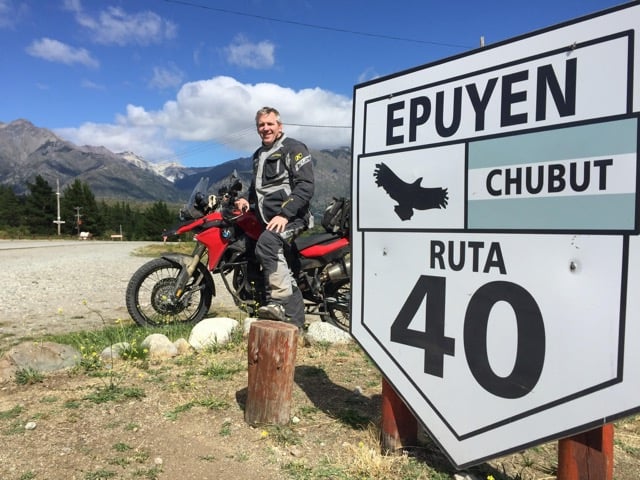 "Discover the famous Ruta 40"
There may be a few sections where heated grips are a welcome addition, but truth be told the wide variety of weather and conditions you'll experience in the span of a week are part of what Patagonia such a satisfying motorcycle holiday to begin with.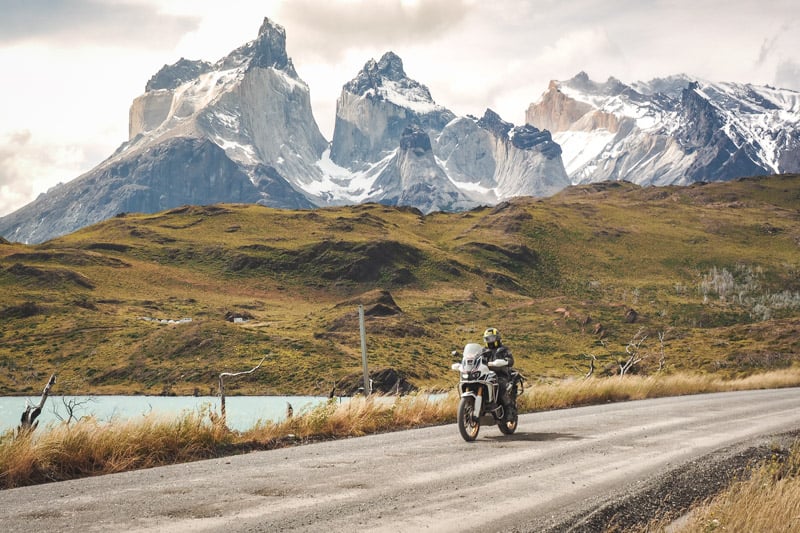 "Feeling small next to Los Cuernos in Torres Del Paine National Park"
The majesty of this place is impossible to put into words. Everywhere you ride looks like it belongs on a postcard from the jagged peaks of Torres del Paine to the electric blue waters of El Calafate.
Patagonia is home to some of the greatest roads on the planet both on and off pavement. Don't pass this one up.

6. Morocco
Fancy a more skilled off-road challenge for your winter motorcycle holiday? How does following along the tracks of historical Dakar races sound?
If you're not shaking in your boots just reading that, the desert sands of Morocco will be right up your alley.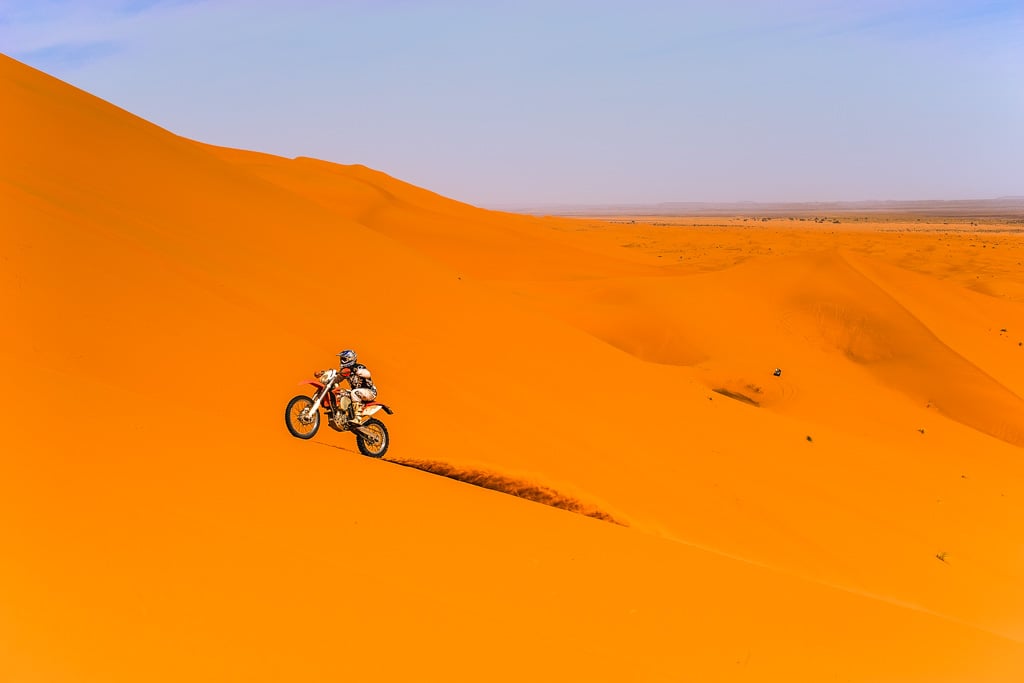 "Fancy a little sand in your boots? Why not retrace Dakar history in the deserts of Morocco?"
Of course there's more to Morocco than just sandy desert blasts. With the Mediterranean Sea at your disposal to the north and romantic coastal locales like Casablanca to the west, truth be told the entire country is a choose-your-own-adventure playground if you know where to look.
Year Round Motorcycle Holidays
Good old sunny Southern California isn't the only place in the world with year-round riding weather. Winter, summer, fall, whatever: These locations are good fun year-round.
7. Colombia
Ideally situated at the northernmost point of South America, Colombia is the ideal location to go riding 365 days of the year.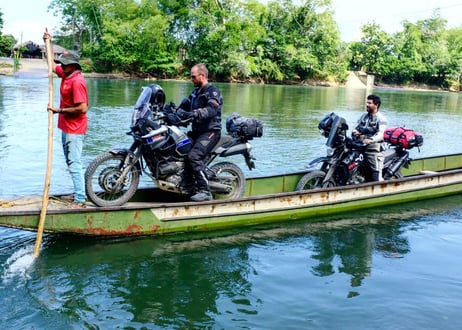 "Nothing says adventure like riding through the jungles of Colombia"
Volcanos, waterfalls, and an onslaught of massive valley vistas make riding in this part of the world feel like an absolute fever dream, so much so that many of our riders come back for a second helping after they've had their first taste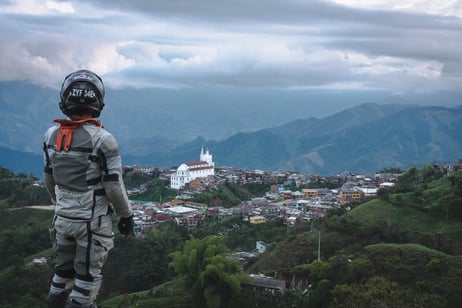 "Obscenely lush and bursting at the seams with sweeping vistas: If you've never considered Colombia for a motorcycle holiday, you're missing out"
In addition to its excellent on and off-road riding, Colombia truly has something for everyone. Enjoy lush green views of the Andes from the famous coffee plantation region, soak up a bit of the nightlife in the city of Cali, or do a little dirt in the unique microclimate of the Tatacoa Desert.
8. Vietnam
You could certainly argue that Vietnam is the ultimate motorcycle holiday for dual sport and dirt bike riders. The country is littered with some of the most extensive singletrack trails on the planet, all of which are as scenic as they are challenging.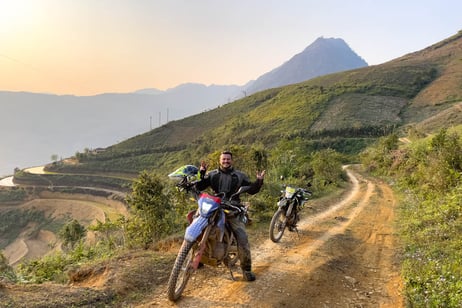 "The terraced rice fields of Vietnam are a sight to behold, made that much better when viewed from the seat of a dual sport motorcycle"
Hit the Sapa region and check out the sprawling terraced rice fields lining the hillsides. Experience wildly affordable luxury accommodations in downtown Hanoi.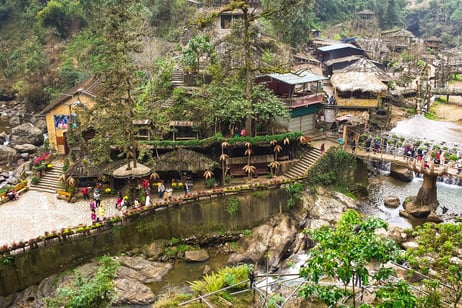 "Discover the cultural town of Sa Pa"
Swim in the emerald green waters of Ba Be Lake National Park. This one checks all the most adventurous boxes you can imagine, and if you don't mind riding through the wet season, it's a hell of a ride any time of year.
9. Thailand
Quite possibly the greenest route on the planet, a motorcycle holiday through Northern Thailand feels like a ride through a jungle because... well... that's basically what it is.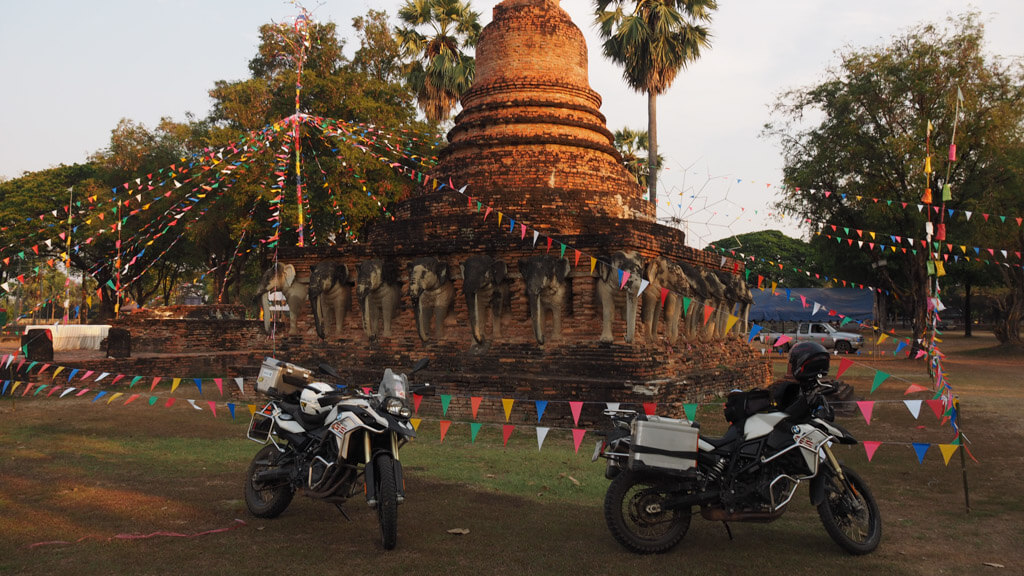 "Visit the ancient Buddhist temples of Thailand"
Don't get us wrong, there are plenty of major cities sprinkled throughout the country, but if you're looking for a more in-depth experience, we highly recommend following along Thailand's network of dirt roads and stopping to hang in it's multitude of small villages.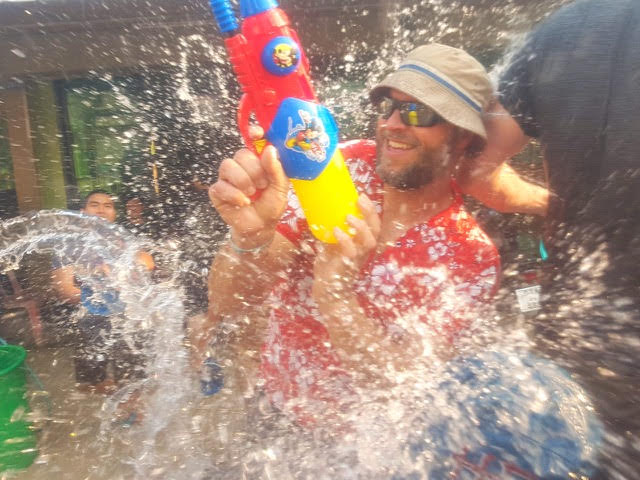 "Eric gets into the Songkran spirit at a village in Northern Thailand"
Thailand is definitely a year-round warm weather destination, but if you're looking to avoid the hottest time of the year, you may want to steer clear of the month of April.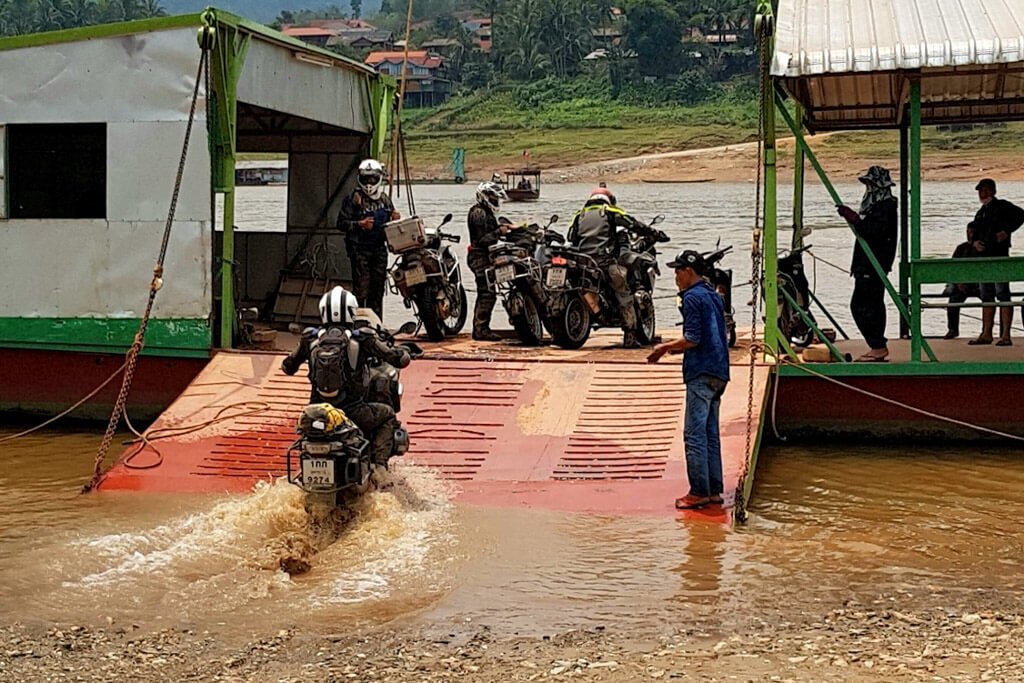 "Crossing the Mekong Delta is not easy but worth the journey"
Of course April is also the month of Songkran, which is essentially a country-wide water fight, and having the locals hit you with big buckets of water as you ride through town is an experience in itself.
Final Thoughts on Motorcycle Holidays...
The only thing better than exploring a wild new place is exploring it on two wheels. Adventure riding combines two of the greatest pleasures in life: The thrill of riding a capable motorcycle, and the revelation of experiencing new and exotic places.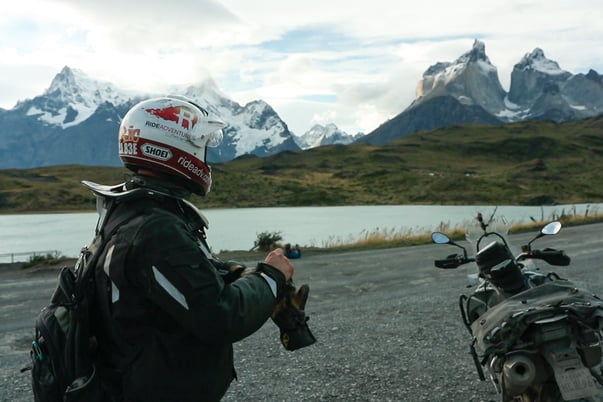 Some folks lay on beaches to clear their heads. Others sip colorful cocktails beside swanky resort pools to achieve the same end.
Personally we've always found there's no better therapy on the planet than putting your head in a helmet and logging some miles, so if you're needing a little R&R yourself, just drop us a line here and we'll get you started down the path to the most memorable motorcycle holiday of your life.
→Read More: 7 Top Motorcycle Destinations in North America and Street & ADV Motorcycle Training.