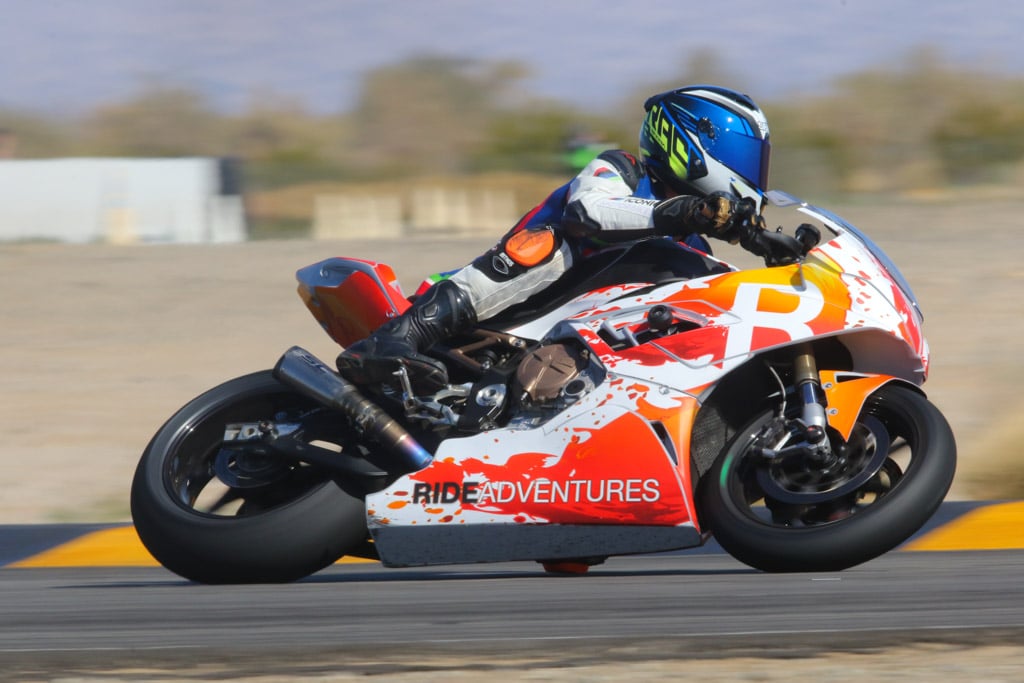 Disclosure: RIDE Adventures is a participant in the Amazon Services LLC Associates Program as well as other affiliate programs, designed to provide a means for us to earn fees by linking to Amazon and affiliated sites at no extra cost to you. Please see our Disclosure for more details.
When it comes to safety meets style, nothing handles both jobs quite as well as a leather motorcycle racing jacket. Here's how to pick your next one.
While adventure touring is our bread and butter here at RIDE Adventures, ADV gear isn't always the best option for other kinds of riding. Whether you're blasting around your local canyon roads or running errands in the city, nothing looks quite as sharp and protects quite as well as a proper motorcycle racing jacket.
Leather and motorcycles have gone hand-in-hand for the better part of a century, but not all racing jackets are created equal. Here's our take on what to look for when buying your own, as well as a few of our favorite jackets of the year to get you started on your hunt.
What to Look For in A Motorcycle Racing Jacket
So you've decided to add that centerpiece of two-wheeled gear to your collection, the coveted motorcycle racing jacket. These jackets can be a big investment, so here's how to ensure your money is well spent.
Street, Track, or Both?
Riders have two main reasons for wanting a motorcycle racing jacket: Either they think they look sweet, they're going racing, or some combination of the two.
To that end, we recommend first asking yourself what you intend to use your jacket for: Track time, or just cooking it through the twisties with a little extra style.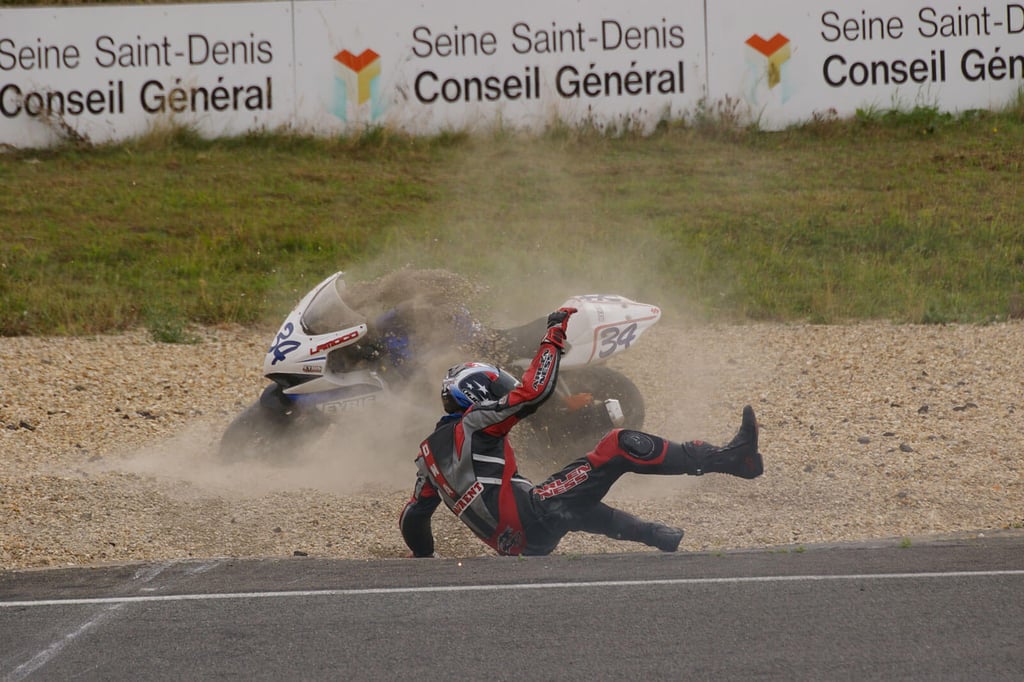 "If you're considering doing some track time in your jacket, it needs to be highly protective and compatible with racing pants."
If you're planning on doing any actual racing or track days in your jacket, you need to start your search by making sure your motorcycle racing jacket of choice is compatible with a pair of race pants, aka it works as a "two-piece" race suit. That's because while most all race tracks allow two-piece suits for "casual" use, 99.9999% of them require the jacket and pants to be physically connected by a zipper.
That means you'll need to select a jacket with a zip-in-pants system already integrated into the design. The good news is that most of these "zip-in" systems are compatible with a wide variety of pants from the same brand, so a "matching set" of the same model isn't actually necessary to meet safety requirements.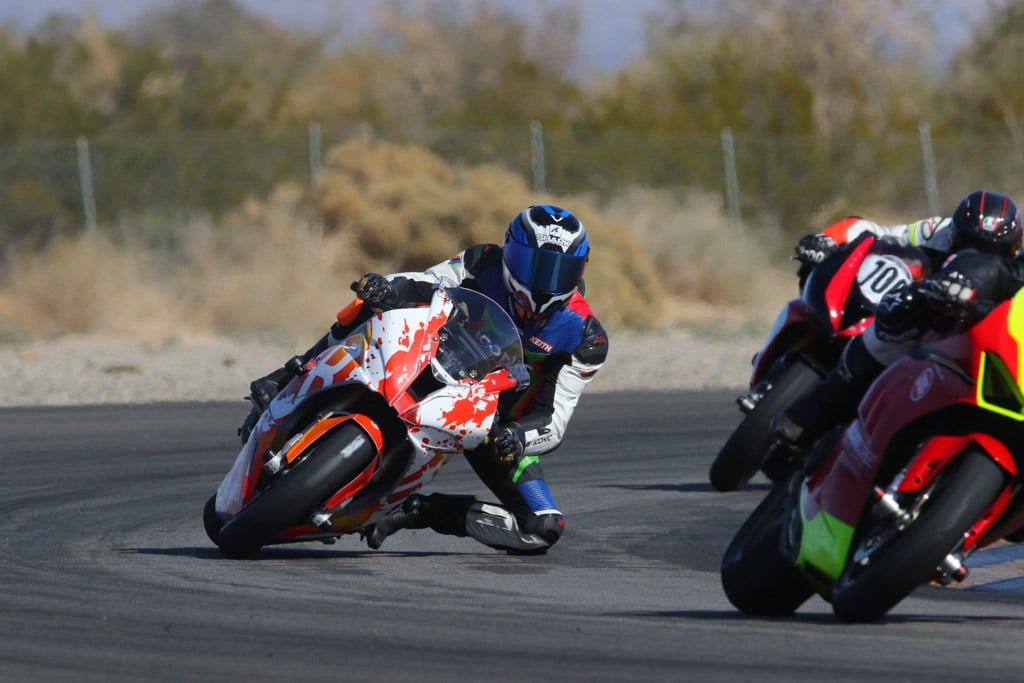 "Kieth, one of our Team RIDE riders raking up those track days"
Many even include a secondary zipper as part of the package, which you can then have sewn into your riding pants of choice.
If you have no plans to wear your motorcycle racing jacket on an actual race track, you're wide open to select whatever jacket suits your fancy. There's a bit more than just style that goes into the selection of either type of jacket though, so let's touch on those briefly.
Racing Jacket Material Choice: Solid Leather, Perforated, and Textiles
Race jackets are, by definition, leather jackets, as no other material available offers quite the strength, abrasion resistance, and "multi-crash" performance as full-grain leather. Whether that's cowhide, kangaroo, or bison is up to you (each has its benefits), but full-grain leather is the only serious choice for a race jacket.
With that being said, you'll see a few different flavors of leather out there. Apart from the different sources described above, the main concern here is whether you want your leather solid or perforated.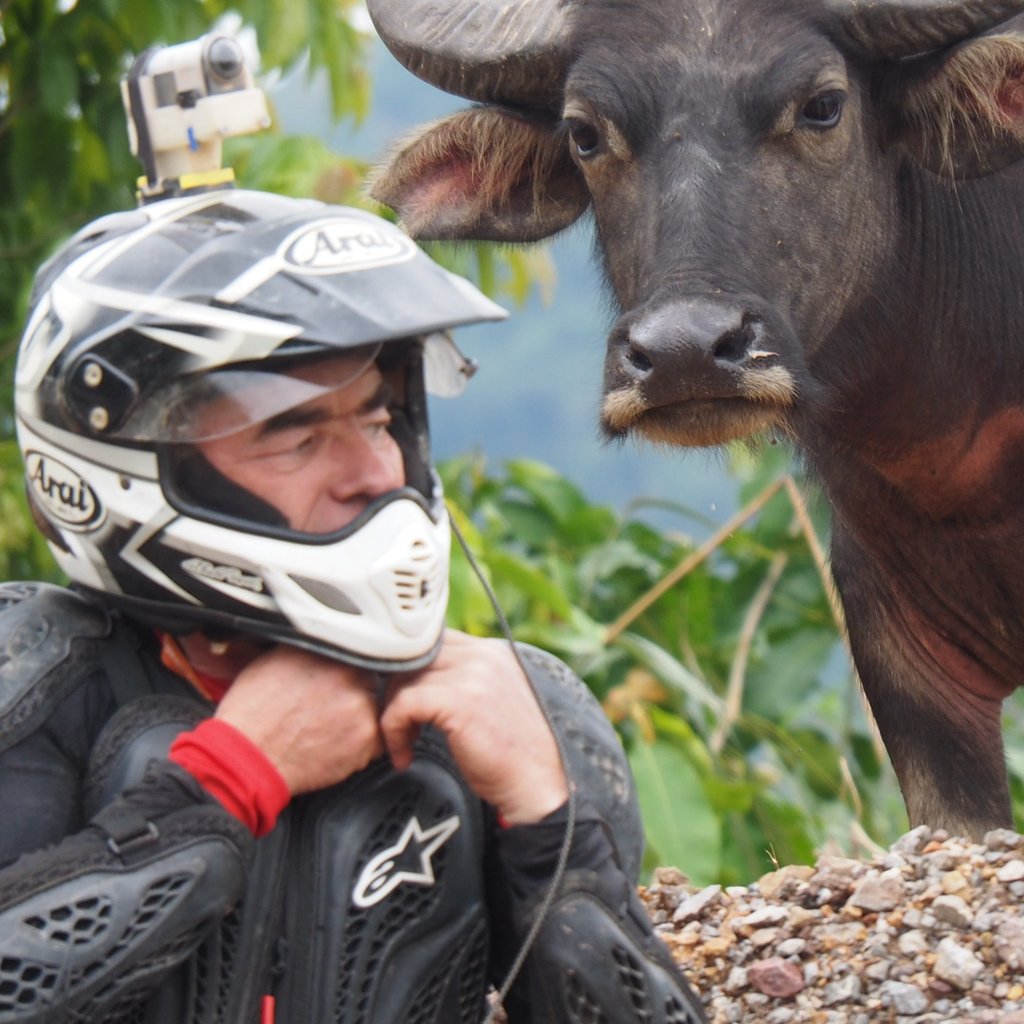 "Leather is a must for racing jackets... Apologies to our all four-legged friends."
Solid leather, as the name suggests, is free of any perforations and features minimal airflow or ventilation. This type of leather is ideal for cool-to-cold weather riding, as it does the best job of keeping body heat in and cold air out.
Perforated leather, on the other hand, is a popular option for three-season riders who want the look and protection of leather, but also want some added airflow for comfort in warmer or more active conditions.
While swamp ass is pretty much unavoidable in leather pants of any description, the tiny holes punched in perforated leather jackets up the airflow as much as possible without sacrificing any safety chops, making this the best option for most riders in most conditions. The amount of perforation found in any given jacket differs wildly, but as a general rule of thumb, more holes = more airflow = less sweat.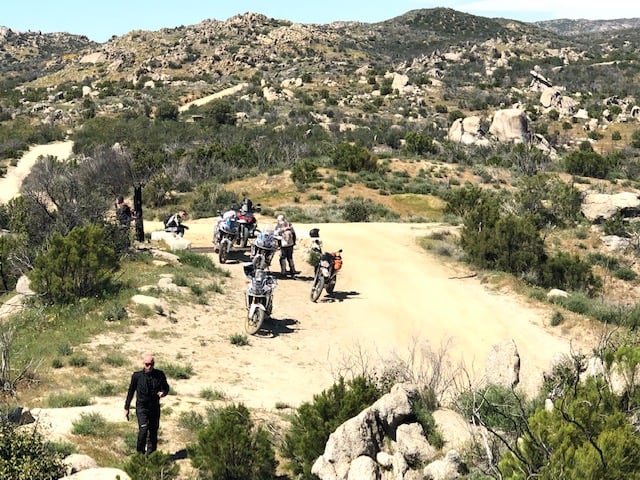 "Leather tends to run hot, so if you're riding in warmer climates, perforated leather is the only serious choice."
Last but not least, a word on textiles: More and more often, manufacturers like Alpinestars, Dainese, and Rev'It are finding creative ways to work flexible and breathable textiles into the designs of motorcycle racing jackets.
You'll often see these materials in "non-critical" areas like the armpits and inside arms of jackets, and in our experience, this blend of leather and textile makes for the most comfortable construction money can buy.
While solid leather gussets do a great job of handling flexibility for cold weather jackets, we highly recommend looking for a motorcycle racing jacket with as much stretch textile in the mix as your budget allows. The style isn't for everyone, but from a performance standpoint, these panels are worth every penny.
Impact Protection on your Motorcycle Racing Jacket
Whether your motorcycle racing jacket is designed for track use or not, pretty much every jacket in this category benefits from trickle-down safety technology derived from the highest levels of racing. That means these jackets are some of the most protective garments money can buy, but you'll still want to pay attention to both the type and level of impact protection that's included in any jacket you're considering.
The most basic type you'll find is integrated body armor, which has become more protective, more flexible, and less bulky than ever before thanks to malleable composites like D30 or proprietary systems like Alpinestars' Nucleon Flex or Dainese's Proshape armor.
At minimum, your jacket should include flexible CE/EN certified protectors in both the shoulders and elbows, as well as compatibility with a back protector insert (we prefer standalone protectors, but that should be optional, not mandatory).
Another major safety feature to look out for are integrated sliders, which are generally found in the shoulders and/or elbows of more "tech-savvy" motorcycle racing jackets. Sliders are made from either TPU or a metal alloy of some kind, but both types serve the same purpose: To keep you from breaking bones in the event of a crash.
The thought of a two-inch hunk of plastic or titanium standing between you and a full body cast may sound far-fetched, but there's a reason every rider on the MotoGP grid has sliders on their leathers: As the name suggests, this added material is meant to "slide" over rough surfaces (asphalt) rather than snagging on the pavement, which helps prevent your jacket from "grabbing" the surface and sending you into a bone-breaking tumble.
If protection is your main priority and you've got the cash to spend, this tech shouldn't be overlooked. As we're fond of saying here at Ride Adventures, even the most expensive gear is cheaper than the average hospital bill.
Our Top Picks for Motorcycle Racing Jackets
Keeping the above factors in mind, we've got a few favorite motorcycle racing jackets we'd like to highlight for your perusing pleasure. These are the five models we'd buy ourselves on any budget, representing the cream of the crop in terms of safety, comfort, and value.
1. Alpinestars GP Plus R V3 Rideknit
The Alpinestars GP Plus R V3 Rideknit is arguably the most popular motorcycle racing jacket on the market, and for good reason: This premium leather jacket benefits from a host of trickle-down safety tech straight from Alpinestars' racing program, and adapts them to street use for unmatched comfort and protection for the everyday rider.
Chief among these innovations is AStars' Rideknit textile, a tough, stretchy, and highly breathable material that allows the jacket to fit like a glove while still delivering outstanding mobility and airflow. It's not every day you find a jacket that delivers a spot-on fit straight out of the box, and these mesh panels are the chief culprit.
As far as safety goes, the GP Plus Rideknit is made from full-grain bovine leather, and includes Alpinestars' level 1 "Nucleon Flex Plus" armor at the shoulders and elbows as well as hard TPU sliders at the shoulders. We'll also note that this jacket is race-ready thanks to a 180-degree waist zipper allowing the jacket to be connected to a set of leather pants for track use.
Pros:
Unmatched comfort and mobility
Track-friendly tech and safety features
Outstanding airflow/breathability
Cons
:
Expensive
Back/chest protection not included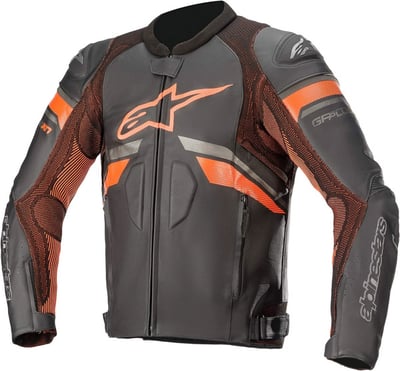 CHECK PRICE:
Alpinestars GP Plus R V3 Ridenit Jacket

2. Dainese Racing 4 Perforated Jacket
Dainese knows their way around leather. The brand's motorcycle racing jackets and suits are coveted around the world for their keen eye to quality and comfort, and the Racing 4 is our favorite option of the bunch.
That's because Dainese constructs the entire main chassis of the garment from premium Tutu cowhide, which is one of the softest and most supple options out there, but also benefits from a water-repellent treatment for extra wet weather performance and longevity. The Racing 4 also stands out as one of the most effectively perforated jackets money can buy, with ample airflow coming through every major panel of the jacket.
In terms of safety, the 1.2mm thick cowhide is backed with EN-certified protectors at the shoulders and elbows, as well as replaceable aluminum sliders at the crests of both shoulders. The Racing 4 also includes a full-length zipper attachment for racing pants, so while this is a handsome (and handsomely protective) option for the street, it's also fit for track duty when called upon.
Pros:
Outstanding airflow for a leather jacket
CE-II certified protection
Premium Tutu cowhide construction
Cons
:
Snap waist gussets limit adjustability
Back protection sold separately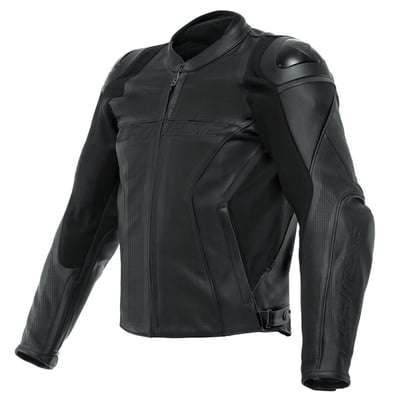 CHECK PRICE:
Dainese Racing 4 Perforated Jacket
3. Cortech Apex Leather Jacket
Few brands can match the bang-for-your-buck performance of Cortech, and their Apex motorcycle racing jacket is a prime example of that value. This jacket delivers serious quality for under $300, making it the most attractive option on our list for the budget-conscious.
For your money you're getting full-grain cowhide construction, oodles of perforation at the torso, back, and arms, as well as hard TPU sliders at both the shoulders and the elbows, a feature typically reserved for the most expensive 1-piece race suits. Cortech even includes stretch textile panels along the inside of the arms and body, as well as leather gussets at the shoulders and elbows for optimal comfort in the attack position.
CE level 1 armor comes standard at the shoulders and elbows, and the Apex even includes an 8" zipper at the waist for attaching your favorite pair of racing pants. It's also got a thermal lining, a back protector pocket, and added reflectivity for on-road safety. The Apex is nearly impossible to fault at this price, in fact the only real drawback we've found is that due to its outstanding value, it's almost impossible to keep in stock.
Pros:
Race worthy protection
Budget-friendly
Perforated for airflow, plus a removable thermal liner for cool weather
Cons
:
Sizing is hit or miss
Sells out fast everywhere
CHECK PRICE:
Cortech Apex Leather Jacket

4. Rev'It! Matador Jacket
The folks at Rev'it! have made a name for themselves by offering a premium alternative to the big-name brands out of Italy. The Matador jacket is a great example of what they bring to the table, combining quality materials and craftsmanship with the latest safety tech.
Material wise the Matador is made from thick Monaco cowhide, which is given a thorough perforation treatment for added airflow on warmer days. We also love that Rev'it! includes a zip-in thermal liner with the Matador as well, which stretches the jacket's versatility into the early spring/late fall riding seasons as well.
In terms of safety, the Matador sports upgraded CE level 2 armors at both the shoulders and elbows, as well as hard TPU sliders at the shoulders, making this one of the most protective jackets money can buy straight out of the box. Rev'It! also includes both an 8" and a full-length waist zipper here, making this motorcycle racing jacket a smart buy for both the touring and track crowds.
Pros:
Elevated safety features
Thermal liner included for touring
Dual pant zipper attachments included
Cons
:
Expensive
Back and chest protectors sold separately
CHECK PRICE:
Rev'it! Matador Leather Jacket
5. Roland Sands Linden Leather Jacket
Prefer your "racing" style more on the classic side? Roland Sands Design nails casual cool better than anyone else on the planet, and their Linden leather jackets pays subtle homage to the classic racing leathers cafe racers zipped on between cigarette breaks.
Make no mistake though, the Linden jacket packs some serious safety beneath its understated exterior. CE level 1 armor comes standard in the shoulders and elbows, which, combined with the jacket's full-grain buffalo leather construction, earns the Linden a CE AA safety classification.
Our only real gripe with the Linden is that it's definitely a cool-weather jacket, with ventilation limited to two large zippers on the sides of the garment. It's a great option for riding well into fall and even early winter though, thanks to its toasty quilted lining, which can be removed as needed.
Pros:
Casual style
Class AA safety certification
More affordable than tech-focused options
Cons
:
Not for track use
Bit pricey for a casual look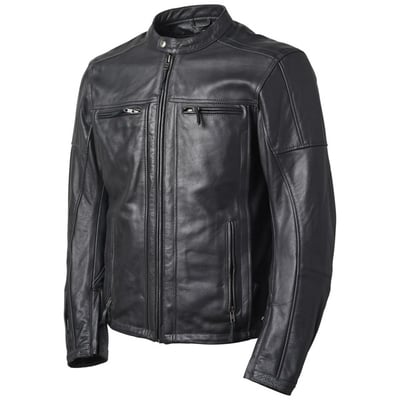 CHECK PRICE:
Roland Sands Linden Leather Jacket
Closing Thoughts on Motorcycle Racing Jackets…
While good motorcycle gear is often expensive, having a well-rounded quiver in your closet can pay serious dividends. Motorcycle racing jackets may not be the first thing we reach for when heading out for our international adventure touring expeditions, but as a versatile sport touring piece with style to spare, a good leather jacket is tough to beat.
Likewise, if you've got a bike in your garage that's equally at home on the street and the racetrack, a racing jacket pulls double duty for weekend blasts through the twisties and the occasional track day or club racing event.
It's also degrees of magnitude more convenient than a 1-piece suit around town or for the occasional bathroom break (we've got a few horror stories we'll refrain from sharing there), and considerably less expensive as well.
→Read More: 5 Best Motorcycle Luggage Options for the Long Haul and Best Motorcycle Helmet Bags.