Most of the world thinks of motorcycles as just another way to get to another destination, only different from a car in that we get a little wind in our hair or bugs in our teeth (keeping in mind proper helmet use of course : ) Part of what makes a motorcycle the best vehicle for genuine adventures is just the fact that you're not trapped "within" the windows of a vehicle, or in the case of dual sport bikes, that you're not confined to a particular type of terrain.
Aside from your mode of transport, a true adventure isn't just about the destination. Sometimes the destination is even secondary to what it takes to get there in the first place, and the adventure is all around you from the moment you leave home on the way to the airport. Once upon your rental motorcycle, things are immediately enhanced by having exposed yourself to the elements around you. Ever heard "It's not the destination, it's the journey"? If you're reading this, you know full-well that opening yourself up to new experiences and places simply breeds fun and a sense of adventure.
So is a motorcycle vacation going to be the next great adventure in your life? Who are you heading out with?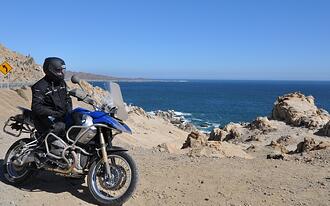 Consider a family vacation that might match everyone's riding abilities. Some of our Level 2 or 3 trips, like the "Patagonia, Coast to Coast" route focus on paved riding are perfect for pavement-focused riders while seeing scenery from lakes and oceans to flatlands with two trips through the Andes mountains. Whale watching, snorkeling and scuba, active volcano hiking, skiing, and one of Chile's first microbreweries can all be fit into the customized itinerary as you cross the South American continent twice.
A quick "dude trip" with the boys up to Wisconsin for the Level 4, 4-day Trans Wisconsin Adventure Trail group motorcycle vacation is a perfect low-budget getaway, from Illinois to Lake Superior with the Mississippi River in sight. Take a couple days off and be home in time for work on Monday while having one of the greatest weekends of your life with your closest buddies. Or what about a honeymoon or anniversary trip? A self-guided European tour can be as long as you like with beginner to advanced difficulty levels depending on your abilities, and price ranges to match your budget. Depending on your interests and needs as a couple, you can make the trip as romantic or adventurous and rugged as you like. Our expertise in the region will help make sure you're riding the perfect route.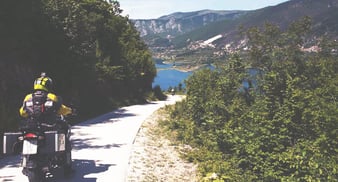 Corporate retreats become a unique team-building experience with a Level 3 RIDE the Balkans 15 day tour in Eastern Europe.This trip through Croatia, Bosnia & Herzegovina, and Montenegro takes riders through incredible scenery along the Tara River Canyon, through UNESCO World Heritage sites, and along the Adriatic coast, while learning an incredible moving history from some of the warmest and friendliest people of Europe. Or is that corporate retreat for a company within the motorcycle industry? Try more of a dual sport challenge like the 15 day "Southern Africa Experience" through Namibia and South Africa. This incredible adventure takes riders down the Skeleton Coast of Namibia, through a petrified forest, canyons, ancient sand dunes, game reserves, wineries, and onto Table Mountain in Cape Town, one of the new 7 wonders of the world. With a jam-packed itinerary of sights and indescribable vistas, this is a once in a lifetime opportunity no one should miss.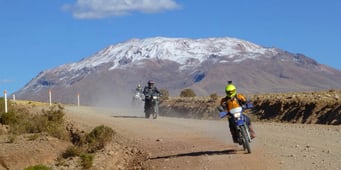 But what about an adventure ride for a real pro? Ex-racers and other highly skilled riders can't miss the 17-day Rugged Adventure - The Essential Bolivia group motorcycle experience. Almost the entire route is unpaved and the greatest hits include one of South America's highest roads, the Amazon rainforest, salt flats, and the Salvador Dali desert. Check out dinosaur footprints and Bolivia's wine valley. From river crossings and rainforests to deserts and salt flats, it's the most diverse landscape one can find in a short trip, and you won't want to miss these untouched small villages and natural wonders.
So whether you're a tame adventurer or a wild one, RIDE Adventures has individual or group motorcycle tour packages for you. Adventure riding isn't just for the boys to get together, but don't count that out either! Consider a trip of a lifetime for your family, your partner, your business, or your best friends. We have the perfect itinerary already made for you, and we can make it even better if you want something more unique.