Adventure-minded travelers can join us in celebrating; RIDE Adventures now offers 4x4 tour packages for international trips like exploring the Andes Mountains of South America!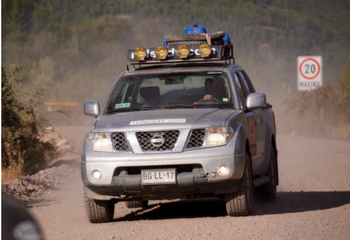 A project and service offering that has long been considered and worked on was just announced this past week in our eNewsletter, and posted on our new Jeep / 4x4 Adventure Tours page. With the first 2 locations we're announcing being Patagonia and Peru, we'll soon have the details wrapped up for Bolivia, and the plans are to eventually work this option into our European and African offerings as well.
This exciting news ties into the original, simple message that RIDE Adventures was founded on: "More people need to experience this." Going back to when I was first exploring regions like Bolivia and Patagonia for motorcycle tour planning, that thought kept ringing through my mind, knowing without a doubt that adventure-minded folks from around the world would be charmed by what I was experiencing. Since then, your many generous
Customer Testimonials
have helped confirm my sentiments were accurate, so thank you!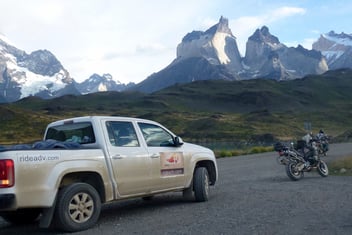 Motorcycle riders can also benefit from these 4x4 packages we offer. As we have Self-Guided Motorcycle Trips available, now solo riders and small groups of 2-3 can bring their non-motorcycle-riding friends and family along for the adventure. Think about it: Everyone wants a safe, successful motorcycle holiday, especially if there's an "ultimate destination in mind" at the end of a route. So with the 4x4 packages available, these motorcycle riders can essentially have a "Support Truck" out there sweeping behind as they conquer remote territories of Chilean Patagonia, along the vast Ruta 40 of Argentina, and while crossing the Andes Mountains of Peru on the way to Machu Picchu. By having that vehicle as part of their trip:
A rider's extra 50+ lbs or so of personal clothing and luggage can be stored in the truck their friends are driving, instead of on their bikes (Bonus: Lighter bikes are safer, easier, and more fun to ride!)
An injured rider, or someone who's just too tired to ride safely (hey, it happens to everyone) can utilize their Support Truck instead of riding
Extra fuel, spare tires, tools, spare parts, etc. will all be in the Support Truck instead of on the motorcycle. Again, a lighter bike!
While rare, a broken down motorcycle or one damaged by a crash could be loaded into the truck and transported to one of our repair locations
Once at destinations in the evening, the group may appreciate having a 4-door vehicle for getting around towns and going out to dinner, instead of suiting up in full motorcycle gear again
Circling back to what I mentioned earlier, "more people need to experience this" was the very notion that RIDE Adventures was founded upon back in 2010. Those impulses came to mind in places like Bolivia and Patagonia, not only because of the incredible sites and natural scenery I discovered, but also with the realization that we can travel the Andes Mountains of South America safely. Years later, I would discover that we can travel regions of Africa and the Balkans of eastern Europe safely. That's an important connection to make, because I also had 'fears built up over years' of seeing news coverage and stereotypes in movies, and was concerned before ever heading out across the Arizona-Mexico border at Nogales in the first place. There I was though, and there I've been many times since 2010, having addressed this issue of "safety" countless times since launching RIDE Adventures.
Are International 4x4 Adventure Tours Safe?
"Is it safe," or "don't you carry a gun?" are questions riders routinely ask at motorcycle rallies and when making inquiries through our website. Folks, thus far, the adventure packages we offer are mostly in countries or regions that have for years raised concerns with those who are outsiders. We've focused on these regions, not only because they are stunning adventure travel opportunities, but also because I want you to know the truth about our world, and the many good people that are out there. That truth being that, the overwhelming majority of us are good people, and as long as you don't go "looking for it," for the most part, trouble is pretty easy to avoid. Year after year, our Staff and our Customers return home safely with smiles after traveling all of the locations shown on our website.
We're going to keep planning and coming up with great new 4x4 adventure tour packages for your consideration. Please just trust us though when, after 7 years now of providing these services ... well ... we wouldn't be growing like we are if our Customers weren't safe and happy with their travel experiences!