Hello Riders!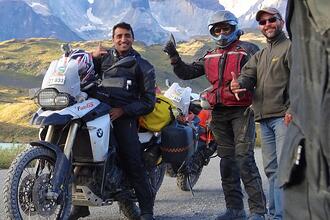 We've been including the summary below in lots of responses to your inquiries, so it only seemed appropriate that perhaps we just post it here on the somewhat-neglected RIDE Adventures blog : )
Again, please, PLEASE take the suggestion to "RESERVE EARLY" as sincere, folks! All signs point to our tour and rental dates selling out even earlier than last season, so if you want to RIDE in Patagonia in the 2016/17 season, contact us now!
PATAGONIA TOURS & RENTAL PACKAGES - 2016/17
Please see below our list of "Self-Guided/Fly & Ride", "Self-Guided, Truck-Supported," or "Fully Guided" motorcycle trip packages in Patagonia for the 2016/17 season. Each hyperlink will take you directly to that tour page where you can click buttons and tabs like Pricing, Dates, Inclusions, etc. to learn more about these 3 trip formats. *Please keep in mind that Patagonia is becoming a very popular place for adventure riders to travel, and as such, our motorcycle rental and tour options can sell out for some dates over 6+ months in advance.
1) "Self-Guided/Fly & Ride" Packages - This means you choose your own dates, bike, and route! A purely Self-Guided trip without a Support Truck included or any group to join means you can copy one of our suggested routes, or create your own custom itinerary and go wherever, and whenever we have the motorcycle you want available. (Must reserve well in advance though, as certain dates may sell-out at any time, even as much as 6+ months in advance.) Riding solo can be the highest-risk format of motorcycle travel, so hopefully you can at least have a friend join you. Many riders successfully complete our suggested Patagonia routes without any problem though, if they are cautious, skilled riders who keep personal safety in mind. Self-Guided trips can either just be pure "Rentals," where we just supply the motorcycle and all necessary papers, insurance, one-way shipping services, etc. or a "Self-Guided/Fly & Ride" trip can also be purchased to have all your hotels pre-paid for you so you just show up with your riding gear, relax, RIDE, and enjoy!
- 9 Riding Days, 2 Rest Days, 2 Arrival/Departure Days
- Very comprehensive tour of all the major highlights in Patagonia
- Choose your dates (based on motorcycle availability. Must reserve well in advance, as bikes can sell out any time!)
- 7 Riding Days, 1 Rest Day, 2 Arrival/Departure Days
- An excellent dual-sport riding package through Patagonia & the Lakes District of Chile and parts of Argentina
- Choose your dates (based on motorcycle availability. Must reserve well in advance, as bikes can sell out any time!)
2) "Self-Guided, Truck-Supported" Packages - These packages are exactly as described in the title and on the tour page: The Support Truck is included, but riders are essentially out there following maps, GPS, and/or the Support Truck Driver's instructions to arrive at their hotel each day. This trip format gives riders the combined feeling of being Self-Guided and really being out there "exploring" on their own, but also with the assistance of having a Support Truck there for safety/accident/mechanical concerns. Your main luggage can go in the Support Truck each day, keeping your bike as light as possible, but again, you'll essentially be out there exploring on your own or better yet with at least another rider within the group en route to the hotel which is included in the package each day.
- 12 Riding Days, 3 Rest Days, 2 Arrival/Departure Days
- Support Truck & Guide/Mechanic follows the group of self-guided riders
- Covers all major highlights on the best route from Pucon to Ushuaia
- No backtracking 2 days at the end of the trip as some companies or pure rentals will require
October 28 to November 12, 2016
November 26 to December 12, 2016
February 3-19, 2017
3) "Fully Guided" Packages - These tours have both a Lead Motorcycle Guide, and a Support Truck with a Guide/Driver/Mechanic there for the most complete, full-service, turn-key type of motorcycle trip possible. The Lead Motorcycle Guide is there to help riders with any question or need that comes up, along with of course showing you the route. The Support Truck carries rider luggage, extra parts, tools, tire repair, satellite phone, etc. all to make this the easiest trip format so you can relax and enjoy the most. *Please note, on a Fully Guided tour, the expectation is that the group of riders will stay together, (although at slightly varying paces of course) following the Lead Motorcycle Guide and staying in front of the Support Truck that follows.
- 10 Riding Days, 2 Rest Days, and 2 Arrival/Departure Days
- Package allows riders to finish in Ushuaia, Argentina, instead of spending 1-2 days "backtracking" over the same routes to return the motorcycles in Punta Arenas, Chile
- Excellent for riders who want to see the absolute highlights of Patagonia, without wasting time at the end backtracking
November 21 to December 4, 2016
December 19, 2016 to January 1, 2017 - *New Year's Eve in Ushuaia at the "End of the World!*
January 15 to 28, 2017
Febuary 19 to March 4, 2017
Private Groups:

Pick your Dates! (based on our availability)
- 9 Riding Days, 2 Rest Days, 2 Arrival/Departure Days
- Covers the greatest highlights of Patagonia from north to south
- This package is a 1-day shorter version of the "Patagonia, Tierra del Fuego & Ushuaia!" tour, starting on the same dates and runs consecutively with the 14-Day tour, but finishing one day earlier in Punta Arenas
November 21 to December 4, 2016
December 19, 2016 to January 1, 2017 *See 14-Day version that arrives in Ushuaia at "The End of the World!" on New Years Eve!
January 15 to 28, 2017
Febuary 19 to March 4, 2017
Private Groups:

Pick your Dates! (based on our availability)

Self-Guided Trips: Pick your Dates! (based on our availability) and see our Self-Guided "Fly & Ride The Patagonia Experience" Package
- 7 Riding Days, 1 Rest Day, and 2 Arrival/Departure Days
-Starting and finishing in Pucon, this can be done earlier in springtime and later in the fall than the other routes that involve more southerly points
October 14 to 23, 2016
November 4 to 13, 2016
November 25 to December 4, 2016
December 31 to January 9, 2017
March 3 to 12, 2017
March 24 to April 2, 2017
April 7 to 16, 2017
Private Groups:

Pick your Dates! (based on our availability)

Self-Guided Trips: Pick your Dates! (based on our availability) and see our Self-Guided "Fly & Ride the Best of Northern Patagonia package