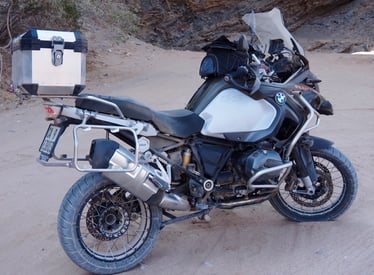 Instead of posting an immediate reaction to BMW's R1200GS Adventure when the updated Liquid-Cooled version of it became available a couple of years ago, I wanted to wait and see how this latest version of the famous "GSA" performed in the rental business for a while. After all, it's probably not just my personal opinion of how the bike rides & feels that you're probably interested in. Those of us in the international motorcycle rental business are in a unique position to comment on the overall performance of these bikes and their durability, dependability, etc. over some time. So here we are, about 2 years after the updated, Liquid Cooled "Water Boxer" version of the GSA became available….
Riding the GSA
As far as dual sport "adventure" motorcycles go, how it performs, handles, pumps the adrenaline, etc., the 2014+ BMW R1200GS Adventure LC is still a fantastic motorcycle to ride. (Photos in this article are of 2015/16 models.) Much like the standard version of the R1200GS, the latest "Adventure" version of this motorcycle feels much more like a "bike" than it did previously. Whereas the previous models were a bit girthy and bulky, this updated GSA feels more slender between the thighs with more legroom behind the engine. Fortunately, they made this change will still granting the latest GSA some great suspension travel and ground clearance, often needed for off-pavement adventure riding. Is it the "best adventure bike" as so many riders are searching for? The answer to this remains that, "the best" will vary from rider to rider, scenario to scenario, and each given moment of one's motorcycle travels. In deep mud, sand, or single-track situations, don't expect much more than a workout from any pig this heavy; however, when ridden "in its element," there aren't many better options out there than BMW's GSA.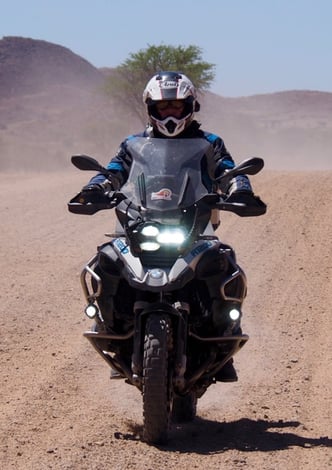 The Boxer Engine: As it is now and was before, BMW's boxer engine remains one of my favorite engines of all time. (KTM's LC8 and LC4 being frontrunners as well.) A slightly pumped-up compression ratio (now at 12.5 : 1) and some other enhancements helped add horsepower to this already plentiful opposed-twin-cylinder powerplant. Especially now though, with about 5 inches more "legroom" behind each exposed cylinder than the previous air/oil-cooled model allowed for, any ergonomic inconvenience has been removed by helping us feel a little less "trapped" in the bike. Meanwhile, all that delicious low-end torque and smooth, steady pulling power climbs to peak RPM's at your command, and now with more power than ever before. I LOVE this engine, and I don't have a bad thing to say about it.
The Transmission: Having spent so much time on the dry clutch system that transferred the GSA's power previously, I had forgotten what a simple delight the smooth, buttery feel of a wet clutch brings to my riding experiences. About the only major downside I can think of to a wet clutch system is the simple fact that rolling the motorcycle without the engine running becomes more of a project (especially if it's in gear.) Kicking it into 1st gives a heavier "clunk" than I think most of us would enjoy, but BMW knew this would be the case, and still designed a great, reliable transmission as far as I can tell.
Chassis/Braking: With BMW's Telelever front suspension still leading the way, this is still one of the most stable, responsive, and fun-to-ride bikes that I've ever had the pleasure. Being able to slam on the brakes with only a fraction of the "nose dive" that motorcycles with traditional telescoping forks are known for is definitely a nice relief. Furthermore, such a stable front suspension design rides with virtually no fork sway, and therefore the truest feeling of stability and predictability. BMW's Telelever system doesn't cater much to off-pavement riding though, as the Telelever tends to reduce a rider's sensitivity to what the front wheel is doing. That said, I'm not really riding a GSA with single-track trails in mind anyway. On fire roads and unimproved terrains, this bike is an absolute pleasure to ride.
The Downside: Dependability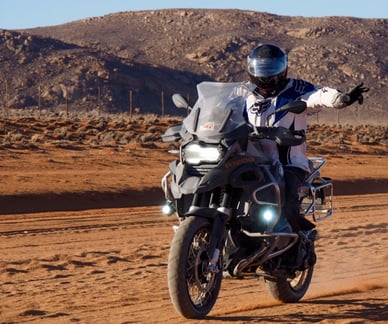 As mentioned earlier, those of us in the international motorcycle rental business are in a unique position to comment on a motorcycle's overall dependability, as we are surrounded by these bikes and have to deal with maintenance and repair issues as they arise. Were it not for the 2 major categories below, BMW's GSA would be as nearly-perfect a motorcycle as I can imagine (when used in the right riding context.) Again, the GSA's powertrain, chassis, handling & braking characteristics, etc. are at the absolutely peak of the motorcycling world, and set a bar that others need to strive for. That said, these 2 categories are such extreme disappointments to us, that perhaps they should be considered before you buy a GSA, or embark on any major motorcycle trips with one:
1) Electronics - Much of the GSA is still as stable and reliable as it was before, with a powertrain combination that has a very high dependability rating, and an overall feeling of quality throughout the motorcycle. As trends have moved along, however, so has BMW's insistence to put every possible electronic feature on this "adventure bike." This would be okay, if they had only spent a bit more on the manufacturing of said switches, buttons, and controls. (Seriously, BMW… I would have gladly paid $20 more for a motorcycle if it meant the handlebar controls were going to last more than a year.) Horribly sticking-buttons, circuitry that fails, and our deep dependence on the German money-maker for these parts can make for some real frustration. For the individual motorcycle owner with these problems it's bad enough. Imagine how it is for those of us in the motorcycle rental business, trying to maintain these bikes in countries like Bolivia, Peru, Chile, Argentina, and South Africa where supply chain issues are more imminent!
2) Wheels/Rims - As with the BMW F800GS that released in 2009, BMW appears to have downgraded the make and durability of their wheels on the R1200GS Adventure as well. As if those in charge in Germany confirmed just how profitable the wheel-selling business could be, riders now need to be much more careful than ever before with what they subject these rims to. The rear doesn't seem to have any issues (they rarely do on any bike) but the front, we have now seen some semi-regular damage on by our customers. (On previous models, in 6+ years renting motorcycles, I had only seen the front wheel damaged once by a rider, and that's out of hundreds of customers. With the new GSA and Regular R1200GS, let's just say "it's happening more frequently.") Now, it's still perfectly possible to ride this bike in dual sport, off-pavement scenarios without rim damage. Myself and many others have completed trips like our Southern Africa Experience, or Full Patagonia Adventure routes without any damage. But some riders are now coming back with damage and leaking tubeless rims, which can be very expensive to fix or replace.
So to summarize, the updated 2014+ version of BMW's R1200GS Adventure is still a fantastic pleasure to ride. Fun and exciting, performing at the highest levels of what we can expect from a motorcycle with such overall capability, I guess the only major downsides are the 2 "Dependability" factors mentioned above, and of course the price to buy & maintain. My hopes are that these comments help in your motorcycle shopping and travel decisions. Feel free to comment or ask questions below, and we'll respond as soon as possible.