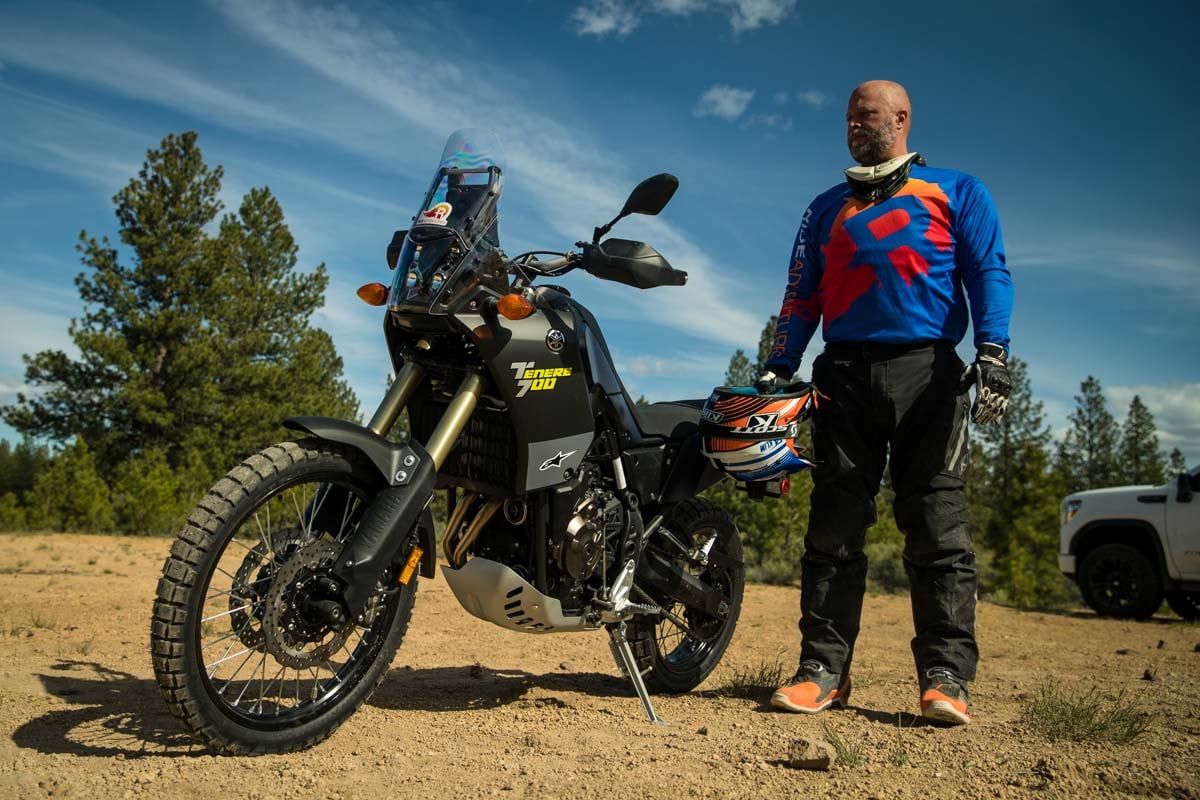 The new Yamaha Ténéré 700 borrows its name from the Tuareg languages of Northern Africa: "Ténéré" meaning either "desert" or "solitude" depending on the context in the region.
It's a fitting moniker both for the 150,000 square-mile Ténéré region of the Sahara desert, an inhospitable sea of sand that reaches temperatures over 120-degrees in the summer months, and for the lineage of Yamaha motorcycles that have conquered this arid stretch countless times in rallies and adventures over the past four decades.
We've had the new Ténéré 700 in our fleet for nearly a year now, and believe that it is deserving of both the "desert" and "solitude" meanings of the word.
"Desert" for obvious reasons: The T7's off-road chops are as at home in the desert stretches of our "Baja On Down" tour as they are in any of the nine national forests we cover on our "Best Week In Oregon" adventure ride.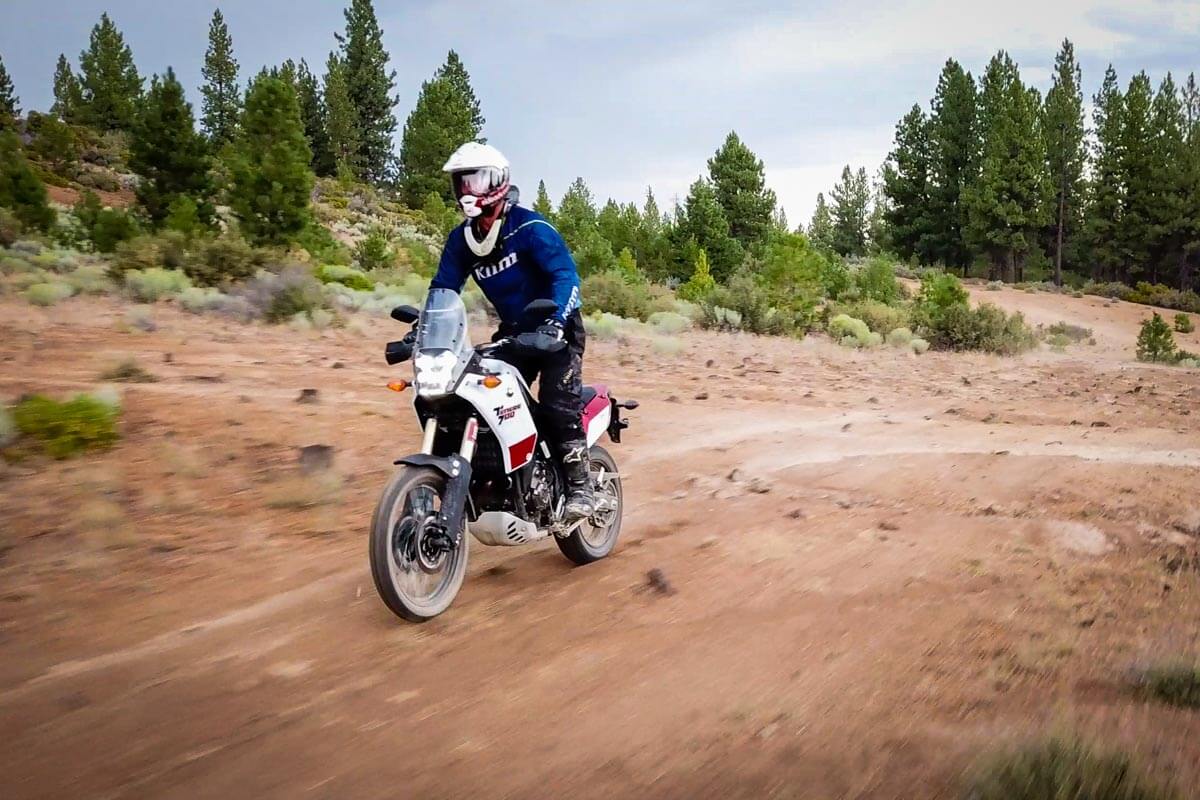 Eric exploring Oregon's backcountry on the Ténéré 700
"Solitude" is equally appropriate here, as the new Yamaha Ténéré 700 truly stands alone in the adventure motorcycle segment for its incredible value, industry-leading reliability, and lovable "back to basics" design.
Below we'll review the legendary history of the Ténéré name, dig into the specs on the latest 2021 model, and give an honest review of our pros and cons for Yamaha's new middleweight adventure bike.
The History Of The Yamaha Ténéré
The new Ténéré 700 is an important bike, and it's been a long time coming.
So long, in fact, that to understand the significance of the new T7, we have to go all the way back to the first-ever running of the Paris-Dakar Rally in 1979.
That was the year Yamaha's big four-stroke offroaders cut their teeth along the now-infamous 6,200-mile race through the African desert. It was a brutal contest. 182 vehicles started the rally that first year, but only 74 ultimately made it to the finish.
Of those who finished, two men stood at the top of the podium: Cyril Neveu and Gilles Comte.
Both rode Yamaha XT500's, and had outrun every other vehicle in the desert from Honda XL250 motorcycles to Range Rovers.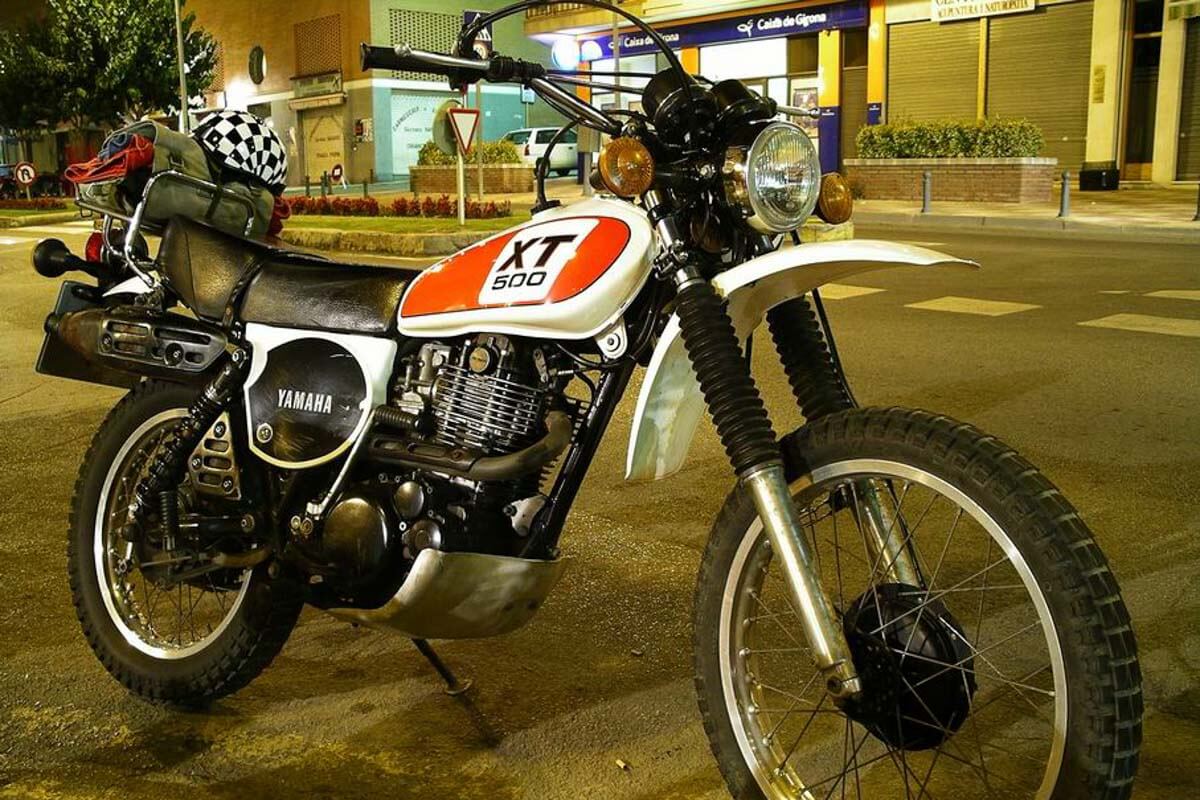 Yamaha's XT500 sourced from Wikipedia
The XT500's dominance further entrenched Yamaha's reputation for bomb-proof reliability and off-road performance, and set the stage for the development of the Ténéré desert racer in the decades that followed.
The Ténéré name itself didn't emerge for another three years as Yamaha updated, upgraded, and optimized the XT500 platform. It wasn't until 1982 that the XT600 Ténéré was finally released to the public as a massive 600cc single-cylinder offroader with dual-carburetors and an authentically "Dakar" 7.5-gallon fuel tank.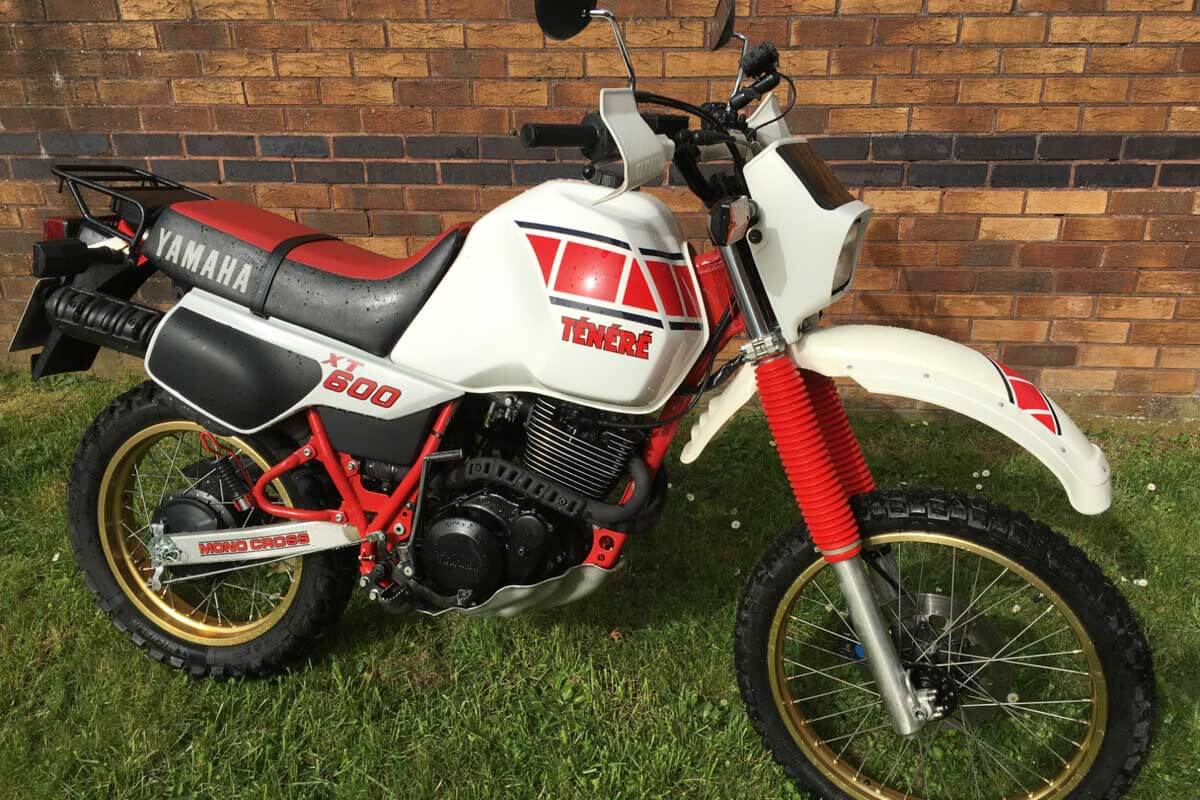 Yamaha's XT 600 Ténére sourced from Wikipedia
Where other manufacturers aimed for an even compromise between touring and off road performance, Yamaha focused on the Ténéré's enduro roots. They traded the BMW R80G/S's low seat and touring comforts for a full motocross-style suspension and factory skid plate. The engine was large enough to pull highway speeds and luggage with ease, but really shined when the pavement ended.
Customers loved the new Ténéré, but its single-cylinder design struggled on its home turf at the Paris-Dakar Rally. Its offroad handling was superb, but multi-cylinder bikes pulled away in the high-speed open-desert, shaving precious minutes off their race results.
Ultimately Yamaha was forced back to the drawing board to apply their off-road prowess to a new multi-cylinder platform. They achieved that aim in 1988, and unveiled the all-new "Super Ténéré" at the Paris Motorcycle Show later that year.
Yamaha's original Super Ténéré was the epitome of the middleweight adventure segment, produced nearly three decades before its time. Its all-new parallel-twin engine was compact but powerful, striking a balance that would resurface almost thirty years later in bikes like the Honda Africa Twin, KTM 890 Adventure, and yes, Yamaha's own Ténéré 700.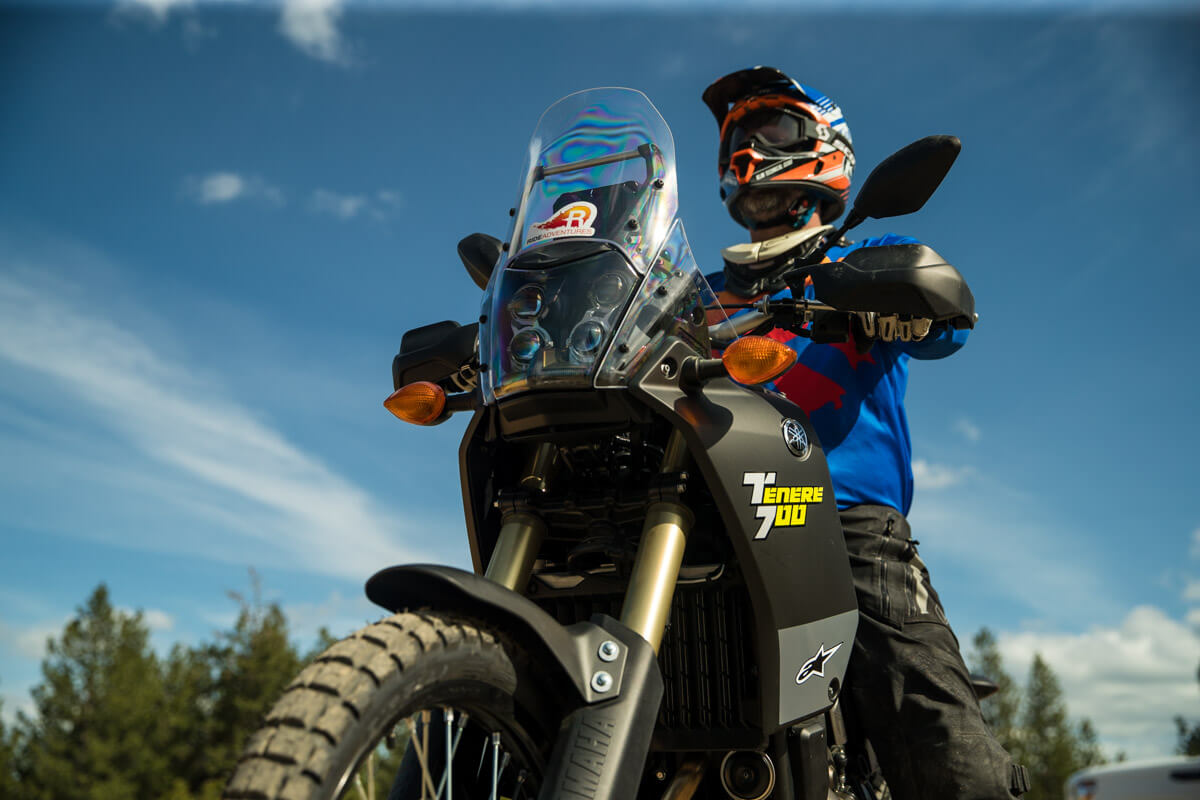 Eric exploring Oregon's backcountry on the Ténéré 700
Yamaha was back in the race with their new twin-cylinder Ténéré. They went on to win 7 of the 8 Dakar Rallies that followed from 1991 to 1998.
The Ténéré's Dakar roots are plain to see in the latest T7 if you know where to look. Let's dive into the latest specs for a little perspective.
2021 Yamaha Ténéré 700 Specs
Simple, straightforward, and purpose-built. The 2021 Yamaha Ténéré 700 prefers wrist control to traction control, sports tube-type tires, and its dashboard has more in common with a pager than it does an iPhone.
The spec sheet that follows paints an honest picture of the new Yamaha. However, as you'll read below, we've found the bike to be much greater than the sum of its parts.
Ténéré 700 Engine:
Engine Displacement: 689cc
Type: Parallel-Twin
Cooling: Liquid-cooled
Bore x Stroke: 80.0mm x 68.6mm
Compression Ratio: 11.5:1
Valve Train: DOHC; 4 Valves Per Cylinder
Fueling: Fuel Injection
Max Power: 72hp @ 8,000 rpm
Max Torque: 50 foot-pounds @ 6,600 rpm
Transmission: 6-Speed
Clutch: Multiplate Wet Clutch
Final Drive: Sealed O-ring Chain
Ténéré 700 Chassis, Suspension, And Brakes:
Front Suspension/Travel: KYB 43mm inverted fork, 8.3-in travel, fully-adjustable
Rear Suspension/Travel: KYB single shock, 7.9-in travel, remote adjustable preload, adjustable rebound
Front Brake: Brembo twin-piston floating calipers, 282mm dual front disks, selectable ABS
Rear Brake: Brembo single-piston caliper, 245mm disc, selectable ABS
Front Wheel: 21-inch, spoked, tube-type
Rear Wheel: 18-inch, spoked, tube-type
Front Tire: Pirelli Scorpion Rally STR 90/90R21
Rear Tire: Pirelli Scorpion Rally STR 150/70R18
Ténéré 700 Dimensions:
Rake (Caster Angle): 27 Degrees
Trail: 4.1 in
Ground Clearance: 9.4 in
Seat Height: 34.4 in
L x W x H: 93.3 in x 35.6 in x 57.3 in
Fuel Capacity: 4.2 gal
Fuel Economy: Approx. 50mpg
Wet Weight: 452 lbs


Ténéré 700 Instruments and Electronics
Headlights: LED
Tail light: LED
Instruments: Backlit LCD display, digital tachometer, fuel level gauge, clock, odometer/trip meters, gear indicator
Rider Aids: Selectable On/Off ABS
2021 Yamaha Ténéré 700: The Good and Bad
There's a lot to love about the 2021 Yamaha Ténéré 700. Overall, it very well may be the best bike for the money in the middle-weight adventure segment. Prefer your bikes simple, powerful, reliable, and low-maintenance? Novice and experienced riders alike need look no further.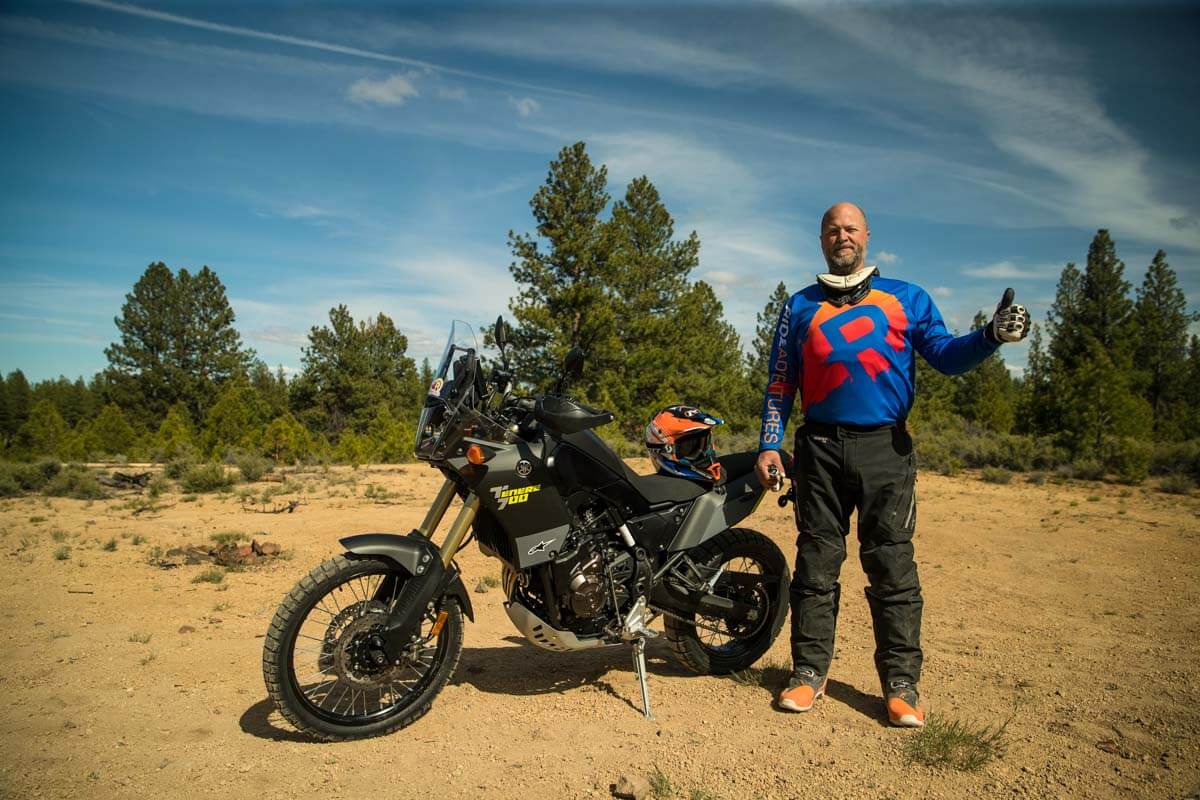 2021 Yamaha Ténéré 700: The Good
Brilliant CP2 engine = Linear, smooth power delivery
Anti-squat design is ideal for off road adventure riding
Simple dash interface is uncluttered and straightforward
Gearing is great for technical offroading in 1st and 2nd
Athletic ergonomics provide comfort when standing, "big rally bike" feel
Ideal 21"/18" wheel sizes for offroad use (tons of tire options)
ABS can be completely disabled
Fully adjustable suspension is great from the factory
Legendary Yamaha reliability, 25,000mi service intervals
As we stated above: Lots to love here. The 2021 Yamaha Ténéré 700 is everything that it isn't.
It isn't a fire-breathing 105 horsepower monster like the KTM 890... But there's nothing you can't power through with the CP2's stout 73 ponies.
It isn't relying on supercomputer-level rider aids either, and honestly, that's one of the Yamaha's most enduring qualities.
It's a stripped-down adventure bike made for the off-road lover in all of us.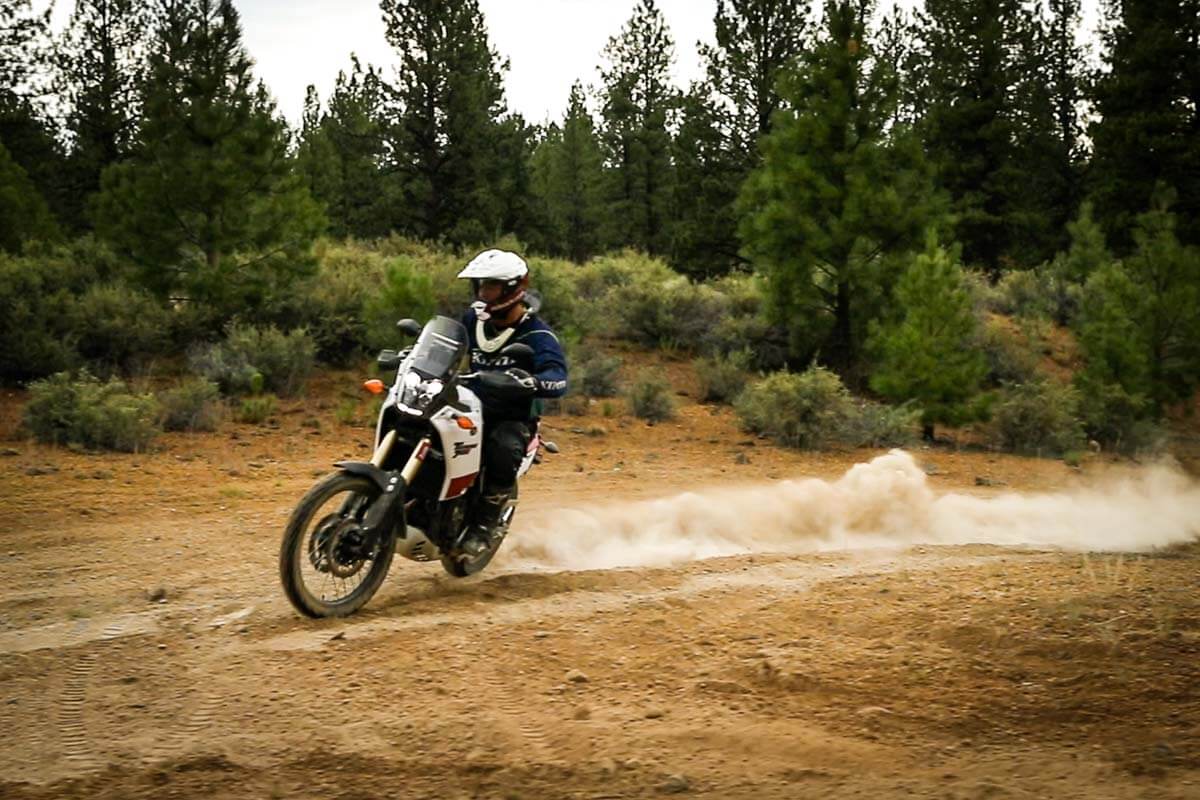 It forces you to learn wrist control and off-road skills to maintain traction and composure rather than learning to rely on a series of lean angle sensors, lightspeed traction control, and the luxury of multiple rider modes to become proficient off pavement. But don't let that deter you, the torquey motor, nimble chassis, and thoughtful ergonomics all work together to inspire confidence off-road.
The power delivery on this engine is about as linear as they come. Uniform torque starts below 2,000-rpm and remains constant until the tach crosses the 7,000-rpm mark. It's ideal for just about any offroad situation.
Lug it around in first or second gear and the torque is right there with you. Want to let it rip on wide-open sections? The Ténéré's six gears will take you as fast as your nerves can handle.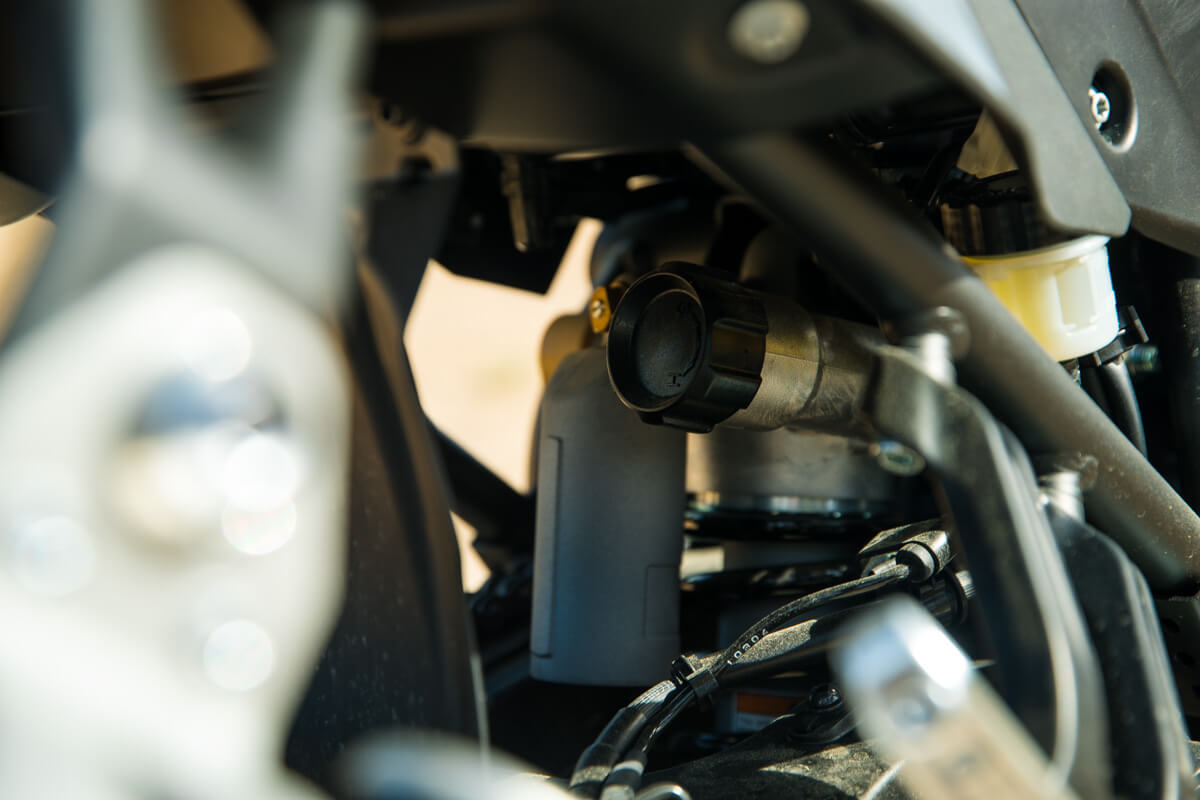 The fully adjustable suspension is nice and plush over everything but the biggest hits, and small adjustments to the clickers make a big difference. The KYB components front and rear are simple but effective, and work well with the off-road-oriented 21"/18" wheel sizes we all know and love once you get them dialed in.
Speaking of simple components, we can't help but love the no-fuss LCD dash and rider interface: There's basically only one feature to master on the Yamaha Ténéré 700 dash, and that's switching to "Off-Road Mode" to completely disable both front and rear ABS. Just press and hold the clearly-labeled "Off-Road ABS" button on the dash until the indicator light comes on, and boom, you've mastered it. No touch screen. No cascading menus. Zero custom settings.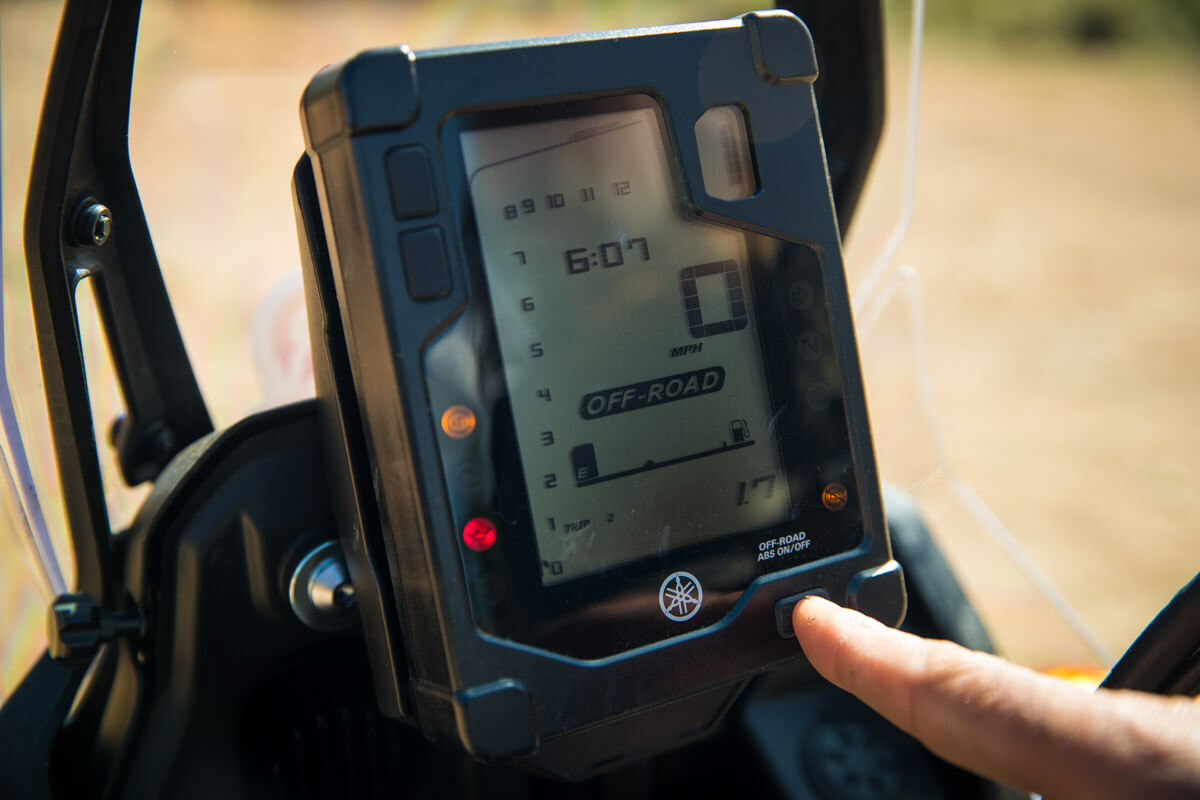 The 2021 Yamaha Ténéré 700 is a breath of fresh air in that regard after coming off other middleweight bikes with full electronic suites: No spending hours mastering the layers upon layers of rider modes, controls, and menus.
Just get on the bike and go ride for as long as you want. With an emphasis on long.
Without sophisticated electronics to monitor and update, the Yamaha only needs to be brought in for service every 25,000 miles (you read that right), which means you'll be spending more time out racking up the adventures on the Ténéré and less time at the dealer or worrying about whether or not your electronic gizmos are doing their job.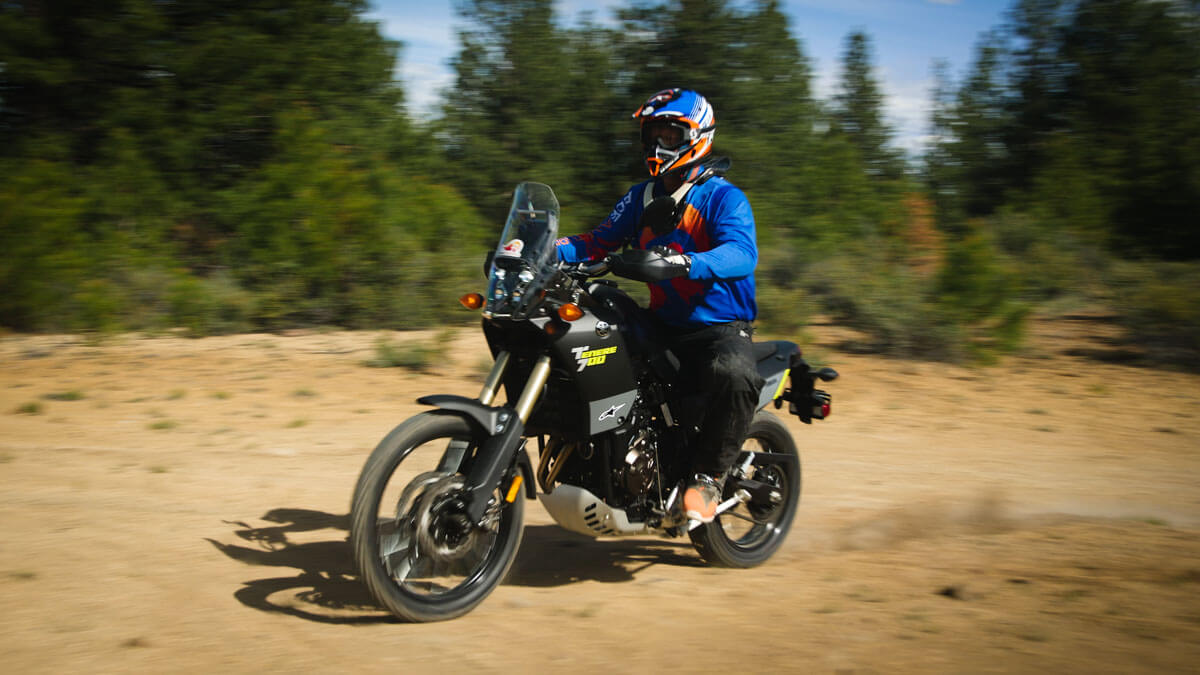 With that being said, the Ténéré is no slouch in the technology department either, Yamaha just chose to bake their tech into the chassis rather than their electronics.
The high-pivot anti-squat technology isn't the flashiest feature on the market, but it's just the thing for bigger bikes like these to ensure the front wheel stays planted under acceleration on-road and off.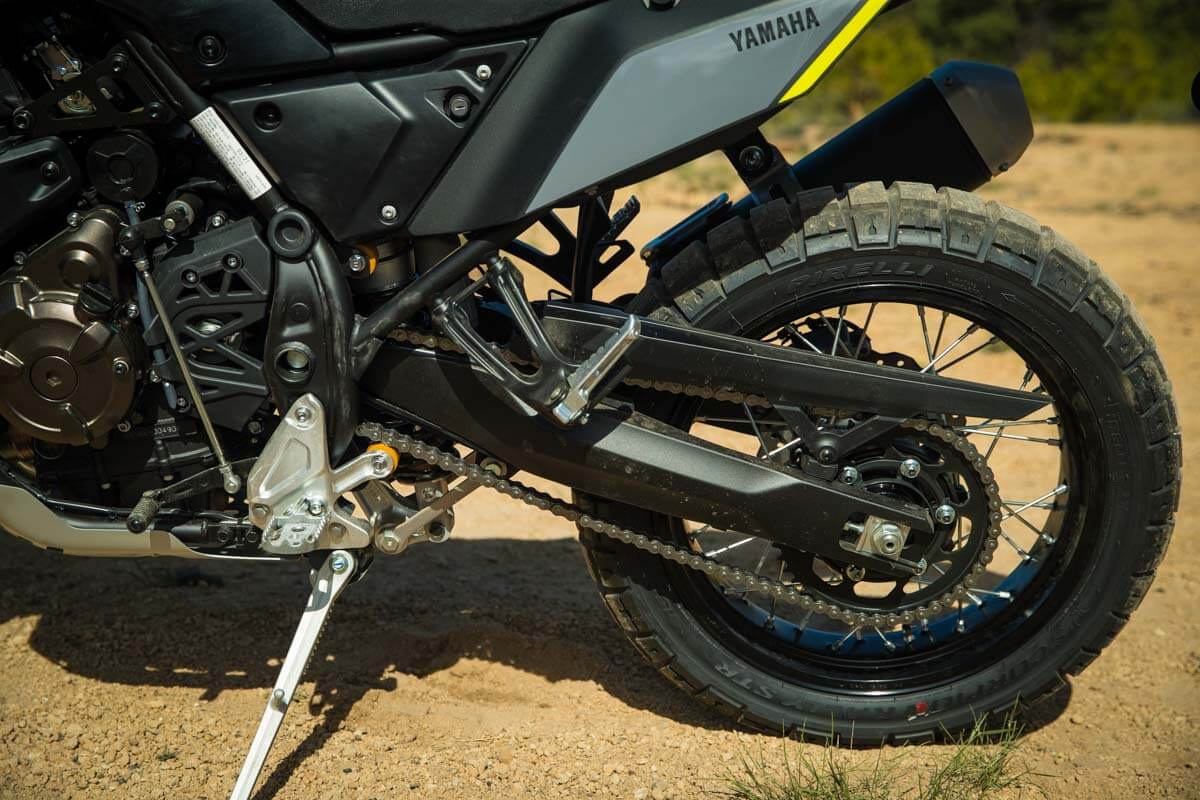 As an added bonus, anti-squat also allows the Ténéré to get away with a slight weight bias to the rear wheel without impacting on-road performance. This is ideal for technical offroading because it adds traction to the driven wheel, which is a godsend for steep hills with less-than-ideal grip.
The anti-squat isn't perfect however, and the Ténéré itself isn't either for that matter. As much as we've enjoyed testing the Yamaha over the past several months, we do have a few bones to pick with it as well.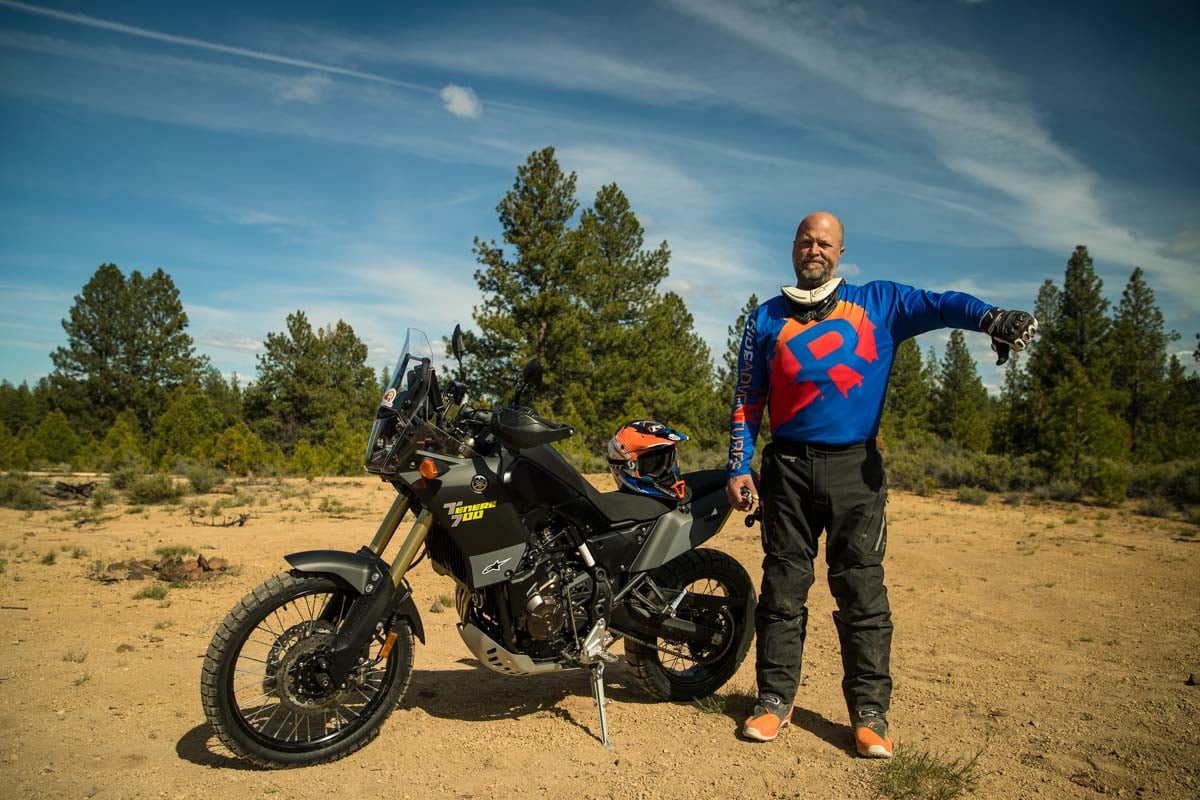 2021 Yamaha Ténéré 700: The Bad
Fit and finish match budget price tag (levers, handguards, etc)
Anti-squat design can make rear suspension feel harsh over bumps
No front preload adjustment
Center stand not included on base-model
Tube tires could be seen as a negative
Engine as a stressed member is a concern, although added frame rails are a plus
No, the 2021 Yamaha Ténéré 700 isn't the perfect adventure bike. Not quite.
While a large part of the Yamaha's charm is its stripped-down, "back-to-basics" approach to build and technology, the fit and finish are a little too basic for our tastes.
The hand controls, for instance, aren't exactly top-notch.
The levers themselves don't feature the break-away detents that we want for off-road use, which is unfortunate because the hard guards that protect them are simple plastic units that won't do much protecting when you inevitably drop the bike.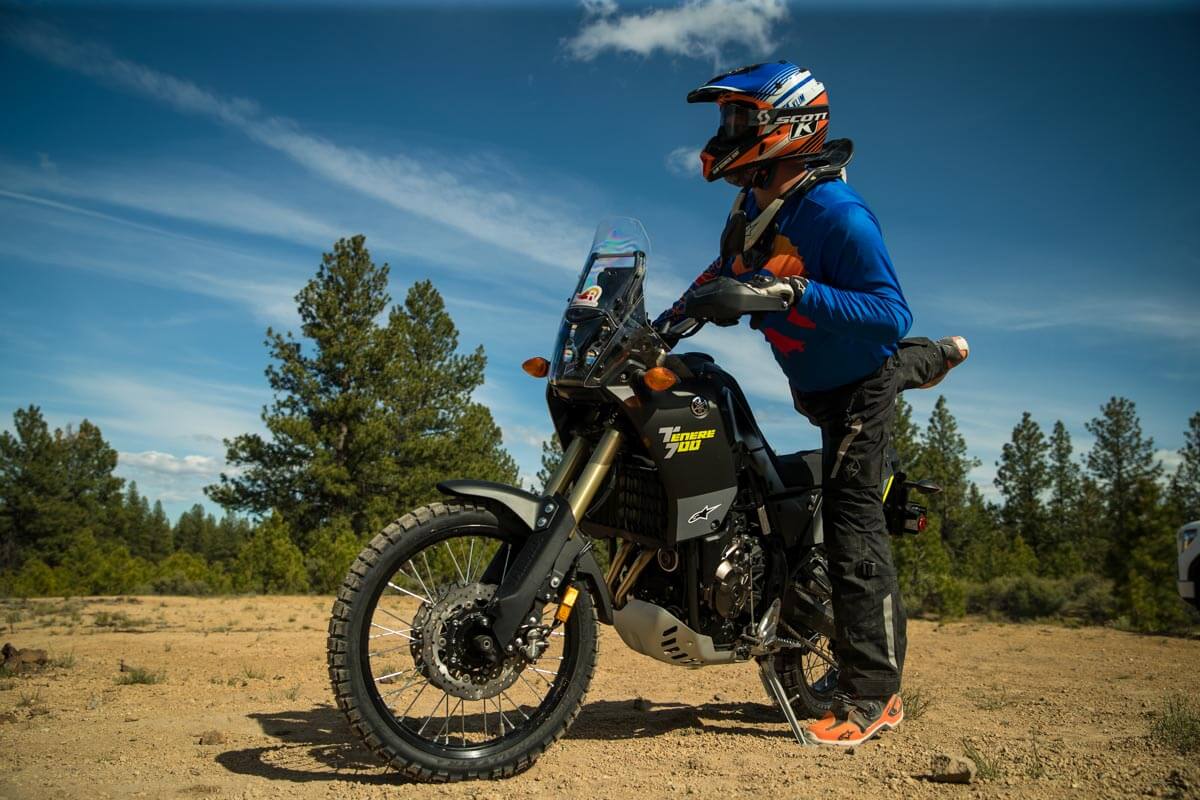 Speaking of dropping the bike, we would also nit-pick the fact that there's no center stand included on the base model Ténéré 700, which is a major asset for trailside repairs of all kinds.
Combine that with the fact that the wheels and tires on the Ténéré require innertubes front and rear, and you'll wish you had that stand when the inevitable pinch-flat happens and you've got to pull a wheel on the side of the road.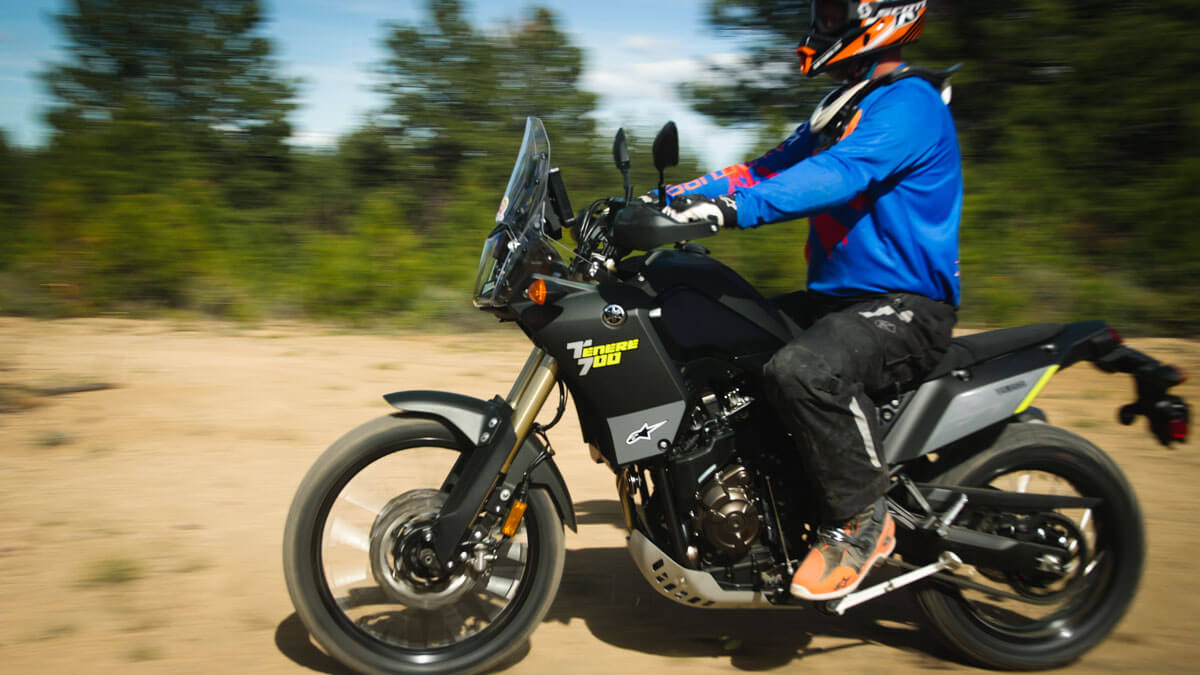 Another gripe worth mentioning is that the anti-squat technology that does so much for the Ténéré chassis can also create a rough ride for your rear end. Our guides agree that the increased angle of the swingarm translates to a more abrupt impact through the rear shock, so bumps feel more pronounced as the back tire rolls over obstacles.
We're also a little weary of the "engine as a stressed member" layout of the 2021 Yamaha Ténéré 700. Ultimately we haven't experienced any issues on our guide bikes or our rentals, but whether or not this engine configuration will hold up to long-term off-road abuses remains to be seen.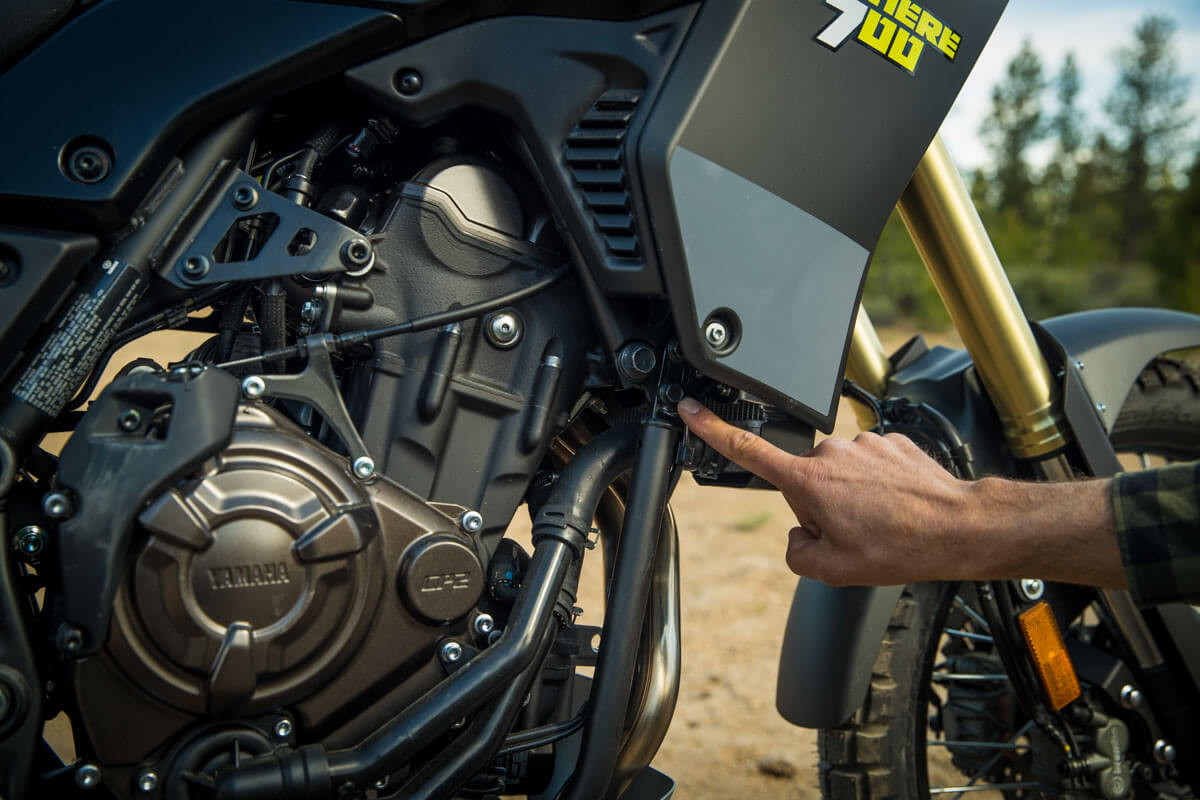 Yamaha's choice to add dual support rails to the underside of the engine certainly helps ease our concerns though, and makes for a solid mounting point for the factory skid plate, but we would prefer a conventional frame for peace of mind.
Looking to Buy The New Ténéré 700?
Here are a few accessories to consider to get your new bike ADV ready.
Altrider Skid Plate - Altrider is our "go-to" for our fleet in Oregon. However, if you're concerned about the weight we've used APX Racing 8mm thick plastic skid plate with good results.
Altrider Crash Bars - Protect your investment. Simple as that and a requirement on all our Ténéré 700's in our fleet.
Barkbusters - I mean this one is kind of self-explanatory if you're looking to be a trailblazer.
Giant Loop Great Basin - Great weekender soft bag. We include these in all of our tour packages and customers give it two thumbs up.
Phone Mount - We prefer either the Quad Lock or Ram Quick-Grip Set up.
Akrapovic Offroad Exhaust

- One of the best most high-quality slip on's that money can buy.

Protaper Adventure Handlebars - Stock handlebars are a bit bend-prone after dropping. Could be a worthy upgrade to get you riding steady after a few drops.
Ténéré 700 Side Stand Plate - Better stability to keep from sinking into the dirt while offroad.
Headlight Guard - These headlights are expensive as they look.
Yamaha Center Stand

-

From working on flats to replacing fork seals, center stands prove their worth the first time there is an issue.
Kaoko Throttle Lock - For those long highway miles between dirt sections. Your wrists will thank you.
Pivot Pegz - Full details as to why Eric's a big fan in this blog post here.
Radiator Guard - If you like to spray you with rocks here and there, you will need this. Not talking from personal experience or anything ;)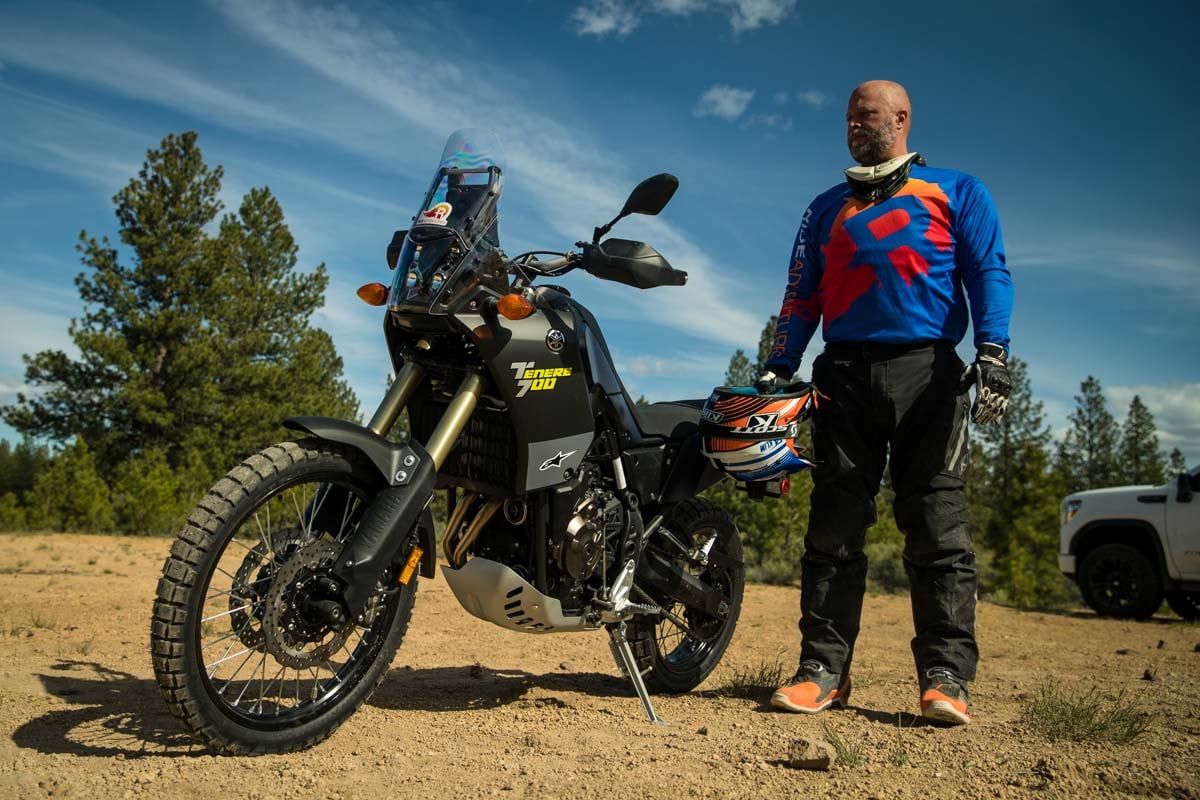 Final Thoughts on the 2021 Yamaha Ténéré 700
The Yamaha Ténéré is what it isn't. Essentially its advantages are all the things that it lacks.
No, it doesn't have the endlessly customizable rider modes of the KTM 790/890 Adventure bikes, the touring amenities of the Tiger 900, or the extra 50 pounds of weight that BMW adds to their 850 GS free of charge.
...And that's kind of the point.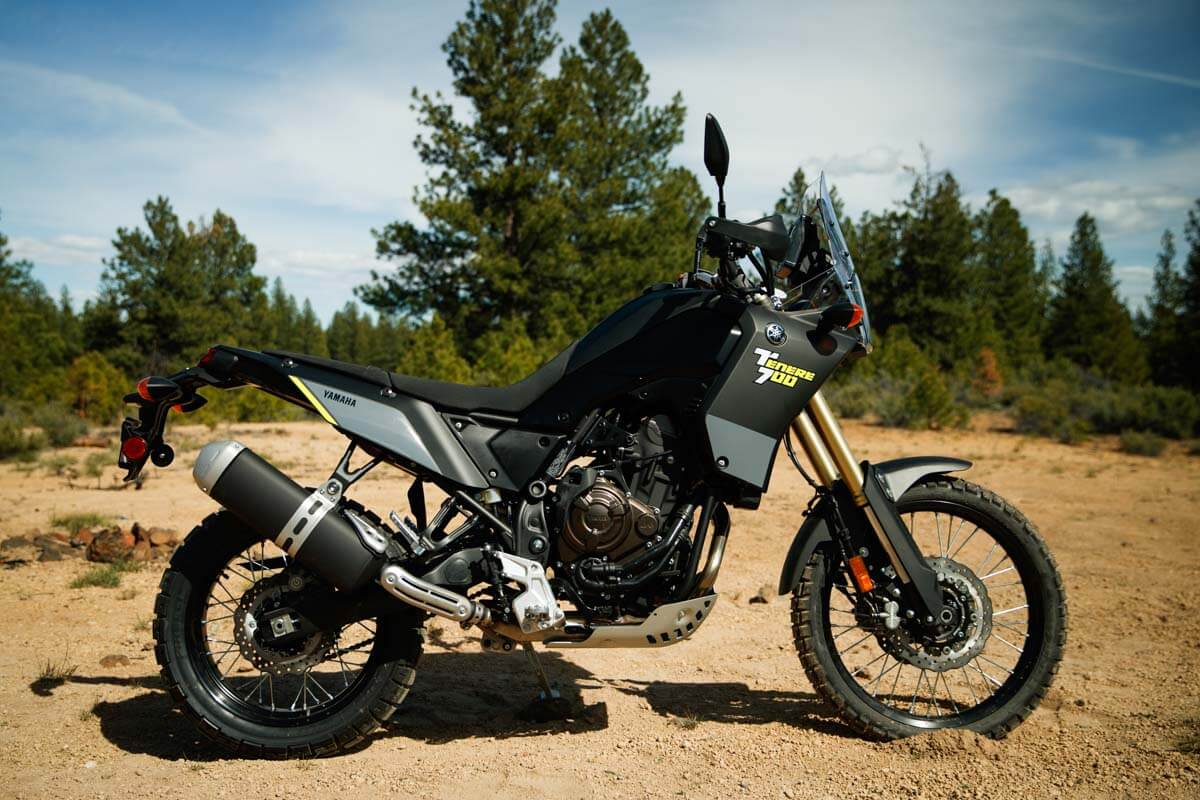 Beauty in its simplest form
Yamaha has chosen to let the "fastest, most technologically advanced, computer-controlled, blah, blah, blah " crowd have their crown. The Ténéré 700 isn't interested. It's not even playing the same game.
Instead, Yamaha has built you the big, powerful, reliable dirt bike you always wanted, added fuel-injection, and threw in long-distance comfort and excellent handling on the pavement as an added bonus.
Say what you will about the new Yamaha Ténéré 700, but you can't call it anything shy of an excellent middleweight adventure bike for $10,000.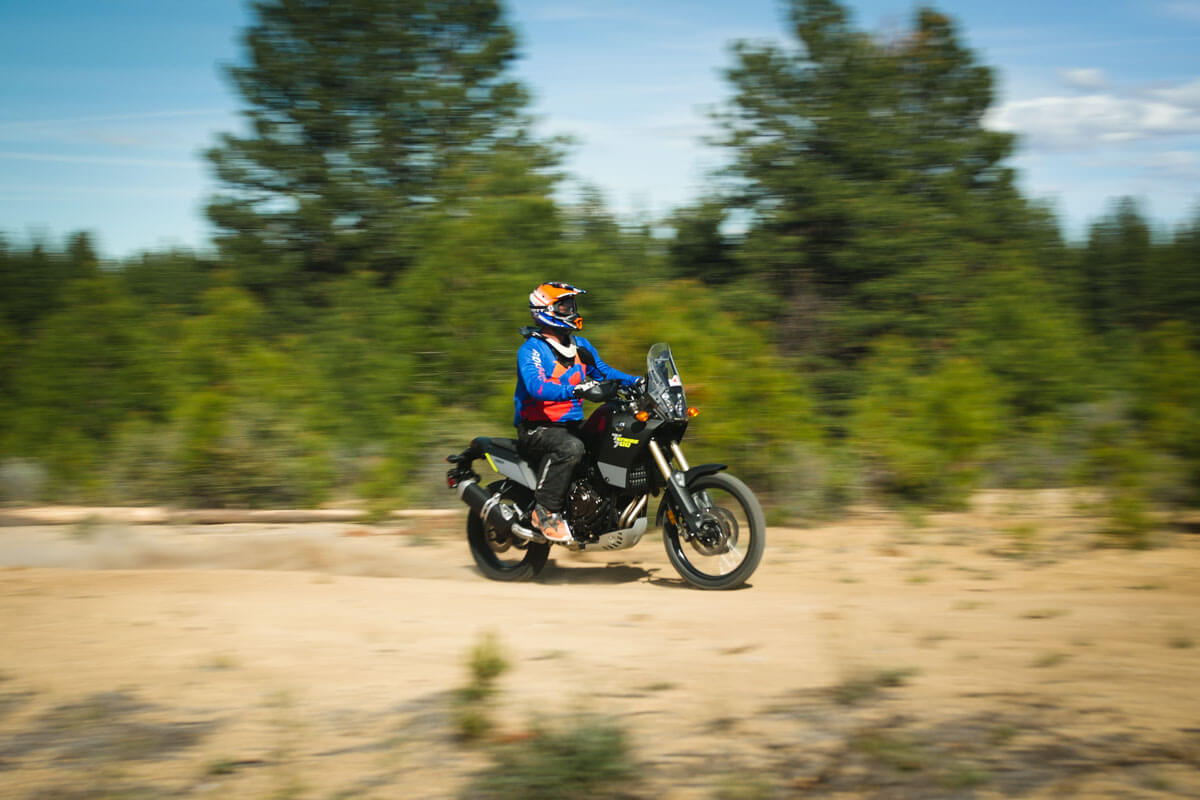 We believe the Ténéré 700 will become a regular fixture in the middleweight adventure category, and as its popularity grows, Yamaha will expand its features, options, and performance.
Until then, rejoice in the knowledge that 25k-mile valve service intervals and Yamaha reliability are priceless. Oh, and that $5,000 you saved compared to a "high-tech" adventure bike? Well if it's really burning a hole in your pocket, just know that five-grand will buy you Ohlins suspension front and rear with a few thousand left over for plane tickets, gear, tacos, and tequila.
More of a visual learner? Check out our YouTube Channel