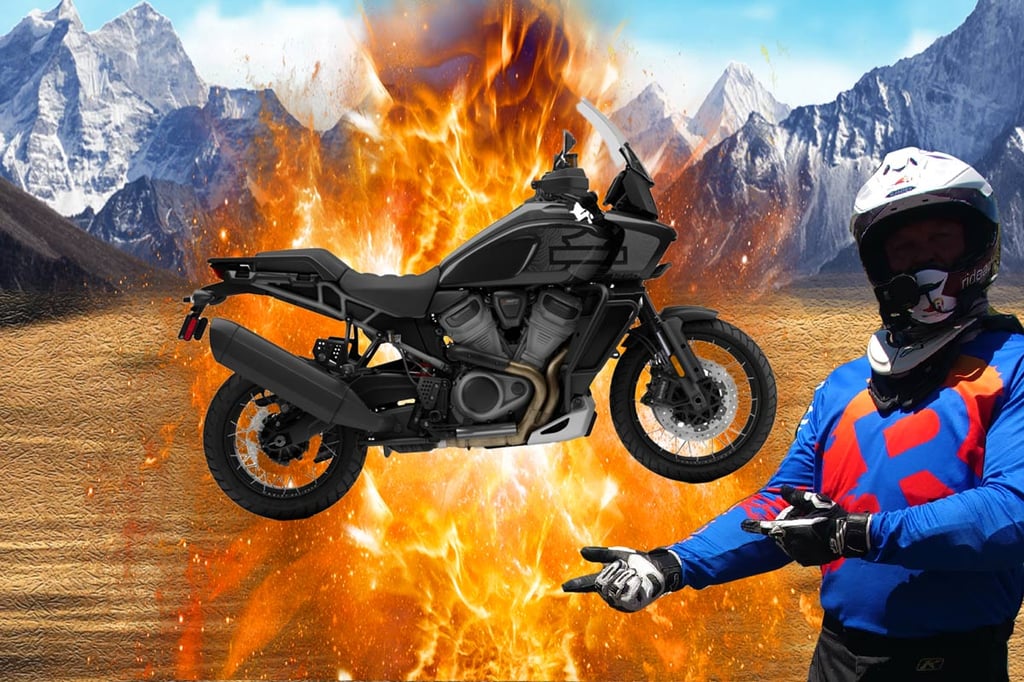 Disclosure: RIDE Adventures is a participant in the Amazon Services LLC Associates Program as well as other affiliate programs, designed to provide a means for us to earn fees by linking to Amazon and affiliated sites at no extra cost to you. Please see our Disclosure for more details.
We never thought we'd see the day, yet here it is: A proper adventure bike from the Milwaukee Motor Company. Can this hog do ADV? We took the Harley Pan America down our favorite Oregon backcountry routes to find out.
It isn't air-cooled, it isn't loud, and even after a few thousand miles of riding, it hasn't leaked a drop of oil. The Harley Pan America may not sound like your usual fare from the bar and shield brand, but in the case of this particular hog, that's kind of the point.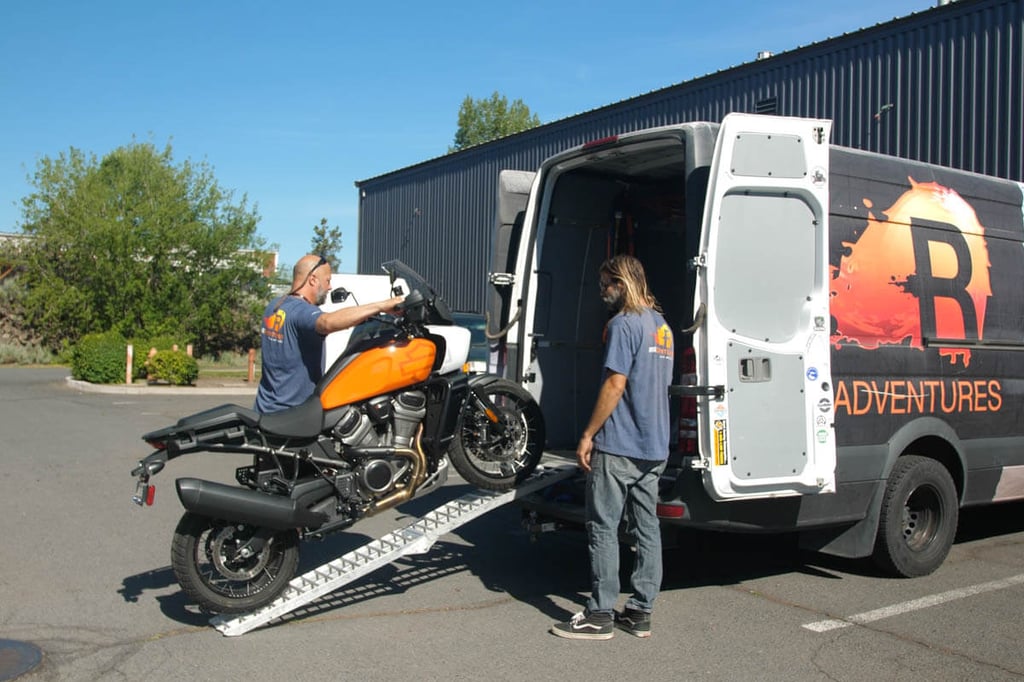 "Special thanks to Wild Horse Harley in Bend Oregon for this beauty"
We'll admit we were skeptical when we first heard Harley's ambitious plan to enter the saturated big-ADV market. Competitive performance, modern electronics, and all-terrain capabilities are all tall orders for a brand best known for resistance to change, but there's no denying Harley went for broke with this one.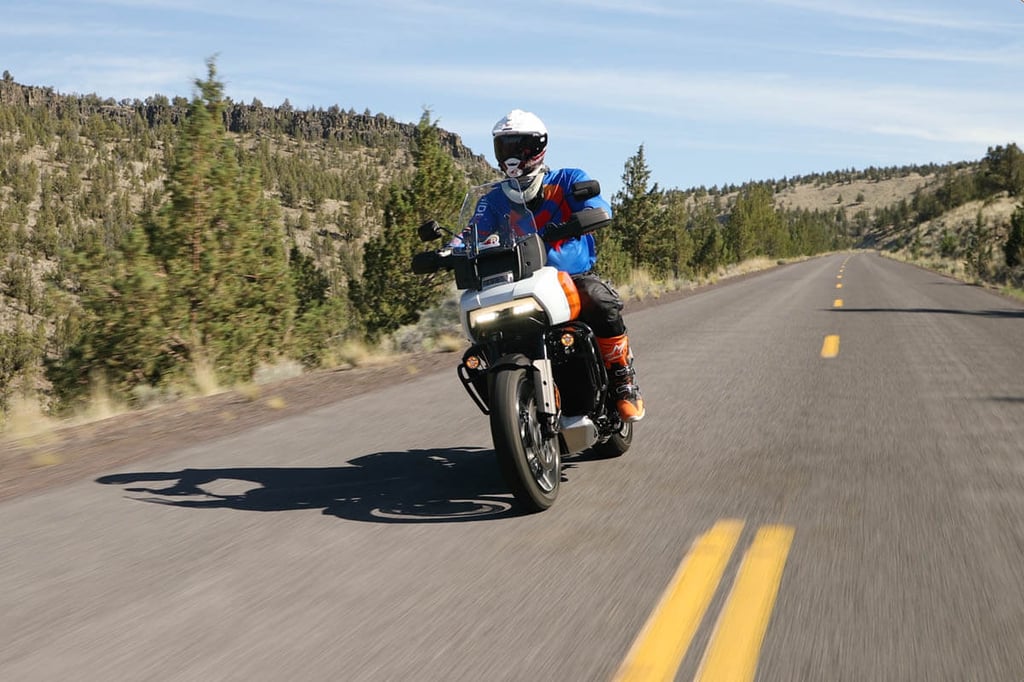 "The whole team at RIDE was a bit skeptical on Harley entering the ADV market"
Everything about the Pan America seemed to check out on paper at first glance... A 9,000 rpm redline... Adjustable Showa suspension... Hell, the Pan America even has a full suite of electronic rider aids including multiple engine modes and cornering ABS.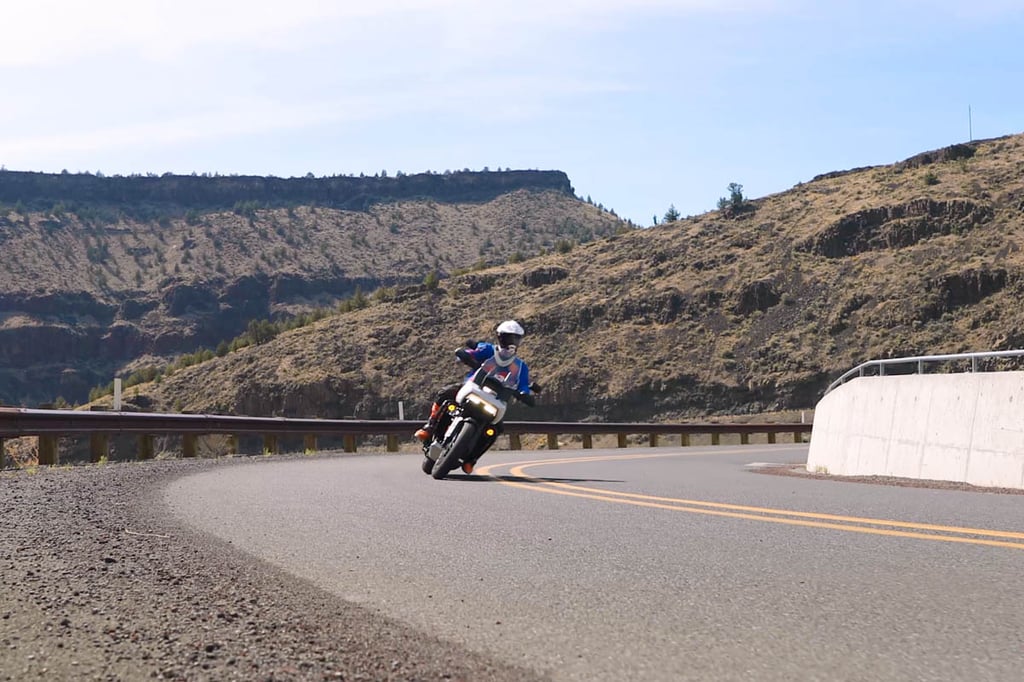 "Eric with the Pan America displaying its power through the turns"
It all sounded too good to be true, so naturally we took matters into our own hands. Does the USA finally have an ADV of its own we can be proud of? Here's our take after spending a few weeks riding the Pan America around our Bend, OR stomping grounds.
A Little Background on the Harley Pan America...
2018 was an exciting time for Harley Davidson. After decades of what could only be referred to as stagnation, the Motor Co. came out swinging, announcing a flurry of new models like nothing they'd done before.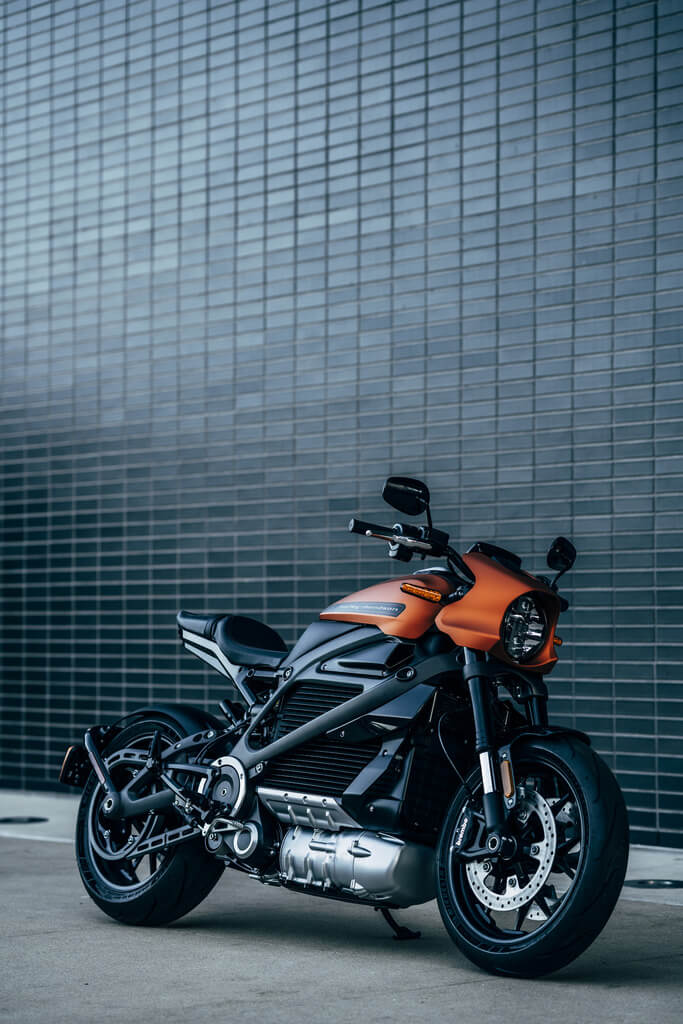 "The all-electric Livewire with its style on point but not so much its sales"
There was the all-electric Livewire, the tough-as-balls Bronx streetfighter, a handful of electric bicycles, and perhaps the most exciting of all, Harley's first adventure bike, the Pan America.
Harley devotees and detractors alike were speechless for better or worse, and we all waited on the edge of our seats to see how the ambitious announcement would play out.
Unfortunately, it didn't take long for things to go south.
The Livewire hit showroom floors the following year and was forgotten almost as quickly as it came, thanks largely to a lack of demand and a sticker price that even silicon valley's finest had a tough time swallowing.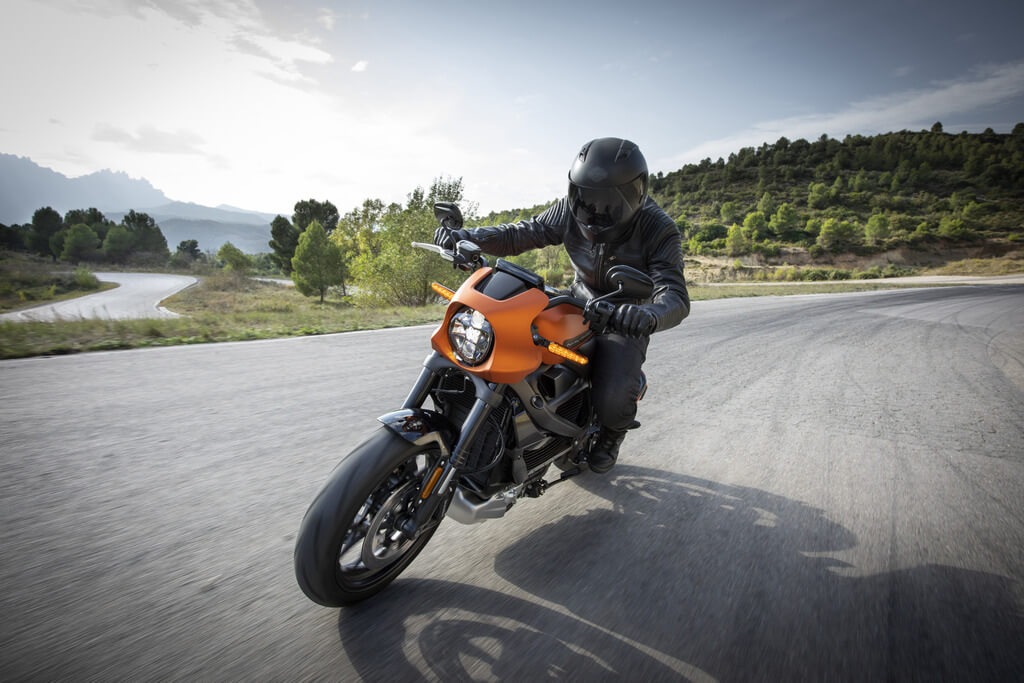 "Livewire in action"
Ongoing financial woes put an indefinite hold on the Bronx, which is particularly heartbreaking considering how badly the market could use an exciting new V-twin streetfigher right about now.
And then there was the Pan America. Originally slotted to "hit the dirt in 2020" according to Harley, the big ADV's launch date came and went, and we were all left wondering if Harley's new off-roader would join the ill-fated Bronx on the chopping block.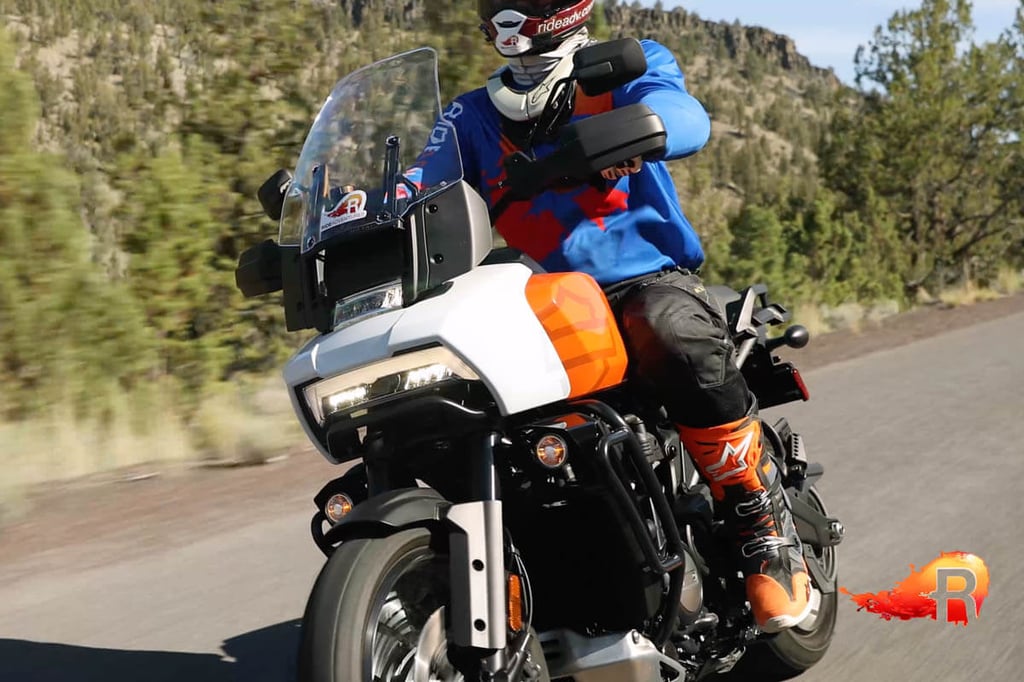 "Harley's Pan America coming in hot"
Better late than never, as they say. The Pan America finally launched in early 2021, and by the end of Summer, Harley proudly announced that the new ADV had become the best-selling adventure touring bike in North America.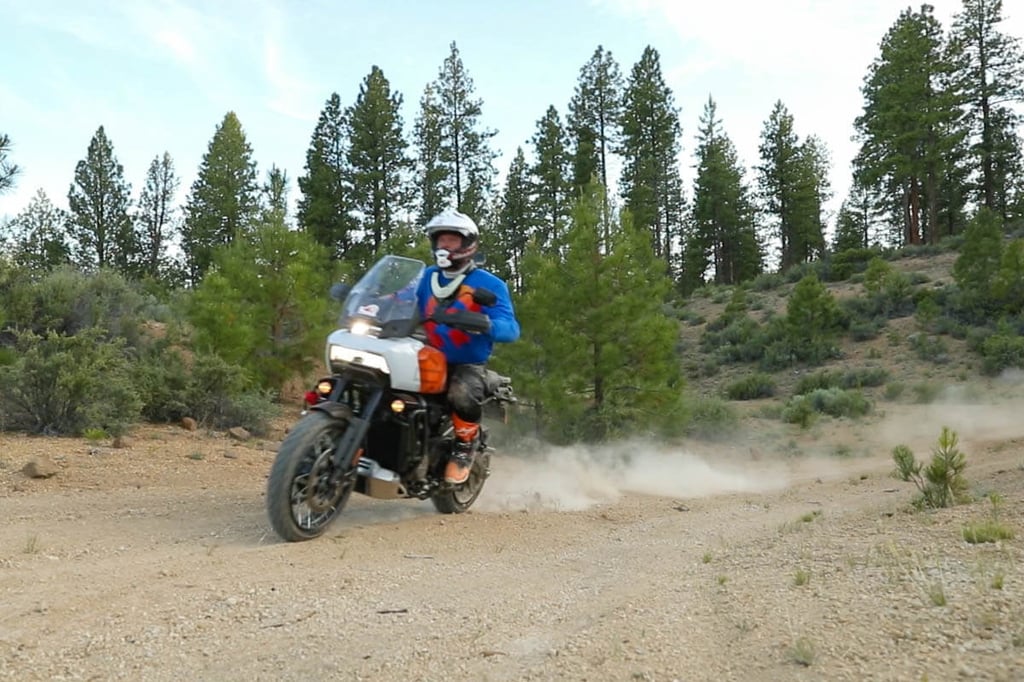 "Eric testing the Harley Pan America off-road here in Oregon's beautiful backcountry"
The bike has remained entirely unchanged since its launch with the exception of a few new colors on offer, so whether you're shopping new or used, here's what you've got to look forward to.
2022 Harley Pan America Specs
While the Pan America's spec sheet doesn't hide anything shocking by comparison (save for its electrically controlled seat height), it's a complete 360 for a Harley Davidson, and undeniably competitive with the current crop of full-sized ADVs including industry benchmarks like the BMW GSA.
Harley Pan America Engine:
Engine Displacement: 1,252cc Revolution Max
Type: 60-degree V-twin
Cooling: Liquid-cooled
Bore x Stroke: 4.13" x 2.85"
Fueling: Sequential port fuel injection
Max Power: 150 hp @ 9,000 rpm
Max Torque: 94 foot-pounds @ 6,750 rpm
Transmission: 6-Speed
Final Drive: Sealed o-ring chain
Harley Pan America Chassis, Suspension, And Brakes:
Front Suspension/Travel: 47mm Showa w/ electronic adjustment/ 7.5"
Rear Suspension/Travel: Showa monoshock w/ automatic preload control & semi-active compression and rebound damping/ 7.5"
Front Brake: Brembo radial mounted 4-piston monoblock
Rear Brake: Brembo floating/ single piston
Front Wheel: 19-inch, spoked, tubeless (Special model)
Rear Wheel: 17-inch, spoked, tubeless (Special model)
Front Tire: 120/70/R19 Michelin Scorcher Adventure
Rear Tire: 170/60/R17 Michelin Scorcher Adventure
Harley Pan America Dimensions:
Rake (Caster Angle): 25 degrees
Trail: 4.3"
Ground Clearance: 8.3" (6.9" when stopped)
Seat Height: 32.7" (when stopped)
Wheelbase: 62.4"
Fuel Capacity: 5.6 gal
Fuel Economy: Approx. 46 mpg
Wet Weight: 569 lbs
Harley Pan America Instruments and Electronics
Headlights: LED
Tail light: LED
Instruments: 6.8" full-color TFT display
Rider Aids: Cornering ABS, linked braking, lean sensitive traction control, hill hold control, wheelie control
2022 Harley Pan America Review: The Good and Bad
Specs are one thing, but it's real-world performance that matters. We put the Motor Co.'s new flagship all-purpose machine to the test on our home training grounds around Bend to see how it handles street, dirt, and everything in between.
2022 Harley Pan America: The Good
New Revolution Max V-twin is fantastic
Doesn't sound like a Sportster
Smooth gearbox
Clever electronic suspension
Oodles of ride modes and electronics
Damn good brakes
Special version has impressive luxury features
While many HD purists will no-doubt turn their nose up at the Pan America's all-new water-cooled Revolution Max V-twin, for us it's the highlight of the bike. This is a Harley that loves to rev-out, and with 150 ponies on tap and 9,000 revs to exploit, the new motor is an absolute hoot on a twisty road.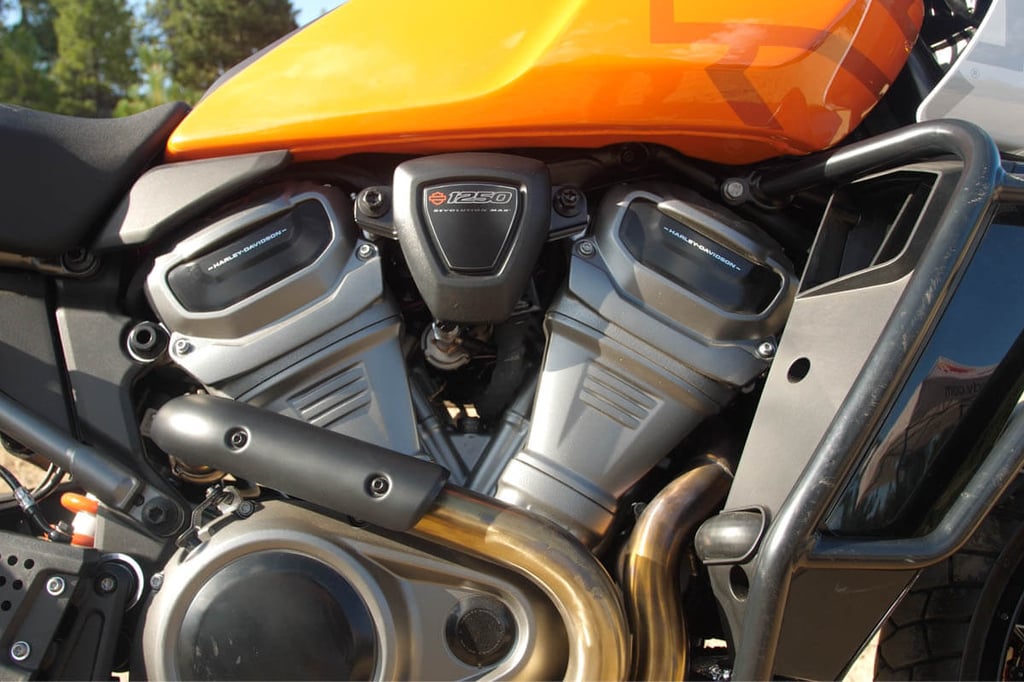 "Lack of power will never be spoken in the same sentence with Harley-Davidsons Pan America"
Low-end grunt may not be quite what you're used to if you're coming off a Dyna or another one of the Motor Company's massive air-cooled twins, but with over 60 ft-lbs on tap from as low as 3,000rpm, it still pulls mightily even a gear or two high.
We'll also note that while the Pan America has a properly tough exhaust note, it's nothing like the explosive (aka obnoxious) wall of sound you'll typically get out of a Harley, which bodes well for adventure travel and off-road use.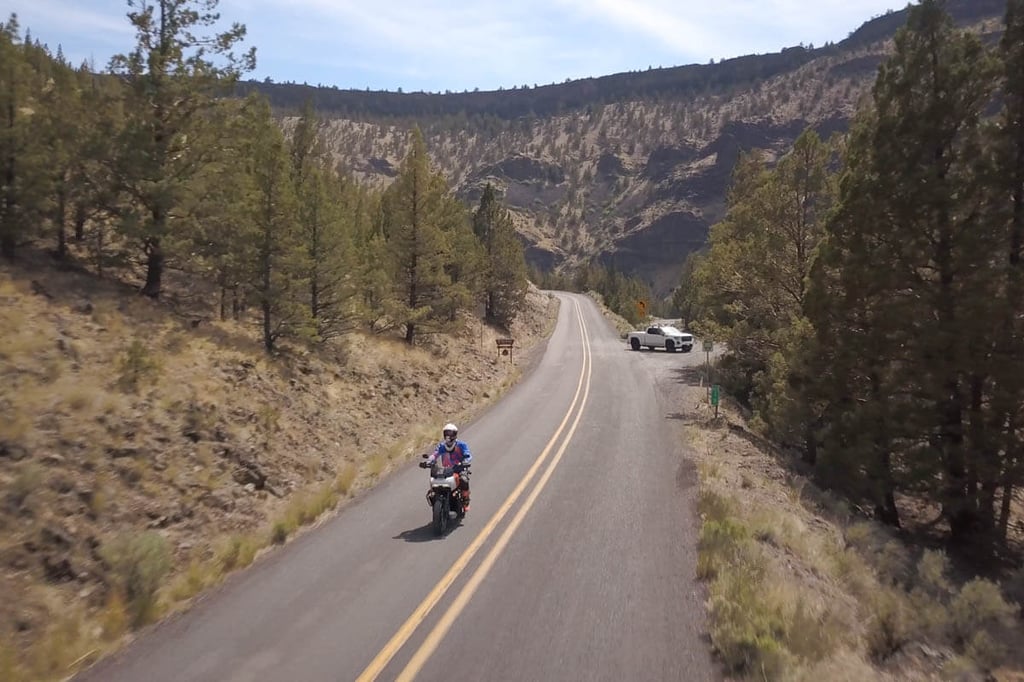 "Another beautiful Central Oregon shot while testing the Harley Pan Am"
Another pleasant surprise here is that unlike your typical HD, the gearbox of the Harley Pan America is smooth and clunk-free. There's no quickshifter on offer here, but running up and down the gearbox is properly effortless, yet another indicator that Milwalkee's finest has truly moved on to the modern era.
Speaking of modern, our Special Edition Pan America came equipped with Harley's new electronic suspension, which is impressively sophisticated even compared to the most cutting-edge machines on the market.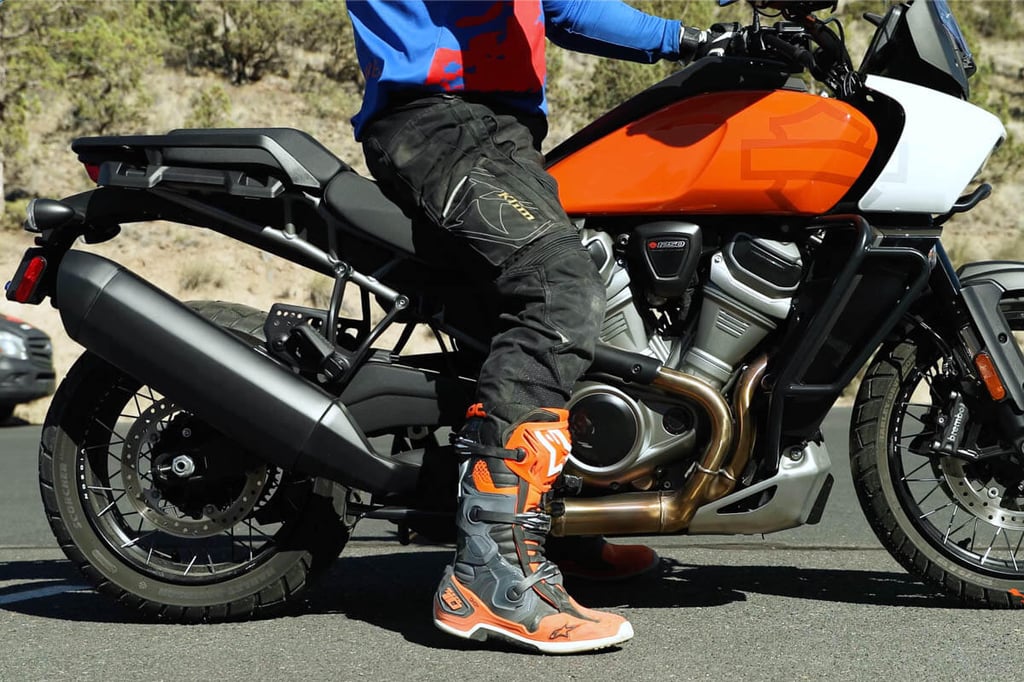 "When you stop, it lowers and when you take off, it rises. A great feature for those shorter inseams out there"
This system allows the Pan America to measure and adjust preload and damping on the fly to accommodate for speed, load, and riding conditions, and it even includes an automatic ride height adjustment that brings your feet closer to the ground every time you come to a stoplight.
Those fancy electronic suspenders are just one part of the Pan America's electrics suite however, and we appreciate that Harley spared no expense in rounding out the rest of the package.
"The display is something else. Nice and bright, easy to navigate however, takes a little bit to figure how to best utilize all of it's features"
The Pan America includes everything you'd expect in this regard like selectable on and off-road rider modes, lean-sensative ABS, lean sensitive traction control, and wheelie control, but also throws in some uncommon bonuses like hill hold control for easy take-offs on steep inclines and electronically linked braking for reliable stopping power.
Let's Talk Luxury Features...
Clearly there are a lot of impressively modern updates beyond your usual Harley fare going on here, but if there's one thing Harley has always understood, it's touring comforts.
The Pan America is clearly a touring bike at heart, and we're happy to report it delivers an impressive list of comfort-focused features as well.
A few highlights we'll note here are the tool-less adjustable windshield, a multi-position adjustable seat, and the multi-position brake lever for fast changes between on and off-road ergonomics.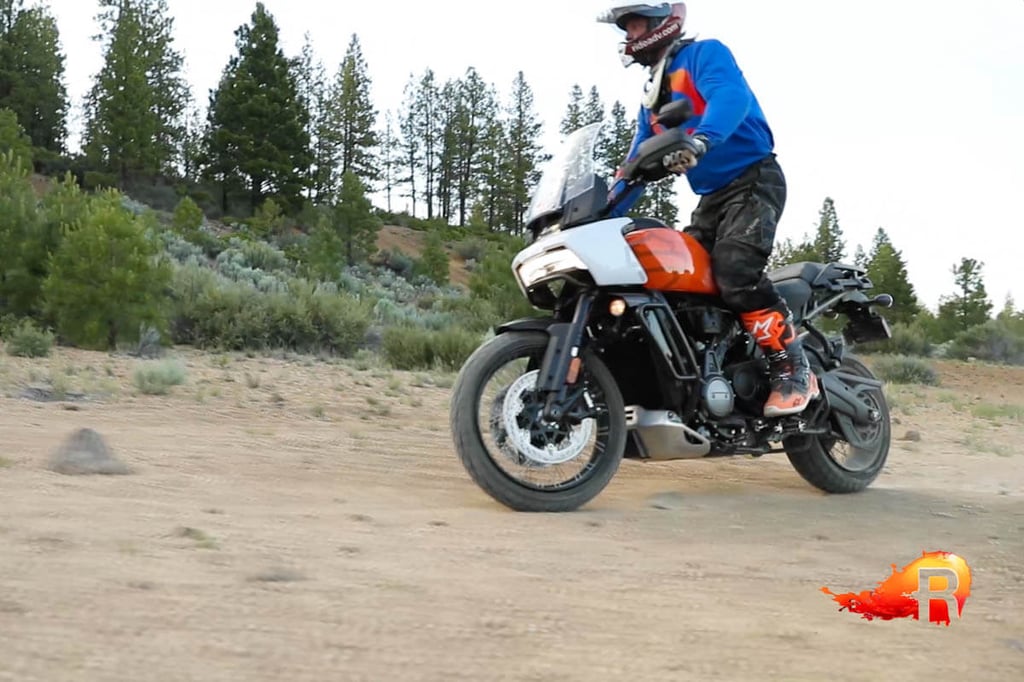 "Skid plates, crash bars, heated grips and even a center stand come equipped on the Special Edition Model"
Our Special Edition model also comes standard with a handful of ADV essentials including engine guards, a skid plate, heated grips, and even a center-stand, which we've always found to be worth their weight in gold for trail-side repairs.
2022 Harley Davidson Pan America: The Bad
Limited suspension & ground clearance
Compression ratio concerns
Component placement a little concerning...
Stressed member chassis
Side stand position gives us pause
While there's no denying the new Pan America is an absolute homerun for Harley and an impressive first start into the adventure market, there are a few places where this hog is clearly outclassed.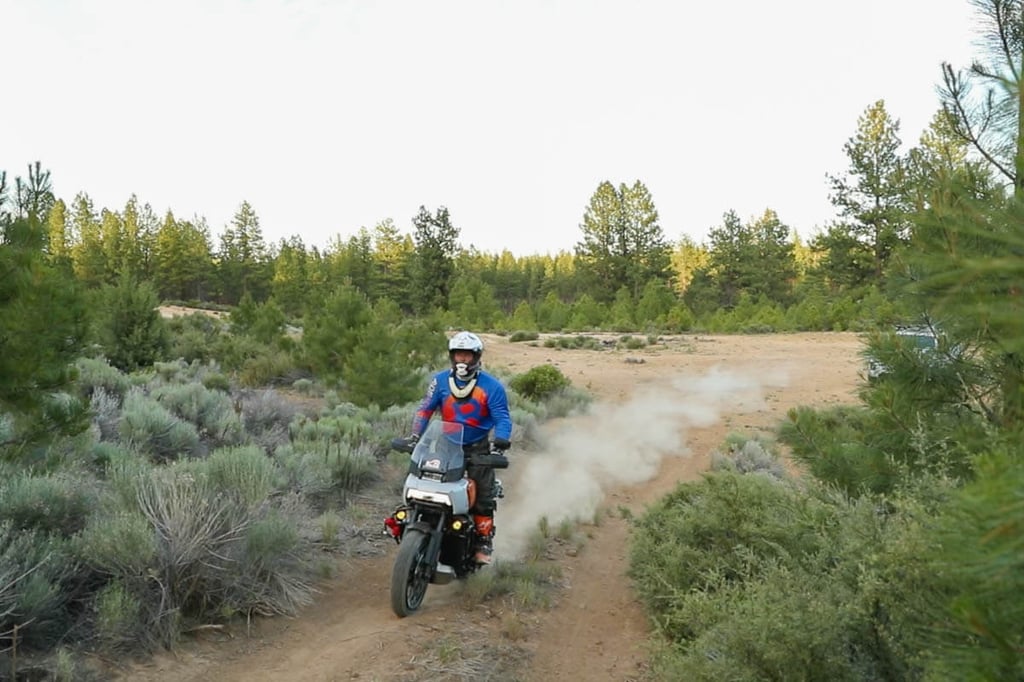 "Eric placing some power to the wheel for an upcoming hill"
The first and most obvious we found is its limited suspension. Granted, larger adventure rigs typically aren't intended to go out and shred singletrack, but we felt the Pan America was particularly limited by both its 7.5-inch suspension travel and sub-9-inches of ground clearance.
Will most Pan America buyers be attempting technical climbs, bouncing over large rocks at speed, or trying to make this pig fly over jumps? Absolutely not. Could you do all three aboard something more capable like the venerable KTM 1290 Super Adventure R? Absolutely.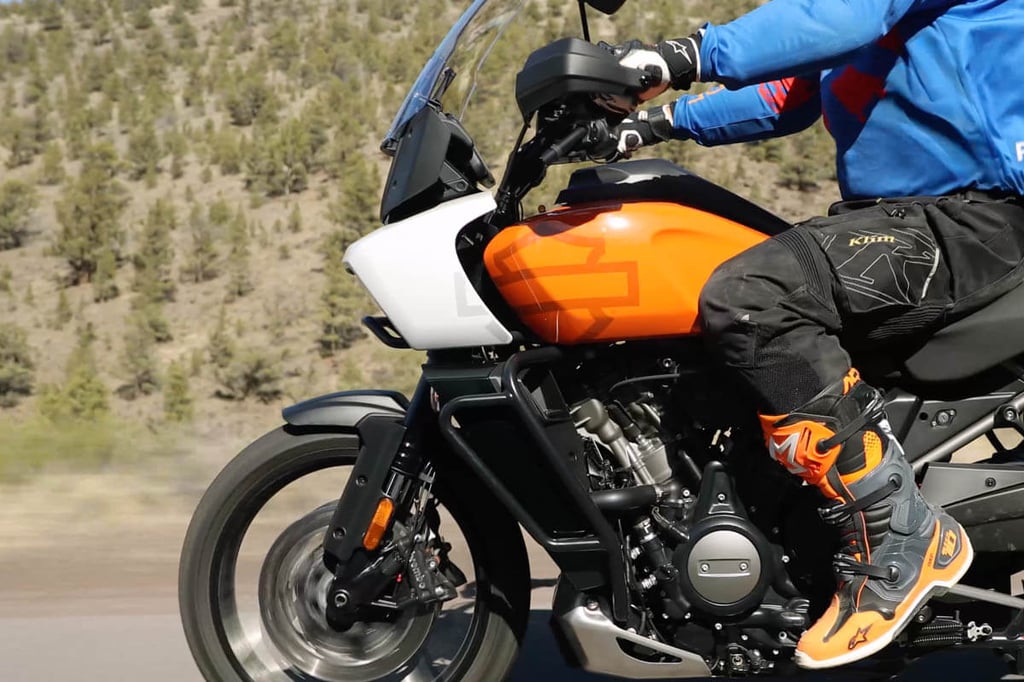 "13-to-1 compression means high performance but what about reliability?"
Our second concern is with the new Revolution Max engine. While we've thoroughly enjoyed wringing this V-twin's rev-happy neck and experienced zero problems with it, Harley is only able to coax this much power from the new powerplant by cranking the compression up to an eyebrow-raising 13-to-1 ratio.
That's higher than performance leaders like the middleweight KTM 790 Adventure R, and significantly higher than proven powerplants like the parallel twins found in the Honda Africa Twin and Yamaha Tenere 700.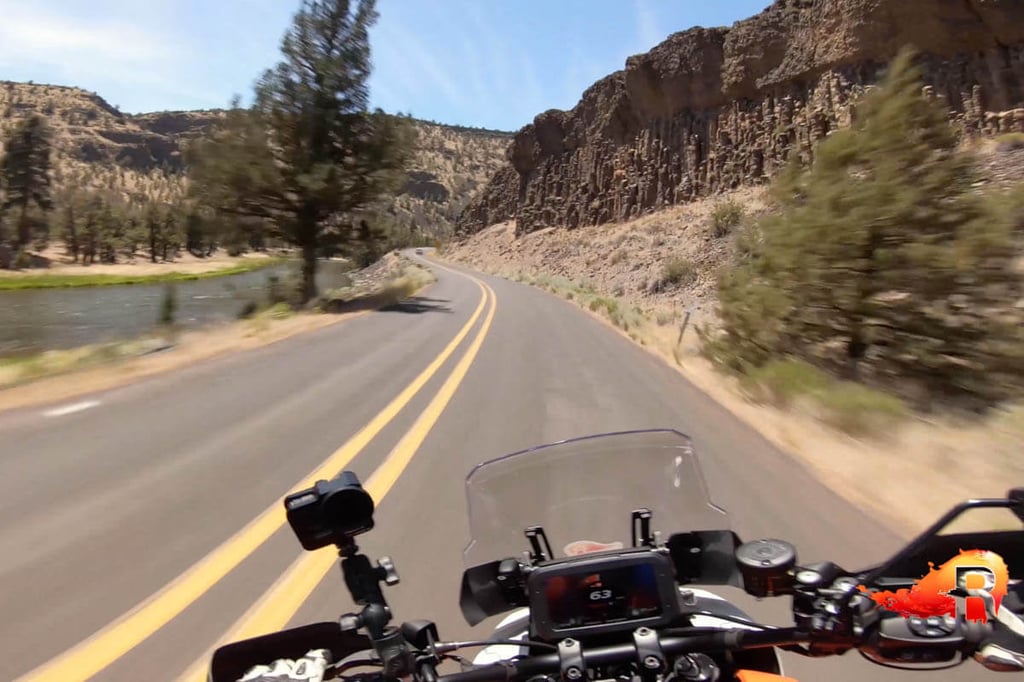 "Cockpit view on the Harley Pan America does not dissapoint when riding in scenery like this"
Again, there are no known reliability issues with the Revolution Max at this time, but such a high state of tune gives us some long-term durability concerns.
Lastly, we'll point out that the Pan America uses a modern engine-as-a-stressed-member chassis, which we're still not huge fans of.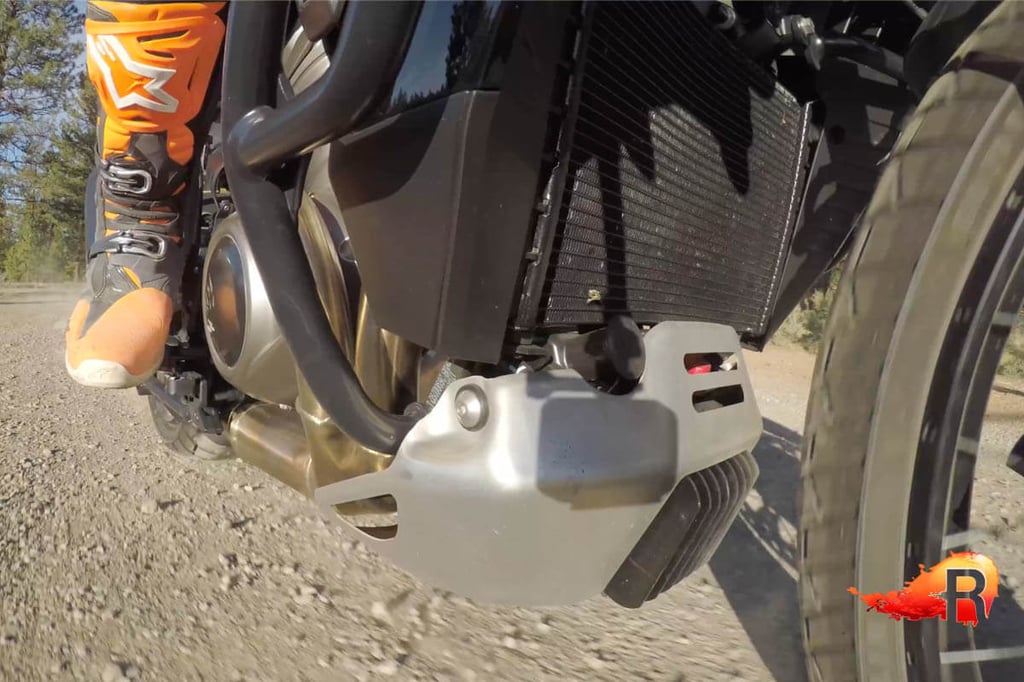 "Stressed member chassis can add some concern along with exposed radiator & rectifier but not for those that stay mainly on pavement"
Granted, this design seems to be the way of the future and many industry-leading models have adopted it in the name of performance and weight savings, but at the end of the day, we're still suckers for a full-frame design on any bike designed to spend time off-pavement.
Is the 2022 Harley Pan America for You?
We believe the answer to this question all comes down to how and where you intend to ride. If you're looking for a more off-road focused, go-anywhere, tackle-any-terrain kind of ADV, chances are the hog won't be your best bet.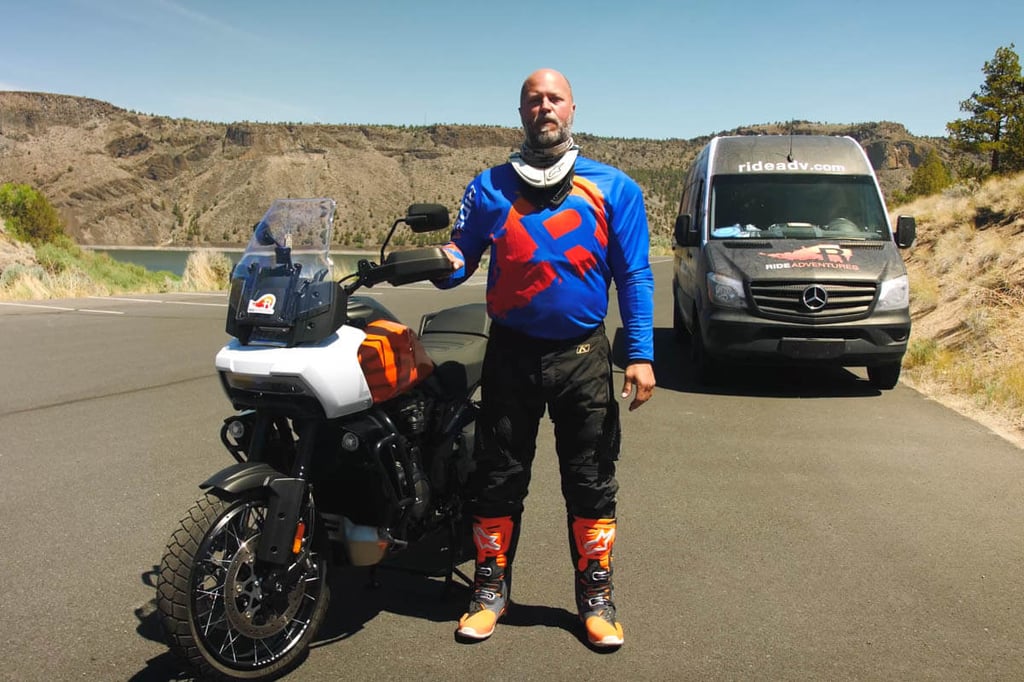 "Overall we approve, but is the Harley Pan America for you?"
Suspension and ground clearance are both considerably limited (especially compared to more dirt-focused ADVs like the Yamaha Tenere and Ducati Desert X), which means big bumps, drops, and jumps aren't exactly the Pan America's bread and butter.
On the other hand, if you're looking for an adventure bike with decent off-road chops that can hold its own on a twisty road, the Pan America is a clear contender.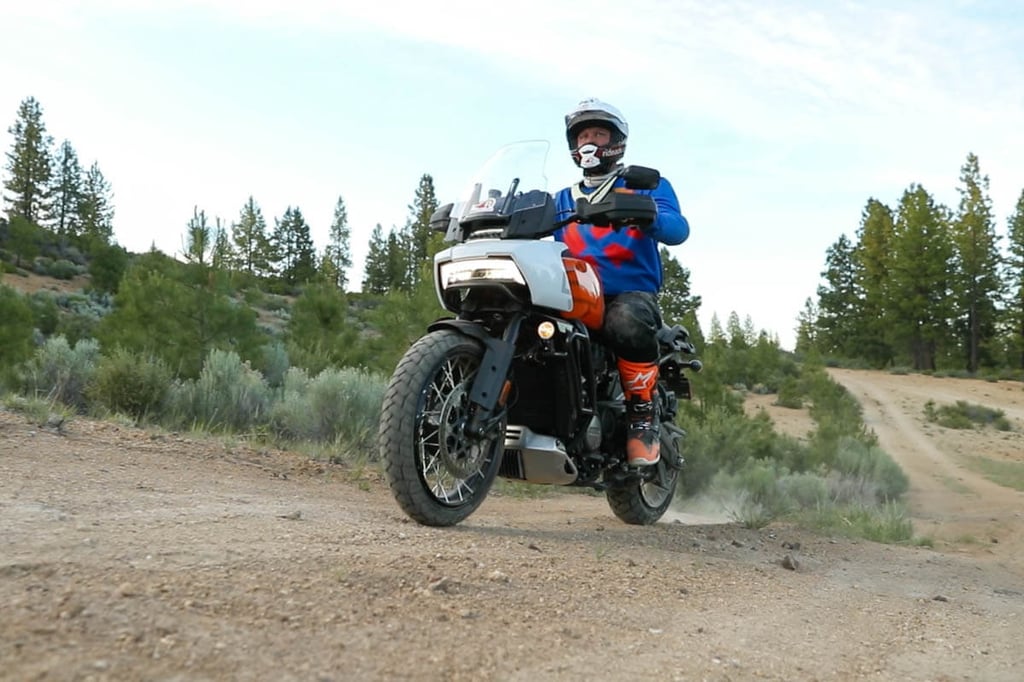 Power is excellent, brakes are excellent, and that electronic suspension keeps the bike in the handling sweet spot whether you're riding solo or two-up and loaded down with luggage.
We think the Pan America is a great entry into the full-sized ADV market for Harley, and is exactly what many riders are looking for: A comfortable, sophisticated, performance-minded touring bike that's not afraid to bomb the occasional gravel road or dirt double-track.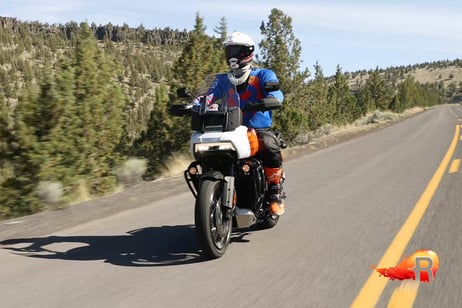 As its name suggests, the Pan America is an ideal machine for cross-country exploration and beyond, and if long trips over varied terrain are on your bucket list, this machine is built to go the distance.
More of a visual learner? Check out our Harley Pan America YouTube Review
→Read More: Parking a Motorcycle: 6 Rookie Mistakes and Street & ADV Motorcycle Training.