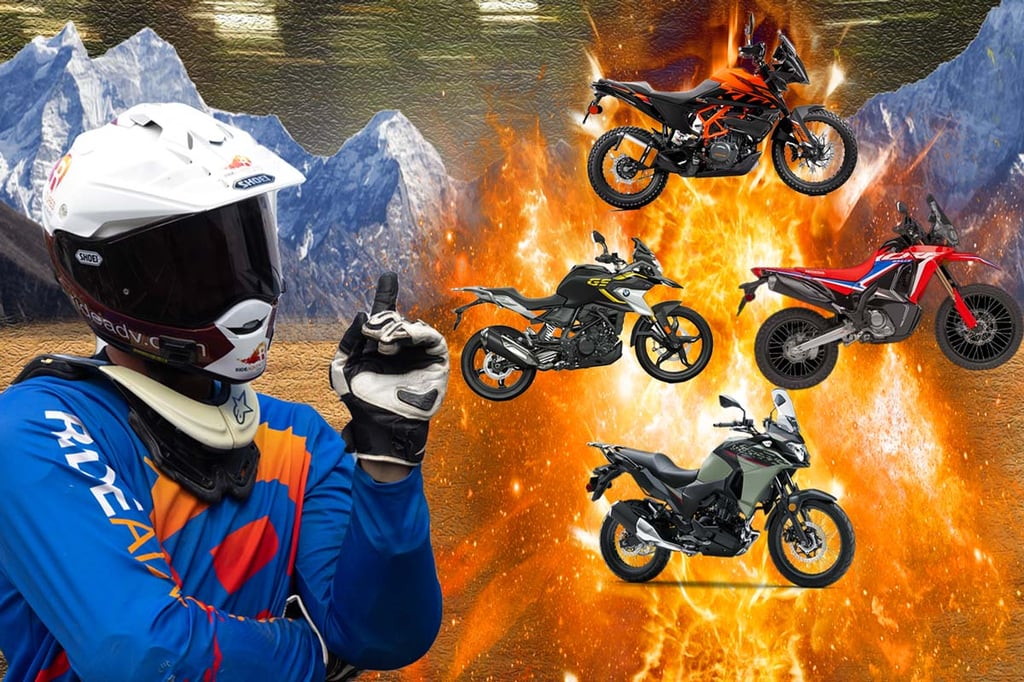 Disclosure: RIDE Adventures is a participant in the Amazon Services LLC Associates Program as well as other affiliate programs, designed to provide a means for us to earn fees by linking to Amazon and affiliated sites at no extra cost to you. Please see our Disclosure for more details.
Looking to dip a toe into the world of ADV riding? The best adventure bikes for beginners will get you started down the path less traveled.
So you've decided to get yourself an adventure bike. Congratulations: You're about to purchase one of the most versatile and enjoyable forms of transportation on the planet.
The best beginner adventure bikes do it all: Twisty sections of pavement in the morning, dirt roads all afternoon, and then comfortable cruising on the super slab the whole way home.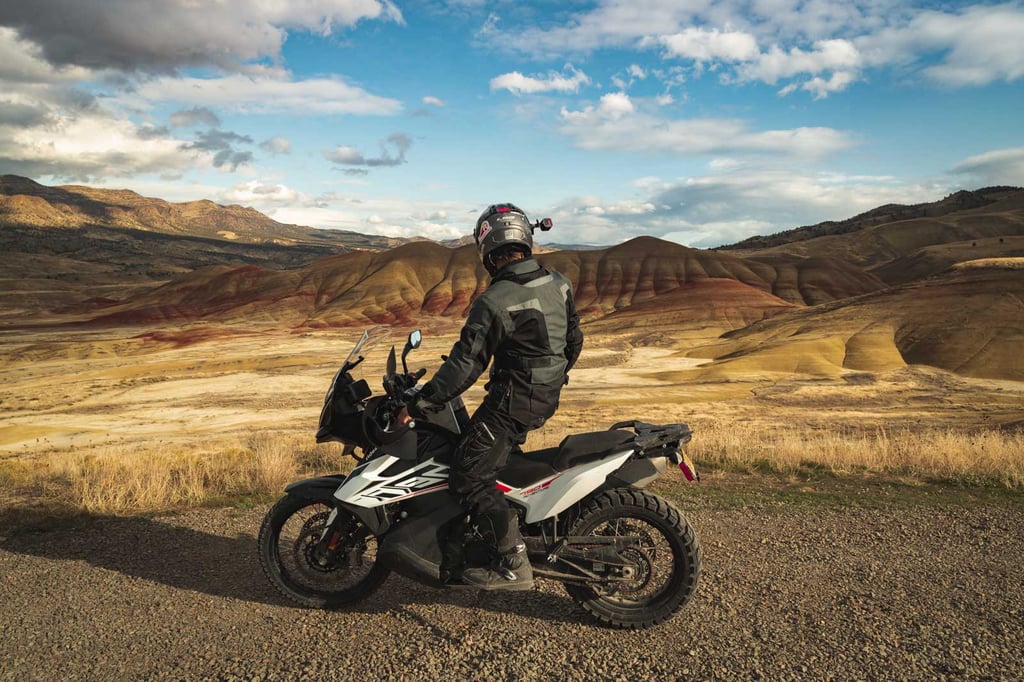 "Adventure bikes are tailor-made to take you to some of the most incredible places in the world."
The adventure motorcycle market has exploded over the last decade or so, which means you've got more options than ever to choose from when it comes to beginner bikes.
That's both a blessing and a curse, as not all bikes carrying the "adventure" name are truly built to do the down and dirty.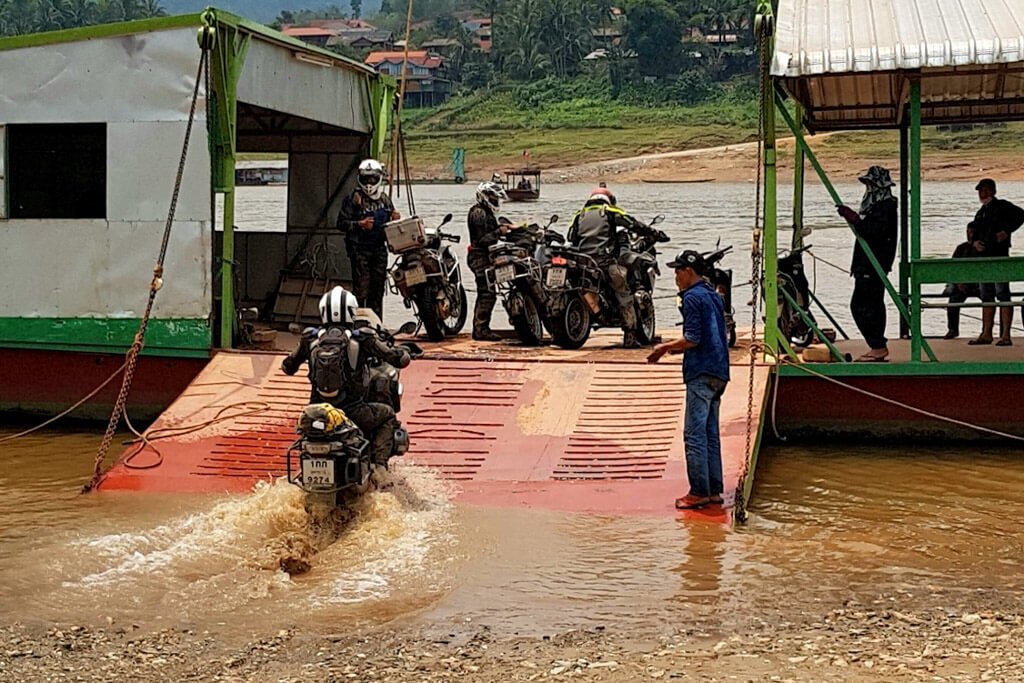 To that end, we've put together a quick guide on what to look for in a beginner adventure bike, as well as a handful of our favorite picks of the year you can go out and buy right now.
What To Look For in a Beginner Adventure Bike
So how do you separate the real adventure machines from those merely carrying the name and/or style? There's more to it than high fenders and hand guards, so here are the specific attributes we look for when evaluating a beginner bike's adventure-friendliness.
Highway Manners
At its core, adventure riding is made of two simple components: Long distance touring and off-road riding.
Because the best adventure bikes for beginners are smaller bikes with smaller displacement engines, long stretches of relatively fast-moving highways can be a challenge.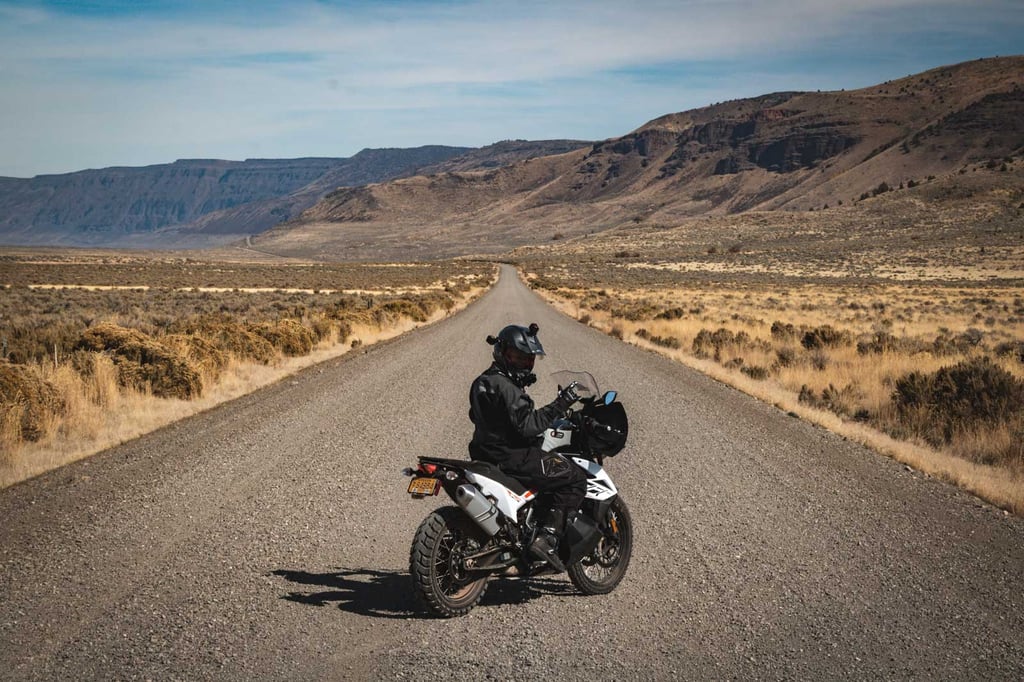 "As much as we love getting dirty, long highway stretches are an unavoidable part of the ADV equation."
When evaluating an adventure bike's highway manners, we ask three simple questions:
Can it cruise at 70+ mph without drama?
Are the seat and ergonomics comfortable enough for 100+ mile days?
Is there wind protection?
Small displacement engines are great around town, but they tend to run out of steam at higher speeds. The best adventure bikes for beginners walk a fine line between low-speed grunt and top-end speed, and our favorites hold a good 70mph or so cruising speed without feeling overworked or vibrating the fillings out of your teeth.
In terms of ergonomics, what you're looking for here is a rider triangle (seat, bars, and footpegs) that comfortably fits your frame.
You shouldn't feel overstretched or "wadded up" when sitting in the saddle, and the saddle itself should be comfortable enough to spend a few hours at a time in without giving you rampant monkey butt.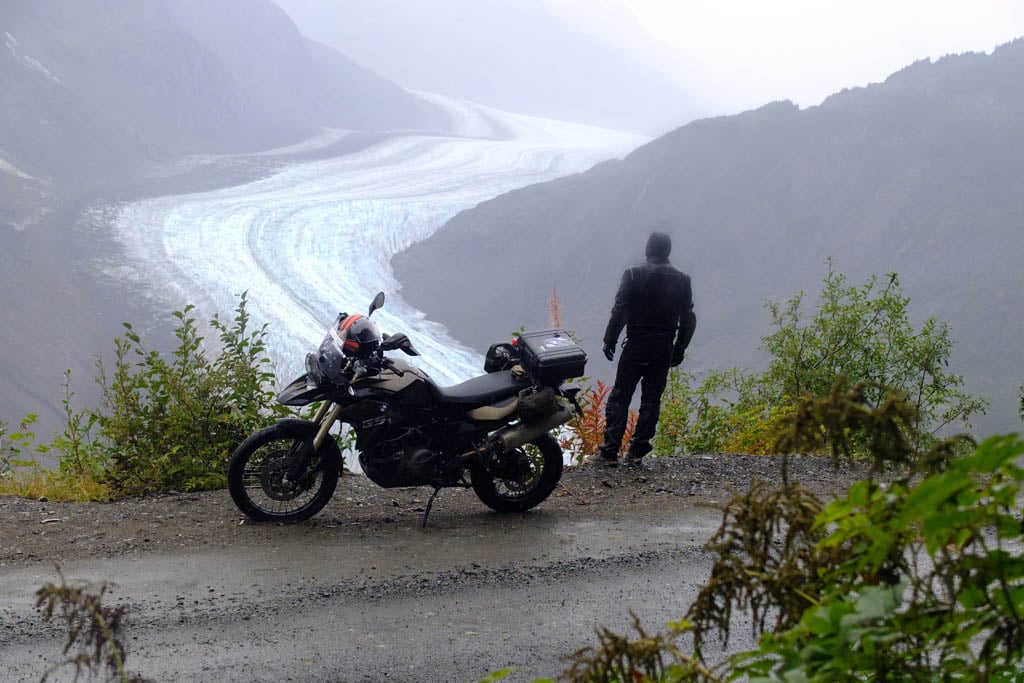 "On our Patagonia trips weather like this will make you wish you had a large windshield."
Lastly, look for wind protection. Wind protection is one of the major differences between an adventure bike and a more dirt-focused dual-sport, and makes a huge difference over the course of a long day in terms of neck and shoulder fatigue.
We look for some degree of fairing and/or windshield to check this box, and ideally both should be substantial enough to minimize buffeting at highway speeds.
Offroad Prowess
Highway manners are important, but it's the offroad capability that separates ADV bikes from traditional touring models. To that end, we look for a few basic dirt-focused features in any beginner adventure bike worth considering.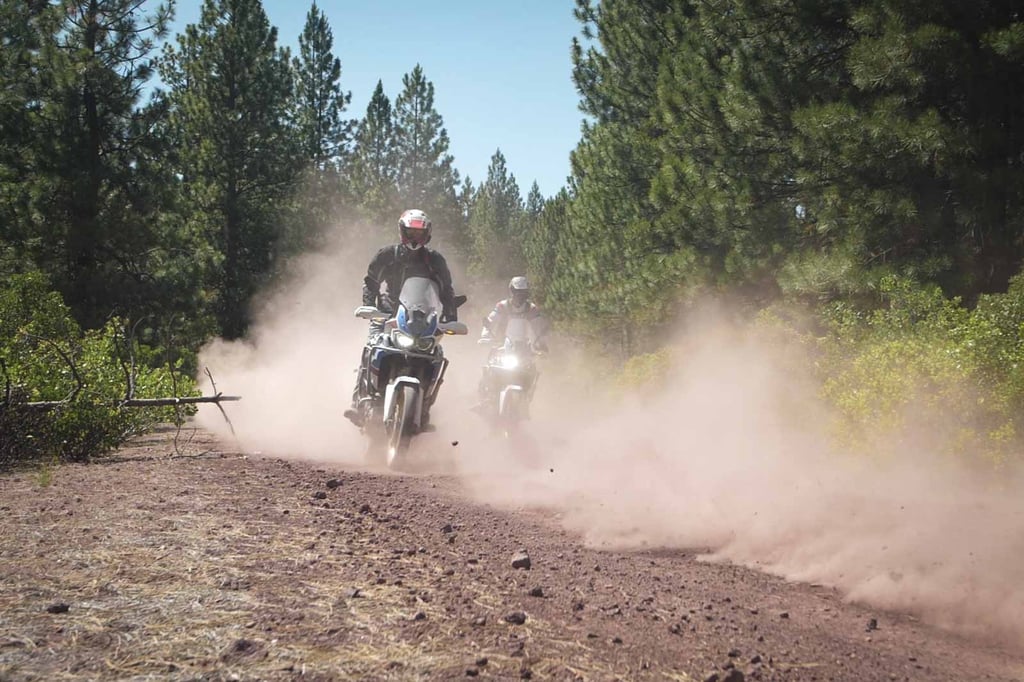 "Whether you're looking to tackle gnarly singletrack or simple gravel roads, a good ADV bike needs a few dirt-oriented features."
The first is suspension, as ADV bikes need extra travel and ground clearance to get you up and over obstacles. The general rule of thumb here is "the more the merrier," but at minimum we like to see at least 6 inches of squish and around 7 inches of ground clearance.
Again, much more is preferable, but because most beginner ADV riders benefit from a lower seat height, a lower bike isn't always a bad thing.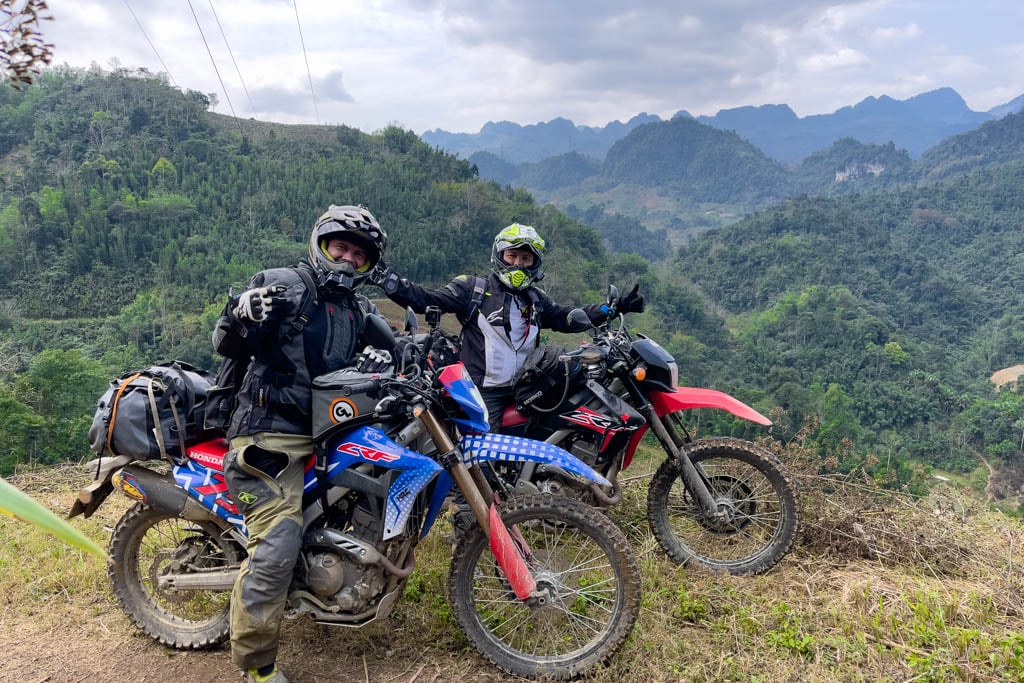 "On our Vietnam trips, the offroad sections can get pretty gnarly and you'll need some suspension travel"
The second most important thing we look for in the best adventure bikes for beginners is wheel size, especially up front. Taller wheels roll up and over bumps and obstacles more easily than smaller hoops, so we prefer our fronts to be at least 19" tall, but a traditional 21" off-road wheel is even better.
Lastly, let's talk wheels and tires. Most beginner adventure bikes come with cast wheels and extremely street-biased tires, which is kind of a bummer but by no means a deal breaker.
Tires are a particularly cheap, easy, and effective upgrade for any aspiring ADV rider, but wheels can cost a pretty penny.
It's also worth noting that the last thing many new riders want to do after dropping some serious cash on a new bike is run out and spend another couple hundred bucks on tires.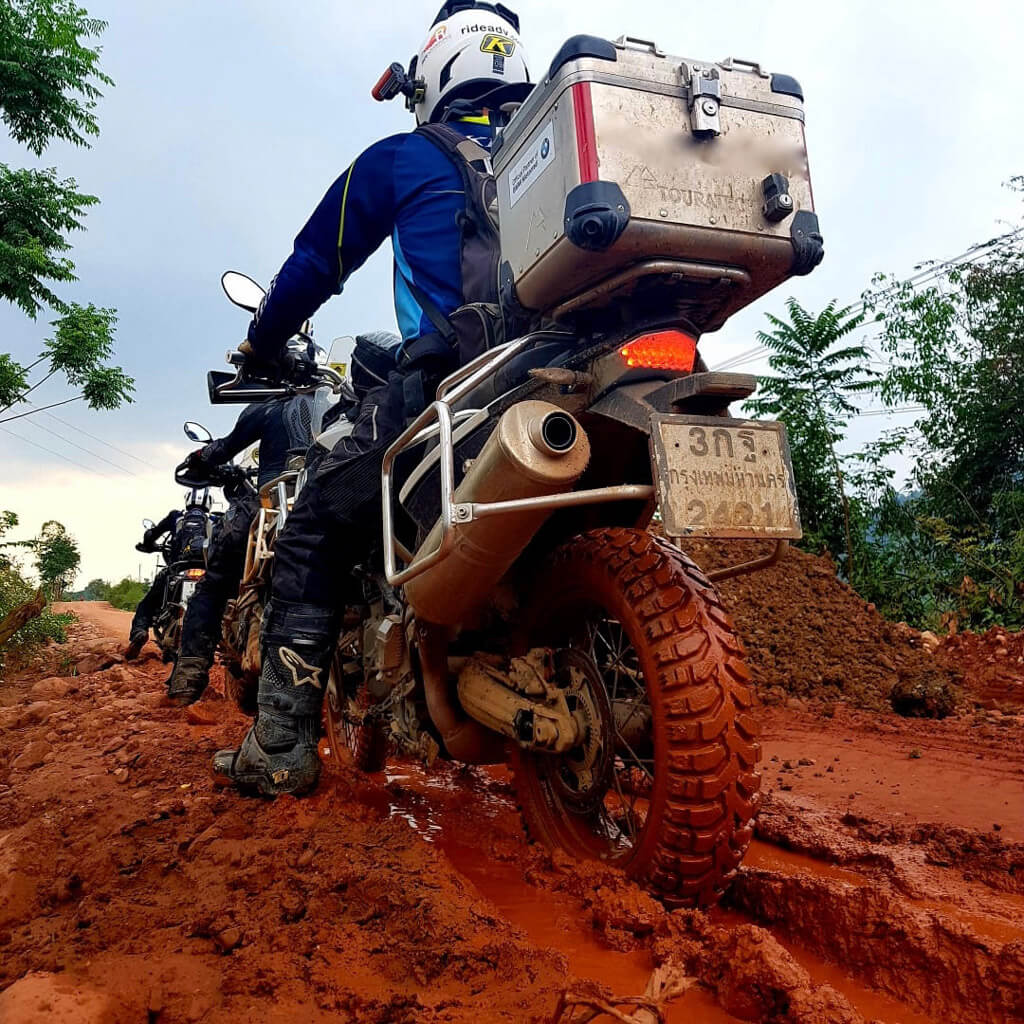 "Think how and where you want to spend most of your time riding and get a tire that reflects that "
For this reason, we recommend looking for bikes with fairly off-road capable tires (something between an 80/20 tire and a DOT-legal knobby) and whenever possible, spoked wheels.
This combination will give you extra confidence when riding off-road, both from a traction standpoint and a repairability standpoint, as cast wheels are much more prone to damage from rocks and debris.
Crashability
One of the first things new ADV riders do is drop their bikes in the dirt. It's just part of the learning experience when riding in offroad terrain, but it's also something you should factor into your decision when choosing a bike.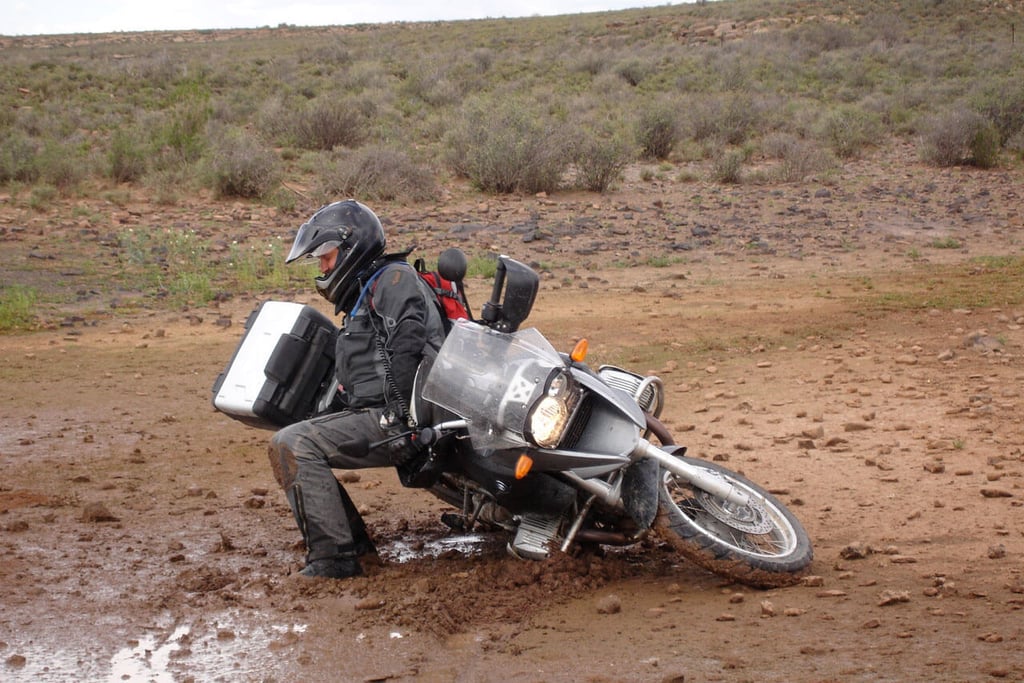 "Falling as an ADV rider is not an if but a when"
This is why you pretty much always see well-traveled adventure rigs sporting skid plates, hand guards, aftermarket handlebars, and engine guards.
Ideally, the best adventure bikes for beginners will have some degree of crash protection, otherwise you'll likely be shelling out for bent and broken parts sooner than later.
At minimum, we look for some sort of skid plate to protect the engine and frame of an ADV bike from bouncing rocks and debris.
Factory skid plates typically aren't the most robust (you won't want to take them sliding over logs, for instance), but having something in place to protect the underside of the bike is a big plus in our book.
The Best Adventure Bikes for Beginners of 2023
You won't find many bikes in the beginner adventure segment that check all the boxes above, but those criteria are a smart place to start nonetheless.
Following those guidelines, here are our seven favorite picks of the year for beginner-friendly and adventure-ready machines.
1. Honda CRF300L Rally
Pound for pound, Honda's updated CRF300L Rally is undoubtedly the most capable and well-rounded out-of-the-box beginner adventure bike money can buy.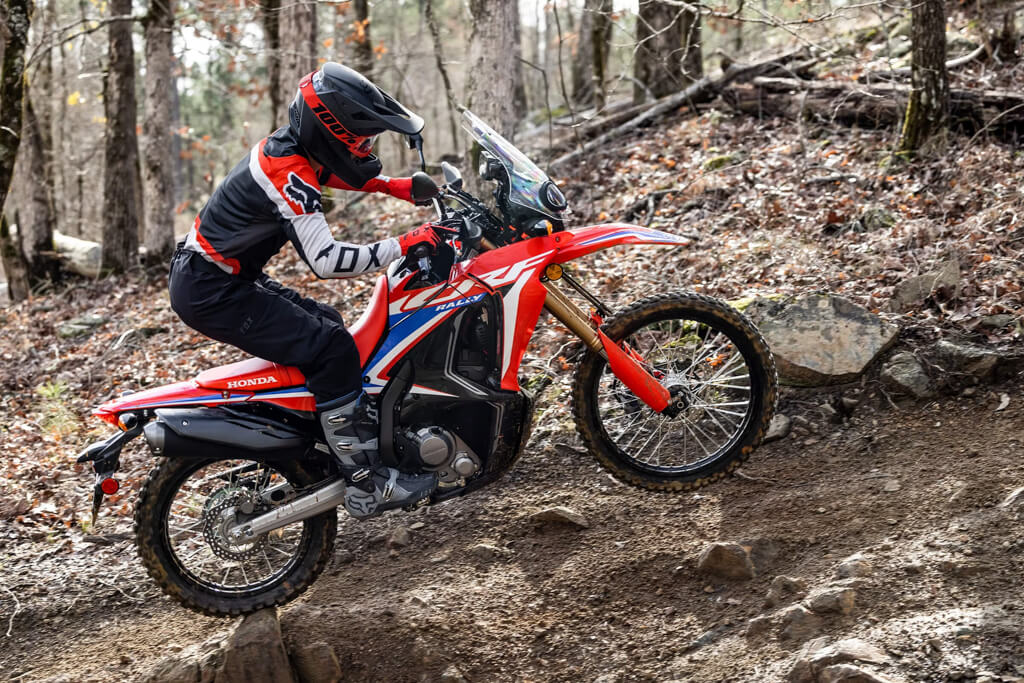 "Photo credit: Honda"
Comfortable on the highway, capable in the dirt, low-maintenance, and incredibly easy to ride, this one truly does it all straight off the showroom floor.
The CRF leads the pack with over 10 inches of suspension travel, factory protection on the engine and handguards, and the most aggressive dual-purpose tires of the bunch.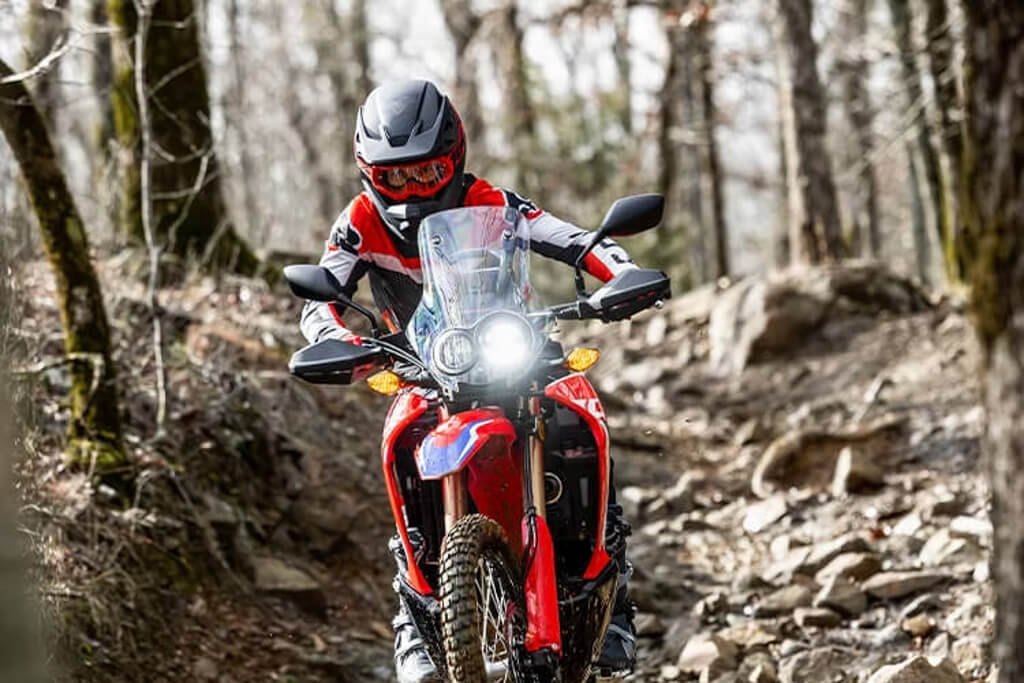 "Photo credit: Honda"
The tall windscreen and sizeable fairing deliver above-average wind protection at freeway speeds, and the 286cc single-cylinder engine is surprisingly torquey for its size, which bodes well for low-speed maneuvering around town or on technical trails.
Pros:
Torquey engine
Comfortable 70mph cruise
Bulletproof reliability
Cons:
Soft suspension
Soft brakes
Tall seat height isn't ideal for shorter riders
2. KTM 390 Adventure
The folks at KTM know a thing or two about adventure bikes, and their entry-level 390 Adventure is easily one of the best adventure bikes for beginners out there.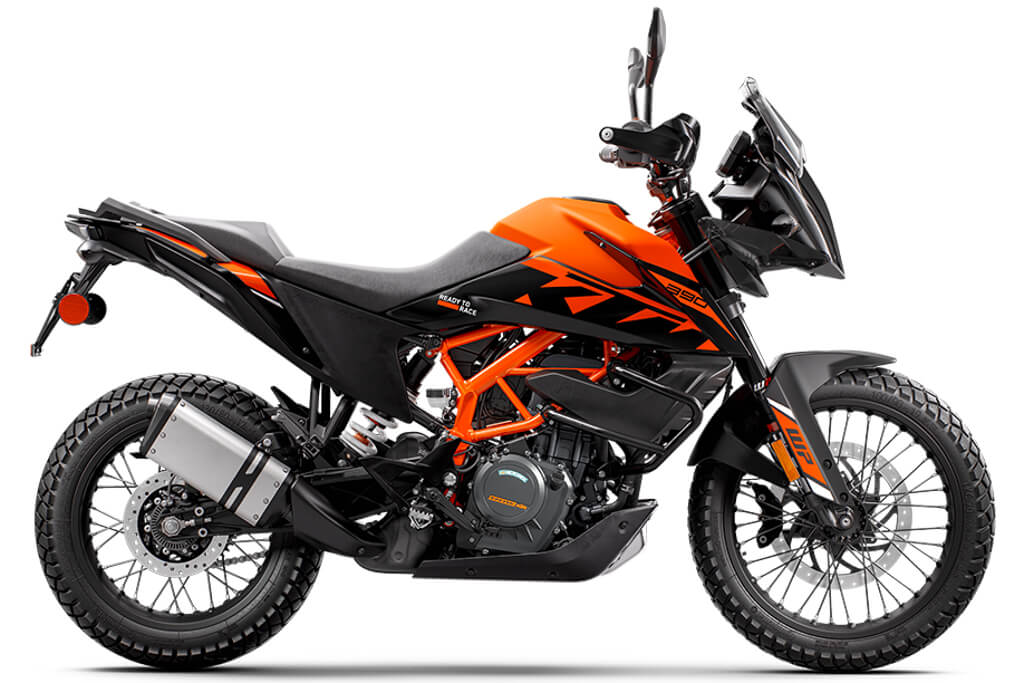 "Photo credit: KTM"
With a thrilling yet forgiving engine, premium fully-adjustable WP suspension, and above-average factory features including a full-color TFT dash, factory crash bars, and electronic traction control, the little Adventure delivers impressive performance in a small package.
The KTM is a particularly good choice for shorter riders who don't want to sacrifice too much in terms of performance or capability.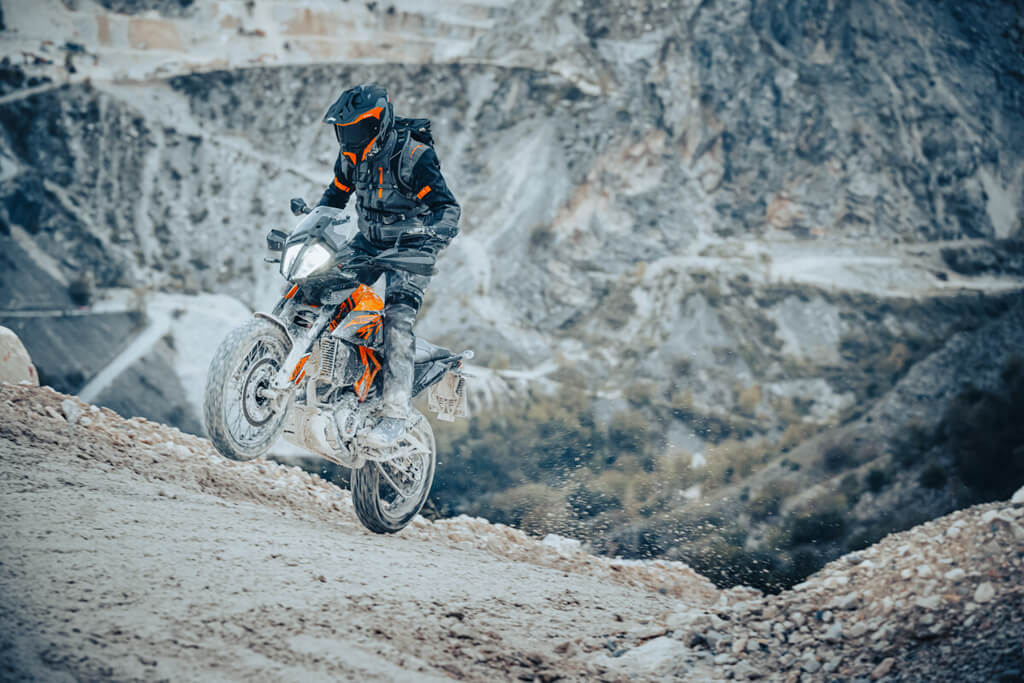 "Photo credit: KTM"
It's relatively low 33.6-inch seat height delivers flat-footed confidence over tricky terrain, while its reasonable 7 inches of suspension travel and 8 inches of ground clearance will get you through a wide variety of terrain as you build your off-road skills.
Pros:
Spicy motor and advanced electronics
Fully adjustable suspension
Premium fit and finish for the segment
Cons:
Most expensive option
Would love some extra suspension travel
3. BMW G 310 GS
For many aspiring adventure riders, the BMW GS is the first name in the segment. The beginner-friendly 310 GS carries on a 40-year tradition of dual-purpose exploring, but does it at a fraction of the weight and cost of the flagship 1250GS models.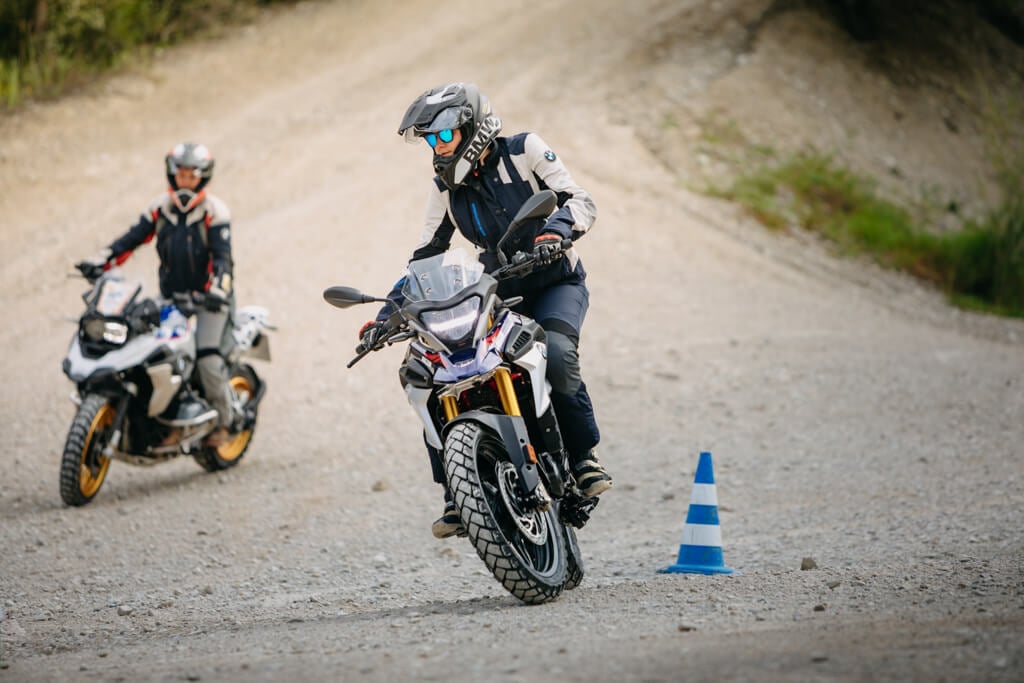 "Photo credit: BMW"
The little GS is a great bike for beginners as it's incredibly lightweight, has an even lower seat than the KTM above, and has one of the smoothest and most forgiving single-cylinder engines of the bunch.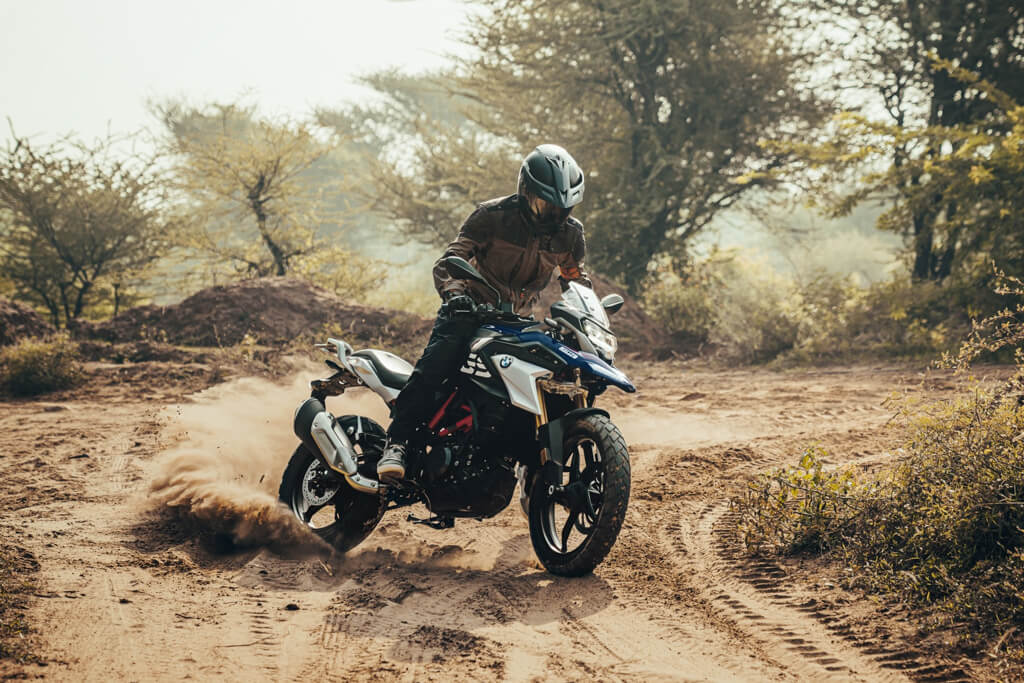 "Photo credit: BMW"
It also packs a commendable amount of premium features including selectable ABS, a slipper clutch, and a tail-mounted luggage rack, making it surprisingly adventure-ready straight off the showroom floor.
Pros:
Easy to ride everywhere
Respectable suspension travel and ground clearance
Rider triangle works great for riders of all sizes
Cons:
Cast wheels only
Brakes aren't the strongest
4. Kawasaki Versys-X 300
Kawasaki's line of Versys motorcycles have a well-deserved reputation for their Swiss army knife versatility, making the pint-sized Versys-X 300 an easy pick as one of the best adventure bikes for beginners out there.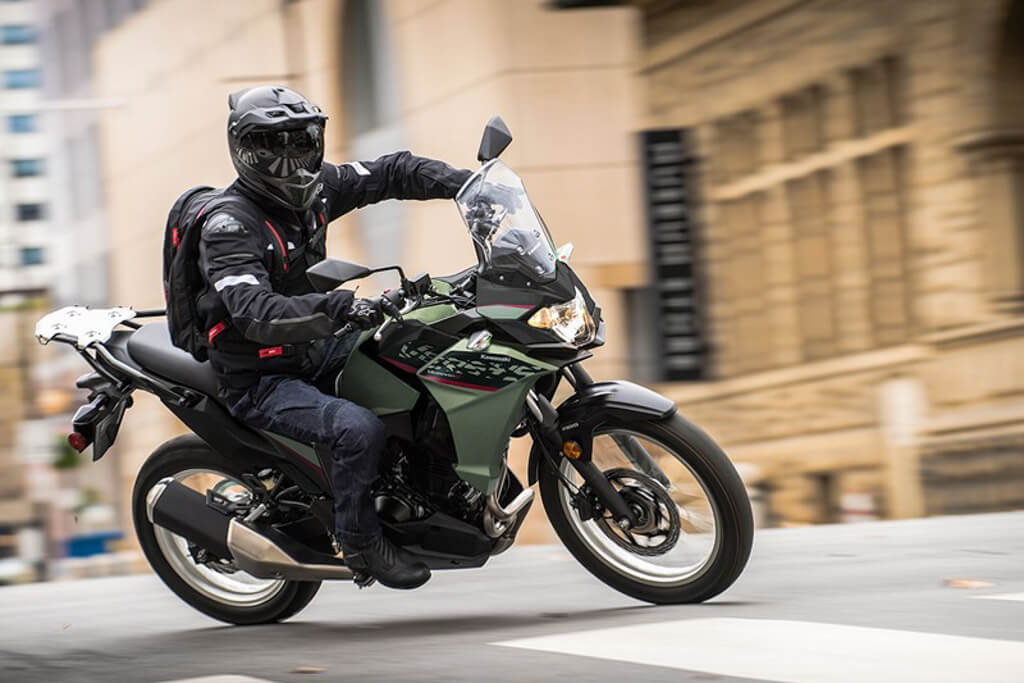 "Photo Credit: Kawasaki"
We dig the little Versys because it borrows its twin-cylinder powerplant straight from Kawasaki's Ninja 300 sportbike, which bodes well for street use.
In fact, the Versys is one of the only bikes in the category that truly delivers a comfortable 80mph cruise, especially when tucked into the outstanding wind protection provided by the tall windscreen and sizeable fairing.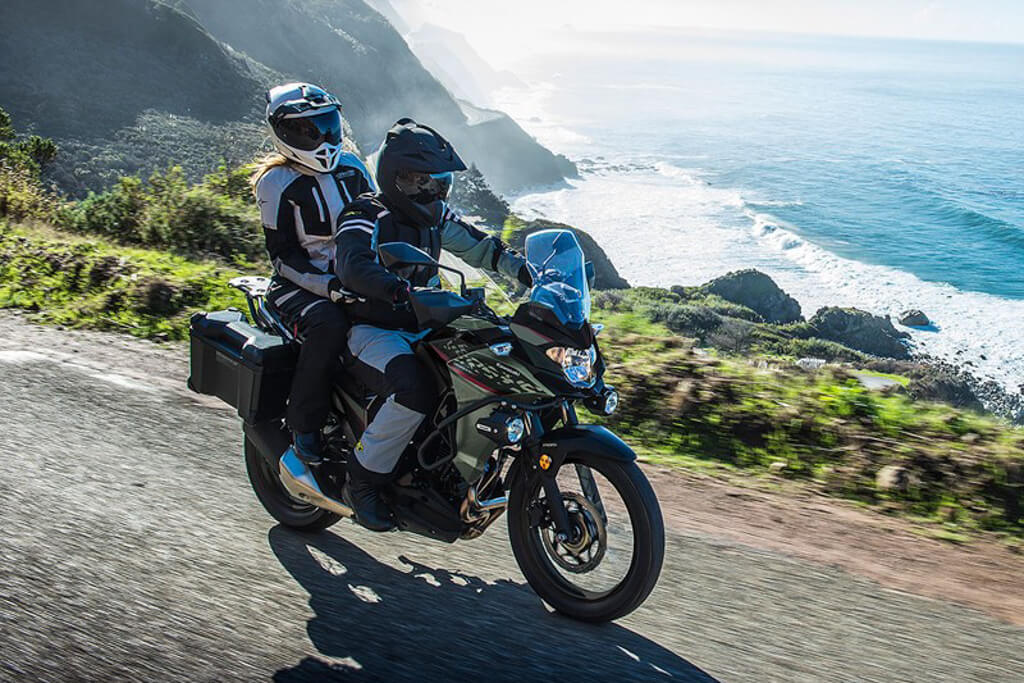 "Photo Credit: Kawasaki"
Suspension travel is on the shorter side at around 5 inches, but with its 19" front wheel and dual-purpose tires, it's a great bike for mixing the occasional gravel detour into your long-distance aspirations.
Pros:
Excellent wind protection
Sportbike engine = 80 mph cruise
Spoked wheels!
Cons:
Cramped ergos for taller riders
Busy engine needs revs
Least suspension travel of the bunch
5. Royal Enfield Himalayan
If you're looking to get into adventure on a budget, the Royal Enfield Himalayan's sub-$5,500 price tag simply can't be beaten. With a tractor-like engine, seven inches of suspension, and old-school ADV style, the Enfield both looks and acts the part of a true all-terrain machine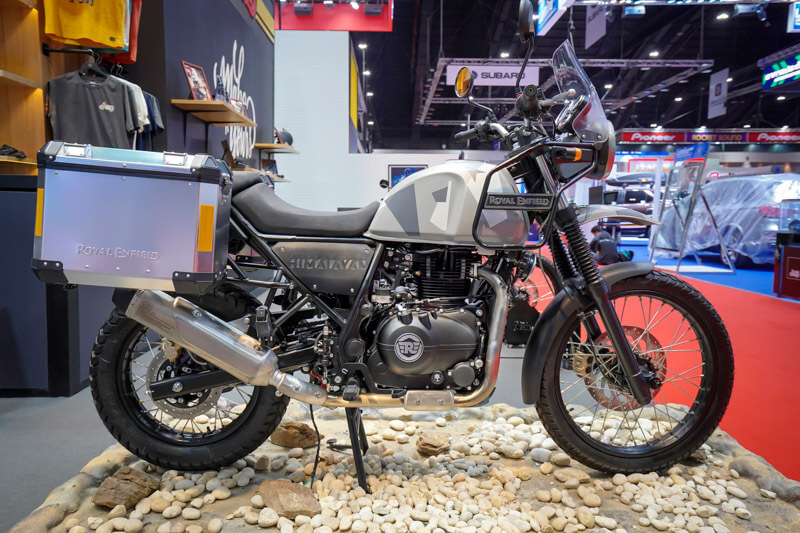 We also love that despite its miserly price, the Himalayan is well-equipped for adventure travel. Each one comes from the factory with a skid plate, engine guards, hand guards, a rear rack, and a nice tall windshield for those highway miles.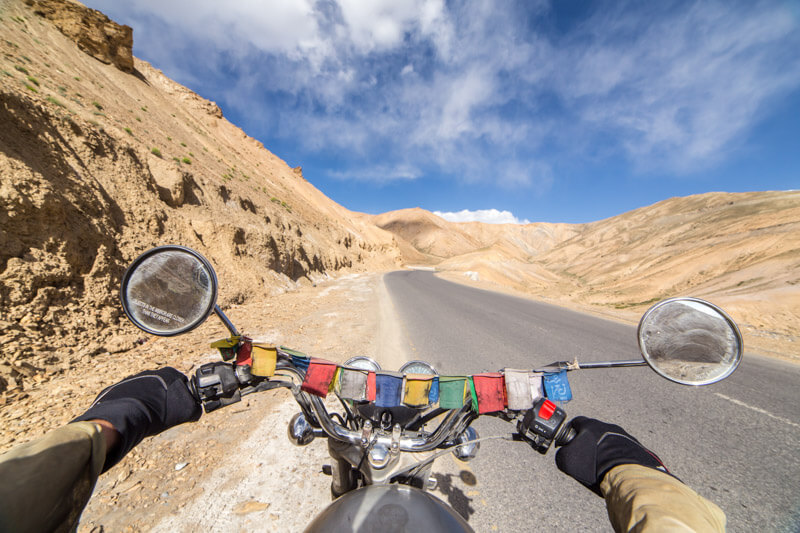 "Can't forget the add-on costs of Buddha prayer flags when you buy a Himalayan"
The engine isn't exactly the most thrilling thing on the planet, but its air-cooled simplicity is dead reliable and easy to work on, which also bodes well for the cost of long-term ownership.
Pros:
Dirt cheap
Surprisingly capable
Extremely approachable
Cons:
Old-school engine requires more frequent maintenance
Not a great power-to-weight ratio
6. Honda CB500X
If you've already owned a bike or two and are comfortable with a little extra power, Honda's CB500X is another great option for a beginner adventure bike.
The extra "oomph" from it's 471cc parallel-twin engine is well suited for long stretches of highway and adds a little extra excitement to the twisties as well.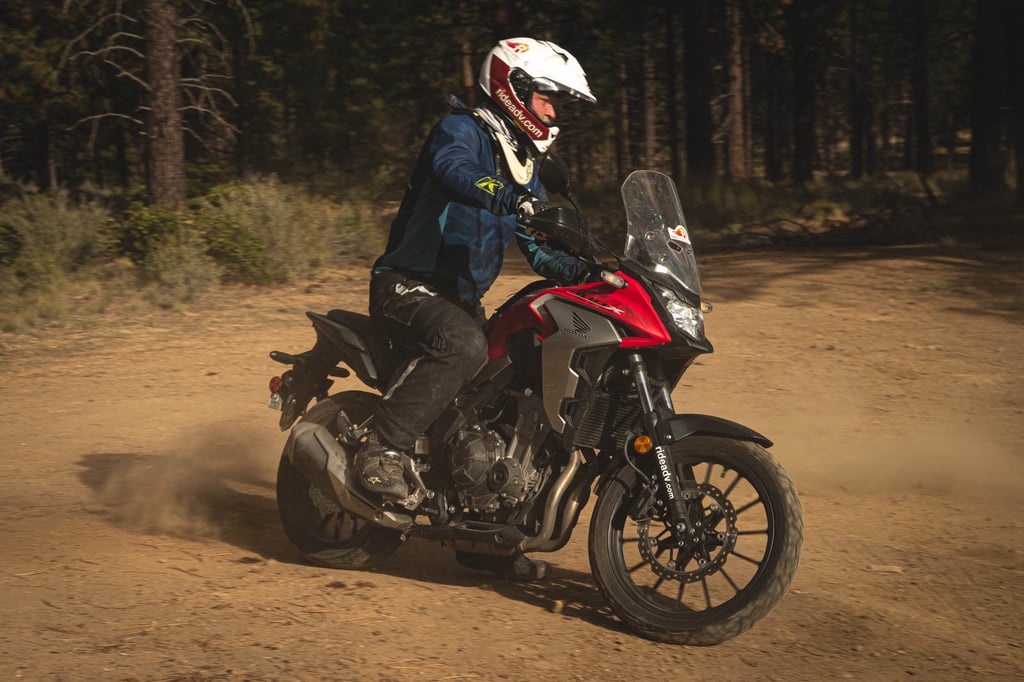 The CB500X is definitely a pavement-first bike, but new adventurers who plan to stick mainly to maintained gravel and forest service roads will find a perfect match in the CB500X.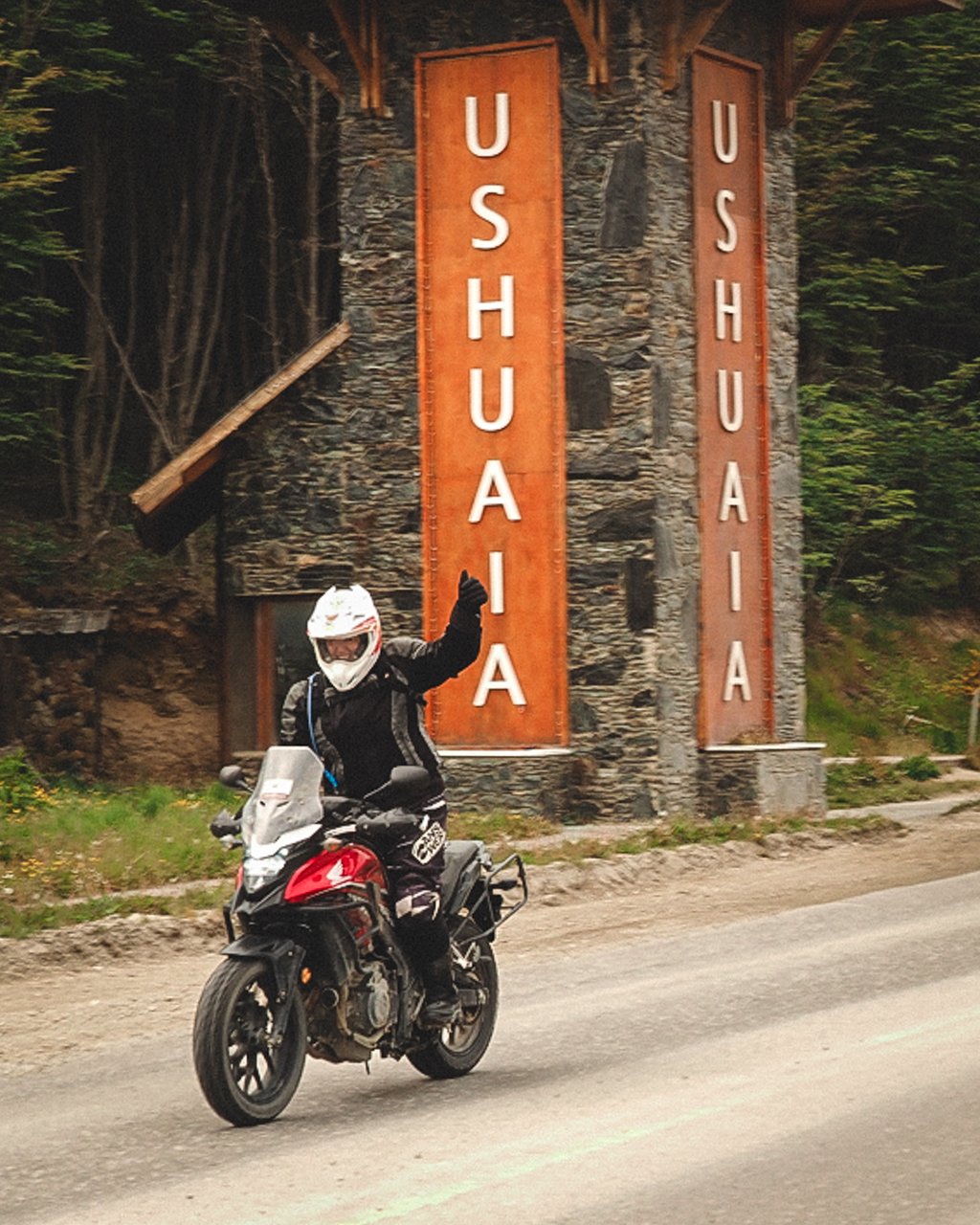 "We've rallied the CB500X on our Patagonia trips so many times that there is no doubt of its capabilities"
The seat is low and comfortable, the windshield is excellent, and the rider triangle is wonderfully neutral.
Pros:
Outstanding highway manners
Extra power for those who want it
Reliable and low maintenance
Cons:
Street-focused build
No engine protection
7. The Big 4 Dual Sports
While many riders are sold on the "adventure" look of pint-sized ADV bikes, we've often found that if long miles and all-terrain exploits are what you're after, it's hard to beat a dedicated dual sport for bang-for-your-buck adventure duty.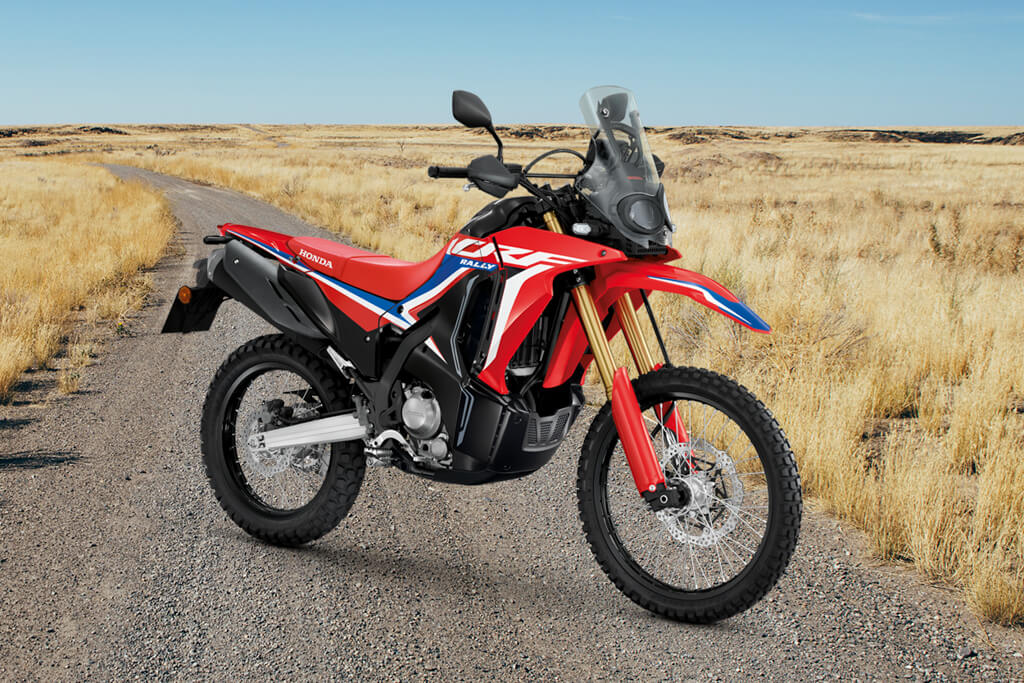 "Photo credit: Honda Australia"
These simple single-cylinder machines are inexpensive, easy to maintain, and much more dirt-friendly than even the best adventure bikes for beginners (except for the Honda CRF300 Rally, as it's technically just a dual sport in ADV clothing to begin with).
You'll likely need to invest a few extra bucks in touring comforts like aftermarket seats, windscreens, and added fuel capacity, but a good dual sport will take you through much gnarlier terrain with much more confidence than pretty much any adventure bike on the market.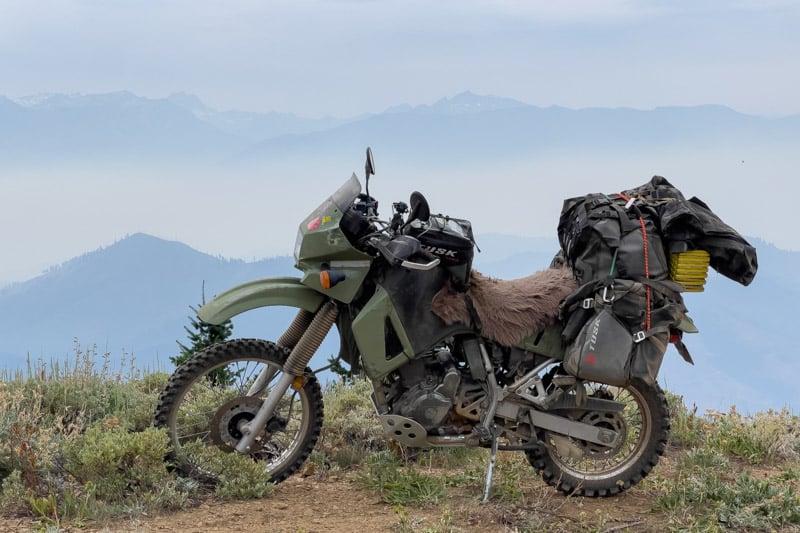 "Garrett our team rider taking his KLR 650 all over Washington"
If you're leaning more toward a dirt bias, consider checking out Suzuki's DRZ400 and DR650 models, Kawasaki's KLR650 and KLX300, Honda's XR650L and CRF300L, or even Yamaha's XT250.
Many of these machines have been around for years now, which means there's a healthy used market out there for each to save you money on dealer prices and fees.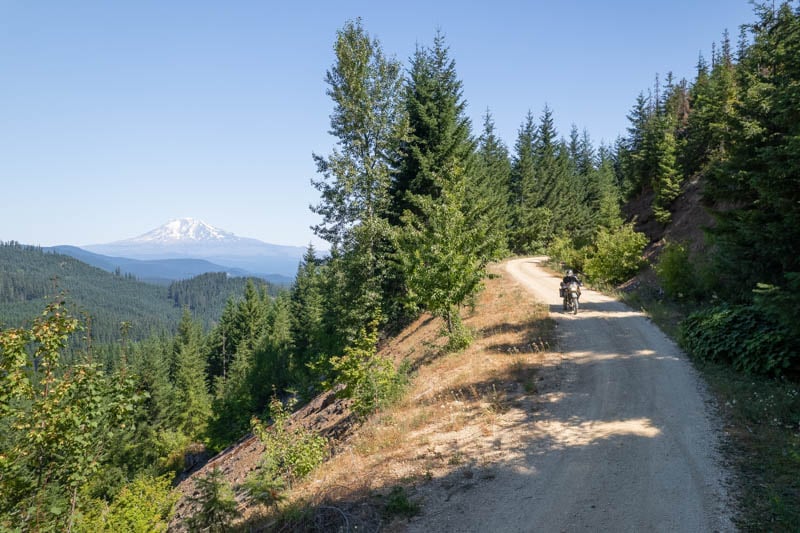 This also leaves cash in your pocket to tailor your bike to your needs: Add some soft luggage, some off-road protection, a GPS, or any of the hundreds of aftermarket farkles out there that ADV riders love and hit the road.
Pros:
Solid offroad capability
Inexpensive to maintain
Excellent used market
Cons:
May need some upgrades for highway duty
No-frills fit and finish
Closing Thoughts on the Best Adventure Bikes for Beginners…
Whether you're completely new to motorcycles or just looking to add some variety to your street riding routine, adventure riding is one of the best ways to learn the ins-and-outs of a wide variety of two-wheeled disciplines.
Those first few steps into the world of off-pavement riding can be notoriously shaky though, which is why we highly recommend new ADV riders start their journey with a dedicated adventure riding class.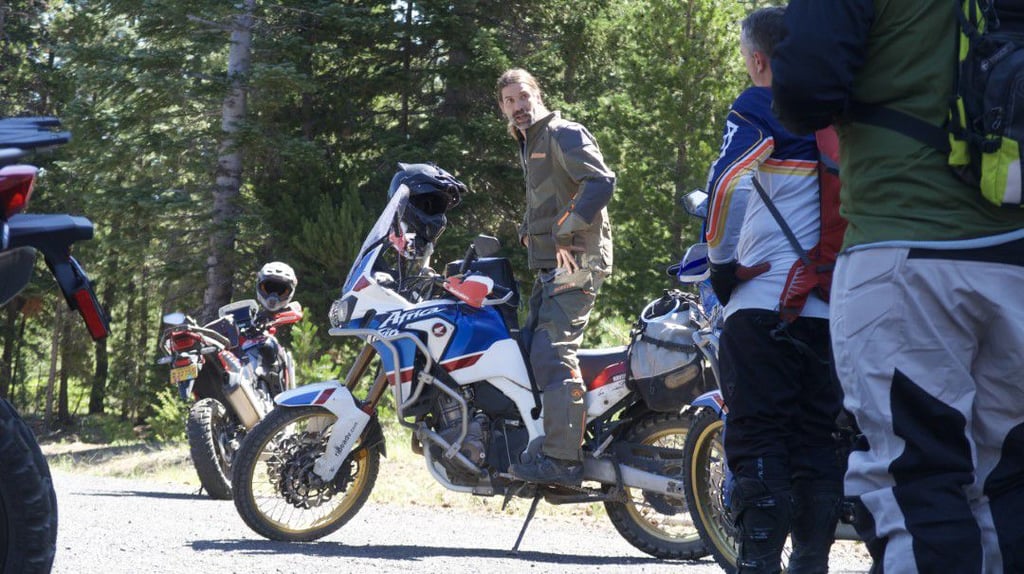 "Tyler the instructor going over weight distribution"
There's really no better way to build your confidence on the bike than to get out and ride it with a professional instructor, which is why we've added on-location adventure training courses to our offerings this year at RIDE Adventures.
We all love buying farkles for our bikes, but if you're new to the sport, investing in your skills is a much better way to build confidence out in the real world.
→Read More: 5 Best Motorcycle Luggage Options for the Long Haul and Best Motorcycle Helmet Bags.