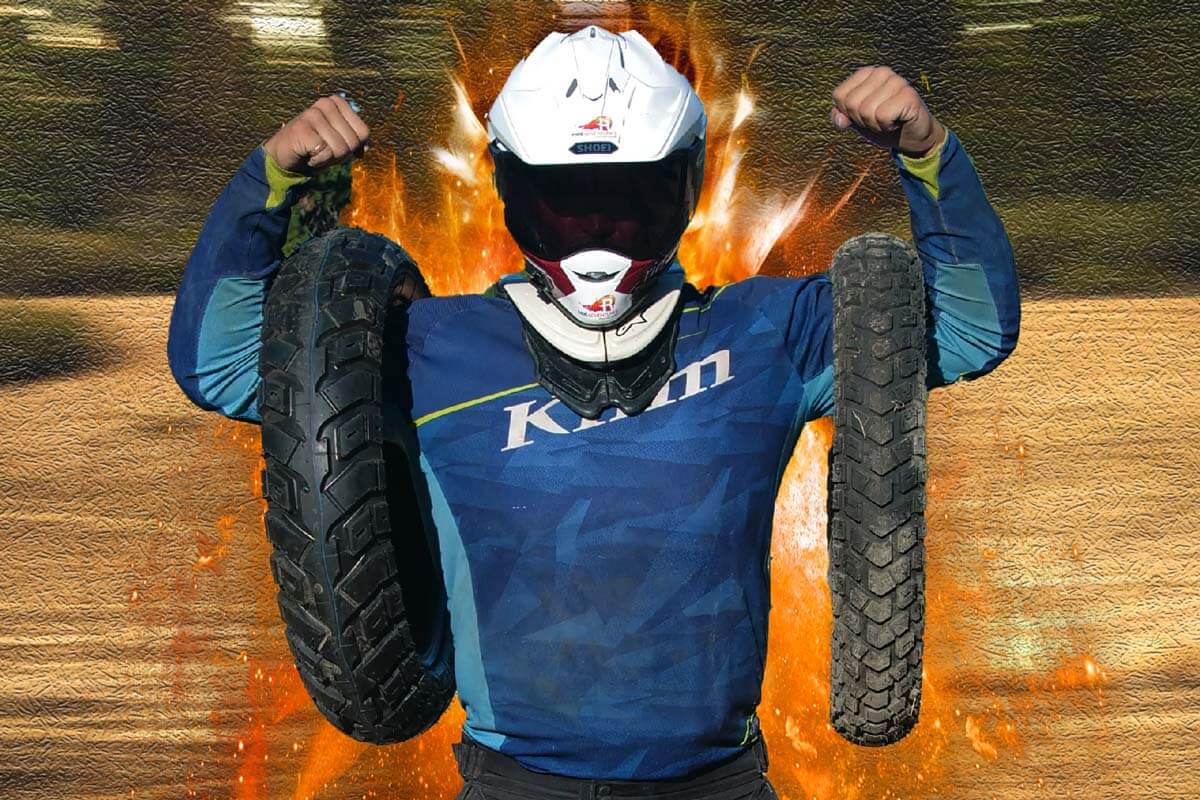 Disclosure: RIDE Adventures is a participant in the Amazon Services LLC Associates Program as well as other affiliate programs, designed to provide a means for us to earn fees by linking to Amazon and affiliated sites at no extra cost to you. Please see our Disclosure for more details.
Adventure motorcycle tires are always a hotly debated issue.
There are endless pages of forums, YouTube comment sections, and articles debating the merits of what sort of tire is best for different riders on different bikes. Don't even get me started on tire pressures.
True 50/50 tires are what we run on the majority of our rental fleet because true 50/50 riding is what we do here at Ride Adventures.
That doesn't mean we don't like to have a good time when the pavement ends, nor does it mean we don't drag a peg or two on twisty pavement sections.
The difference between the best 50/50 adventure motorcycle tires and the rest of them is that a great tire won't put serious limitations on either type of riding.
What Is A 50/50 Adventure Motorcycle Tire?
Is there anything more exhausting than listening to people split hairs over what makes a tire 40/60 rather than 60/40?
There will be none of that here, this much I can promise you.
As far as we're concerned at Ride Adventures, a true 50/50 adventure motorcycle tire does three things well. It will:
Provide enough traction off road to get you through anything
Provide enough traction on pavement to be safe and enjoyable
Provide an outrageous amount of tread life
Note that we say they'll get you through anything, but we don't say they'll get you through anything gracefully.
Some of the tires below are better in specific situations than others. None of them are the best at anything, and that's ok.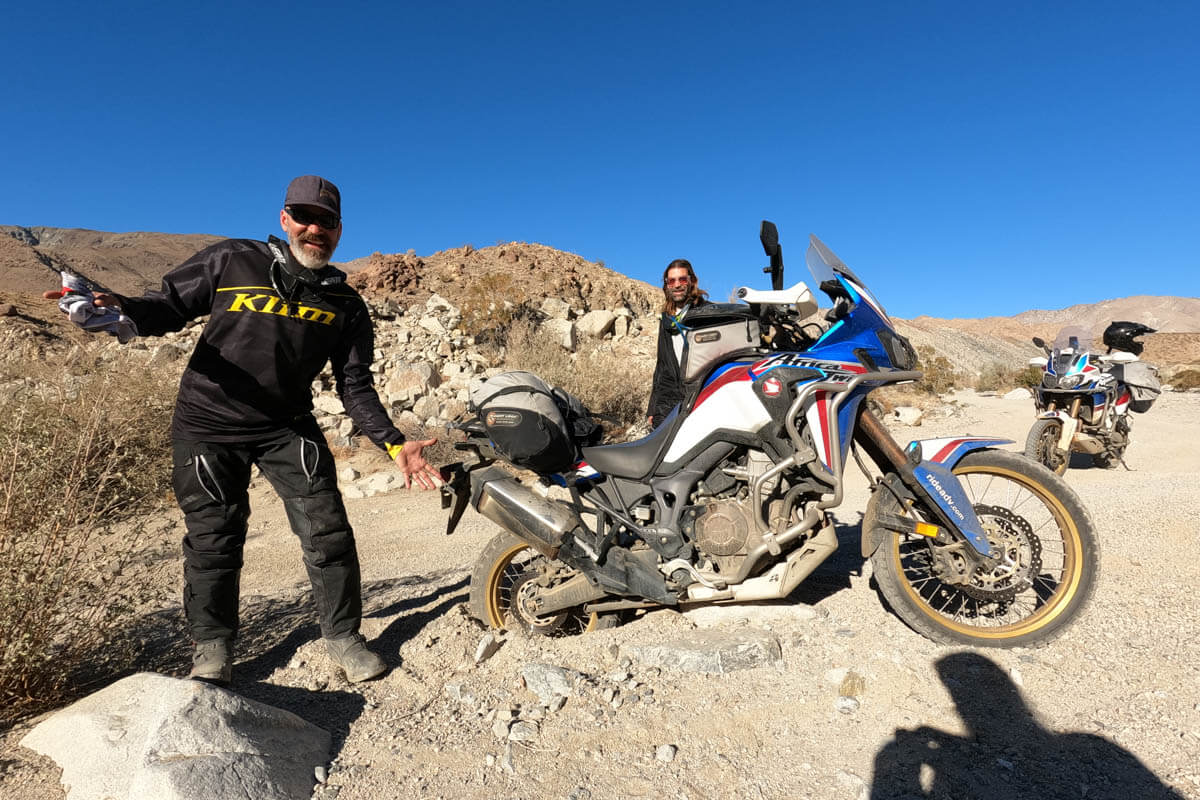 "This is what we mean by anything gracefully😎"
ADV tires get better every year. Maybe, just maybe, one day in the future we'll get a tire like the Continental TKC 80 that lasts for 15,000 miles.
Until then, there's really no substitute for a knobby tire in the dirt, or a sport/touring tire on the pavement.
A 50/50 tire, however, isn't making either claim. Running a 50/50 just means all roads are open for you to explore.
Spoon a set of these on, and go anywhere you want for as long as you please. Whether you spend 50, 60, or even 90% of your time on the pavement really doesn't matter. Your tires are ready for anything whenever you are.
Who Needs a 50/50 ADV Tire?
Honestly, about 95% of adventure riders would be best suited with a 50/50 tire, but far fewer of them actually run one.
See, adventure riders often fall into one of two categories: Riders who don't trust knobs on pavement, and riders who don't trust anything but knobs in the dirt.
Honestly it's a shame, because both riders are making huge tradeoffs whether they know it or not.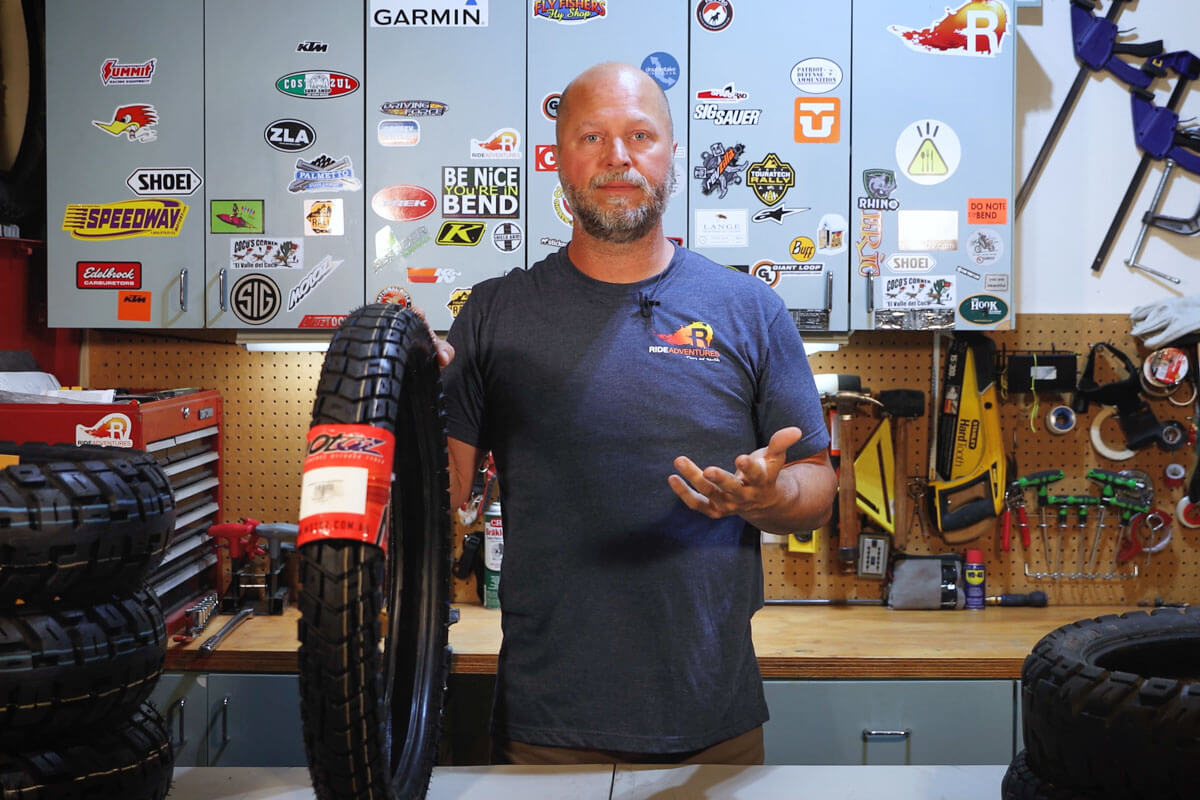 "To all my street rubber folks (Anakee 3 lovers, I'm talking to you): Relax. You can do this. "
To all my hard-core knobby-only adventure riders: Unless your name is Toni Bou, you'll be fine trying anything on this list.
I tend to be more of a strictly knobby guy on dual sport bikes, but those bikes are typically WELL under 500 pounds and don't have any business going over 70 mph on the highway anyways.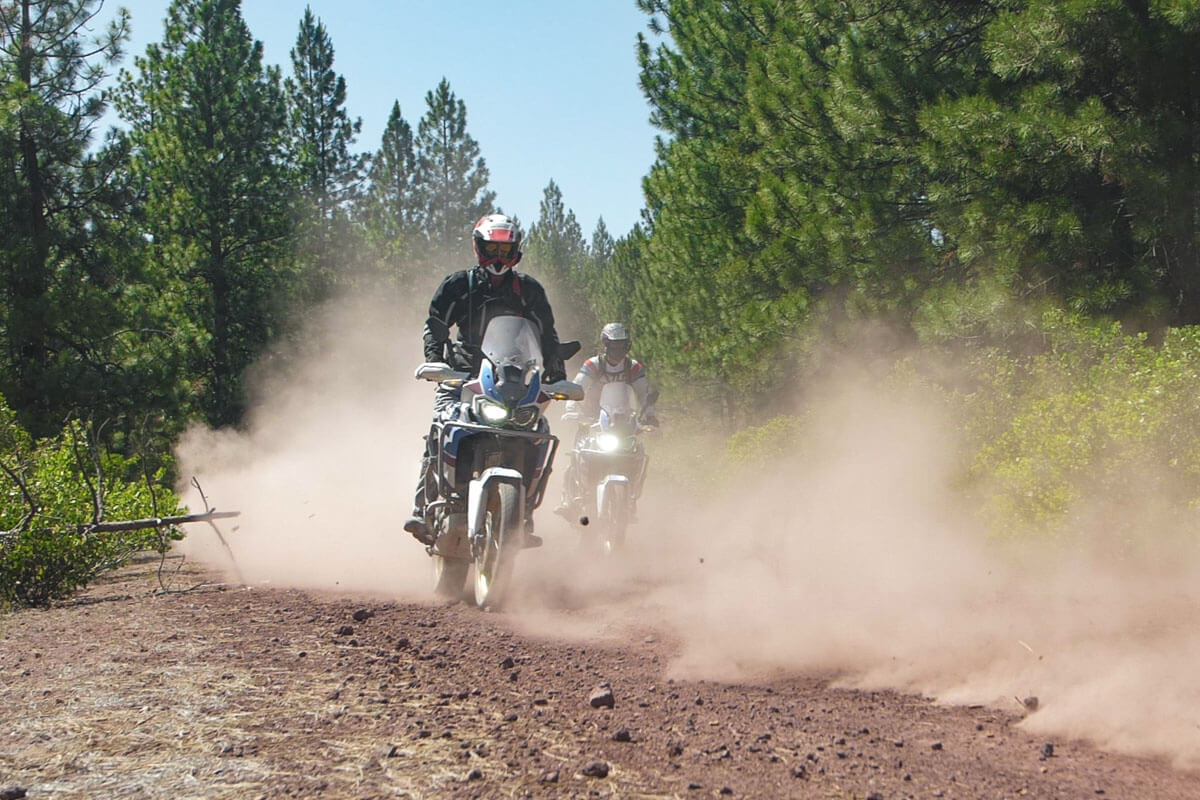 "Customers of RIDE blazing trails on our Self-Guided Oregon Route"
I'll be the first to tell you, even if I'm managing 3,000+ miles out of a knobby tire, the second half of that tread isn't exactly "confidence inspiring" on or off road. I'd consider these "dual sport" tires, and that's a separate discussion anyways.
Adventure motorcycle tires truly bring us the best of both worlds, and none so well as the 50/50 tire. At 3,000 miles, any of the tires below are just getting warmed up.
The Best Adventure Motorcycle Tires For 50/50 Riding
While some of the tires below may be similar in appearance, each brings its own unique contributions to the ADV tire scene.
Whether you're shopping for your first adventure motorcycle tires or are looking to upgrade your current setup, there's a 50/50 tire here for your riding style.
Our team has logged millions of miles on more tires than we can count, so if you've got questions on anything you see below (or anything you don't) drop us a line in the comments below.
#1 Heidenau K60 Scout
We've put over 5,000,000 combined miles on the Heidenau K60 Scout, and for a long time they were our favorite adventure motorcycle tires on the market.
We've seen a few products in recent years that might be able to dethrone the venerable K60 Scout, but before we talk about the competition, let's cover what we love about the Heidenau.
The tread life of the K60 always delivers the "wow" factor.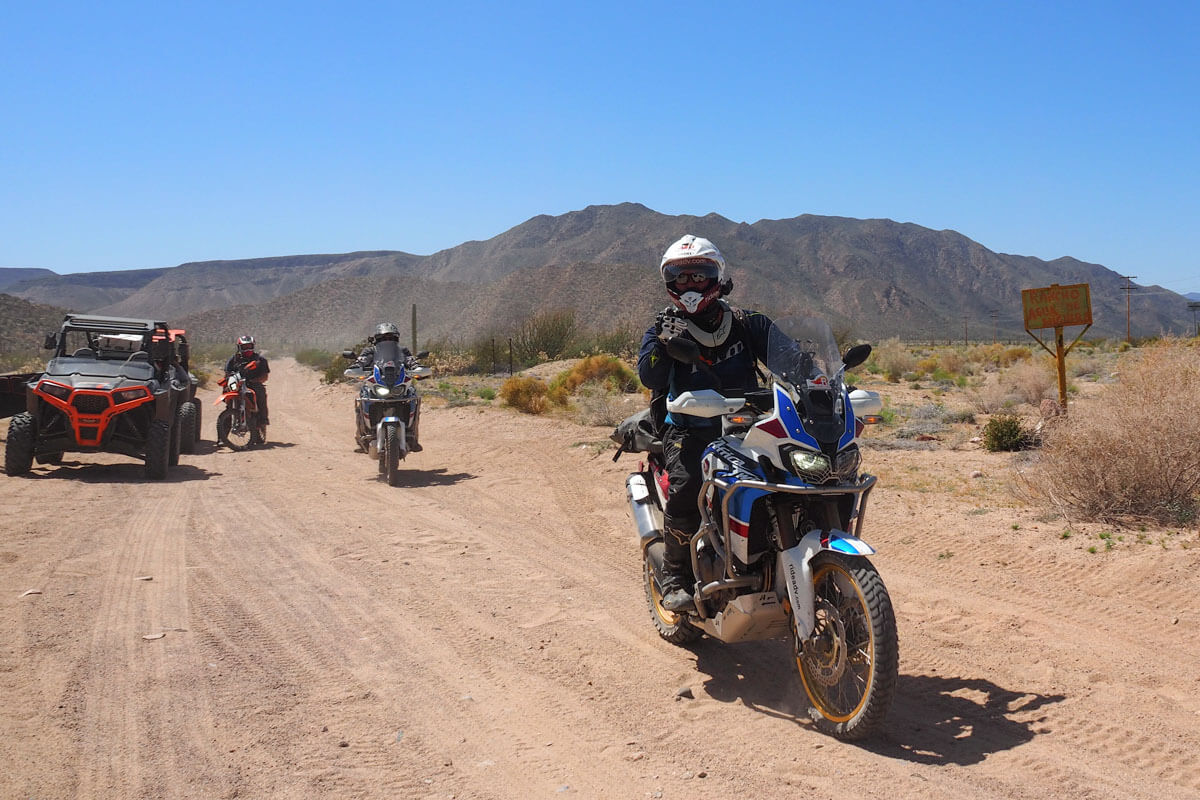 "Eric in the expanse deserts of Baja with K60 Scouts mounted"
Of course their total mileage depends heavily on how you treat the throttle, but adventure riders regularly report getting 12,000 miles or more out of the rear.
The front tire could probably outlive us all, but most folks replace it whenever the rear wears out in the name of safety.
The tread pattern itself is excellent, and offers reliable grip in just about any off road terrain. Larger sizes with the thicker center strip don't hook up as well when the bike is upright in the dirt.
Traction on dry pavement is a high point of the K60, but when things turn cold and wet it has a reputation for getting squirrely. You've been warned.
---
SEE MORE: Pros and Cons on the K60 Scout on YouTube
---
Pros:
True 50/50 tread pattern holds its own on and off road.
Stiff sidewalls give "run-flat" like support
Great tread life, regularly sees 12,000+ miles
New "cold compound" option improves grip in cold and wet conditions.
Cons:
Tread lasts forever, but flattens out particularly fast in the middle.
Stiff sidewalls need at least three spoons for mounting or trailside repairs.
Original compound struggles to grip in wet/cold conditions
Tread pattern differs between sizes, larger center strip on larger bikes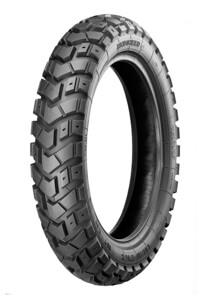 CHECK PRICE:
Heidenau K60 Scout

Motoz Tractionator GPS
The Motoz Tractionator GPS was a direct response to the popularity of the Heidenau K60. It brought the same characteristics K60 users loved, but added the extra grip K60 users were asking for.
Eventually the Tractionator GPS pushed Heidenau to introduce the latest version of the K60 Scout, the "cold compound", but by then the damage was done and Motoz had converted a ton of K60 fans.
The Motoz Tractionator isn't just a K60 copycat though.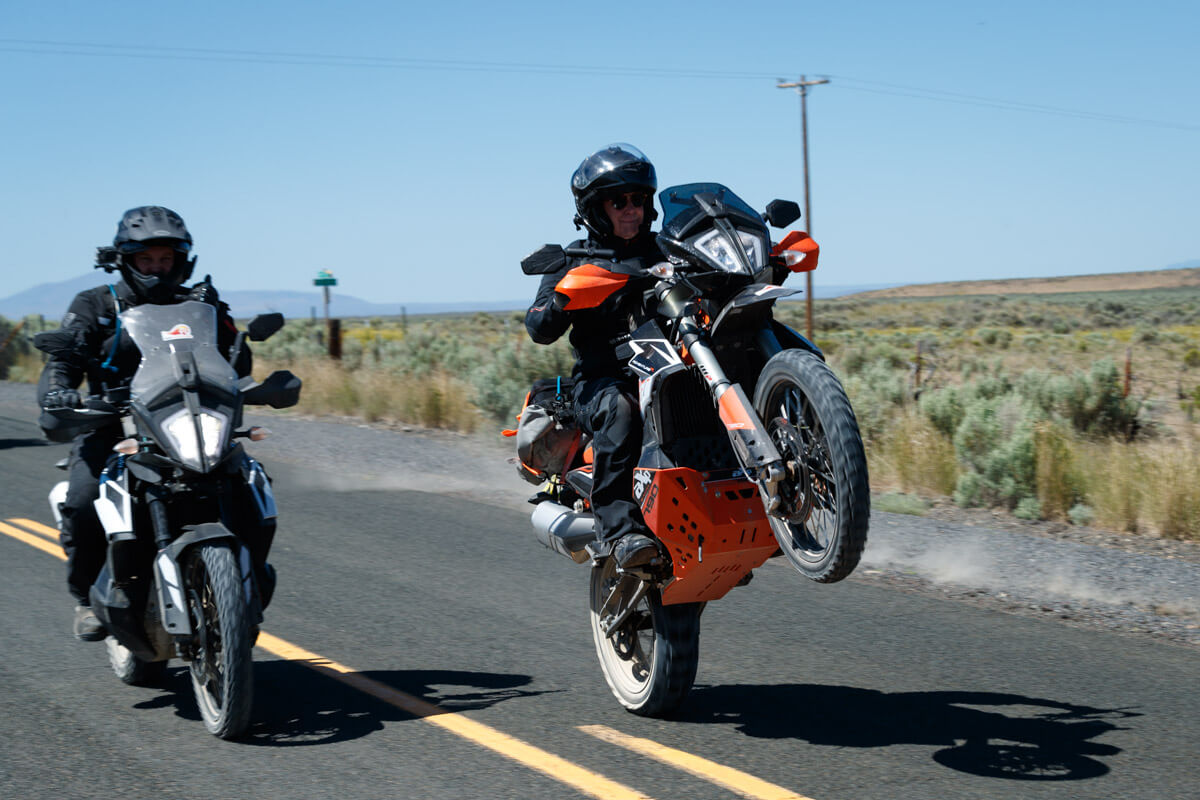 While the tread pattern is obviously similar, the solid center line is much less pronounced, weaving between large blocks to give better upright traction off road.
Speaking of tread, the main feature that's caught our eye is the rear tread pattern. The Tractionator GPS is the first reversible adventure motorcycle tire ever made. We're in the middle of testing the Tractionator GPS in our fleet and so far we love it.
Although it's a relatively new design, initial reports claim the Tractionator GPS adventure motorcycle tire might even get better mileage than the K60.
Like any true 50/50 adventure motorcycle tire though, the GPS isn't perfect.
Although grip is improved, it still doesn't deliver the confidence of something like a sport touring tire when riding in wet and cold situations.
We've also noticed the Motoz doesn't feel quite as confident deep in the curves as a K60, likely due to the alternating stand-alone lugs on the edges.
---
SEE MORE on the Motoz Tractionator GPS on our Youtube
---
Pros:
Reversible tread pattern lets you choose between true 50/50 or offroad-biased pattern
As good if not better mileage than K60
Surprisingly quieter on pavement than K60 or Mitas E-07
Cons:
On the expensive side
Wet/cold traction is better than K60, but still not ideal
Slightly less grip than K60 at serious lean angles on pavement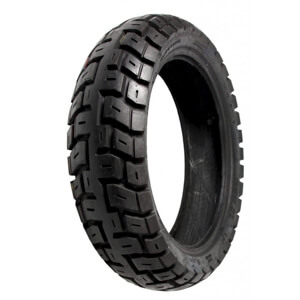 CHECK PRICE:
Motoz Tractionator GPS
Mitas E-07+
Another long standing favorite in the adventure community is the Mitas E-07+.
The E-07+ adventure motorcycle tire also features a "chevron" style tread pattern, but Mitas does it a little differently than the Heindenau or Motoz options above.
For starters, neither the front or rear uses a solid strip of tread in the center of the tire.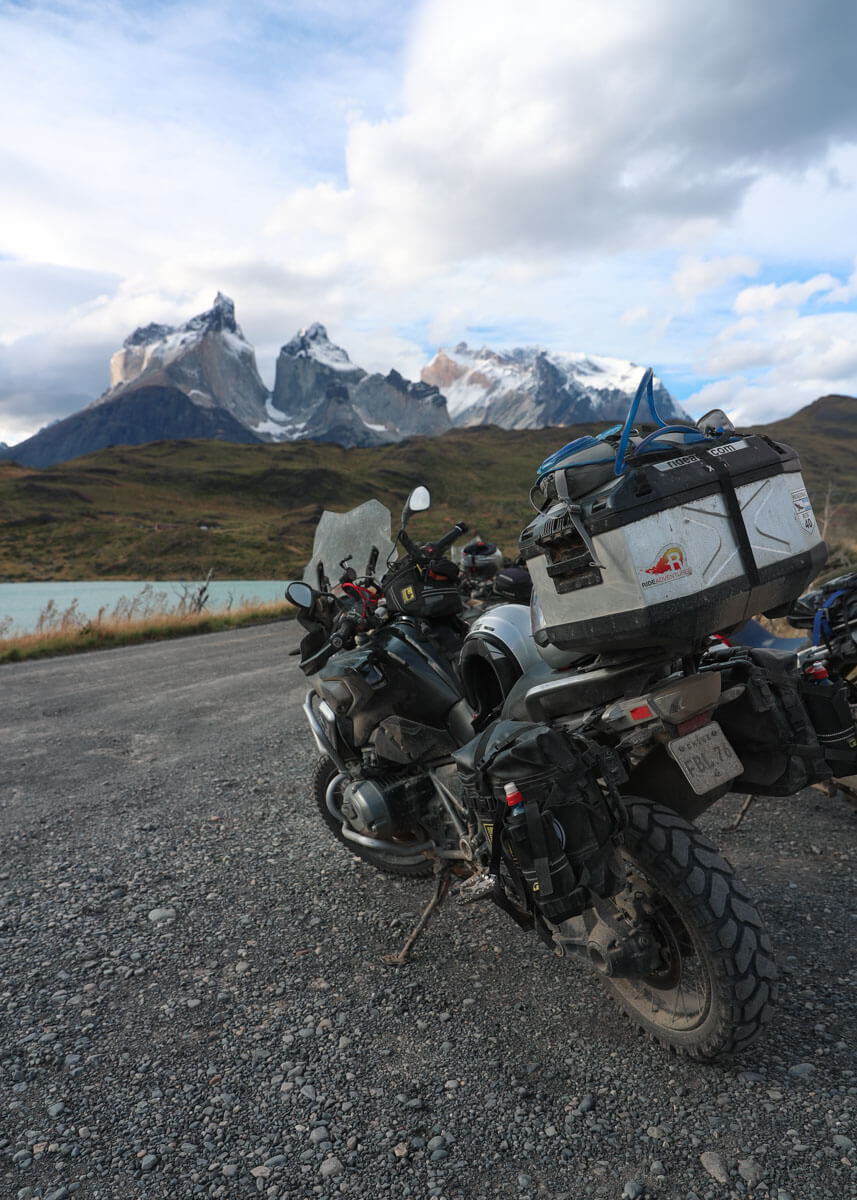 "Mitas E-07+ mounted for a customer on one of RIDE's Patagonia Tours"
This approach gives the Mitas E-07+ a slight edge in off road conditions over the two tires mentioned above, but also reduces their life expectancy.
They're still fantastic, long wearing tires (most folks agree on getting roughly 8,000 miles out of the rear), but definitely won't outlast other 50/50 adventure motorcycle tires.
It's also worth mentioning that Mitas uses a slightly narrower profile on their E-07+ tires, which has two main benefits.
First, a narrower profile means your bike's handling will feel more nimble on twisty roads. No sane person would describe a 1200 GSA as "flickable" but a 1200 GSA with a set of E-07+s mounted up is certainly "more flickable" by comparison.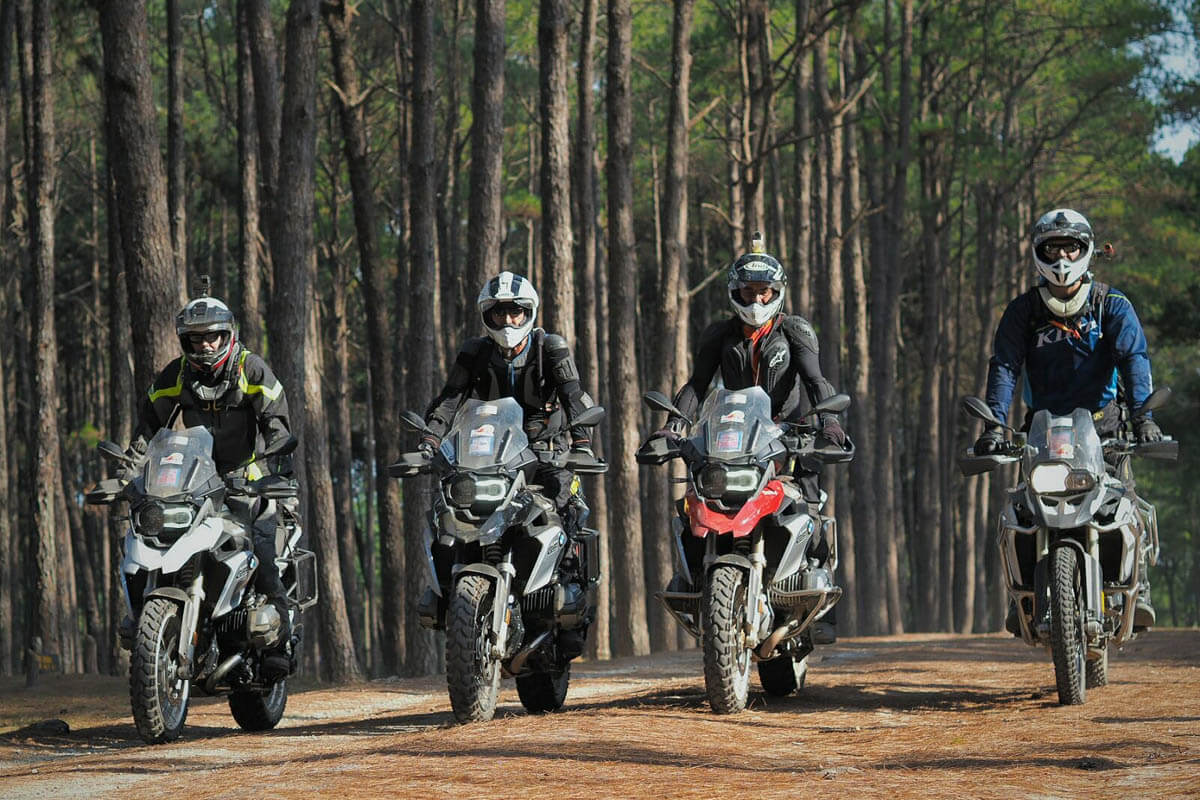 "Eric with Customers on a route scouting trip in Thailand. Make sure to join our newsletter as they are invite only"
Second are the offroad benefits to a narrow profile.
Narrower profile tires have a narrower overall contact patch on the ground. Focusing the weight of your bike onto a smaller area allows its lugs to dig down more easily, which translates to better grip in mud, loose/loamy soil, and soft-over-hard terrain.
Pros:
Narrow profile great for off road traction and on pavement handling
Not the greatest mileage, but great nonetheless
Fat/deep tread works great in mud
Stiff sidewall gives same benefits as Heidenau
Cons:
Little bit of a "knobby" squirm at highway speeds
Stiff sidewall = mounting headaches
Lower mileage than other options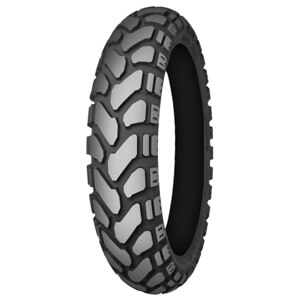 CHECK PRICE:
Mitas E-07+
Dunlop Trailmax Mission
Dunlop was a long time coming with their entry into the 50/50 segment, and these adventure motorcycle tires were well worth the wait.
A ton of R&D went into developing the unique tread patterns of the front and rear tires, and the final product really stands out from the rest.
Gone are the shared "chevron" tread patterns of every other tire on this list. Dunlop Trailmax Mission opted for a more street-biased appearance that somehow manages to deliver great feel off road in everything but the gnarliest conditions.
And unlike some of those chevron-style tires, the Dunlops have zero high speed drift or wobble to speak of. Load your bike down as heavy or light as you want, and ride it however fast or aggressive you please on the pavement: These tires never have you second guessing on long highways and twisty canyon roads alike.
Part of this can be chalked up to Dunlops linked tread blocks, which use structural bridges between wider knobs. The Trailmax Mission is clever though, as it employs these bridges close to the carcass to preserve offroad traction.
Mileage is on par with the K60 if not better. The folks at ADV Rider famously put 11,000 miles on a set in one year and didn't even hit the halfway mark.
As you might expect from a tire this good on the pavement, it isn't quite as good off road as other options.
The Trailmax Mission delivers great feel in typical adventure riding conditions (dirt/gravel roads, forest service roads etc.), but it wouldn't be your first choice on this list for deeper sand or mud.
Pros:
Fantastic mileage without centerline tread
Best 50/50 on pavement
Wrap-around lugs great for ruts/not getting stuck
Stepped blocks maintain bite as tread wears down.
Cons:
Condensed front tread wanders more in sand/loose terrain
"Side biters" increase stiff sidewall woes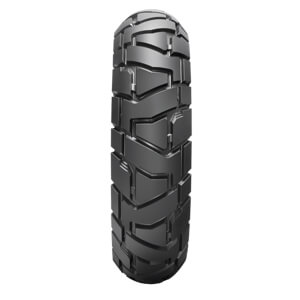 CHECK PRICE:
Dunlop Trailmax Mission
Final Thoughts On 50/50 Adventure Motorcycle Tires
Adventure riders ask a lot of their gear, and especially so of their tires.
It's important to remember a 50/50 tire is just that: A happy medium between on and off road performance that delivers to a degree on both.
Of course if on and off road performance were our only concern, everyone would be running Continental TKC80s or Shinko 804s. But we need longevity too.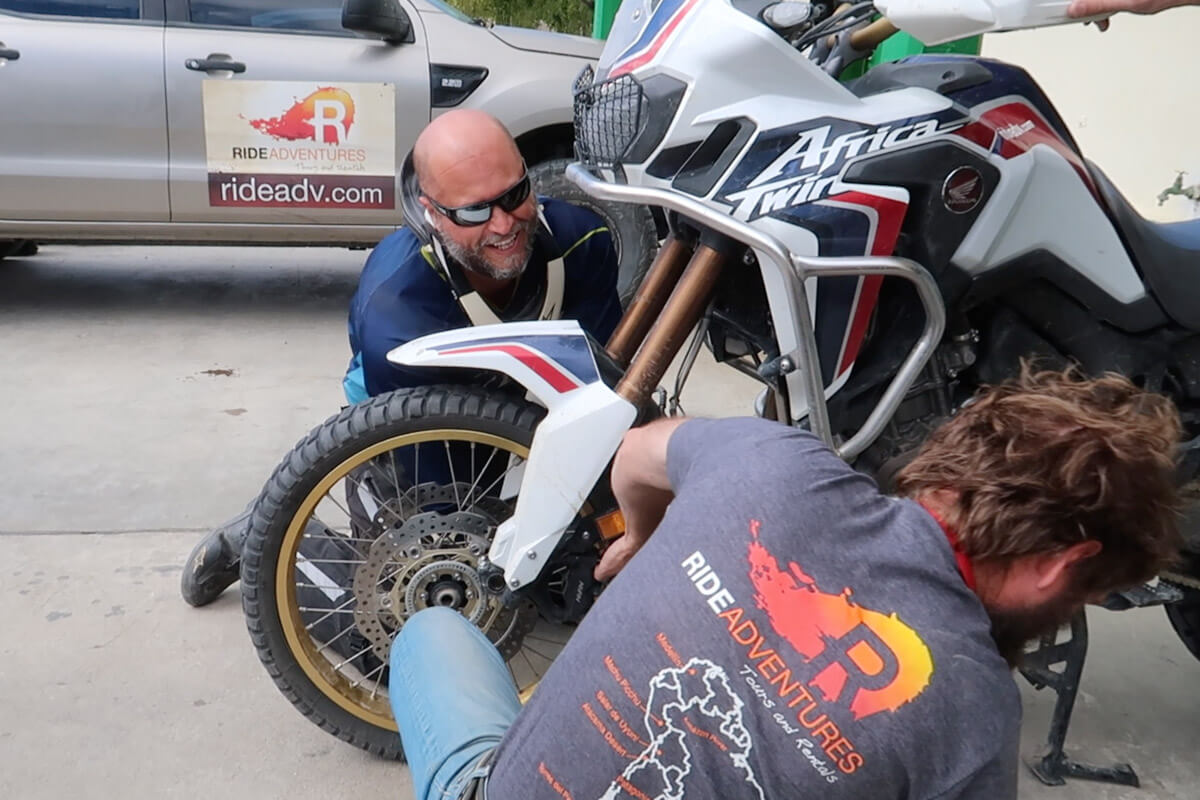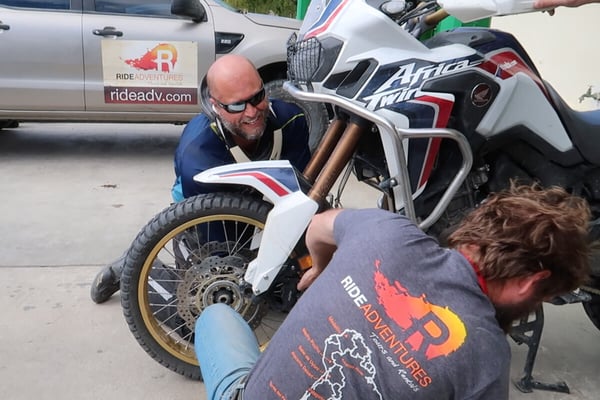 "The last thing we want to do on a trip to Patagonia is to have to stop and replace a tire halfway. A truly great adventure motorcycle tire lasts multiple trips. "
Adventure riders are here for a long time AND a good time. Get yourself a tire that's ready to do the same.
→Related Links: Motoz Tractionator GPS VS Heidenau K60 Scout and Best Dual Sport Tires for Serious Off-Road Riders.