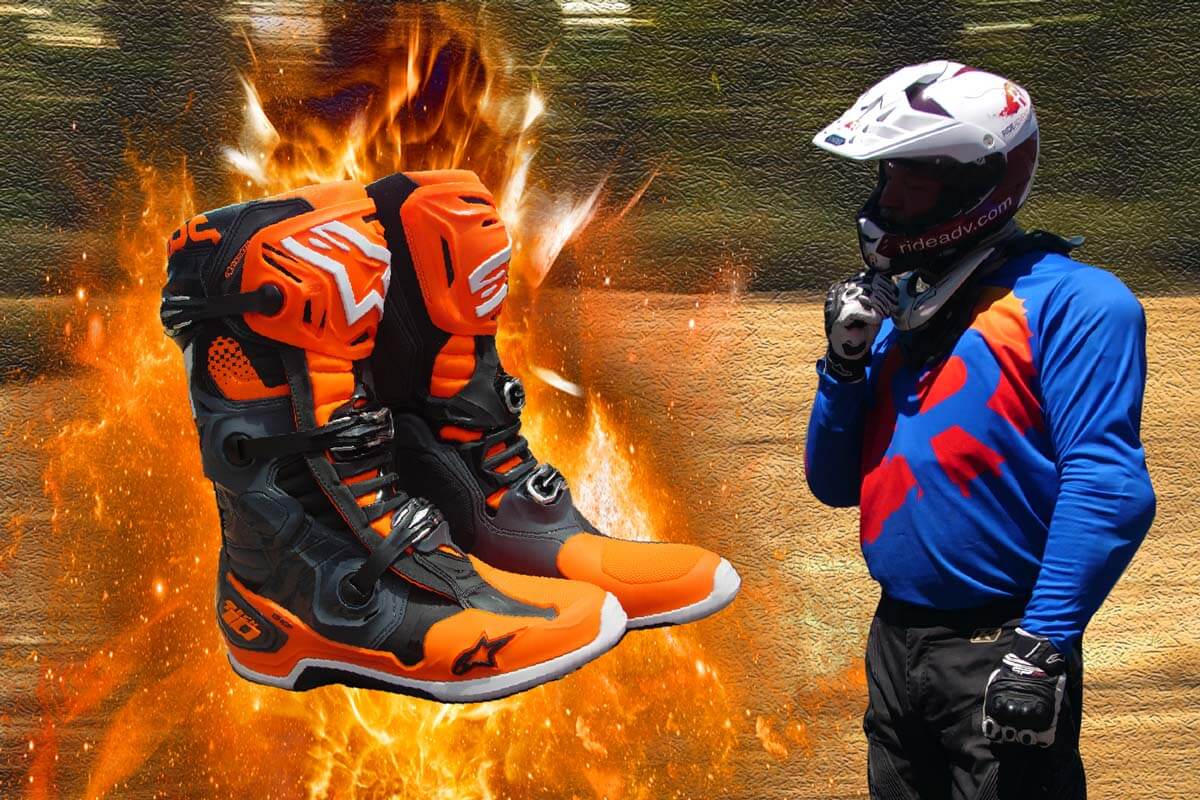 Disclosure: RIDE Adventures is a participant in the Amazon Services LLC Associates Program as well as other affiliate programs, designed to provide a means for us to earn fees by linking to Amazon and affiliated sites at no extra cost to you. Please see our Disclosure for more details.
When it comes to top-shelf motorcycle boots, the Alpinestars Tech 10 motocross boots are widely acknowledged as one of the most protective and longest-lasting options in the game. But are they worth the asking price?
If you've come out to one of our adventure riding classes, joined us on one of our guided tours, or kept up with our Youtube channel, you'll know we're fans of the Alpinestars Tech 10.
The Tech 10's are the most high-tech, highly-protective boot Alpinestars sells, and our founder Eric Lange has been wearing them almost exclusively for the last decade.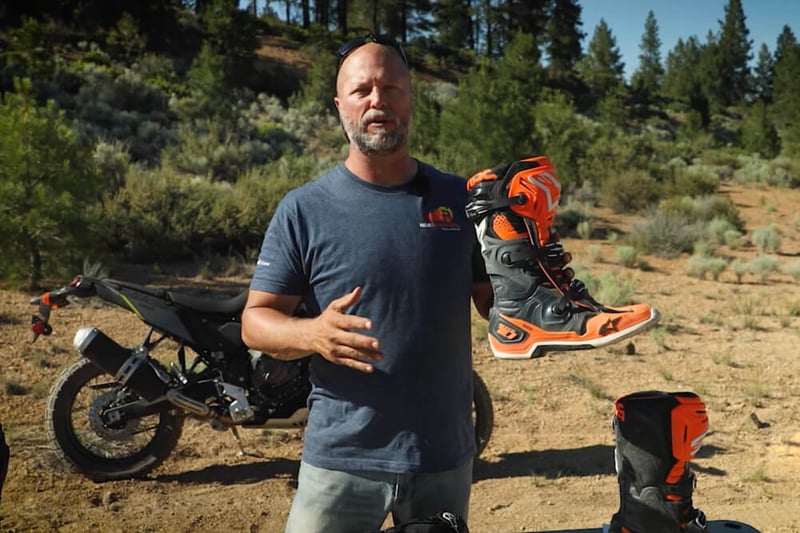 "Eric our Tour Guide/Founder going through why the Tech 10 is his boot of choice on our Youtube"
With that being said, the most common question we get from riders is whether or not the Tech 10's are worth spending all that extra money, especially when boots as good as the Alpinestars Tech 7 can be had for a couple hundred dollars less.
In the article below we'll take a deep dive into the features and performance of the Alpinestars Tech 10 to answer that very question, and we'll share some of our impressions after a year of riding in the newly redesigned model.

CHECK CURRENT PRICE:
Alpinestars Tech 10
As you might suspect, the list of features that come on a boot this technical and hardcore reads more like a novella than a product description. You're more than welcome to dig into the spec sheet on Alpinestars' website if you want, but here are our cliff notes on the important stuff.
Let's Talk Protection
If you're considering upgrading to a boot like the Tech 10, protection will be your main reason for doing so. Don't get us wrong, this is a sweet-looking boot and all, but if you're choosing a dedicated motocross boot over a more touring or adventure-focused option, you're not doing it for comfort or looks.
The good news here is that as far as protection goes, you'll be hard-pressed to find a safer boot anywhere else on the planet. Alpinestar's ground-up redesign in 2018 introduced a host of new safety features to the Tech 10, and they're better than ever in that regard.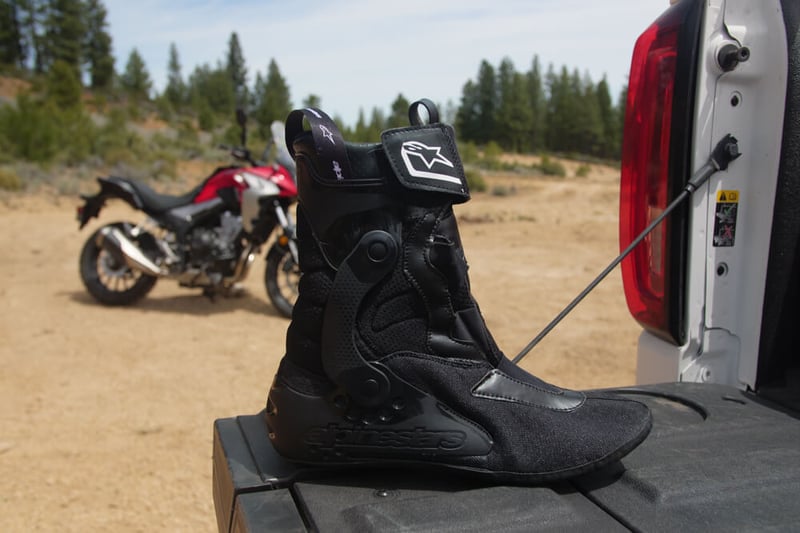 "Inner boot with ankle brace for added protection"
Take the redesigned inner ankle brace, for example: The Tech 10's inner bootie system includes dual integrated support arms for both medial and lateral protection.
This system was a pain point for us on outgoing models because although it delivered unrivaled protection against rotational forces, it rubbed against your ankle all day and was downright uncomfortable.
The arms have been slimmed down and reshaped, and now deliver the same (if not better) protection without the associated discomfort.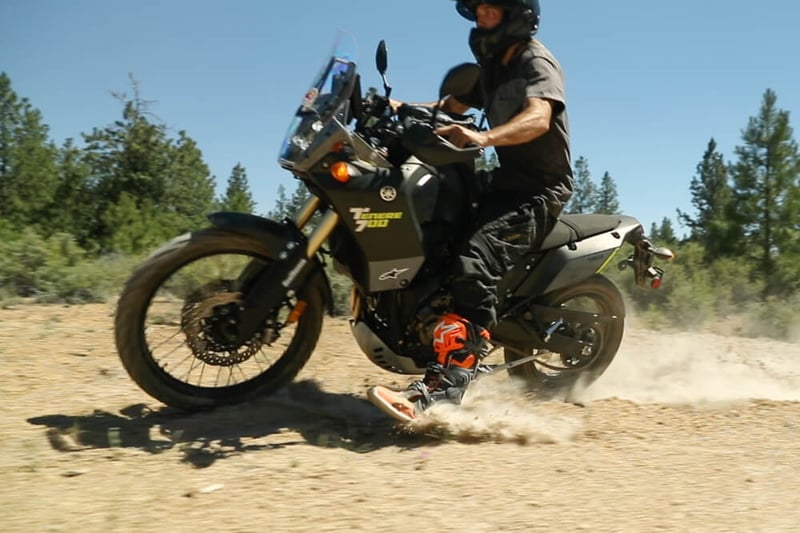 "Tyler our North American Tour Guide testing out the DHCP shock absorber here in Oregon during one of our Adv offroad training classes"
Another unique feature you'll find in the Alpinestars Tech 10 is the "Dynamic Heel Compression Protection Shock Absorber" which is a long-winded way of saying your feet are protected from hard impacts.
Whether that's from clearing 50-foot doubles out on the motocross track or absorbing impacts from roots and rocks out in the woods, it makes a noticeable difference and is unique to the Tech 10 boot.
Comfort of the Alpinestars Tech 10
While motocross boots will never score particularly high from a comfort standpoint, the new Alpinestars Tech 10 is definitely among the more comfortable MX-style boots out there, and is a huge improvement over the outgoing model.
Alpinestars did a few different things to achieve this end, but the most notable is the boot's dramatic weight reduction. Our new model in a size 10 weighed in at just 4.3 lbs, which is almost a full pound less (per boot) than the previous version.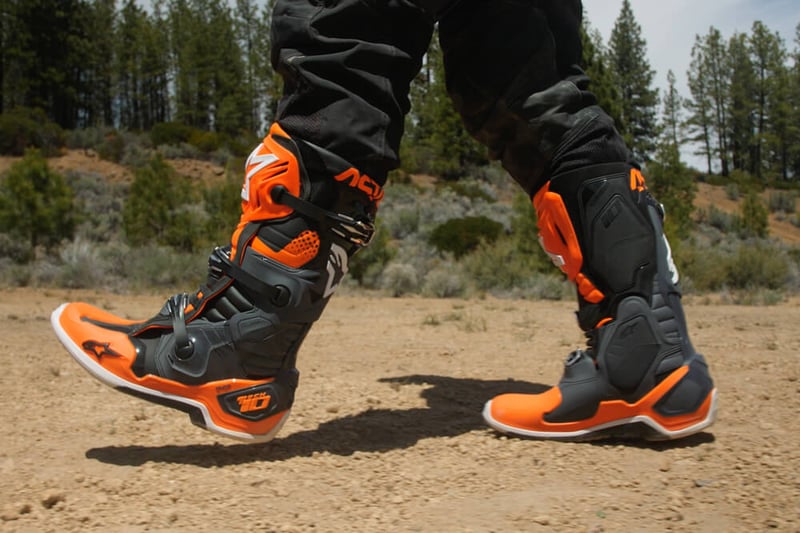 "Great improvements to flexibility, weight & overall response in the most recent version"
That might sound like a minor detail, but over the course of an 8 hour day, one pound per foot makes a huge difference.
The second major change is the overall rigidness of the boot, and the sole in particular. There's no denying this is still an extremely stiff motocross sole, but where the previous Tech 10s literally felt like a pair of ski boots, these have a bit more flex without sacrificing anything in the way of feel or performance.
Please note that this doesn't mean the Alpinestars Tech 10 is the kind of boot you'll want to hike in or wear around town all night.
"Definably still a motocross boot, not a adventure boot"
There are much more flexible and hiking-friendly boots out there, and if you spend a fair amount of time walking around in your riding boots, an enduro or trials-focused boot will always be more comfortable.
Personally, we prefer to split our tours between (a) riding and (b) relaxing, and while we make plenty of stops along the way, we rarely hike further than a few hundred feet off the route during the day.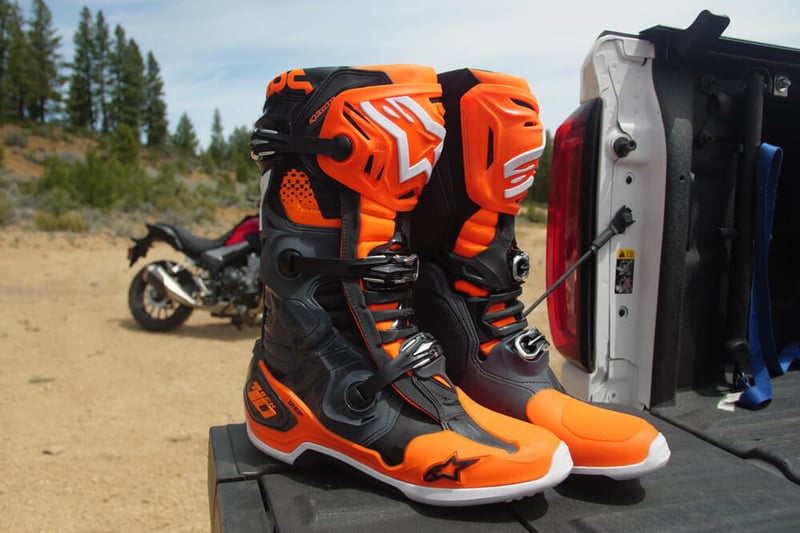 "Although rigid still comfortable enough while taking a short walk"
We also bring enough motorcycle luggage on our tours to pack casual clothes for around-town use, so once we're done for the day we're not condemned to squeak around town in our big chunky motocross boots.
On Bike Performance
The Alpinestars Tech 10's performance and on bike feel are another highlight of the recent update, and the redesign included several features specifically for this purpose.
The biggest difference we noted was Alpinestars' decision to move from the traditional leather inserts on the inside of the boot to a new rubberized TPU material.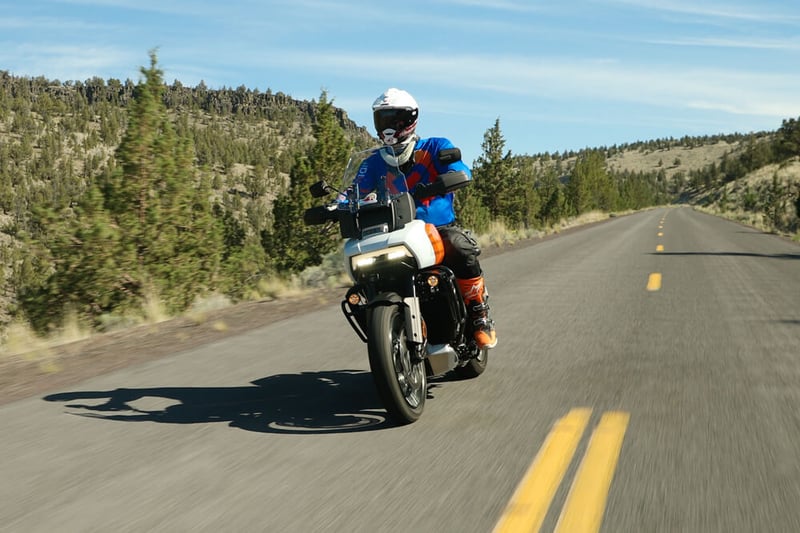 This material adds grip while still providing good bike feel at the ankles and calves, and as an added bonus, the TPU also allowed Alpinestars to integrate a secondary ankle hinge system into the boot for added protection against hyperextension.
Alpinestars also did a complete redesign on the Tech 10's sole, which they claim improves grip, performance, and even mud clearing on the pegs.
Honestly we don't feel a major difference here despite all the sales-talk in the brochure, and that's a complement considering how good the old Tech 10's were in this regard.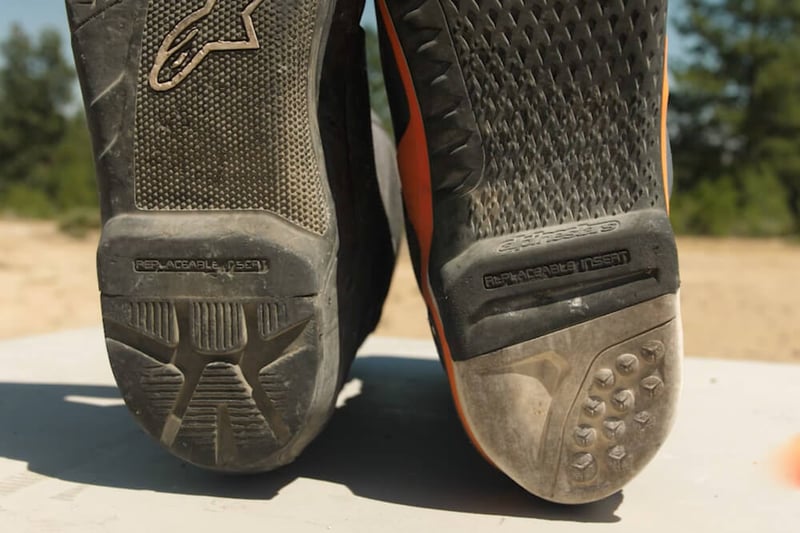 "Tech 10's soles, along with many other parts, are completely replaceable so you can extend the life of your investment as long as you want"
The most important thing about the sole is that it still retains the replaceable insert in the highest wear area, which preserves the boot's durability/longevity chops.
We'll also note that the sole insert on the new model covers a bit more surface area than the previous version, which means you're less likely to have to replace the entire sole at some point over the life of the boots.
Breaking In the Tech 10's
Let's be clear here: Stiffer boots take longer to break in, and the Alpinestars Tech 10 is a stiff boot. With that being said, we have no complaints with the Tech 10's break in period.
Sure, there are definitely some boots that feel more "ready to go" out of the box (this is the case for some of our other favorites like the Klim Adventure GTX and yes, the Alpinestars Tech 7). Still, we don't feel this should be a point of contention.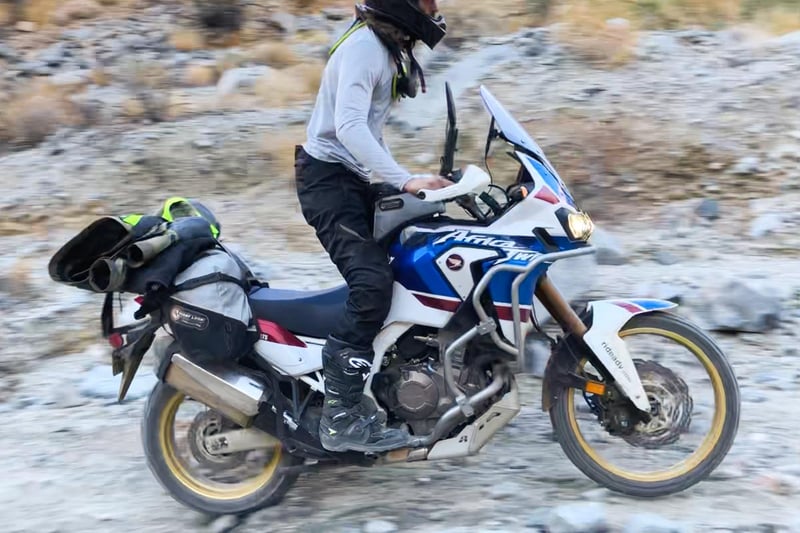 "Tyler guiding our Pacific Coast Highway + Tour while equipped with the Tech 7's"
Any good pair of motorcycle boots is a fairly large investment, and one you're going to use for thousands and thousands of miles. In our experience the Tech 10's hit their sweet spot after four or five hours of active riding, and once that's done, they'll serve you loyally and consistently for years and years of abuse.
Unless you've got plans to take your boots racing straight out of the box, there's really no point in splitting hairs here.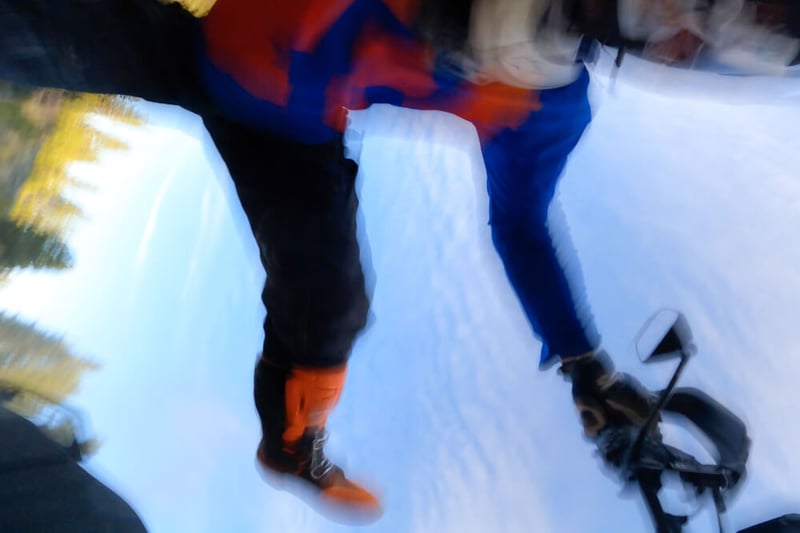 "Eric showing off the amount of protection from the Tech 10's by throwing himself off his bike 😂. Now that's dedication"
We'll also mention that compared to the outgoing model, overall break-in has definitely improved, which we chalk up to the increased flexibility and slightly more compliant sole mentioned above.
Durability of the Alpinestars Tech 10
When you get into the higher tiers of motocross and adventure boots, durability becomes a huge part of a boot's overall value. After putting over 8+ years of constant riding in every terrain and weather condition imaginable, we can confidently say these boots get a 10/10 in this metric.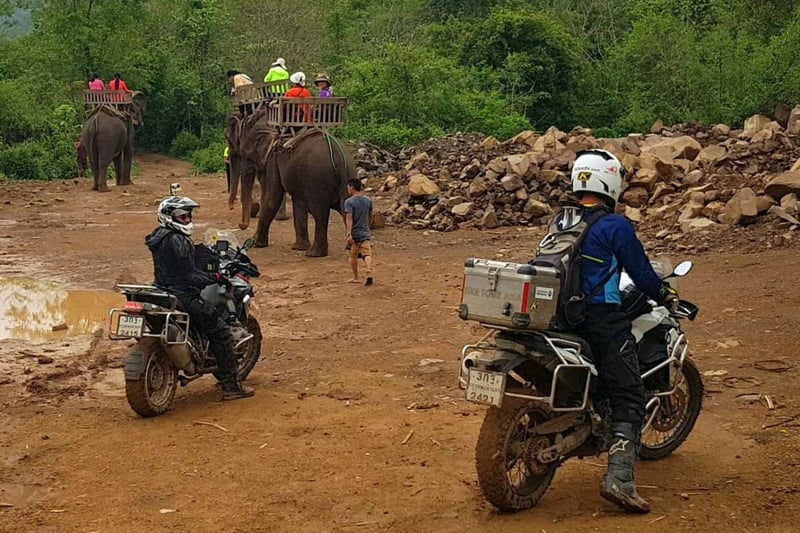 "Eric guiding with his 10 year old Tech 10's while on our Adv Northern Thailand Tour"
As good as the old boots were in this regard, we're actually expecting an improvement in this area as well. The old leather calf inserts were notorious for wearing down and losing their "texture" after the first year or so, and the updated TPU units are still be going strong after our first 12 months.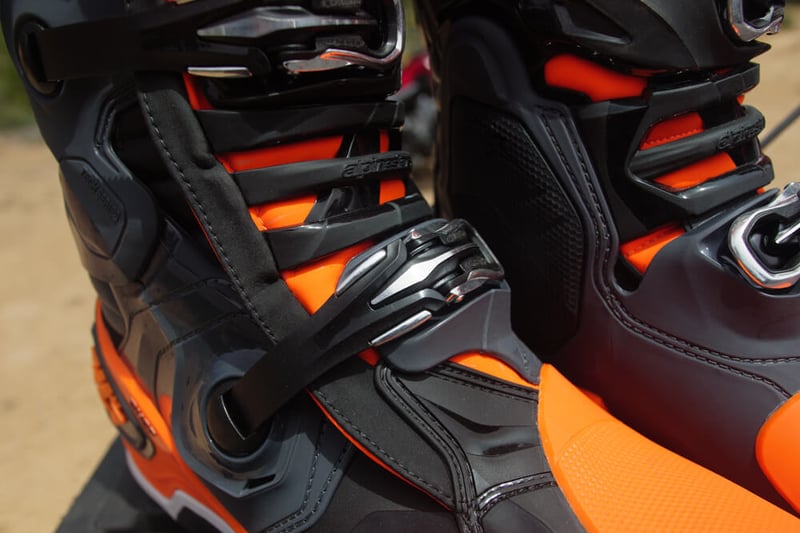 "Build quality is exactly what you'd expect from a top tier boot like the Tech 10's"
It's also important to remember that with premium boots like these, not only are the materials absolutely bombproof, but the boots themselves are rebuildable.
For the Tech 10 specifically, all the straps and buckles are repairable, the soles/sole inserts are replaceable, and should the internal booties ever start to feel too worn or smell too ripe, you replace them as well.
Squeakiness
Laugh all you want, but if you've ever owned a pair of serious off-road or road race boots, you know exactly what we're talking about here. Despite all the advancements made in boot technology over the last decade, we regret to inform you that Alpinestars still has yet to crack the squeakiness equation.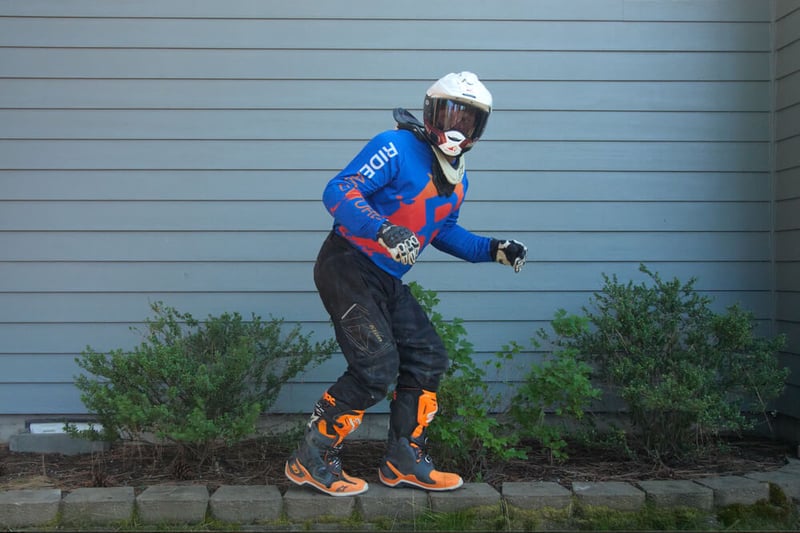 "Eric trying to be sneaky in our Tech 7 vs Tech 10 video on youtube"
The Tech 10's squeak when you walk. They squeak when you sit or stand. They squeak when you look at them funny or speak their name aloud three times in front of a mirror.

Do they squeak any more or less than other genuinely protective off-road footwear? Not that we've noticed. Do you get used to it after awhile? Kind of. Should anyone really care? Absolutely not.
Price/Value
When it comes to buying motorcycle gear, our general rule of thumb is that you should always buy as much protection as you can reasonably afford. It's a well-documented fact that the overwhelming majority of motorcycle injuries occur below the waist (particularly from the knee down), so your riding boots should be right up there with your helmet priority-wise.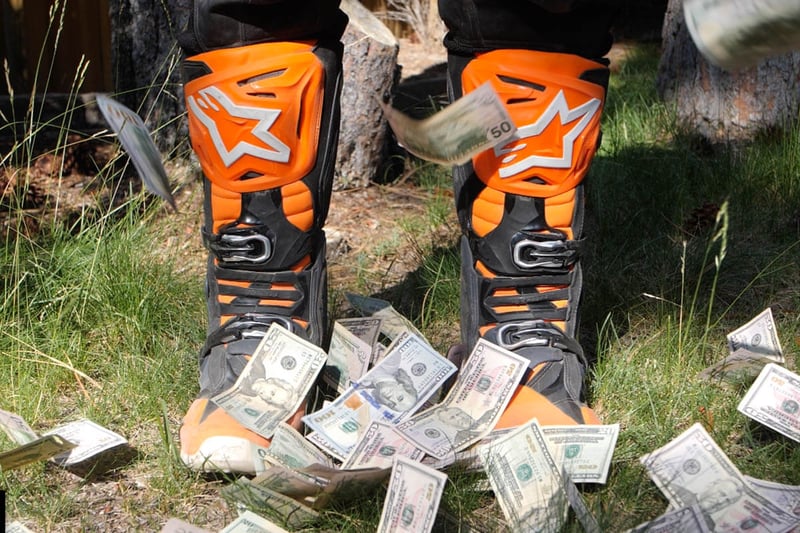 "Definably on the higher end for motorcycle boots"
When it comes to the Alpinestars Tech 10, safety is definitely the main selling point for us, but as you read above, the sheer longevity of this boot also makes a strong case for its asking price.
These boots can and will last the better part of a decade, and that's with thousands of miles of use every year.
Yes, you can pick up a pair of decent-quality boots for $200-250, but they simply won't protect as well and won't last for nearly as long. It's also worth noting that boots at this price are rarely rebuildable/repairable when things inevitably break or wear down, so once you break a strap or wear out a sole, they're done.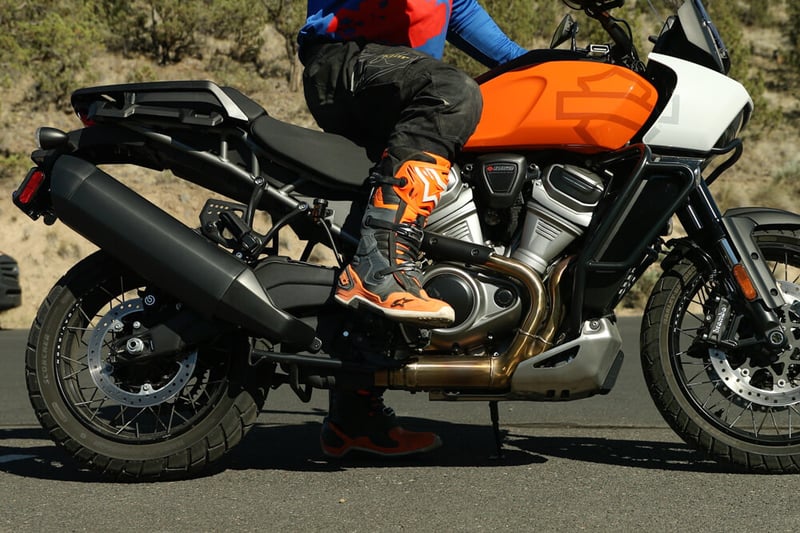 Yes, the asking price of the Tech 10s can (and should) deliver some serious sticker shock. Over the life of the product, however, we firmly believe that these boots will actually save you money (both in replacement boots and potential hospital bills), so as any crusty old rider will tell you, "buy once, cry once."
Final Verdict: Alpinestars Tech 10
We've loved every mile we've traveled in our Tech 10's over the last 8-9 years, and if our first year with the updated model is any indication, we expect the next 8 to be even better.
Whether you prefer motorcross, dual sport, or off-road heavy adventure riding, there's just no safer dirt-focused boot out there than the Alpinestars Tech 10.
The main sticking point for most will still be price, and at over $600 per pair, the Tech 10 is simply more boot than many of us can reasonably justify.
With that being said, you'll be hard pressed to find better protection anywhere for any amount of money, so if you've got the cash to spend, these boots will have your back for years to come.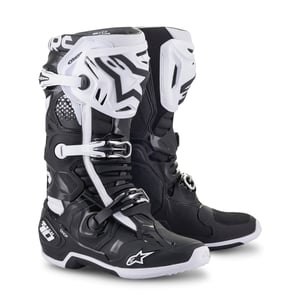 CHECK CURRENT PRICE:
Alpinestars Tech 10

Thanks for reading our Alpinestars Tech 10 review article. We hope this helped you decide which motorcycle boot is right for you.
→Read More: 8 Best Adventure Motorcycle Boots and Best Adventure Motorcycle Gear for any RIDE.