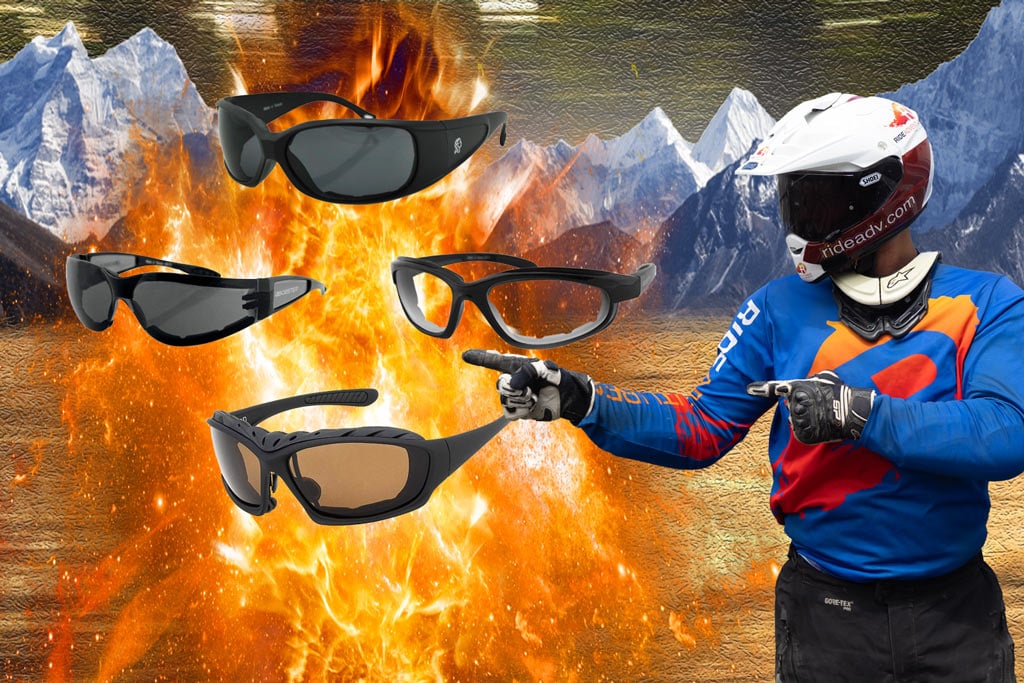 Disclosure: RIDE Adventures is a participant in the Amazon Services LLC Associates Program as well as other affiliate programs, designed to provide a means for us to earn fees by linking to Amazon and affiliated sites at no extra cost to you. Please see our Disclosure for more details.
Regardless of what you've got going on in the helmet department, the right pair of motorcycle sunglasses can bring comfort and style to daytime cruising.
Marlon Brando in The Wild One... Peter Fonda in Easy Rider...Trinity in The Matrix... The former governor of California in The Terminator...
If wearing sunglasses in the saddle is your bag, you're in illustrious company. Unfortunately none of our examples above actually wore the kind of glasses you'd want protecting your peepers on a fast-moving freeway, which is why purpose-built motorcycle glasses are a much smarter move.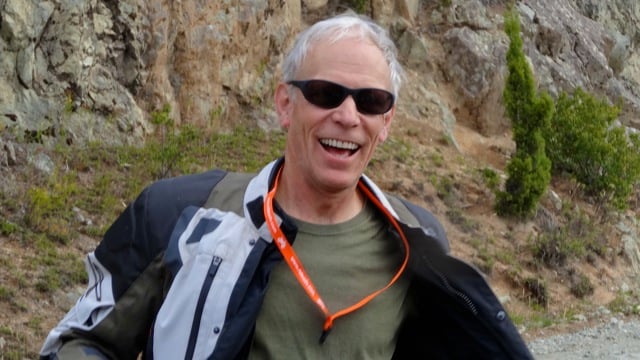 "With the right pair of motorcycle sunglasses, you, too, could have this look of pure euphoria"
So what's the difference between that old pair of Ray-Bans and an actual pair of motorcycle sunglasses? Quite a bit, as it turns out.
Quick List of Our Favorite Motorcycle Sunglasses
What to Look For in Motorcycle Sunglasses
Not all moto-glasses are made equal: While some shades are "motorcycle friendly" in name only, there are actually a few good pairs out there that are thoughtfully designed around the features riders want and need. Here's what to look out in your next pair.
Helmet Compatibility
In a pinch, you can make just about any pair of motorcycle sunglasses work with your helmet, but whether or not they're comfortable inside your helmet is a different story. The ideal pair of shades for your ride differs depending on the type of lid you wear, so let's start with a few of the basics in that regard.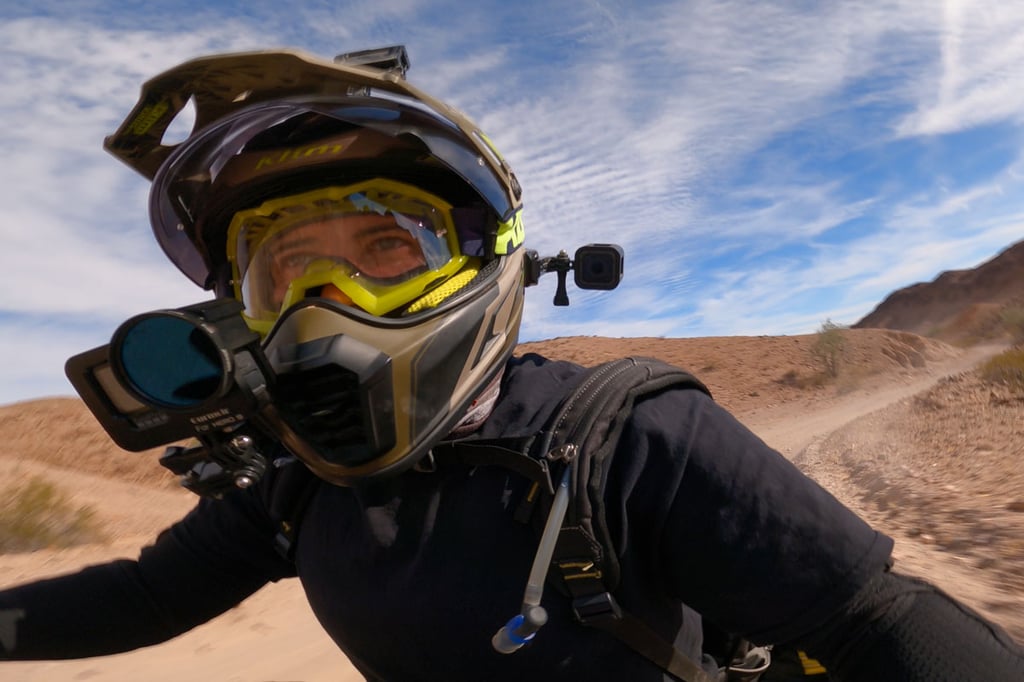 "Motorcycle sunglasses split the difference between casual shades and full size goggles like these."
If you're rocking an OG brain bucket that doesn't extend down past your ears, we've got good news for you: While your helmet may be the worst style and/or safety choice on the planet, its one redeeming quality is that it works with literally any pair of sunglasses you want to wear.
Stepping up from there we've got the hipster-friendly three-quarters lid: These are your Biltwell Bonanzas, your Bell Custom 500's, or your Arai Classic-V's (if you're into adorable little Italian scooters).
Three quarters helmets have the same sunglass limitations as full-faced helmets (more on that below) with one important exception: Because the entire front of a three-quarters helmet is wide open, you can get away with much larger/taller lenses if you're into the whole Pit Viper/80's cyclist thing.
Lastly, we have the full faced helmet, which we sincerely hope anyone who cares about their lower jaw is wearing in the first place. With full faced helmets both the size of your glasses and the shape of their arms are important to consider.
Generally speaking what we're looking for here are the flattest and thinnest arms we can find. This is because low-profile arms slide between your face and the padding of your helmet much easier, which translates to less pressure against your head and/or ears.
Lens Types
You've got two main features to look out for when it comes to the lenses of a good pair of motorcycle sunglasses: Whether or not they're designed to seal against your face, and the tint/color of the lens.
When most folks think of dedicated motorcycle sunglasses, they think of something like the Bobster Fat Boy, which feature a layer of foam between the frame/lens and your face.
This layer of foam is intended to create a "goggle effect," essentially shielding your peepers from wind and debris as you ride.
Not everyone is into the look, but for what it's worth, sunglasses that seal against your face like this are arguably the only real "motorcycle shades" on the market, as anything else is basically just streetwear, offering no discernable advantage over your favorite pair of Wayfarers.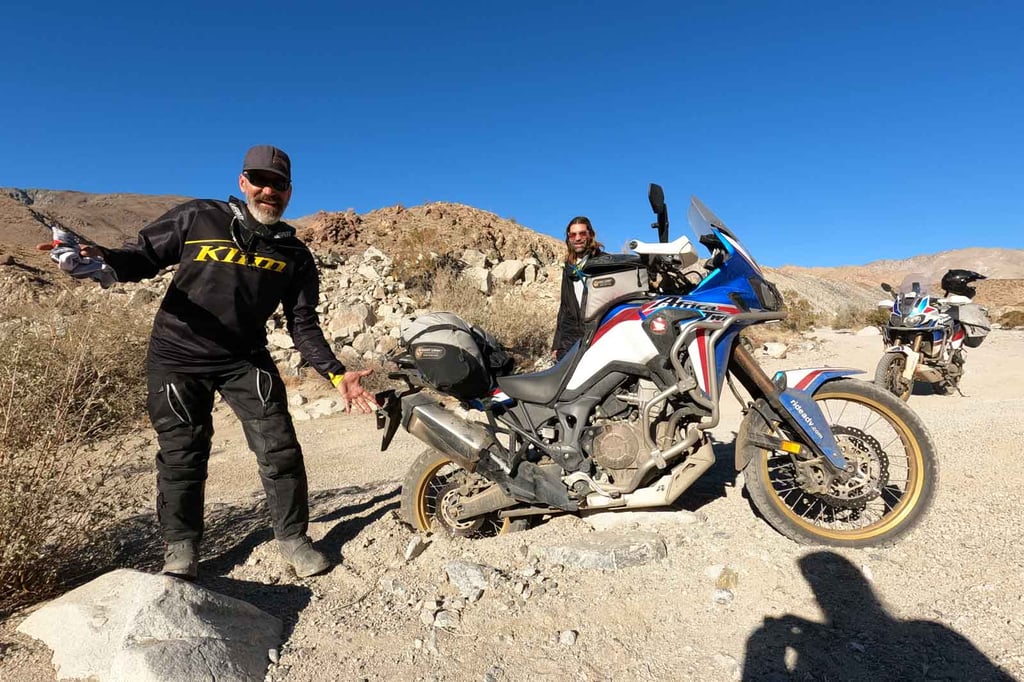 "You're gonna need sunglasses anyways: Why not get a pair that works with your helmet?"
As for the lenses, keep in mind there's more to lens color than looking cool or keeping the sun out of your eyes. Yes, tinted lenses will minimize glare in direct sunlight, but they become a safety concern in low-light conditions or after-dark.
For this reason, we're big fans of color-tinted lenses, which work well day and night while also offering UV protection and improved contrast for spotting obstacles offroad. Yellow lenses are particularly popular, as they make anything that's green (trees, bushes, etc.) that much more vibrant.
We'll also note that photochromatic lenses are a popular option for motorcycle sunglasses because they adjust their darkness as light conditions change. In brighter sunlight, these lenses darken to reduce glare, but indoors or after dark, they're practically clear, which bodes well for all-around visibility.
Our Top Picks for Motorcycle Sunglasses
Keeping the above criteria in mind, we've found a handful of motorcycle sunglasses that perform better than most.
The list below is by no means exhaustive as each brand offers a handful of different frame shapes for style purposes, but these are the ones we'd recommend to anyone buying their first pair.
1. Bobster Fat Boy Photochromic
Bobster is arguably the first name in motorcycle sunglasses, and chances are if you've seen a pair of moto-shades out on the street, you were looking at a pair of Fat Boys.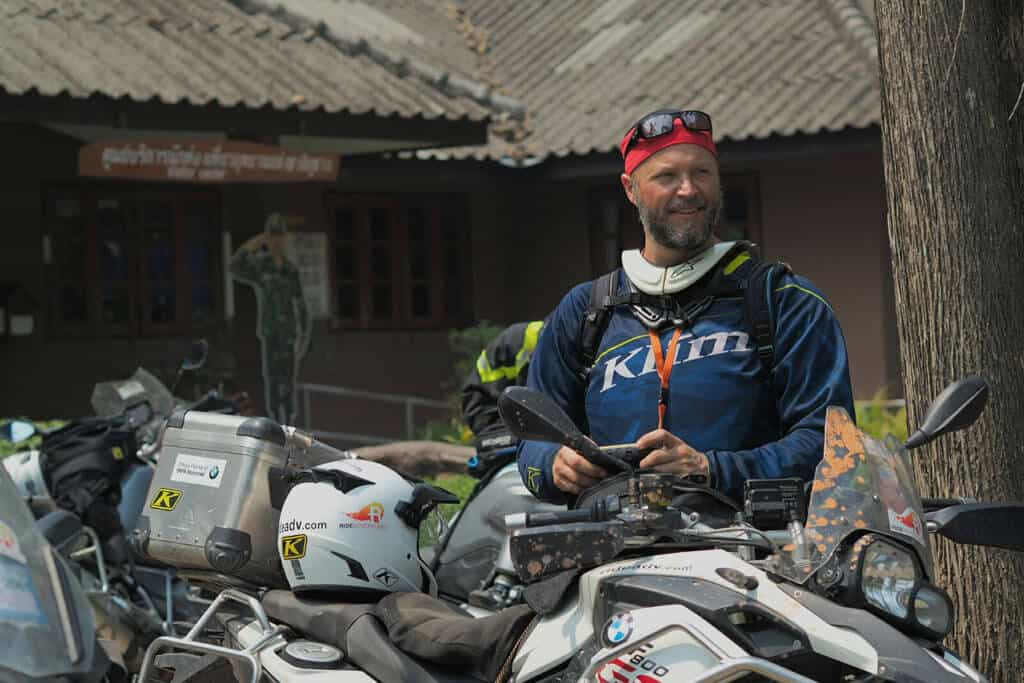 "Founder Eric riding on our group trip in Thailand while sporting a good pair of shades for all that sun"
There are a few different versions of the Fat Boy out there, but our favorite overall is the Photochromic, which uses a light-sensitive lens treatment (similar to a Transitions visor) that automatically gets lighter or darker depending on conditions.
The proprietary tech isn't quite as versatile as a Transitions product (the lenses themselves never go completely clear), but they work great from dawn till dusk in just about any helmet.
Pros:
Photochromatic lenses automatically adjust for conditions
Closed cell foam for wind/dust protection
Reasonably low-profile arms
Cons
:
Not ideal for night use
Expensive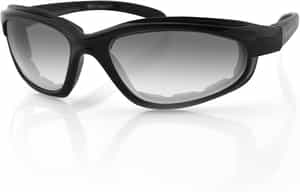 CHECK PRICE:
Bobster Fat Boy Photochromic
2. Zan Headgear Colorado
For most riders, Zan Headgear is the main alternative to Bobster shades (unless you want to cough up the cash for a Harley Davidson branded product).
Riders who like the foam-backed concept but aren't particularly impressed by the Bobster style can find a reliable alternative in motorcycle sunglasses like the Colorado.
We're fans of these shades because both the lenses and frames are made entirely from polycarbonate, which translates to a pair of glasses that's both extremely light and extremely tough.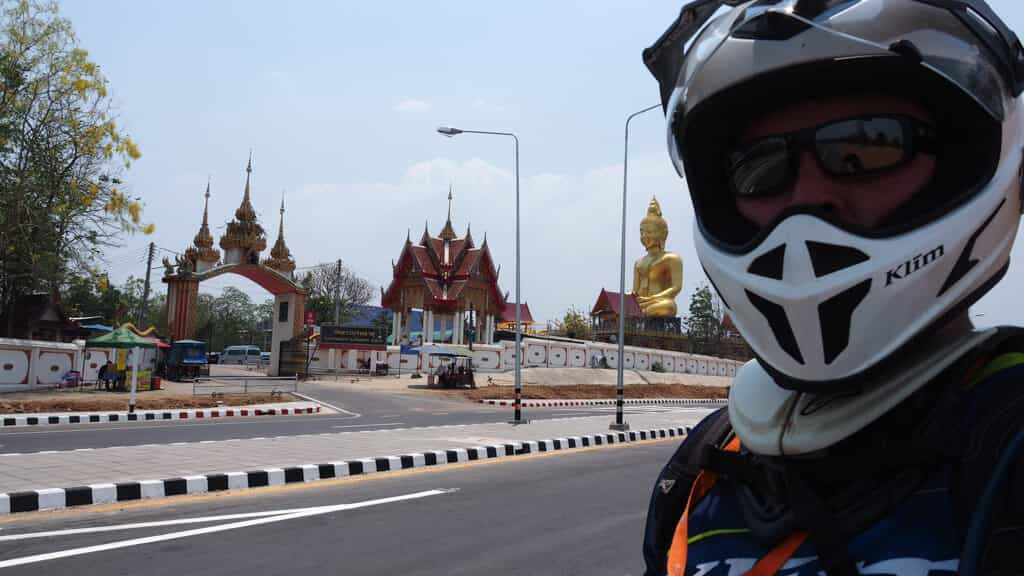 The lenses themselves still offer 100% UV protection and are shatter-resistant for peace of mind when riding behind dump trucks and other rigs that leave a wake of debris flying in their wake.
We also appreciate that Zan uses a lower-profile foam backing in their motorcycle sunglasses, which gives them a closer fit and a more casual appearance.
We'll point out that the frames/arms of the Colorado are a bit taller than some, so those with smaller faces or tighter full-faced helmets may want to consider something a bit more compact.
Pros:
Lightweight and tough
Shatter resistant UV lenses
Low profile foam backing
Cons:
Wider arms can be uncomfortable on full face helmets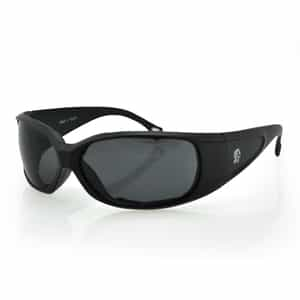 CHECK PRICE:
Zan Headgear Colorado
3. Bobster Shield II Motorcycle Sunglasses
Take that old pair of protective glasses you've got hanging around your garage or toolbox, add a layer of protective foam, and bada-bing: You've got the Bobster Shield II. We're fans of the Shield II because while most motorcycle sunglasses try to look "casual" and fail, the Shield just goes all in on form over function.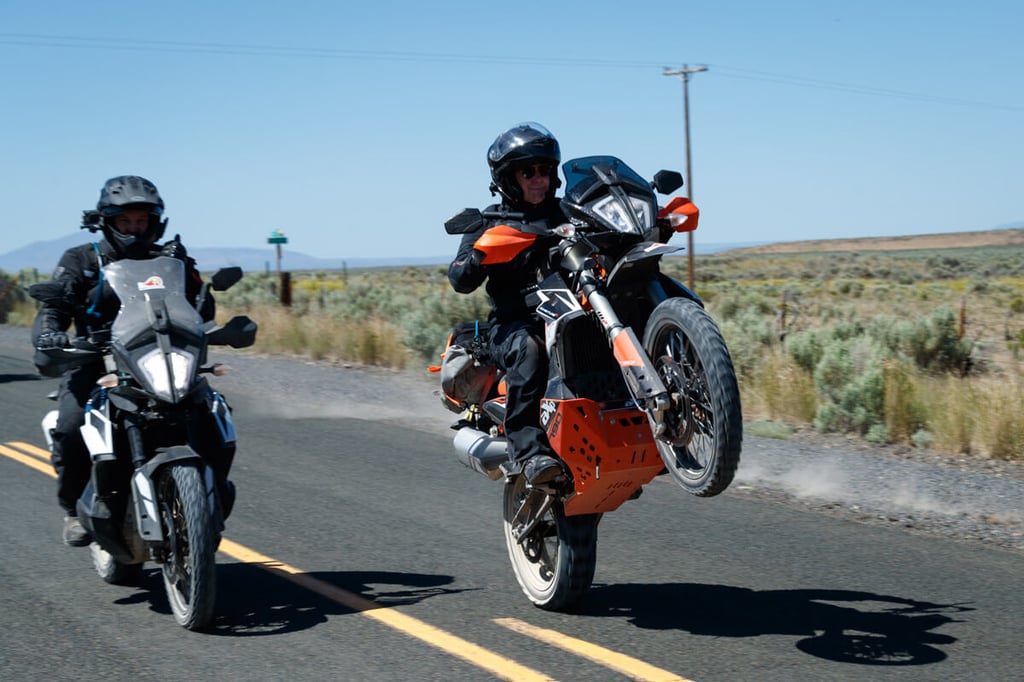 This is apparent in their frameless design, which uses a single piece of wrap-around polycarbonate to offer the widest and clearest field of vision possible. This minimalist approach also makes for one of the lightest and thinnest options you'll find, which means they'll work well with pretty much any helmet out there.
The Shield II doesn't have quite as much foam coverage as something like the classic Fat Boys seen above, which makes them less prone to fogging, but also a bit less protective when riding through dust and sand.
We appreciate that they come in four different color options though, and both the yellow and amber varieties work well day and night.
Pros:
Lightweight and streamlined frameless design
Four lens colors to choose from
Low profile foam backing
Cons
:
Looks like a pair of safety glasses
Vent better, but protect less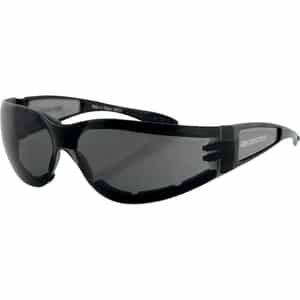 CHECK PRICE:
Bobster Shield II
4. Zan Headgear Florida
If you're not too crazy about the foam-backed look, the Zan Headgear Florida is a viable alternative. These motorcycle glasses rely on a large lens and a closely contoured fit to keep wind at bay, which makes them look and feel a little more casual while also minimizing any potential fogging issues.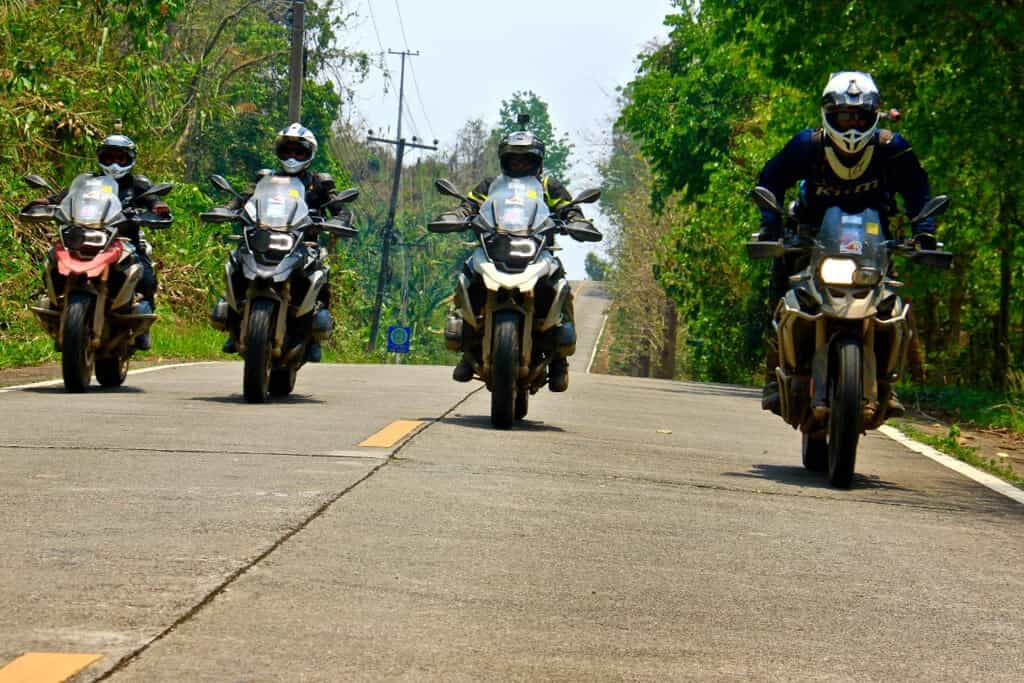 The Florida's don't share the same solid polycarbonate frame construction as the Colorados above, so while their polycarbonate lenses offer the same UV protection and shatter resistance, you wouldn't want to accidentally sit on their simple plastic frames.
They're still wonderfully lightweight and slim though, which makes them a solid candidate for snug full-faced helmets that aren't built to handle the chunky arms of something like a Wayfarer.
We'll also note that you can pick these bad boys up for under $20 all day, so if you're the type that tends to lose a few pairs of sunglasses a year, this could be the ticket.
Pros:
Effective foam-free windblocking shape
Super thin arms slide easily into helmet
UV protection + shatter resistance
Cons
:
Less protection from wind and dust than a foam-backed option
Plastic frames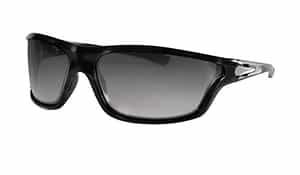 CHECK PRICE:
Zan Headgear Florida
5. Wynd Blocker Airdam
Last but not least, we've got the Wynd Blocker Airdam. What makes these motorcycle sunglasses special is that their foam liner can be removed on the fly as needed, making them a smart choice for riders buying their first pair who aren't sure how they feel about face foam.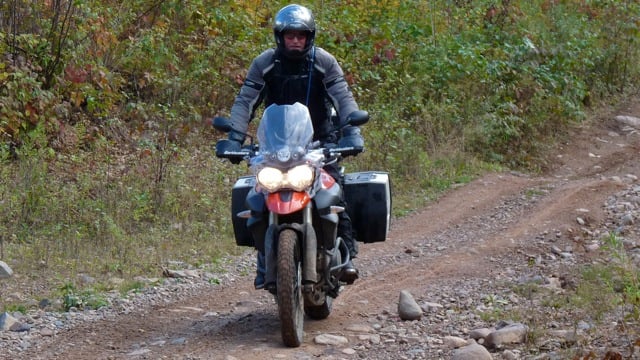 In addition to the versatile design, we also appreciate the multitude of lens options available for the Airdam, which range from classics like clear, yellow, and black, to interesting alternatives like green and even a bluelight-blocking amber. They also offer a few different frame colors, so you don't have to settle for black if you don't want to.
As far as wind protection goes, Wynd Blocker uses a lower profile foam similar to the Zan Colorados above. The foam has a much more thorough coverage area, so riders who want a little extra dust protection as the cost of ventilation will find the Airdams a smart compromise.
Pros:
Tons of lens colors to choose from
Versatile removable foam liner
Lightweight & durable
Cons
:
Low-profile foam prone to fogging when stopped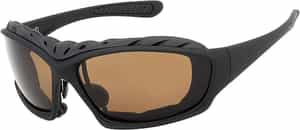 CHECK PRICE:
Wynd Blocker Airdam
Closing Thoughts on Motorcycle Sunglasses…
We've spent plenty of time riding around in casual sunglasses, and while they get the job done in the fight against glare, they always leave something to be desired in terms of performance.
Having to constantly open and close your shield as speeds and conditions change is a major pain in the ass, which is the main argument in favor of motorcycle sunglasses as far as we're concerned.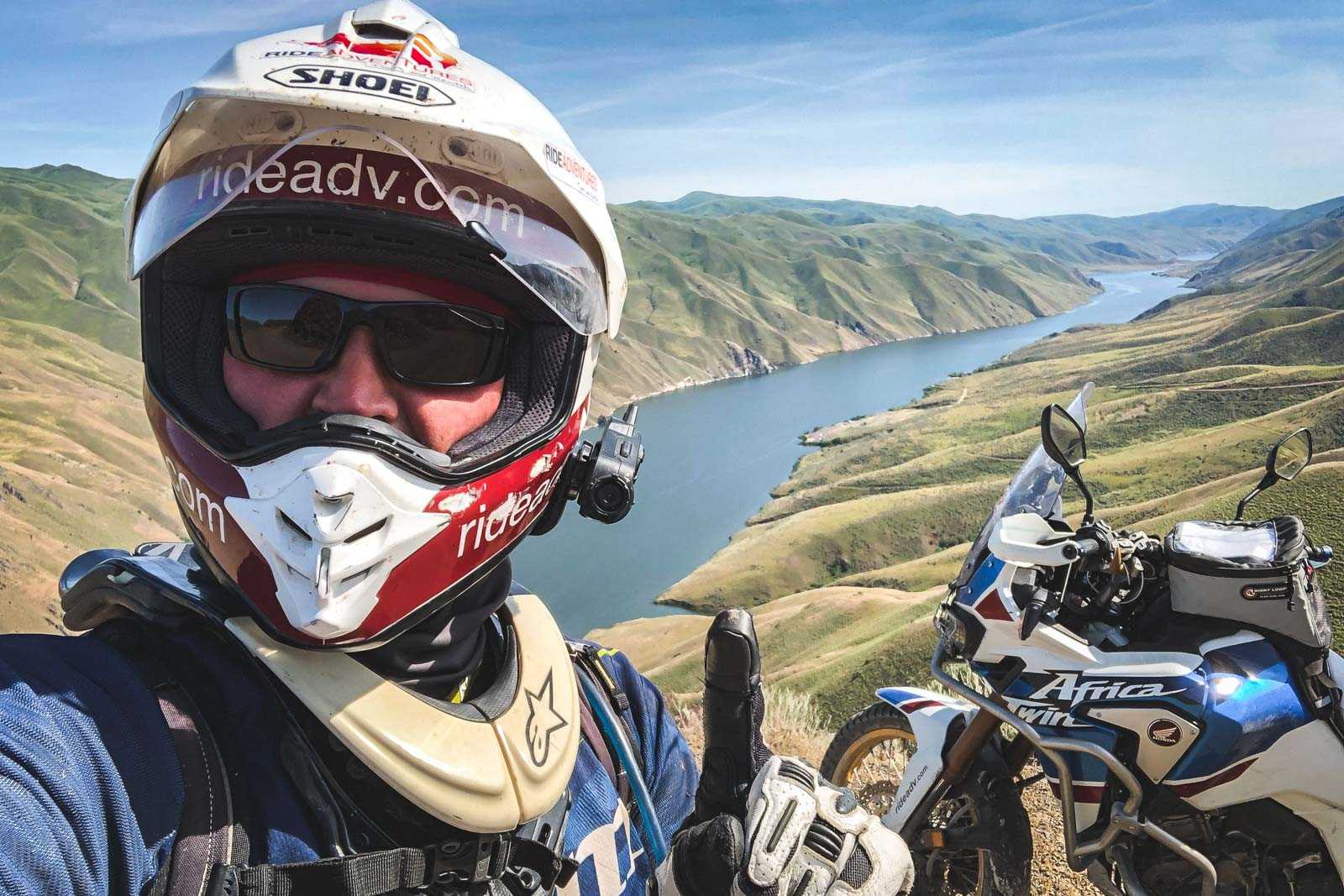 "One last thought on motorcycle sunglasses"
They may not be the most fashionable eyewear out there, but if you're looking for better protection without relying on a faceshield 24/7, motorcycle sunglasses are a smart alternative for anyone that doesn't want to mess with a full-sized pair of goggles.
We've done everything from lazy Sunday cruises to light offroad work in foam-backed glasses, and if nothing else they're an incredibly versatile and affordable piece of kit to keep in your tank bag for that exceptionally bright hot day.
→Read More: 5 Best Motorcycle Luggage Options for the Long Haul and Best Motorcycle Helmet Bags.