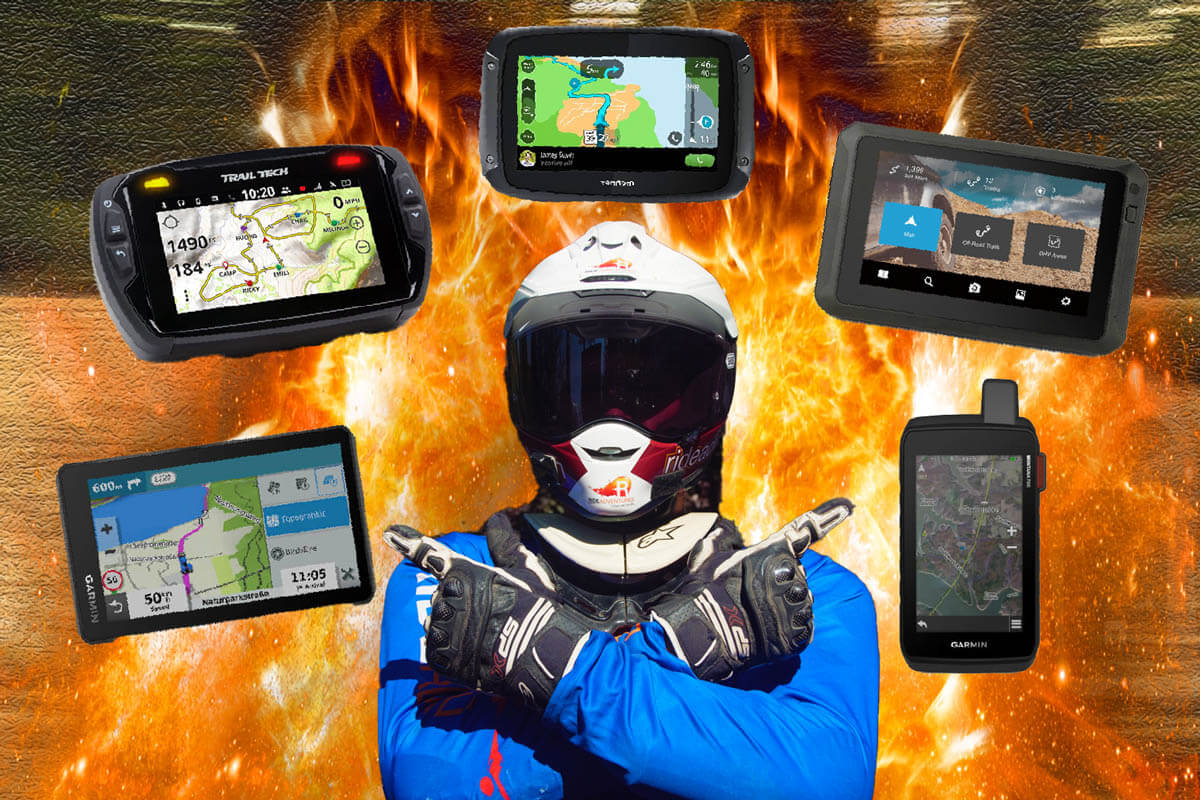 Disclosure: Ride Adventures is a participant in the Amazon Services LLC Associates Program as well as other affiliate programs, designed to provide a means for us to earn fees by linking to Amazon and affiliated sites at no extra cost to you. Please see our Disclosure for more details.
Editor's Note: This article about the best motorcycle GPS options was originally posted in 2013, but our readers and riders still get a tremendous amount of value from it, as it's the most visited article on our site. We continue to update it regularly as new models come to market to ensure our list of motorcycle GPS options is up to date.
*Please note: This is not an advertisement paid for by Garmin.
If a decade of guiding motorcycle tours has taught us anything, it's that venturing into parts unknown is one of the most rewarding experiences on the planet. The roads you ride, the things you see, and the people you meet along the way will change your life if you let them, and that's exactly the experience we deliver here at Ride Adventures.
With that being said, nothing can kill the high of a new adventure like getting lost in an unfamiliar place. At some point we all have to make our way back to civilization for food, fuel, and (hopefully) a hot shower, and that's where the best motorcycle GPS units come into play.
If you're gearing up for a little two-wheeled exploration yourself, we can't stress the importance of a motorcycle GPS enough. There are quite a few options to choose from nowadays though, which is why we've put together the list below of our favorite navigation tools on the planet.
How to Choose the Best Motorcycle GPS Unit
While we completely understand the temptation to modify a traditional automotive GPS for motorcycle duty (cost being chief among them), there are a few good reasons shelling out a few extra bucks for a purpose-built motorcycle GPS is worth the investment. Here are the main factors we look for when selecting a GPS for one of our tours.
Waterproof, Dustproof, & Shockproof
One of the biggest advantages of using a modern motorcycle GPS is its outright indestructability. Even the toughest smartphone cases out there pale in comparison to a purpose-built outdoor GPS, which makes them indespensible on long trips.
This protection comes in three forms: Liquids, solids, and drops/vibration. The first two are evident in the IP rating of a motorcycle GPS, which tells you how well the unit is sealed from dust and moisture (you can read more about the technical details here).
The best motorcycle GPS units will be completely protected from rainfall as well as temporary submersion in water (we've been known to drop a motorcycle into a creek from time to time), and should be completely sealed off from dust as well.
As far as shockproofing goes, every motorcycle GPS worth buying is built to take a beating. Whether that's from tree limbs on the trail, constant vibration from your engine, or accidental drops at your house, all outdoor GPS units feature rough-and-tumble construction that's much better suited to our travels than a simple phone or tablet.
Glove-Friendly
Last but not least is the often-overlooked (but always appreciated) glove-friendliness. If your motorcycle GPS doesn't work with gloves on, it's going to give you headaches.
The best options out there work with any pair of motorcycle gloves, whether they're "touchscreen ready" or not. This means anything from bulkier winter gloves and heavy leather gauntlets to full mesh summer gloves, but ideally you shouldn't have to buy a new pair just to use your motorcycle GPS.
What About My iPhone?
You might notice that we generally don't recommend relying on your iPhone or Android phone as a dedicated motorcycle GPS, and there are a few good reasons for that. Yes, navigation apps have improved immensely with options like Gaia, OnXOffroad, or MotionX available, but we're still hesitant to rely on these devices entirely for dedicated motorcycle use.
The main reason for this is overheating, as most smartphones have a tendency to overheat and abrubtly shut down on hot days, especially during lower speed riding scenarios like off-road trails. Having to regularly pull over and let the phone cool off before resuming navigation is simply a deal breaker for us, but it's not the only reason we prefer a dedicated motorcycle GPS.
Screen brightness is also still an issue, even with the latest iPhone 14 Pro. Again, they're better than they used to be, but in direct sunlight many phones can still be frustrating to live with in this regard.
We'll also note that durability is still a major concern. Even with the latest and greatest cases, there's always a lingering possibility of losing and/or damaging your phone (especially over rougher terrain), and we're still not too keen on having an exposed phone in heavy rain or muddy/dusty terrain. Losing your main means of communication in the middle of a big trip (especially an international one) creates serious headaches, and just isn't a risk we're willing to take.
Our Top Picks for the Best Motorcycle GPS
Taking the above factors into consideration, we've selected our current 5 favorite options for two-wheeled navigation. The motorcycle GPS units below represent the best in the business at the time of this writing, whether you're looking for a tablet-sized touchscreen or a pocket-friendly handheld.
1. Garmin Zumo XT Motorcycle GPS
While motorcyclists have been making due adapting car and hiking GPS units to their bikes for years, we're beyond thankful that Garmin finally wheeled out a motorcycle-specific option, the Zumo XT. We can't say were surprised that Garmin knocked it out of the park here, but there's a reason these folks are the first name in GPS.
Where to begin? The Zumo XT screen is absolutely perfect for your modern adventure rider. It's among the brightest we've seen, and is clearly readable even on the brightest days. At 5.5" wide, we're also of the opinion that this is the perfectly sized screen as well: Wide enough to impress, but not so big you'll have trouble fitting it into your cockpit.
The Zumo XT also features our favorite adventure-focused features, including birdseye satellite imagery and pre-loaded off-road topographic maps. It also pairs seamlessly with a Garmin inReach satellite communicator, which we've found to be absolutely crucial when traveling into parts unknown.
So what's not to like about the Zumo? Well not much, to tell you the truth. At around $500, it's definitely a bit of an investment, but it's also far from the most expensive option out there. We'll also note that while the screen is a perfect match for the fairings on modern ADV bikes like the KTM 890 Adventure and Yahama Tenere 700, smaller/sportier bikes and those with smaller/non-existent fairings may want something closer to a traditional hand-held size.
Pros:
Goldilocks screen size and brightness for ADV riding
Motorcycle-specific design and features
Well suited to off-road use
Cons:
Not cheap

Not ideal for smaller bikes/cockpits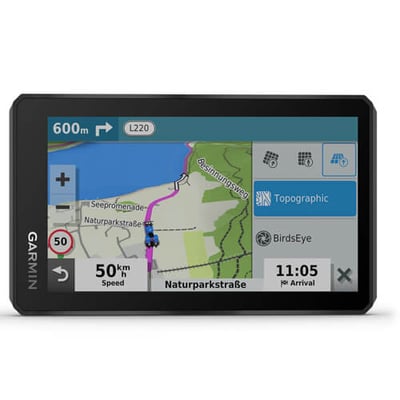 CHECK PRICE:
Garmin Zumo XT Motorcycle GPS
2. Garmin Montana 700i
Before Garmin's excellent Zumo XT came along, most of us were getting around just fine with the Garmin Montana 700i. The Montana 700i may not have quite as many moto-specific bells and whistles as the Zumo, but there's no denying it's still one of the best motorcycle GPS units out there.
We like to think of the Montana 700i as one GPS for all your outdoor activities. It's great for exploring the outdoors on a motorcycle, but it's also packed full of useful features for hikers, bikers, hunters, and pretty much anyone else who does anything active outside.
We also feel the Montana 700i is still relevant because it's noticably more compact than the Zumo, which makes it a smart alternative for smaller dual sport bikes or riders with limited dash space. The Montana also gets the nod for the best battery life in the game as it's able to run for a full 18 hours in GPS mode without the need for external power.
Truth be told if the Zumo didn't exist, the Montana would likely still be our favorite motorcycle GPS on the market. Unfortunately the Zumo is both more sophisticated and about $200 cheaper at the time of this writing, so if you only want your GPS for two-wheeled duty, the Montana is a tough pill to swallow.
Pros:
Fantastic 18 hour battery life
More compact than the Zumo
Versatile feature set for any outdoor activity
Cons:
More expensive than the Zumo XT

Fewer moto-specific features than the Zumo XT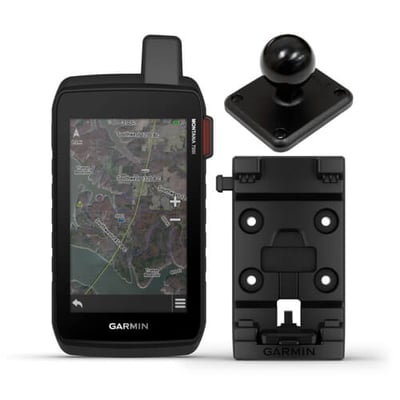 CHECK PRICE:
Garmin Montana 700i
3. Magellan TRX7 CS
Next up is the Magellan TRX7 CS, which (full disclosure) is not actually designed for motorcycle use, but makes for an interesting alternative nonetheless. Magellan GPS' are a favorite among overlanders and desert racers for their excellent pre-loaded OHV maps, so while the TRX7 may not be the best motorcycle GPS for most riders, it's fantastic for desert/off-road use.
When we say excellent, we mean both in terms of quality and quantity. Every TRX7 system comes pre-loaded with over 160,000 OHV routes to explore, and all of them are available to view either as 3D terrain maps or as 2D topo maps.
The other main advantage of the Magellan TRX7 is that it includes an integrated high-definition camera you can use to snap pictures and videos of your routes or places or interest. Magellan even included auto-record functionality for their camera which will automatically start filming your ride once you reach the beginning of your route.
Unfortunately the TRX7's massive 7" screen is far too large for your average motorcycle, so bikes without a full-sized fairing need not apply. We'll also point out that while the Magellan is reasonably dust and water-resistant, its IP54 rating isn't nearly as robust as other options on our list.
Pros:
Excellent pre-loaded offroad maps
Integrated photo and video capability
Automatic route tracking
Cons:
Too large for most bikes

Lackluster waterproofing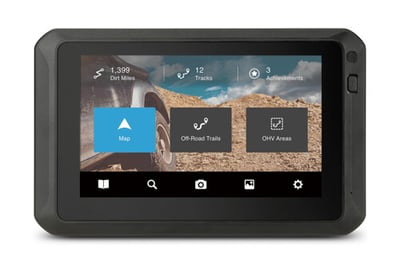 CHECK PRICE:
Magellan TRX7 CS
4. TomTom Rider 550
While the folks at Garmin have the GPS market pretty well cornered at this point, it's important to remember they aren't the only game in town. One of the best motorcycle GPS alternatives to Garmin is the TomTom Rider 550, TomTom's own take on the moto-specific GPS.
The Rider 550 includes all the basic features you'd want from any GPS (route planning, traffic updates, custom mapping, Bluetooth connectivity, etc.), but adds in a suite of fun features aimed specifically at riders. That means it's 100% waterproof and compact enough to mount on your handlebars, but it's actually the TomTom's automated route planning software that caught our eye.
Here's how it works: You tell the Rider 550 where you want to go, and then you tell it how much fun you want to have on the way. The TomTom then plots a custom route that cranks up the elevation change and twisty roads as far as you're willing to go.
Another cool moto-focused perk we'll mention here is the Rider 550's glove selection feature. This allows you to choose your screen sensitivity based on whether you're wearing thick gloves, thin gloves, or no gloves at all, which works wonders when you're riding in insulated winter gloves.
Our main complaint with the TomTom Rider 550 is that its 4.3" screen is noticeably smaller than most of the competition. We'll also point out that the screen isn't quite as bright as Garmin's latest Xumo XT, although it's still plenty bright to make out in the middle of the day with minimal squinting.
Pros:
Motorcycle specific design and features
Finds fun roads for you
Works well with any kind of glove
Cons:
Would like a larger screen

Not as bright as some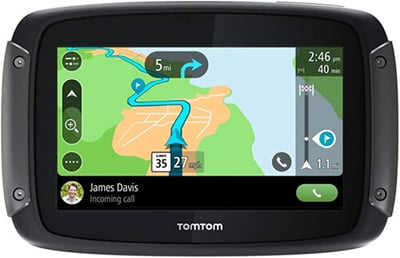 CHECK PRICE:
TomTom Rider 500 Motorcycle GPS
5. Trail Tech Voyager Pro Motorcycle GPS
Speaking of Garmin alternatives, we'd be remiss if we didn't include the Trail Tech Voyager Pro in our latest update. The Voyager is arguably our favorite option for smaller dual sport bikes with less sophisticated dashes like the Suzuki DR, Yamaha WR, and KTM 690, as it incorporates navigation, a speedometer, a tach, and even a thermostat into a single display.
One of our favorite features about the Trail Tech is its "buddy tracking" system, which allows you to keep tabs on your group when you're off the grid. This is one of the most effective and well-integrated group ride trackers on the market, and thanks to its powerful standalone antenna, delivers a healthy 5 miles of range and will even show their "trail" on your map to ensure you don't miss any unplanned detours they may have taken.
Trail Tech also incorporates modern Bluetooth connectivity in the Voyager Pro, allowing you to link up your phone and/or helmet com to interface with your smartphone. This includes everything from music to messaging, and brings it all into one central location on the Voyager's quick-access "media screen."
The main drawback of the Trail Tech Voyager Pro is installing it. Don't get us wrong, there's no denying this is one of the best motorcycle GPS options out there, but you'll have to run wires to your battery, spark plugs, and radiator to take full advantage of all its functions. We'll also point out that while the Trail Tech is a sweet piece of kit, its display and interface feel a bit dated compared to something like the Garmin Zumo XT above.
Pros:
Vehicle integrated sensors
User-friendly interface
Buddy tracking mode to keep up with your friends
Cons:
Tech feels a bit dated

Install more involved than some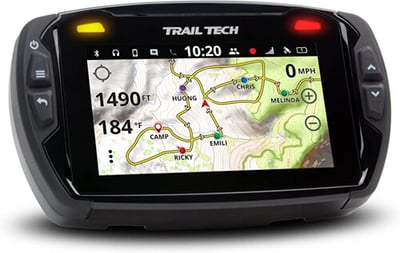 CHECK PRICE:
Trail Tech Voyager Pro
Closing Thoughts on Motorcycle GPS Units…
Well there you have it: Five standout options for the best two-wheeled navigators on the planet. These are the motorcycle GPS' we would trust to get us out of the most remote places in the world where cell service is typically somewhere between spotty and non-existant.
Don't get us wrong here, being properly lost is its own kind of type-two fun. Knowing you can always find your way back to civilization, however, is peace of mind worth having, which is why a dedicated motorcycle GPS is always an investment worth making.
→Read More: 5 Best Motorcycle Luggage Options for the Long Haul and Best Motorcycle Helmet Bags.