The Klim Badlands Jacket: It's awesome. Buy it.
Is it lightweight? No. Compact? Not at all. This jacket isn't "dainty or delicate" in anyway, and that's exactly why I like it...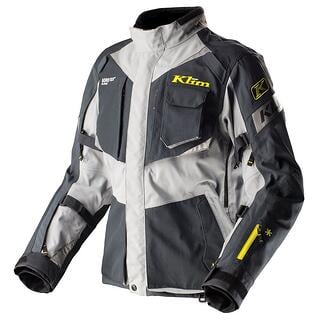 I had been riding the Klim Valdez Parka since about 2010, through every stretch of the Andes Mountains from Ushuaia to the rainforests of Colombia. Even rode through Colombia during the "La Niña" (which is like "El Niño") rainfalls, whereby rain is pretty much an all-day, every day occurance. The only times I got soaked with the Valdez Jacket were when I made some stupid mistake like leaving a zipper/seal open, or not taking care to cinch up around my neck enough. By the time I realize I'd left something open, of course it was too late. Operator error in each case.
Since putting on a few more pounds around my waist (likely caused by Indian buffets and excessive attention to this computer instead of being out exercising) I had to get a larger jacket, so I went ahead and upgraded to the Klim Badlands Pro. Before I even opened the box it came in, I wondered, "Did they send me more than I ordered?" Nope, the Badlands Jacket was alone in the box, but it seriously has the kind of structure and durability that just flat out makes it feel "significant." (Of course it's not ridiculously heavy, such that its girth is a distraction.)
The Important Points:

Fighting the Cold - Cinch it up tight and close all the vents, and the Badlands Jacket serves as an excellent outer layer to keep the cold out. Buy a size large enough that you can wear some insulation layers within, and there's no saying just how "low you can go" in terms of temperature with this jacket. Remember: "Riding cold" is being likened to "riding drunk" by many top motorcycle safety professionals, so don't mess around and be a hard-ass about this. (Google around, and you'll find info about how riding cold means you're doing so with slowed reaction time. Hopefully you know by now just how important reaction time is with motorcycle riding.)
Handling the Heat - Completely the opposite of fighting the cold, maybe the most remarkable feature of the Badlands Pro Jacket is that you can even wear it comfortably under the hot summer sun. Why? The ventilation system throughout the jacket is simply the best I have ever seen. With so many options to open this vent and close that one, especially once you're actually moving on the motorcycle and the air is flowing around you, trust me, you'll feel it keeping you cool inside the jacket. (NOTE: If you still need more cooling, see my review on the Macna Dry Cooling Vest here.)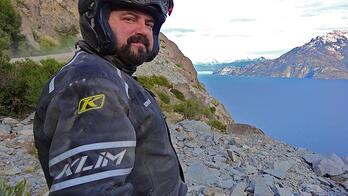 Absolute Durability - Kid you not, this jacket feels bulletproof! Well, if not bulletproof, it feels as though I could handle an attack by baseball bat or unwanted encounter with pavement/gravel and just get up and walk away. As mentioned above, it just has an extremely dense, rugged, rough and tough feeling to it that I absolutely crave in motorcycle gear. That does mean it's a bit heavier than other jackets, so if you're planning on some ultra-light backpacking off the motorcycle, maybe another jacket is for you. For me though, durability and safety are far more important than packability, so the Badlands Jacket is an asset. (Above/right: John from Heidenau Tires sports the Badlands Jacket during our "Patagonia Experience" motorcycle trip in March.)
Water Proof - As it was with the Valdez Parka before, just making sure all the wrists, vents, zips, collar, and everything are synched up properly seems to be enough to keep my dry. As a motorcycle tour guide, I simply cannot take the chance of using gear that doesn't perform the way it's supposed to, so that's probably why I continue to rely on the Klim gear. (Imagine that: Customers paying $6,000+ for a guided Patagonia Tour, only to see their motorcycle guide sit there shivering, sick, cold, and wet in the Andes Mountains.)
Do you pay for it? Yes, the Klim Badlands Jacket is certainly on the upper end of the pricing spectrum, but as we hear the often-accurate saying ringing in our ears again: "You Get What You Pay For." It's just a fact of life, folks...if you go cheap, you'll often end up with gear that can be more of a nuisance than an asset. Buy the right gear to begin with, and it'll serve you well for years to come!

Hope that helps.