With abrasion resistance, armor, and high-tech features that Batman himself could aspire to, few adventure jackets are as coveted as the Klim Badlands Pro, but is this high-performance jacket worth it's high price tag?

When you think of bulletproof adventure gear, Klim is the first name that comes to mind for the overwhelming majority of riders.
The Klim Badlands Pro jacket is the flagship product that earned Klim their reputation more than any other, and we've put more than our fair share of miles on them over the years on our tours and in our training classes.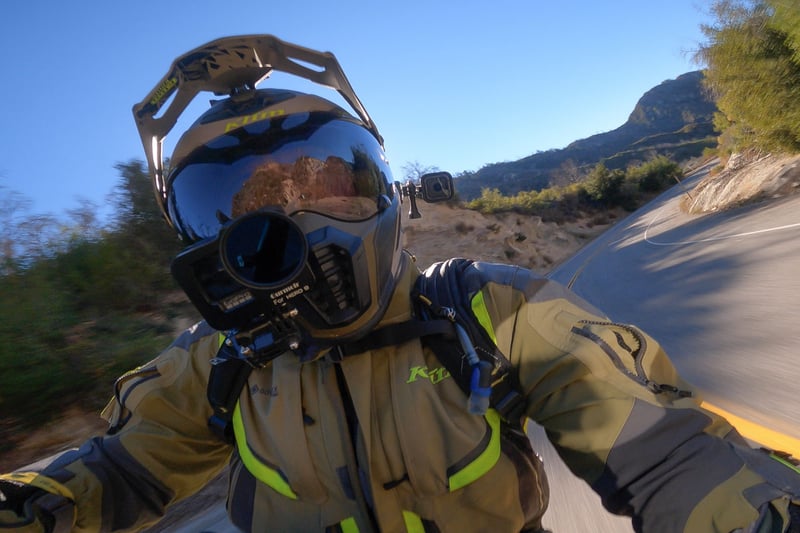 "Garrett the camera guy racking up the miles on his Badlands Pro jacket."
In the article below, we'll share our first-hand impressions of how this adventure jacket performs in the real world. We've had the Pro in every sort of weather and terrain on damn near every continent at this point, so we can confidently say we've put it through its paces.
Before we dive into the details though, let's take a step back and review the essential features we look at when evaluating any ADV jacket worth owning.
What Makes A Good Adventure Motorcycle Jacket?
In our experience, the best adventure jackets all share a few key features. The Klim Badlands Pro exemplifies all of them, so let's break those down here for reference.
First, as always, is safety. Safety comes in two main forms for any good piece of motorcycle gear: Abrasion resistance and impact resistance.
On the abrasion resistance front, we look for the most rugged and durable materials possible. Abrasion resistant fabrics like Cordura, high denier nylon, and ceramic-infused Superfabric will save your skin in a slide, and they also translate to hard-wearing and long-lasting garments as well.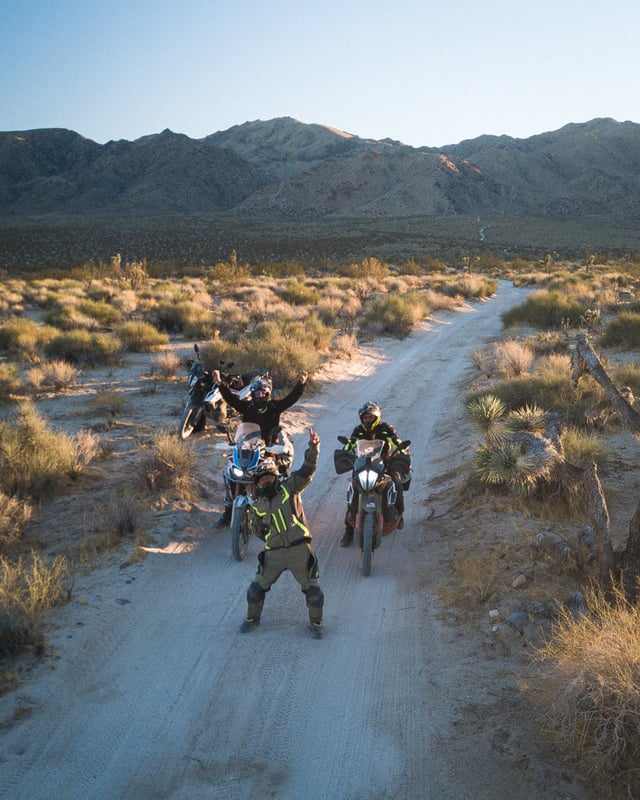 "Rocking the Klim Badlands Pro on a tour through Joshua Tree National Park."
Impact resistance, on the other hand, refers to both the quality and quantity of armor that comes with an adventure jacket.
While we often prefer to pull the armor out of a jacket and rely on standalone systems like the Alpinestars Bionic V2, they aren't for everyone, and premium jackets should come with premium CE-rated armor in the shoulders, elbows, and back.
Aside from safety, there are two other essential factors we look for in any good ADV jacket: Waterproofing and ventilation.
Waterproofing comes in many forms, and while proprietary waterproof-breathable membranes are getting better every day, Gore-Tex laminated fabrics remain king of the heap in our book.
We find the best jackets feature waterproof membranes baked into their shells for maximum performance and minimum bulk, but there are plenty of great jackets out there that use standalone/removable waterproof liners as well.
As for ventilation, the more adjustable vents a jacket has the better, so long as they don't compromise it's waterproofing in some way. We also look for jackets with both front and rear vents along the chest, back, and arms whenever possible, as they do the best job of pulling cool air in and pushing warm air out.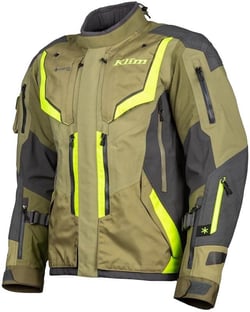 CHECK CURRENT PRICE:
Klim Badlands Pro Review: 10 Years and Going Strong
Running an adventure touring and training company for 23 years comes with some serious perks, not the least of which being you end up testing gear to its limits by default.
Our first experience with the Klim Badlands Pro came in the form of its first iteration back in 2013, and we've owned, used, and thoroughly abused every model since.
This gives us the unique privilege of being able to say that the Badlands Pro has always an absolute tank of a jacket, and also that each iteration has been even better than the last.
For this Badlands Pro review, we're focusing on the latest and greatest, but if you've got any questions about models that came before, feel free to drop them in the comments below.
Protection on the Klim Badlands Pro Jacket
The OG Badlands Pro had a hard earned reputation as one of the safest adventure touring jackets money could buy, and it's clear that Klim has fought hard to maintain its notoriety.
If you want to defend the title of the best adventure jacket on the market, you can't skimp on quality, and the new Badlands has all the latest and greatest safety features money can buy.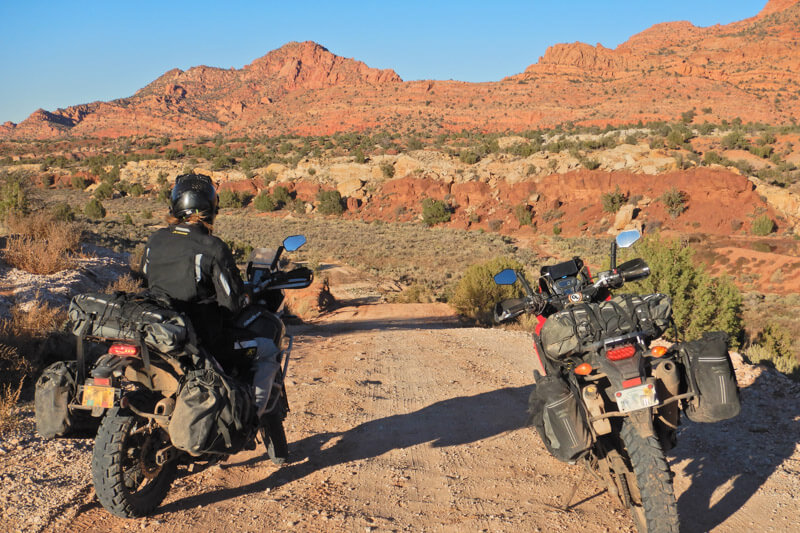 "We can confirm: The Badlands is desert-approved."
Starting with its abrasion resistance, the Klim Badlands Pro uses a blend of the toughest fabrics in the world to to save weight where possible without compromising anything in terms of safety.
Ceramic-infused Superfabric, which is widely acknowledged as the toughest stuff in all of motorcycledom, is found in the most abrasion and slide-prone areas, the shoulders and elbows.
Other high-wear areas get 630D Karbonite Ripstop, while the chest benefits from Kevlar-infused 630D Cordura.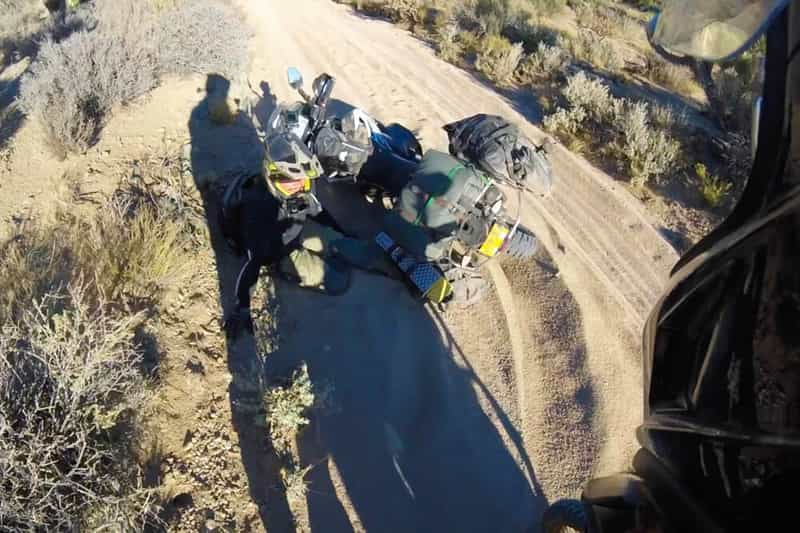 "Yes, we've crash tested the Badlands Armor. Yes, it works exceptionally well."
As for the armor, let us start by saying yes, we've already crash tested Klim's latest Aero Pro D3O, and can confirm that it does its job when called upon. We love this stuff as it's soft and flexible, well ventilated, and yet still protects well enough to achieve a CE level 2 rating.
Klim doesn't stop there with the armor though, in fact the Badlands Pro is one of the most well armored jackets money can buy right off the shelf.
You're also getting a D3O Viper Pro ventilated back protector, Poron XRD pads in the chest, and additional padding in the arms and sides of the jacket for added protection in less at-risk areas.
Weatherproofing on Klim's Badlands Pro Jacket
Starting to get the picture here? Spoiler alert, Klim doesn't cut any corners when it comes to weather protection either.
In fact, the Klim Badlands Pro gets the best waterproofing money can buy, courtesy of a Gore-Tex Pro 3-layer membrane. We've ridden through rainstorms, creeks, snow, and sleet in the Badlands Pro, and it's never leaked a drop on us once. This stuff just works.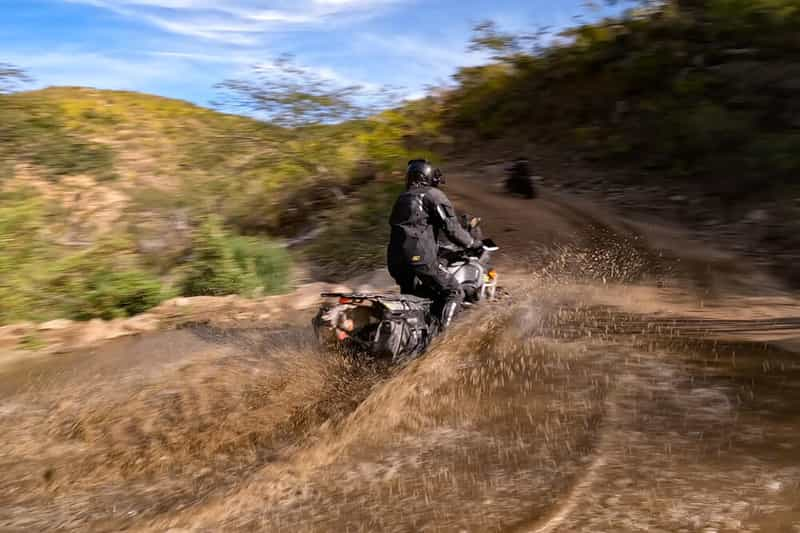 "Waterproof? Check."
In fact, the only real downside of Gore-Tex Pro is that because it's laminated to a much thicker and tougher fabric, it doesn't breathe quite as well as some less-robust Gore-Tex options.
To account for this, Klim also went harder than ever before with the new Badlands' ventilation scheme, which now includes a whopping 12 vents, all of which are strategically placed both at the front and rear of the jacket for outrageous amounts of airflow on warmer days.
Comfort/Wearability
While the Badlands Pro is more optimized than ever, the substantial feel of the previous generations is still well in-tact. It's definitely a bit heavier than your average ADV jacket, but thanks to improved gussets at the shoulders and underarms, it never sits uncomfortably and moves with you well as you work around the bike.
The interior lining is surprisingly soft and moisture-wicking, and we particularly appreciate the little comfort-focused touches like the super-soft leather trim lining the cuffs and the sueded liner around the collar.
There's also a ton of adjustment integrated into the Pro at the collar, arms, hem, and cuffs, so dialing in a properly snug fit that works with your layers is easily achieved.
In fact, the only time we'd say comfort can be a bit lacking with the Badlands Pro is when we're riding off-road in the hottest climates. Coming through Baja in the hotter parts of the year, for example, can get a little sweaty.
Truth be told we'd expect the same thing from anything shy of a mesh-heavy summer weight jacket or motocross jersey though, and for a big ol' tough-as-balls four-season touring jacket, the Badlands holds its own impressively well in the heat.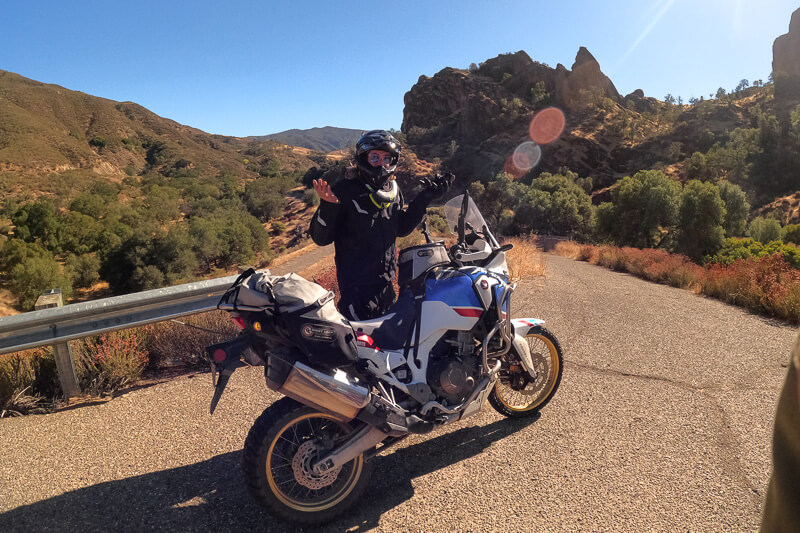 "Weather changes, and the Klim Badlands Pro adapts."
In any other condition, from warm spring afternoons to chilly winter nights, there's no jacket we'd rather have on our shoulders on an adventure tour.
With no need for an additional waterproof layer underneath, we love that we're free to stack base and mid-layers to our heart's content, and dialing in a happy medium with the Klim Badlands Pro is always a fast and bulk-free affair.
Durability on the Klim Badlands Pro
As you might expect reading that laundry list of spaceage-sounding materials, durability is an absolute non-issue with the Badlands Pro.
This jacket is meant to hold up to years and years of constant abuse without a single complaint.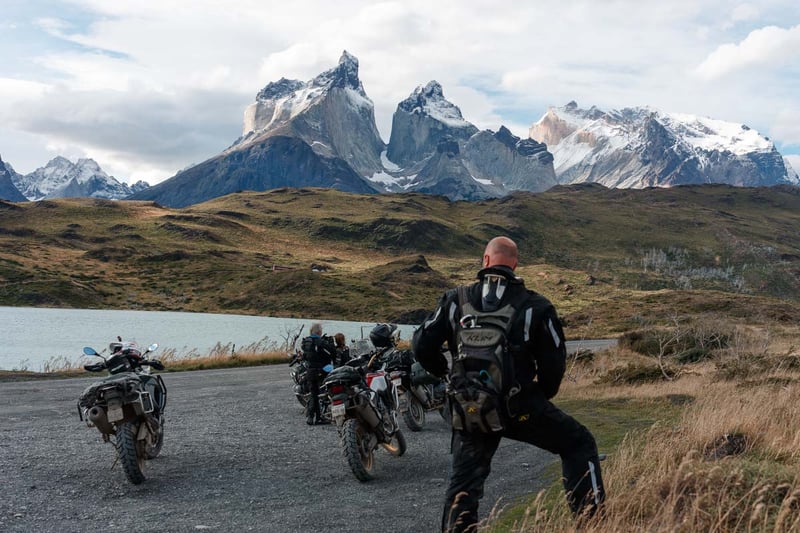 "Eric flexes for the camera in Patagonia, where his Badlands jacket and pants have handled thousands of miles of wind, rain, and snow without issue."
Let us put it like this: Our first Badlands jacket (the one we bought back in 2013), is still 100% usable to this day. That's after roughly 8 long years of constant touring in ever-changing conditions, countless roadside repairs, a handful of minor crashes, and everything in-between.
If that's not a vote of confidence, we don't know what is.
We give Klim's usage of Superfabric particularly high marks in this regard.
We've spent so much time crawling around on our knees and elbows repairing bikes on asphalt, concrete, rocks, whatever, and have never managed to wear a hole or break a stitch on this stuff. It's utterly bombproof.
"Eric returns from 12 long years lost at sea with a drybag full of treasure and his Badlands jacket looking fresh as the day he bought it."
In our experience, nothing short of a serious pavement get-off is going to damage a Badlands Pro jacket beyond repair.
These jackets have survived dozens upon dozens of off-road crashes over the years without sustaining any serious damage, and we expect the latest Badlands Pro to be the most durable and longest lasting model yet.
Value
For most potential owners of the Klim Badlands Pro jacket, value is the only serious barrier to entry. There's no easy way to say this: Owning a new Badlands Pro will set you back about $1200.
Ultimately, we keep coming back to the Badlands for two reasons: Performance and durability.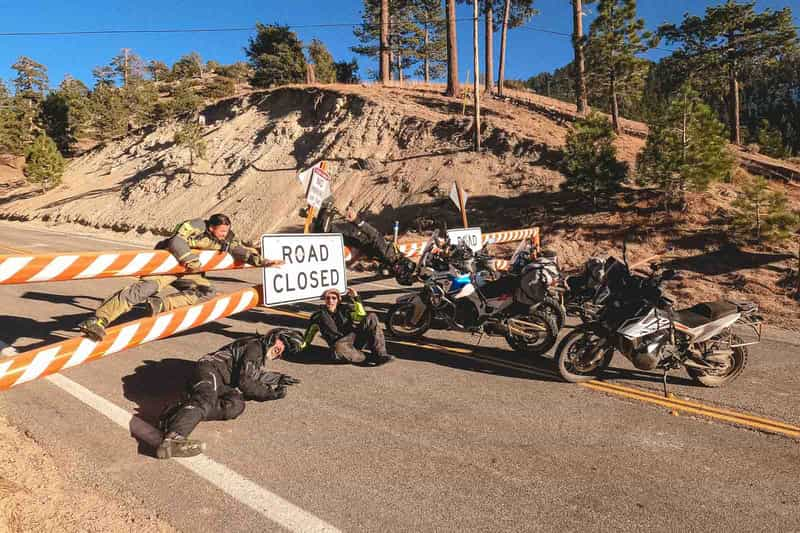 "Adventure riding often includes a few unexpected twists and turns, and having one jacket that can roll with the punches adds serious value."
Simply put, this jacket lacks nothing in terms of performance, both from a safety and weather protection standpoint.
The fabrics are all cutting edge and tough as nails, the armor is high tech and highly protective, ventilation is absolutely outrageous, and that Gore-Tex Pro laminate is utterly impenetrable.
As for the durability factor, we'll put it this way: We believe the Badlands Pro is as durable as you'd have every right to expect from a jacket this expensive.
That means every inch of this jacket, from the fabrics to the stitching to the zippers, is built to last a solid decade, and that's with very heavy and near constant use.
Are there less expensive jackets out there that will keep you safe and dry? Absolutely. Can they do it as well as the Badlands Pro, for as long as the Badlands Pro? Absolutely not.
Final Verdict: Klim Badlands Pro Jacket
No one needs a $1,200 dollar jacket to get out there and enjoy adventure riding in all its glory. Plain and simple, there are much less expensive ways to get out on the road.
With that being said, we've found the Klim Badlands Pro jacket to be the textbook definition of the "buy once, cry once" ethos.
This jacket is an investment in comfort and safety for years to come, and one we have found over countless thousands of miles to be worth every penny.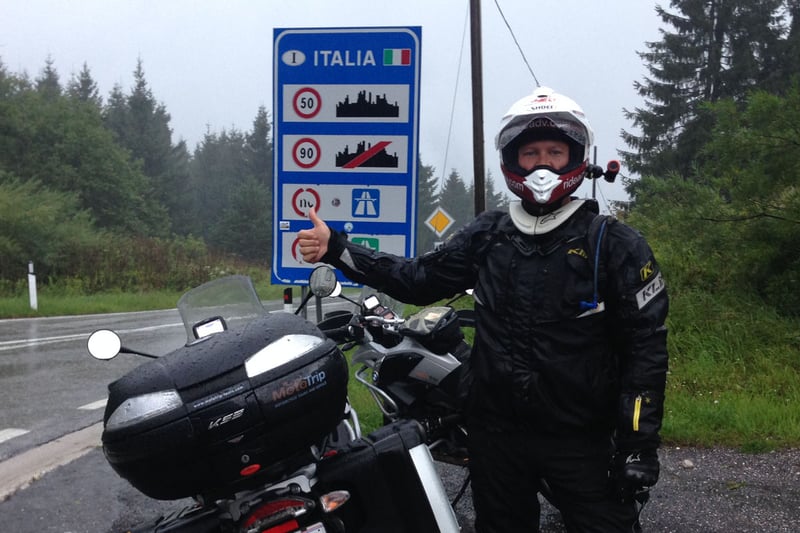 "Even in the worst weather, the Badlands get a big thumbs up from our team."
It's the best of everything, all wrapped up in a bombproof package that's ready to tour the world for as long and as far as you're willing to go.
If you're a new rider, a fair weather rider, or someone who only gets out on the bike handful of times every year, chances are you need not apply as this jacket is 100% overkill.
If you're serious about your safety and value your seat time the way most folks value gold, oxygen, and a warm bed, this is without a doubt the jacket you're looking for.
Take our word for it: The Klim Badlands Pro does not disappoint.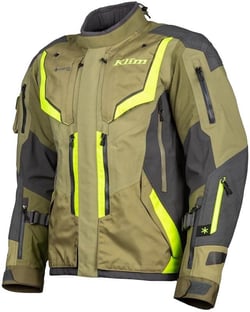 CHECK CURRENT PRICE:
Klim Badlands Pro Jacket

Thanks for reading our Klim Badlands Pro review article. We hope this helped you decide which motorcycle jacket is right for you.
→Read More: 8 Best Adventure Motorcycle Boots and Best Adventure Motorcycle Gear for any RIDE.