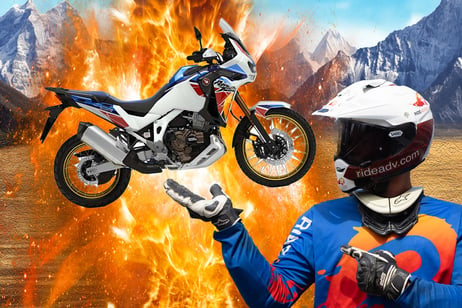 Disclosure: RIDE Adventures is a participant in the Amazon Services LLC Associates Program as well as other affiliate programs, designed to provide a means for us to earn fees by linking to Amazon and affiliated sites at no extra cost to you. Please see our Disclosure for more details.
The return of the legendary Honda Africa Twin was big news back in 2016, but how has the reinvented ADV held up in the meantime? Here's our take after six years and hundreds of thousands of miles on the big CRF.
It's pretty incredible how much the adventure motorcycle landscape has changed in six short years.
Back in 2016, if you wanted a serious full-sized ADV, you basically had two options: Shell out $17,000 for a fire-breathing KTM 1190 Adventure R, or refinance your house and go the traditional route with the latest BMW R1200GS Adventure.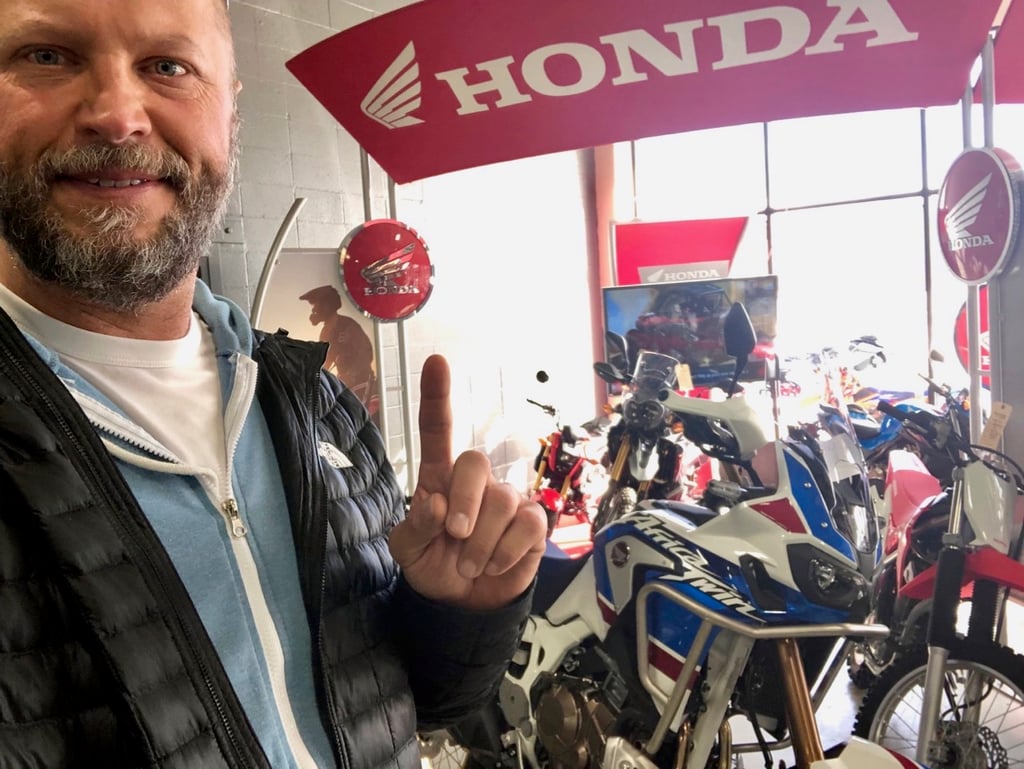 "Eric bringing home our first (but far from last) Africa Twin in Oregon."
Triumph's Tigers were still earning their stripes, the big four were still cranking out unabashedly street-biased machines like the V-Strom and NX700, and Italy was simply doing what they do best, building sport bikes in sheep's clothing like the Ducati Multistrada and Aprilia Caponord.
Then came the Africa Twin: Literbike power, dirt bike wheels, long travel suspension, and... a parallel twin engine???
We weren't sure what to think when we first heard the news. BMW had something similar going on with their F800 GS platform and the results up until that point had been... shall we say... less than exciting.
Luckily our enthusiasm for the Africa Twin's history and Honda's reputation for reliability outweighed our reservations, and we decided to dive head first into the new model, adding them to our fleet and testing them all over the world from Oregon to Chile.
Six years later, after putting over 30 Honda Africa Twins to work over nearly a million miles, we're ready to share the most comprehensive review potential owners could ask for.
Honda Africa Twin Specs
The Honda Africa Twin's spec sheet was a bit of a surprise when it first launched: A big parallel twin engine, 21/18 inch wheels, long-travel suspension...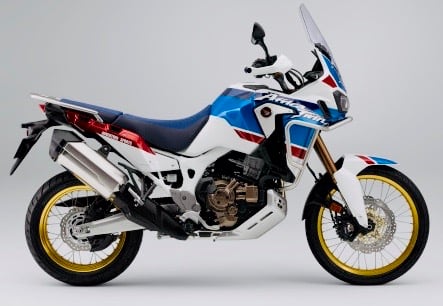 "2017 saw the introduction of the premium Adventure Sports trim seen here."
Of course all of these things would become the norm in the years that followed, which (in our humble opinion) says something about just how good the Africa Twin formula was to begin with.
There are some differences between the facts and figures of different models (like the Adventure Sports and automatic DCT versions), but here are the basic stats on the first-generation bikes.
2016-2018 Honda Africa Twin Engine:
Engine Displacement: 998cc
Type: 22.5-degree parallel-twin
Cooling: Liquid-cooled
Bore x Stroke: 92.0mm x 81.5mm
Valve Train: Unicam 4-valve
Fueling: Fuel Injection
Max Power: 94 hp @ 7,500 rpm
Max Torque: 72 foot-pounds @ 6,000 rpm
Transmission: 6-Speed
Clutch: Cable actuated
Final Drive: Sealed o-ring chain
2016-2018 Honda Africa Twin Chassis, Suspension, And Brakes:
Front Suspension/Travel: Fully adjustable Showa 45mm/ 9.1 in
Rear Suspension/Travel: Fully adjustable Showa monoshock/ 8.6 in
Front Brake: Nissin 4-piston/ 310mm disks
Rear Brake: Nissin 2 caliper/ 265mm disk
Front Wheel: 21-inch, spoked, tube type
Rear Wheel: 18-inch, spoked, tube type
Front Tire: 90/90R21
Rear Tire: 150/70R18
Honda Africa Twin Dimensions:
Rake (Caster Angle): 27 degrees
Trail: 4.4 in.
Ground Clearance: 9.8 in
Seat Height: 34.3/33.5 in
Wheelbase: 62 in
Fuel Capacity: 4.9 gal
Fuel Economy: Approx. 50mpg
Wet Weight: 503 lbs. (standard model)
Honda Africa Twin Instruments and Electronics
Headlights: LED
Tail light: LED
Instruments: Multi-panel LCD
Rider Aids: Selectable ABS, multiple rider modes, traction control
Honda Africa Twin: The Good and Bad
As a year-round adventure touring company, the bikes in our fleet see near-constant use in ever-changing conditions.
The Africa Twin is one of the most common bikes you'll see out on our tours and in our classes, which puts us in a unique position: We've got an ungodly amount of real-world data and experience with these bikes.
Rather than a single review coming from a single rider's experience, what follows here is the culmination of a massive sampling of more than 30 motorcycles over a six-year span.
That's six years of hard riding, six years of routine maintenance, and six years of documented issues, both common and otherwise.
Here's what we've found.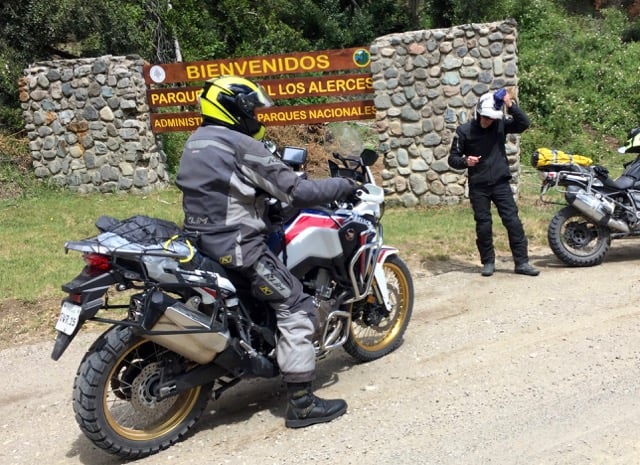 "Getting dusty in Argentina aboard the Africa Twin"
Honda Africa Twin: The Good
Reliable engineering
Light and nimble for a heavyweight
Buttery smooth transmission
Fully adjustable suspension
Modern electronics suite
Looks and sounds great
If you caught our initial review of the Africa Twin, you'll know there's a lot to love about this bike. Perhaps most important for us has been its unfaltering reliability, so let's start there.
As an ADV touring outfit, we can't afford to put our customers on bikes that don't perform in the field. This goes double for our self-guided riders, who don't have the luxury of a chase truck to handle any roadside problems.
We're happy to report that we've had zero mechanical or reliability issues with the Africa Twin to speak of in the last six years. Zero.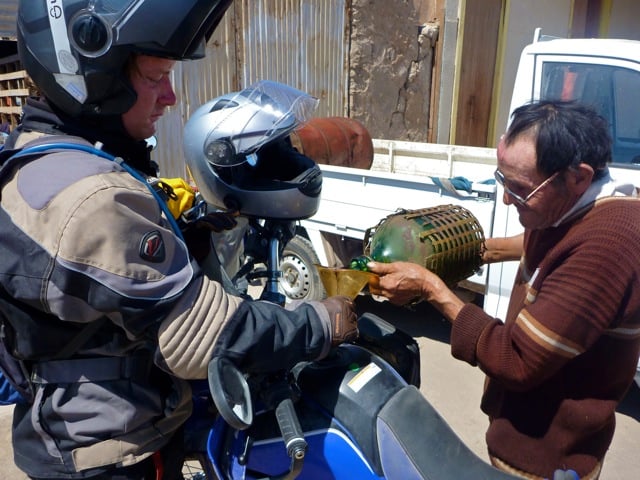 "A typical fuel stop in South America: Sketchy yellow gasoline from a gallon jug."
Much of this is due to the low-stress design of the Unicam engine, which uses comparatively fewer moving parts than most two, three, or four-cylinder engines.
We'll also note that the Africa Twin benefits from a much lower-than-average compression ratio of just 10.0:1, whereas most premium ADVs are somewhere between 11:1 and 14:1.
We see two benefits from this design. The first is that lower compression means lower stress on the engine overall, which bodes well for longevity.
The second is that in more remote parts of the world where gasoline quality is questionable at best, the Africa Twin is completely comfortable running on sub-par fuel.
Real World Performance
As for actual on and off-road performance, we've been incredibly satisfied with the bike. One of the first things we noticed about the Africa Twin when it launched in 2016 was that despite its 1,000cc engine and full-sized dimensions, the bike felt lighter than any of the other big ADVs we'd tested.
We found two main reasons for this: The first is its parallel twin architecture, which allows for lower and more centralized mass, and the second was its actual weight, which was about 15 pounds less than the KTM 1190 of the time and a full 70 pounds less than the hulking BMW GSA.
"The Africa Twin loves nothing more than a day in the dirt down in Baja."
The Honda also feels surprisingly nimble and easy to ride (especially in the dirt), which was a first for a big bike in our experience. We chalk that up to its excellent rider triangle and narrow feel between the legs when standing on the pegs.
The Honda Africa Twin's long travel suspension follows suit here as well, soaking up big hits and small chatter alike. We've found it virtually impossible to bottom out, especially when the fully-adjustable suspension is properly tuned for the job.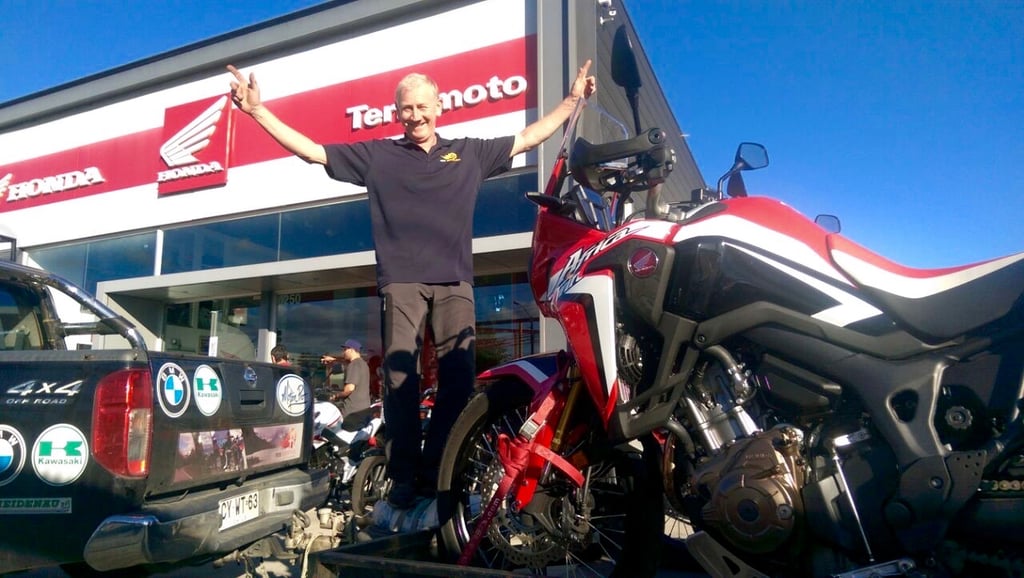 "A dealership-fresh Honda Africa Twin off to join our fleet in South America."
We'll also note that while electronic rider aids aren't everyone's cup of tea, the first gen Honda Africa Twins were impressive in this regard, especially for the time.
The adjustable traction control combined with rear switchable ABS allows for the ideal amount of rear wheel slip when offroad, while still doing a great job of keeping the bike under control when you get in over your head.
Lastly, we'd be remiss if we didn't give Honda props for the look, sound, and feel of this bike. We're particularly fond of the red/white/blue color scheme, and when paired with the right exhaust, you'll struggle to tell the difference between the Unicam parallel twin engine and the satisfying rumble of a big honkin' V-twin.
Honda Africa Twin: The Bad
Poor heated grip placement
Not as powerful as other heavyweights
Single piece subframe
Center stand costs extra
Fork seal issues
Fuel tank liner issues (Adventure Sports model)
Rear taillight wants to rattle apart


While we can confidently certify the Honda Africa Twin as an absolute tank, no bike is perfect. This one comes damn close, mind you, but we've noticed a few common shortcomings between the bikes in our fleet we'll note here as well.
The first is the heated grips on the Adventure Sports models. We don't mind paying extra for a few creature comforts, but for some reason Honda's factory heated grips are exactly where you'd normally place the webbing of your clutch hand, which means you'll be switching it on and off accidentally all the time if you're not paying attention. Minor nit-pick, but annoying just the same.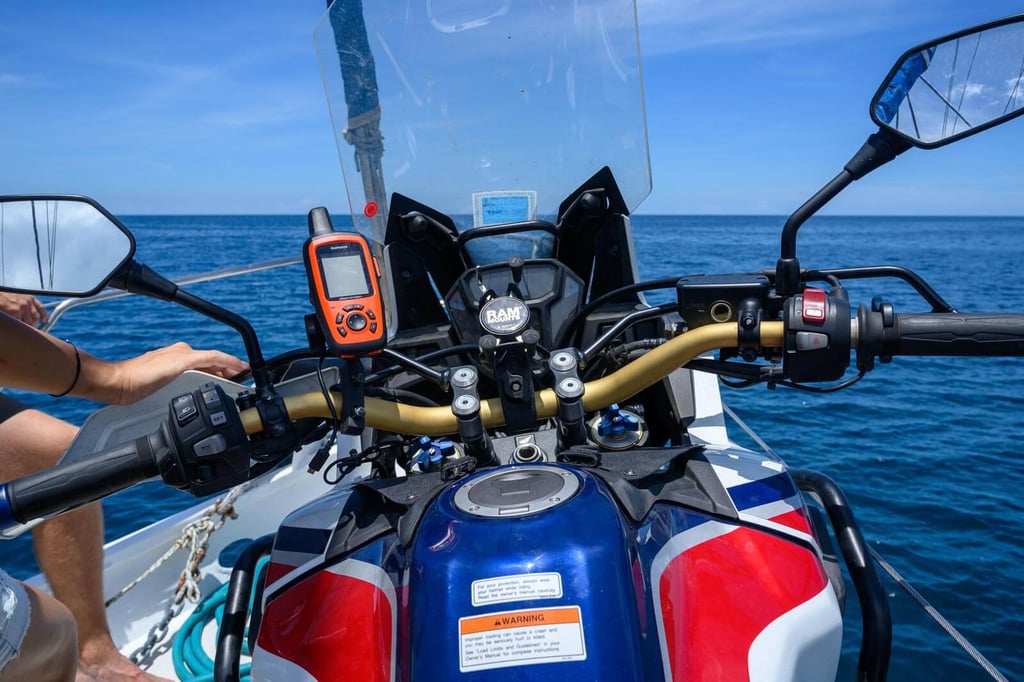 "Notice the heated grip button on the left, which is basically just part of the grip itself for some reasons we'll never fully understand."
Our second complaint is with outright engine performance. While referring to a 100-horsepower powerplant as "lacking power" feels a little ridiculous, there are definitely times we find ourselves wishing for the extra grunt of something like the KTM Super Adventure or BMW 1200, especially when loaded down in 5th or 6th gear.
We also don't love that Honda uses a single-piece welded subframe in the Africa Twin, which means should you happen to damage or break the subframe in a crash, you're effectively damaging the entire frame of the motorcycle.
We haven't had any issues with subframe damage over the years, but we don't cherish the thought of shelling out big bucks to have an entire frame replaced outside of warranty.
Long Term Issues
All of these are problems we noticed during our first year with the Honda Africa Twin in our fleet, but we've also picked up on a few common issues over the five years and several hundred thousand miles that followed our initial take.
The first is fairly well documented by owners, which is that the fork seals seem a little too eager to leak after a fair amount of off-roading.
Honda chalks this up to an issue with the anodizing used on the forks of the early models, which rubs the seal wipers the wrong way causing premature wear.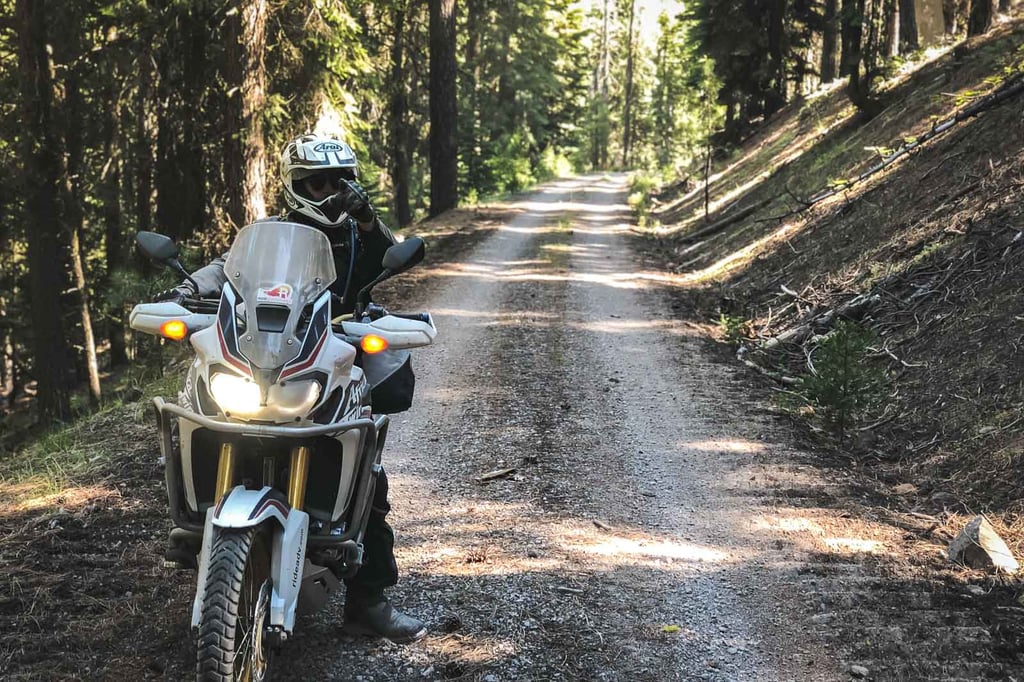 "The Honda's fully adjustable fork is impressively capable, but more leak-prone than most."
We've been able to offset this issue with good results using a set of Seal Savers/neoprene booties on our fleet vehicles.
Seal Savers aren't a miracle cure by any stretch, but we were able to get the seals much closer to a typical lifespan by throwing some extra protection on the forks.
We'll also mention there's been a well-documented issue with the tank liner treatment in the early Adventure Sports models. Long story short the lining breaks down and winds up clogging the fuel filter, which isn't something you want to deal with when you're 1,000 miles from nowhere.
Luckily Honda took ownership of the issue and corrected the problem under warranty, so if you're considering a used Adventure Sports model yourself, you'll want to check that the work has been done. This issue was fixed after the 2018 model year, FYI, so if you're looking at a newer model, don't sweat it.
Last but not least, we've had a few issues with the plastic brake light housing rattling apart over time. This is definitely a minor nitpick and more of a torque/fitment issue than anything, but you'll want to check the fasteners around the light/passenger grab handles/rear rack periodically to make sure everything is nice and tight.
Final Thoughts on the 2016-2018 Honda Africa Twin
New models can be hit or miss, and the Honda Africa Twin was as new as they came back in 2016. An all-new engine, chassis, and electronics package leaves a lot of room for error, and this big ADV is one of the most error-free bikes we've ever had in the fleet.
You could say we owe the Africa Twin a debt of gratitude: A major part of our success (or failure) rides on both the performance and reliability of the motorcycles in our fleet, and this one has proven to deliver both in spades.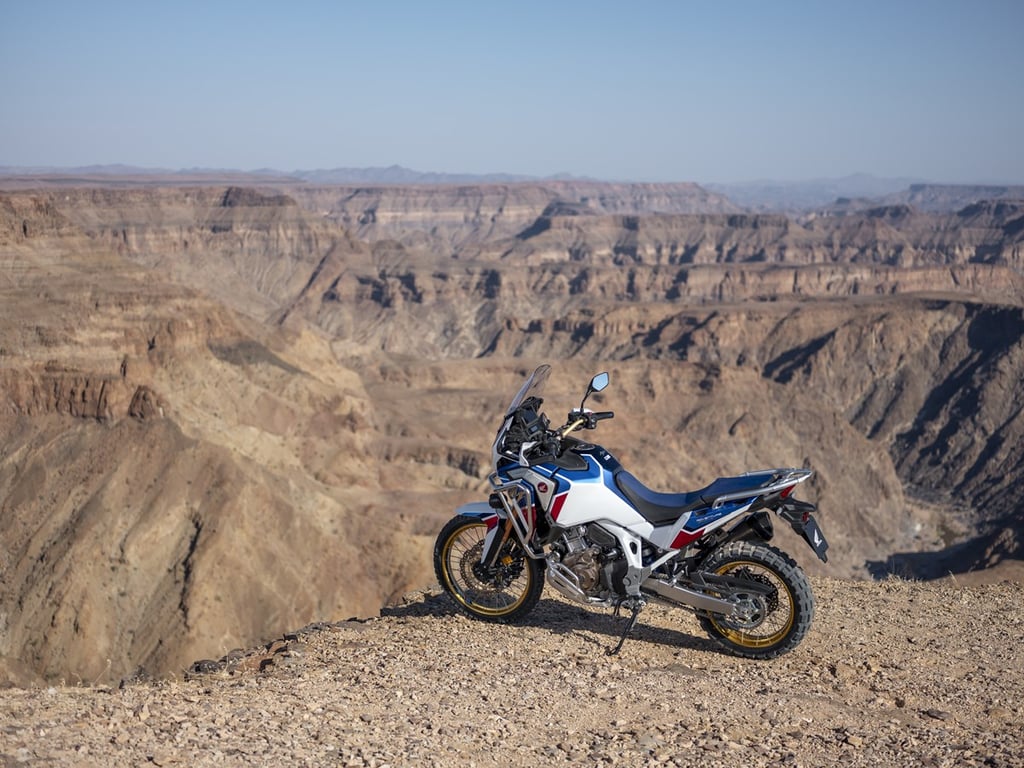 "If getting way out there without having to worry about reliability is a priority, this is your steed."
Long story short, if you're considering picking up a used 2016-2018 Africa Twin, you won't be disappointed. The minor tweaks and advancements of the newer models may steal the headlines, but the original never really wanted for anything, and is an utterly bombproof investment for anyone looking to go explore far and wide.
→Read More: 2023 Honda Transalp 750: What to Expect and Best Adventure Motorcycle Gear for any RIDE.