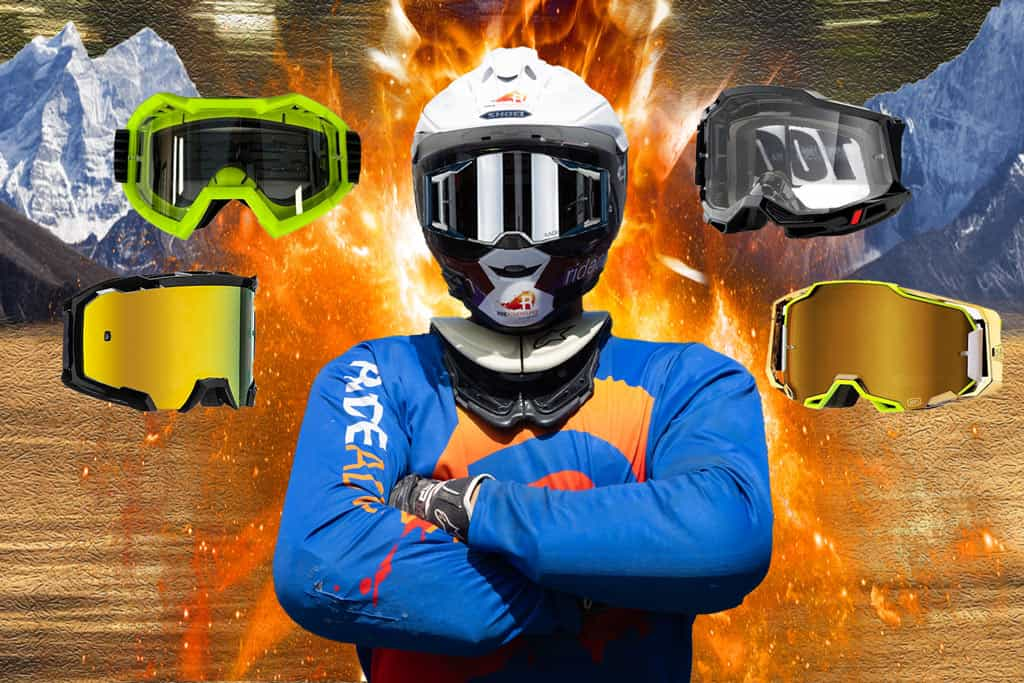 Disclosure: RIDE Adventures is a participant in the Amazon Services LLC Associates Program as well as other affiliate programs, designed to provide a means for us to earn fees by linking to Amazon and affiliated sites at no extra cost to you. Please see our Disclosure for more details.
More air for your face, less dust for your eyes: What's not to love? Motorcycle goggles are a no-brainer for off-road riding. Here's how to choose your next pair.
Adventure riders cover a lot of ground. If you're anything like us, a decent portion of that ground alternates between dust, sand, and mud, all of which are things you want to keep out of your precious peepers.
In addition to being downright annoying and a sizable safety concern, getting too much dust or sand in your eyes can lead to painful corneal abrasions.
In addition to being itchy and unpleasant, these injuries also come with the unwelcome benefit of looking aggressively stoned for the better part of three straight days.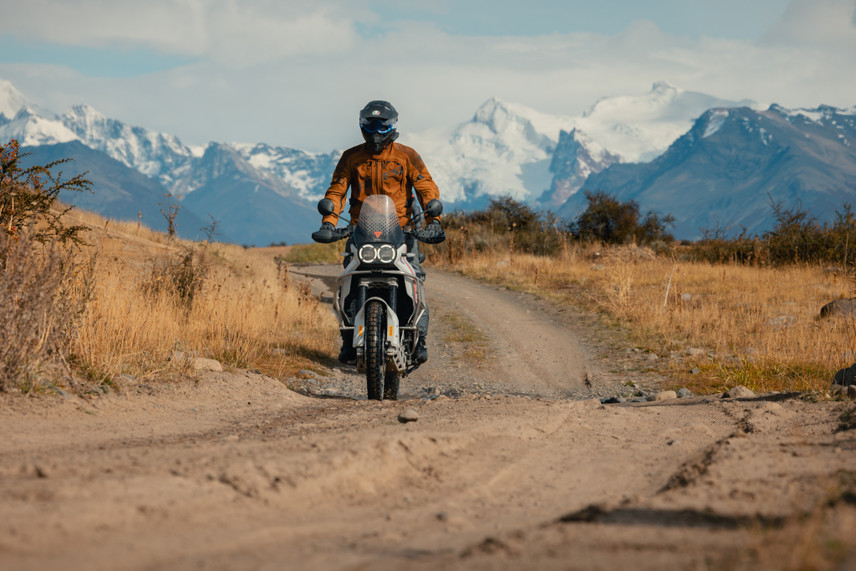 "There's a reason the pros wear eye-pro in the dirt" Photo: Ducati
The right pair of motorcycle goggles will protect your eyes, but can also boost contrast and visibility in sub-prime conditions.
They'll keep sweat out of your eyes and get more fresh air circulating into your helmet (both on road and off), which makes them particularly sweet for hot days around town.
What to Look For in Motorcycle Goggles
Motorcycle goggles come in all shapes, sizes, and price points. Unfortunately many of them look damn similar (several even share the exact same lenses), so knowing what works and what doesn't for both your riding style and your helmet of choice can be tough to figure out from behind a keyboard.
To that end, here are a few of the main features we look for when choosing a pair of motorcycle goggles for ourselves.
Size and Fitment
In a perfect world, anyone looking to wear motorcycle goggles would buy the same top-shelf goggles used in off-road competitions like motocross or desert rally.
Unfortunately, those goggles are made specifically for dirt-focused lids, which often means they're too large for street and/or adventure motorcycle helmets.
There aren't any hard-and-fast size standards when it comes to motorcycle goggles, but there are definitely some we'd call "small frame" and others we'd call "large frame."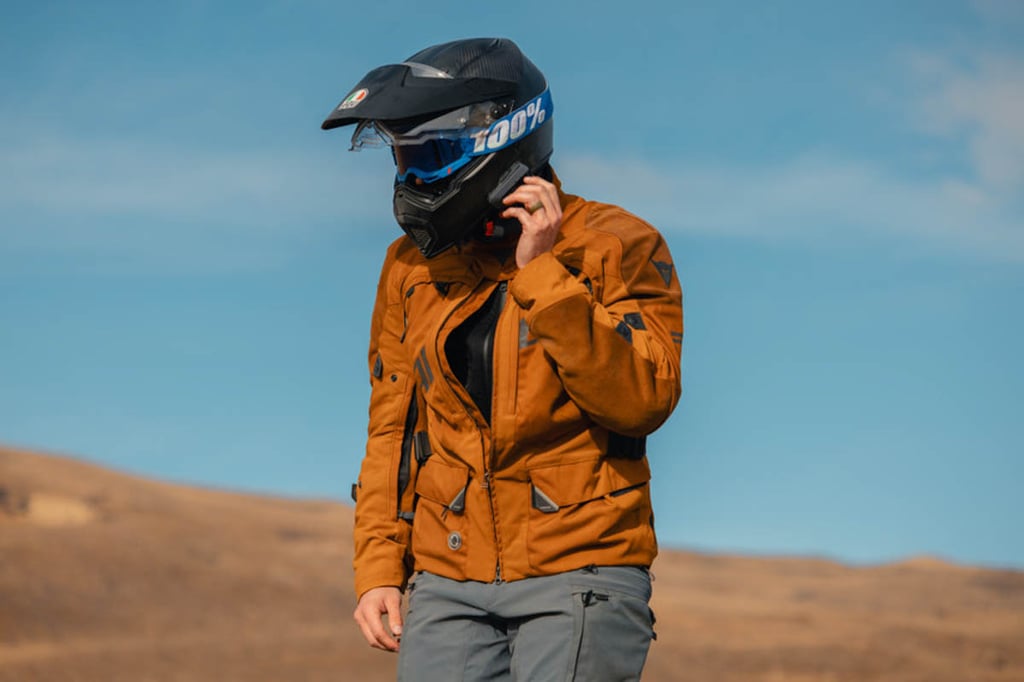 "Even the fairly compact 100% Accuri 2 is a bit of a squeeze for certain helmets like this AGV AX9 Carbon" Photo: Dainese
Most adventure riders and/or dual sport junkies will likely need to stick with smaller frame goggles, as they're much more likely to fit into the viewport of your helmet, especially when working around a flippable face shield.
This also goes for motorcycle goggles featuring outriggers, which are the extended strap holders you'll often see in motocross or enduro goggles.
Outriggers are great because they allow your goggles to sit deeper inside the helmet and therefore closer to your face, but many adventure helmets simply don't have enough space to fit these larger goggles, especially if you want to be able to raise and lower your face shield on the fly.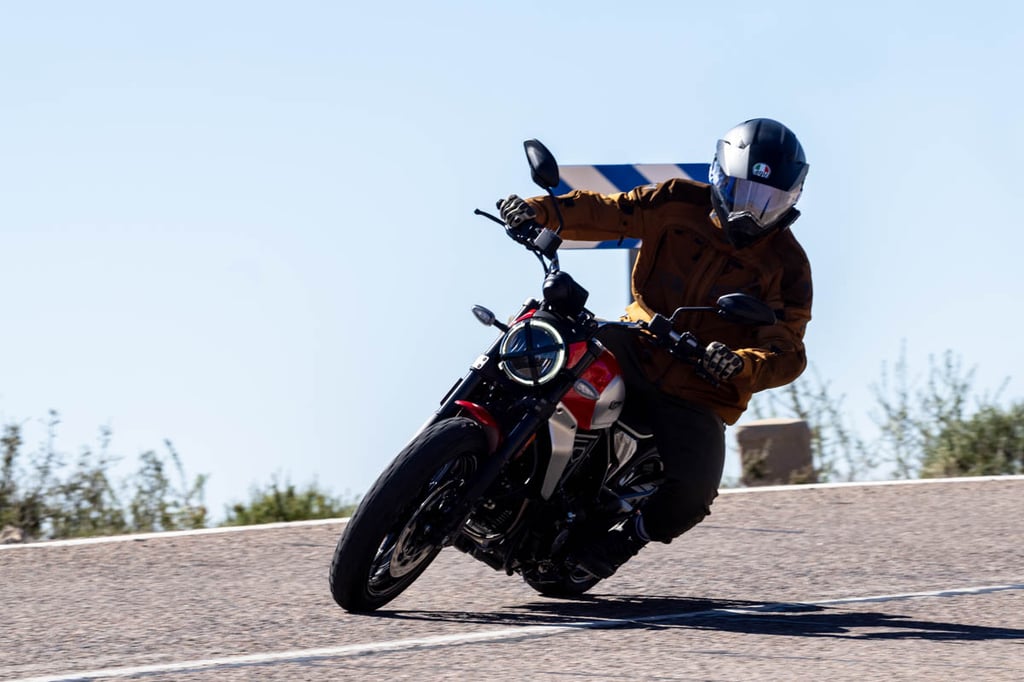 Photo: Ducati
You'll want to do a little independent research on this point to ensure your helmet of choice is compatible with your goggles of choice.
If you can fit a larger framed goggle with outriggers into your helmet, more power to you (these features typically offer the widest field of vision and the best seal against your face), but most of us will be relegated to simpler options and should shop accordingly.
Ventilation & Moisture Management
Offroad riding is much more active than typical road riding: You're moving around on the bike, standing up on the pegs, and putting a lot more effort than you would on a typical road tour.
For that reason we've found that one of the major differences between cheap motorcycle goggles and a truly great pair is ventilation. Offroad work is sweaty, but a good pair of goggles will both wick and dispel moisture faster than you can make it.
Two main factors effect how well a goggle handles moisture: The foam around your face, and the open areas around the frame of the goggle.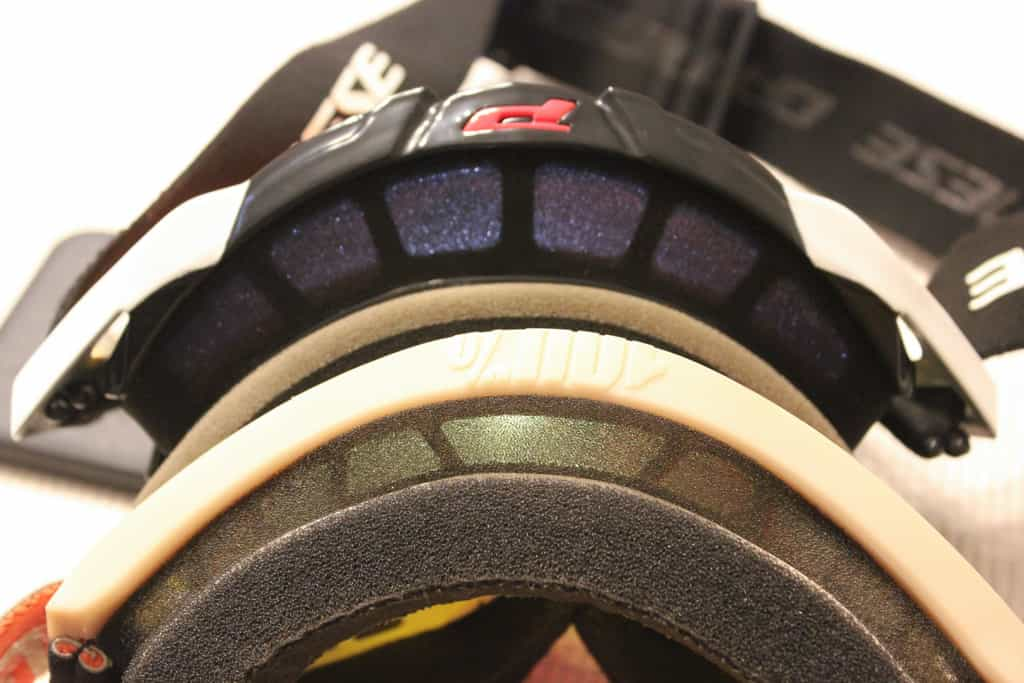 "Here's a pair of super-frugal 100% Strata 2 goggles next to a pair of Pro Grip Vistas. Note the larger eyeport vents and dual foam layer of the Pro Grips."
As for the face foam, premium goggles typically use two if not three layers of multi-density foam, all of which work together to ensure a good comfortable fit around your face while also providing the most effective moisture-wicking possible as sweat drips down from your brow.
You'll also typically find a strip of wicking fabric adhered to the outside of this foam, which provides a softer feel against the skin.
In terms of the frame vents, the best motorcycle goggles have large openings distributed around the perimeter of the goggle, which are then covered with a simple thin layer of foam to allow air to flow while also filtering out fine dust and debris.
More premium designs will incorporate larger and more free-flowing channels between the outer goggle and your face, which further boost moisture management and fog prevention.
Lens Options
There's more to choosing a lens for your motorcycle goggles than finding a color to match your style.
Dark tinted and/or mirrored lenses help keep glare down in bright sunlight, certain colored lenses like yellow, pink, and blue help to increase contrast and make terrain more visible, and good ol' fashioned clear lenses simply "get the job done' night or day.
In addition to the color of your lenses, you'll also want to consider how easily they can be swapped on the fly (dark tint won't do you any favors if you get caught out after dark), how well they resist impacts and scratches (because roost happens), and how well they resist fogging.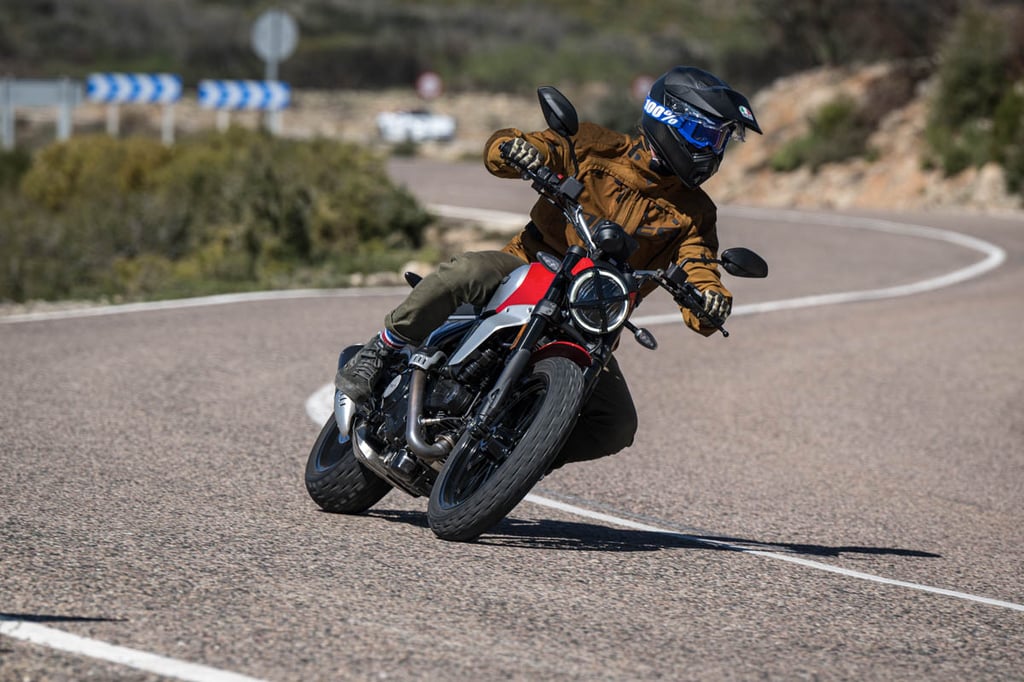 "Goggles are mainly an offroad consideration, but they're great for extra airflow on the street too." Photo: Ducati
Finally, if you intend to do any racing, aggressive trail riding, or just riding in particularly sloppy conditions, you'll also want to consider getting a lens for your motorcycle goggles that's compatible with tear-offs.
If you're not familiar with tear-offs, they're essentially single-use plastic lens covers that can be stacked over the lens of your goggles and then "torn off" on the fly as they get caked with dirt.
Most adventure riders have little or no use for tear-offs day to day, but it's always nice to have the option.
Our Top Picks for Motorcycle Goggles
Keeping the above factors in mind, we have a few goggles we've come to love over the last few years that fit the bill better than most. This list is by no means exhaustive, but if we were buying a new pair today, here's where we'd spend our money.
1. Klim Viper
Who said all Klim gear was costly? The Klim Viper is one of our favorite budget-friendly motorcycle goggles on the market, delivering top-shelf features on a bottom-shelf budget.
Our favorite feature of the Viper is that for under $50, you're getting the same premium three-layer foam system found on their flagship motorcycle goggles.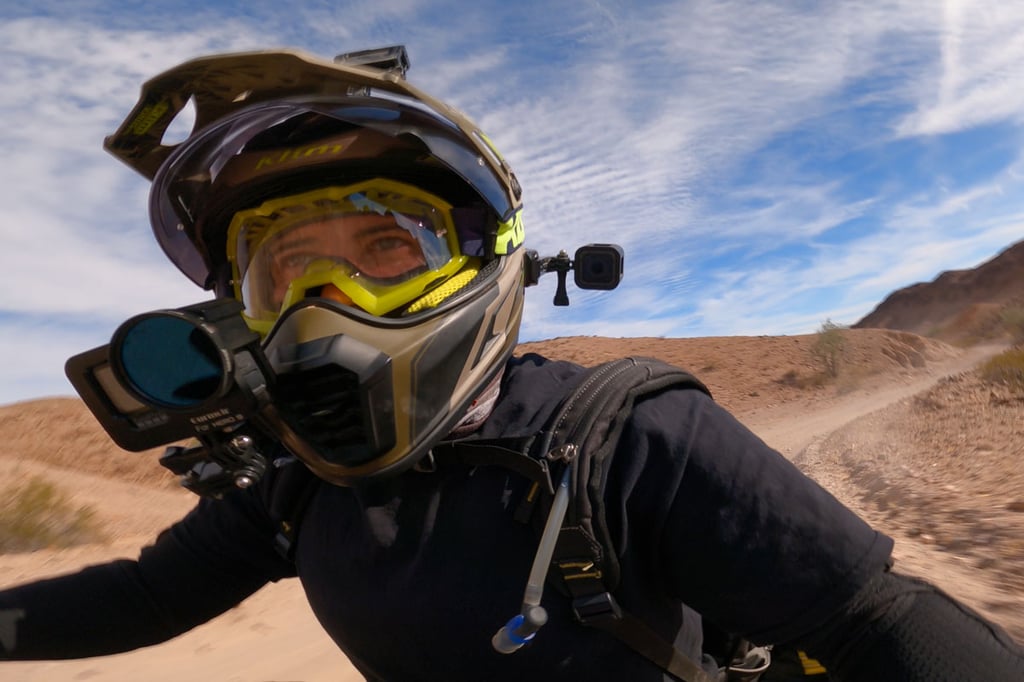 "Garrett on our CABDR Route testing out Klim's motorcycle goggles"
This "Foam3+" design combines a soft antimicrobial face fabric with a layer of soft and extremely absorbent foam, then adds a more dense layer of foam around the frame of the goggle for added longevity.
We'll also note that the Viper uses the most compact frame of Klim's lineup, forgoing the extra-wide straps and large outriggers of other models in favor of a near-universal fitment with any helmet.
Combine that with a scratch and UV-resistant polycarb lens, and you really can't go wrong for the money here.
Pros:
Triple-layer foam on a budget-friendly goggle
Small frame design fits just about any helmet
Outstanding anti-fog treatment
Cons
:
Not the widest field of vision
Limited color/lens options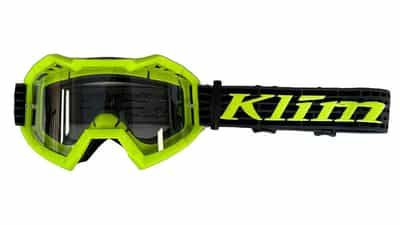 CHECK PRICE:
Klim Viper Motorcycle Goggles


2. 100% Accuri 2
While 100%'s Strata 2 goggle is arguably the most popular motorcycle goggle on a budget currently available, we can't recommend stepping up to the Accuri 2 enthusiastically enough.
For an extra $10-20, you're upgrading to three-layer face foam, a thicker and more secure strap, and improved ventilation thanks to the addition of two vents to the front of the goggle frame.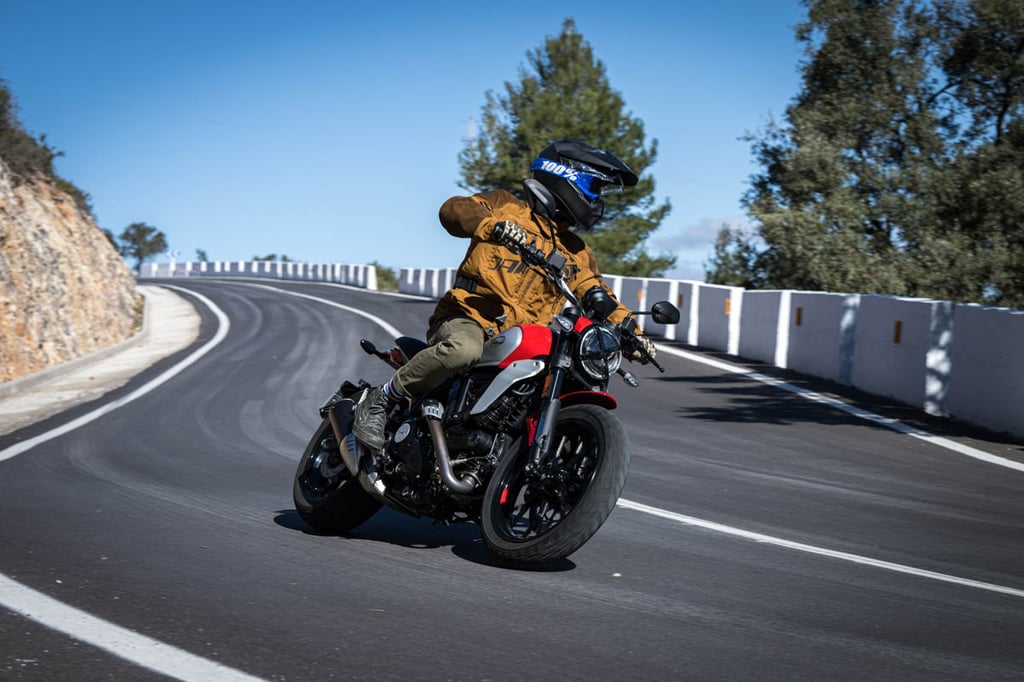 "The Strata 2 motorcycle goggle in action" Photo: Ducati
We've owned both models and while the Strata 2 is a great option on an absolute shoestring budget, the Accuri 2 is by far the better deal in our eyes.
We'll also note that 100% uses the exact same lenses found in their more expensive Racecraft 2 goggle in both the Accuri and Stata offerings, which means you can get the same great clarity and field of vision for a lot less money.
Unlike the Racecraft, however, the Accuri 2 doesn't feature outriggers, so we've been able to fit it into every adventure helmet we've tested to date from the budget-friendly Bell MX9 ADV to the super-premium AGV AX9 Carbon.
Pros:
Outstanding performance for the money
Compatible with most ADV lids
Great field of vision for a smaller frame goggle
Cons:
Lens swaps aren't the fastest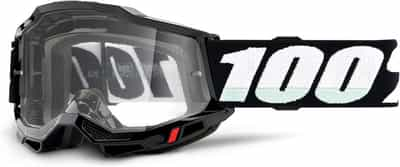 CHECK PRICE:
100% Accuri 2 goggles

3. 100% Armega
If you want for the cream of crop when it comes to motorcycle goggles, you need look no further than the 100% Armega. This is a top-spec race goggle that lacks nothing in terms of features and technology, and a tough one to beat from an outright performance standpoint.
You name it, you'll find it here. Ultra high-definition injection-molded lenses, a quick-release lens swap system, massive intake and exhaust ports for ventilation, and even a removable nose guard for the roost-adverse.
The optical clarity and field of vision on offer here are downright impressive, but what really sets the Armega apart is its moisture management.
Using a combination of perforated three-layer foam and a unique molded "sweat channel" between two layers of the frame, the Armega is arguably the closest thing to a sweat-proof goggle money can buy, which will be worth every penny for hardcore offroaders.
Pros:
Quick swap lenses with outstanding optics
Advanced ventilation/sweat management technology
Outstanding fit and comfort
Cons:
Pricey
Large frame/wide outriggers won't work with most visors
Additional lenses/tear-offs sold separately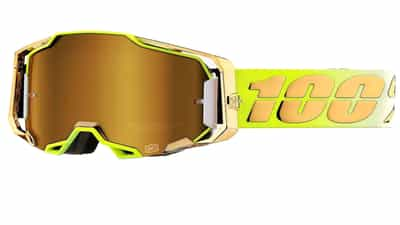 CHECK PRICE:
100% Armega Goggles

4. Klim Rage Goggle
While we're on the topic of hardcore off-road goggles, we'd be remiss if we didn't mention our favorite option from Klim, the Rage motorcycle goggle. If anything can hold a candle to the 100% Armega above, this is the one.
We'd actually give Klim the advantage here when it comes to quick and easy lens swaps. The Rage uses an insanely quick single-clamp design, allowing you to pop lenses in and out as conditions change in a matter of seconds.
The lenses themselves are also an advanced injection-molded design, and boast comparable optics to all but the most premium "HiPER" lenses available from 100%. Ventilation is also outstanding here, and while the Klim Rage lacks the advanced sweat port of the Armega above, you'll be hard-pressed to find fault with it even in the gnarliest conditions.
Pros:
Tons of goggle for the money
Stupid fast lens swap system
Work with prescription eyeglasses
Cons:
Large frame/outrigger setup is too large for most ADV helmets, including the Krios Pro.
Great value, but by no means inexpensive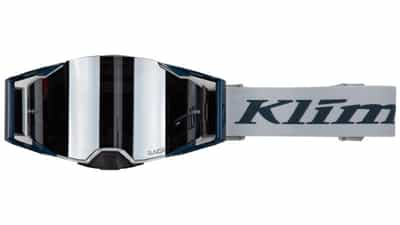 CHECK PRICE:
Klim Rage Goggles

5. Leatt Velocity 4.5
Last but not least, the folks at Leatt deserve a round of applause for their most affordable offering, the Velocity 4.5 motorcycle goggle. This is the most budget-friendly goggle on our list, yet it also has one of the most impressive lenses money can buy.
Why is that, you ask? Well, for starters, the Velocity 4.5's lens is literally bulletproof, and a quick google search will confirm this as Leatt released a video of them shooting the Velocity with a 22-caliber pistol.
Second, the Velocity 4.5 gets a dual-layer lens with an anti-fog treatment sandwiched between the panes, which translates to permanently fog-free optics similar to the Pinlock systems we've been using and loving on our face shields.
We'll also give the Velocity props for its near-universal fitment. This is a smaller-frame goggle without outriggers, which means it'll work with just about any ADV-style lid, face-shield included.
Leatt still managed to pack an impressive 170-degree field of vision into the Velocity's frame though, so there's no doubt this should be a top contender for the money.
Pros:
Great lens for the money
Works with most all helmets
Over the glasses fit comes standard
Cons:
Lenses are a little tricky to swap
Dual-layer rather than triple-layer foam

CHECK PRICE:
Leatt Velocity 4.5
Closing Thoughts on Motorcycle Goggles…
Obviously we don't need to sell all the dirt junkies, hard-enduro enthusiasts, and motocross wizards out there on the utility of a good pair of motorcycle goggles.
For anyone else spending a decent amount of time exploring offroad, however, you're really missing out if you've yet to give goggles a chance.
As you've read above, a good pair of goggles can easily be the least expensive piece of gear in your kit, yet also one of the most useful. There are plenty of options out there that work flawlessly alongside helmets with face shields, even if you're already wearing a pair of glasses under your lid.
Pick up a pair, take 'em for a spin, and let us know what you think in the comments below.
→Read More: 5 Best Motorcycle Luggage Options for the Long Haul and ADV Offroad & Street Training.