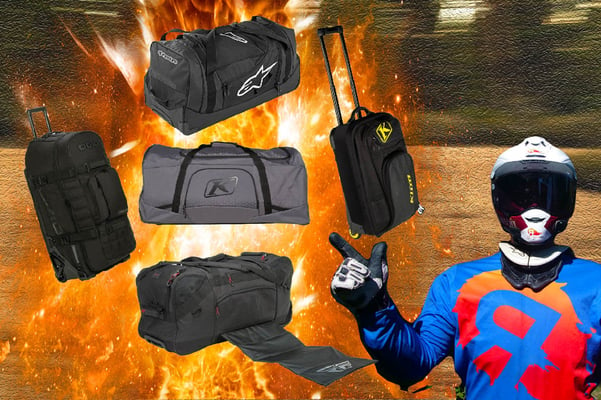 Disclosure: RIDE Adventures is a participant in the Amazon Services LLC Associates Program as well as other affiliate programs, designed to provide a means for us to earn fees by linking to Amazon and affiliated sites at no extra cost to you. Please see our Disclosure for more details.
You spend a lot of money on your gear. If you're planning on subjecting it to the horrors of airline travel, you'll want a motorcycle travel bag to protect your investment.
You're sitting on a plane getting ready to take off. You're a smart traveler with a reasonably-sized bladder, so naturally you're sitting in a window seat to enjoy the view and a little extra elbow room.
Maybe you're flying to South America to enjoy our Full Patagonia Adventure with a few friends... Maybe you're getting ready for the long-haul out to Chiang Mai to experience our breathtaking Northern Thailand Experience...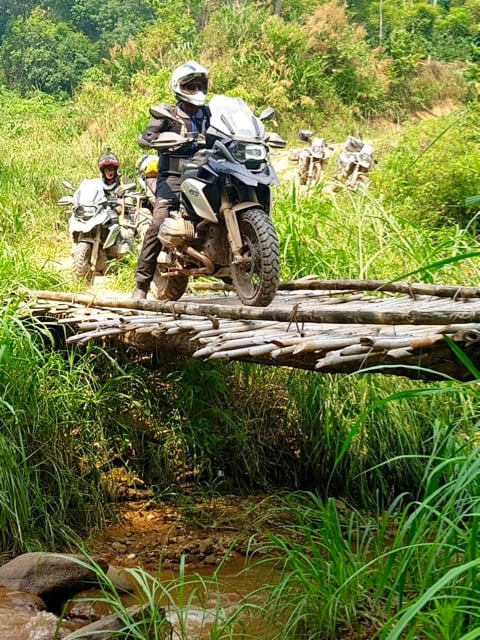 "Our Customers crossing a bamboo bridge while on our adventurous Thailand expedition"
Wherever you're headed, you happen to glance out the window and see something that puts your stomach in knots for the rest of your flight: Your duffel bag full of expensive motorcycle gear flying through the air and crashing down (bottoms up) onto the baggage conveyor.
Is your helmet scuffed? Did your GPS screen shatter? Has your adorable travel-sized container of Q-tips come open and spread throughout your luggage? Reckon you'll find out when you land...
This is precisely the situation we want to avoid, and a motorcycle travel bag is precisely the solution we're looking for.
What to Look For in a Motorcycle Travel Bag
Ok, so we've established there's a difference between a giant duffel and a proper motorcycle travel bag, but what makes one superior over the other for two-wheeled travelers? Here's what we look for when choosing a gear bag for one of our tours:
Motorcycle Travel Bag Capacity
It's easy to forget just how bulky motorcycle gear is until you try to cram it into a bag. Helmets alone often take up nearly half of a sizable duffel bag, and you've still got boots, gloves, and protective outerwear to account for.
For this reason, we recommend starting your search for the right motorcycle travel bag by looking at capacity. Your individual capacity needs depend on the type of gear you own, and while there's no one-size-fits-all solution here, we believe too much room is always better than too little.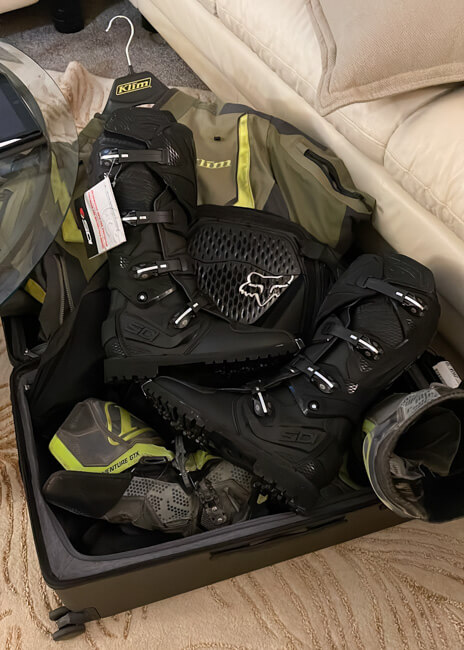 "It's easy to hit those luggage capacity limits with motorcycle gear"
For your typical adventure gear loadout (tall boots, ADV helmet, goggles, gloves, jacket, and pants), you're likely to need about 100 liters of capacity, and even that requires some creative packing. Not all manufacturers list their capacity in liters, but the sweet spot for most riders is about 125 liters, for reference.
Specialized Compartments
One of the major characteristics separating a dedicated motorcycle travel bag from your run-of-the-mill luggage are motorcycle-specific compartments, specifically for boots, helmets, and goggles.
Any motorcycle travel bag worth buying should have a specific compartment for your boots which is completely separate from the rest of your gear. This gives you a safe place to store wet/muddy/stinky footwear in transit without worrying about getting the rest of your gear wet/muddy/stinky.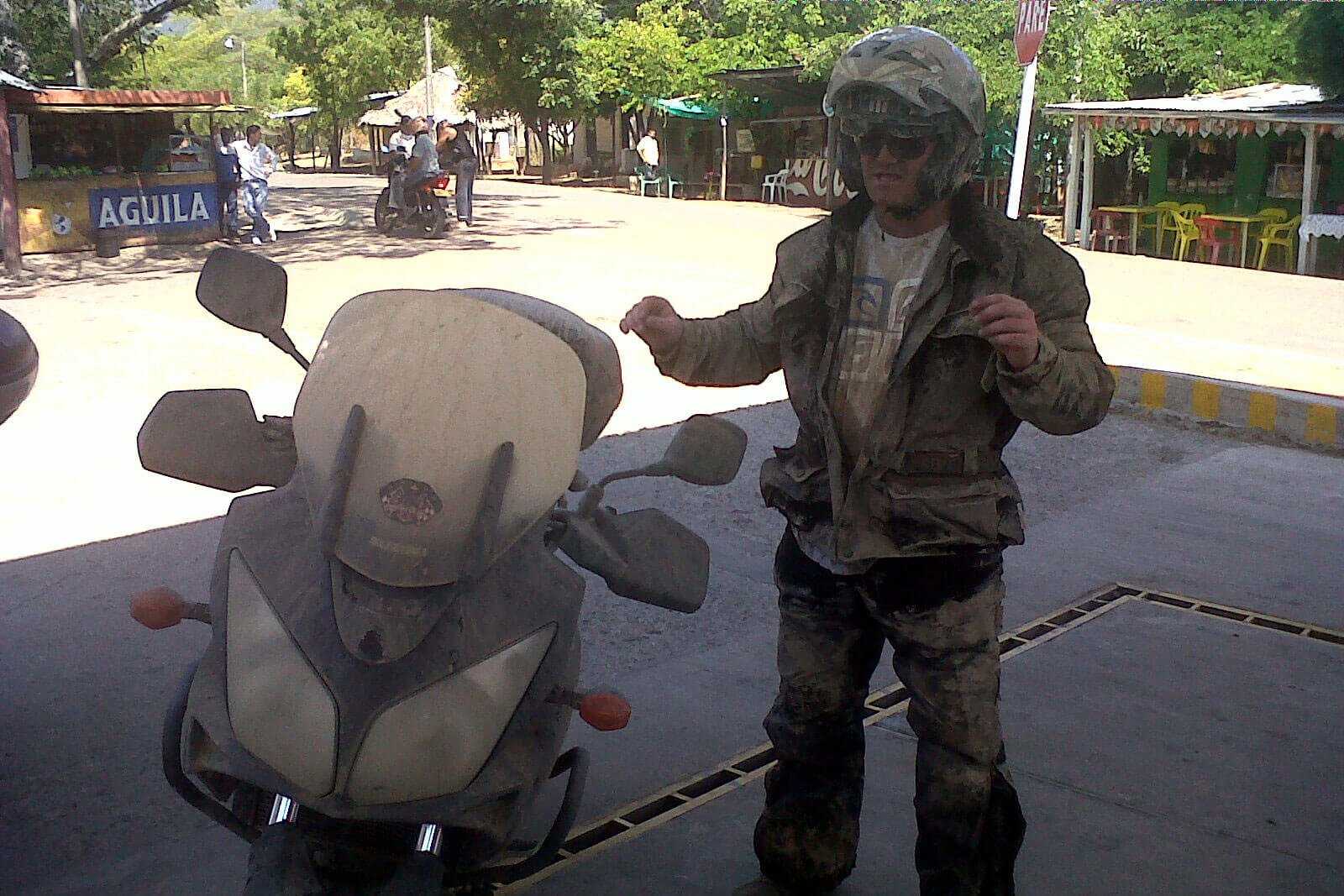 "Like this guy is definitely going to need separate compartments in his motorcycle travel bag"
Some models do this by dedicating an entire zippered-off portion of the bag to just boots, which others do it by including a separate standalone "boot bag" to achieve the same outcome. Personally we prefer the separate boot bag approach for ease of cleaning, but either both designs get the job done.
As far as helmet compartments are concerned, our favorite models both separate and protect your helmet by sectioning it off from the rest of your bag with padded dividers.
A well-made helmet compartment removes the need for traveling with a separate helmet bag, which simplifies your load out and minimizes our baggage fees.
Goggle pockets can be either on the interior or exterior of the bag. Regardless of where they're located, you'll want to ensure they're lined with fleece to protect your eyewear from annoying scratches and scuffing.
Airport Friendliness
Most riders shopping for a motorcycle travel bag are looking for a way to fly with all their gear, so we recommend looking for a bag that'll work well with air travel.
In our book that means you'll want a bag that (a) has wheels and (b) is tough enough to survive the rigors of being constantly loaded and unloaded (read: thrown) to and from an airplane.
The wheels part is self-explanatory for anyone who's traveled with a roller bag before, but we put an emphasis on durability mainly for the sake of your helmet, which is designed to protect against one serious impact before being replaced.
For this reason we recommend looking for a motorcycle travel bag that includes as much additional padding and rigid support/protection as possible, particularly on the underside of the bag, which will take the lion's share of the shock and abrasion from conveyors.
Our Top Picks for the Best Motorcycle Travel Bags
Taking the above "basics" into account, we've pulled together a few of our favorite options for gear haulers into the list below. From heirloom-quality bags that cost more than some helmets to budget-friendly luggage with a focus on the essentials, here are our five favorite ways to get your gear from A to B.
1. Ogio Rig 9800 Pro
Most moto-travelers would agree that Ogio's original Rig 9800 was by far the best motorcycle travel bag on the market for those that could afford it. The Rig 9800 Pro improves on the Rig 9800 formula by adding some extra pockets, even beefier construction, and a high-quality boot bag into the mix for a few dollars more.
Capacity is essentially the same at 125 liters total, which we've found is ideal for a full suite of off-road gear including your helmet, boots, knee braces, body armor, and neck brace. We're also particularly fond of the Rig's helmet pocket divider, which carves out a separate space for your lid at the top of the bag with a little extra padding for protection.
Speaking of padding and protection, the Rig 9800 Pro sports some of the best in the business, and we love Ogio's "iFOM" construction, which incorporates a layer of protective foam backing throughout the bag. The 9800 Pro also includes Ogio's trademark "SLED" system, which is a hard molded decking on the underside of the bag that helps it maintain its rigidity and also serves as an uber-durable layer of hard armor that greatly extends the life of the bag.
Aside from the Rig's price point, we really don't have any complaints with this bag. It's expensive, but you're getting the toughest motorcycle travel bag in the business, which is now tougher than ever and even includes a high-quality boot bag for the money.
Pros:
Ideal 125-liter capacity
Padding and armor protect gear from damage
Separate boot bag included
Cons: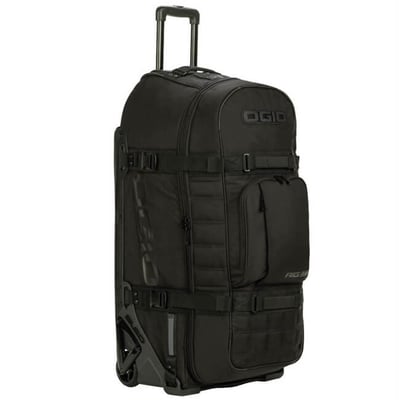 CHECK PRICE:
OGIO Rig 9800 Pro
2. Klim Wolverine Carry-On Bag
Unless you're planning to wear your boots, helmet, and riding suit onto the plane to save money (yes, we've seen it happen), you'd be wise to resign yourself to checking your bulky stuff and carrying the more packable items onto the plane. If you want a carry-on bag to match the toughness of a hardcore adventure duffel, Klim's Wolverine is the one to beat.
So what makes the Wolverine so special? Well, for starters, Klim built the Wolverine's internal structure entirely from molded EVA polymer rather than the thin plastic and wood composite structure found on cheap luggage, so it's built to last and then some.
You'll find the same quality construction throughout the bag as well, from the beefy YKK zippers to the heavy-duty grab handles and oversized wheels. In addition to being well built, we also appreciate how well organized the Klim Wolverine is with multiple quick access exterior pockets (one of which happens to be fleece lined) and a well thought out system of interior dividers.
The main thing to keep in mind here is that Klim designed this specifically as an airline carry-on bag, so its total capacity is limited by airline regulations. That means you won't be stuffing your helmet and/or boots inside this motorcycle travel bag, which can make the price tough to swallow, but for what its worth, the Wolverine is the last carry on bag you'll ever have to buy.
Pros:
Incredibly rugged construction
Makes the most of carry-on approved dimensions
Fleece-lined exterior pocket for goggles/eyewear
Cons:
Not enough capacity for larger gear
Expensive for what it is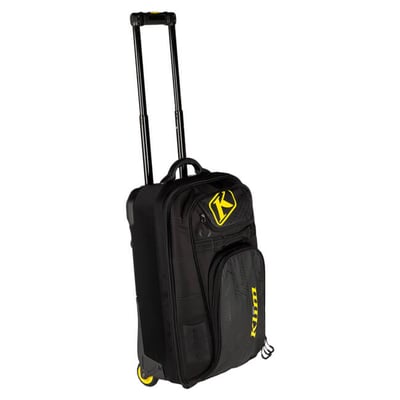 CHECK PRICE:
Klim Wolverine Carry On

3. Alpinestars Komodo Gear Bag
Few companies know moto quite as well as Alpinestars, and the Komodo is the Italian manufacturer's take on the premium motorcycle travel bag. They've thought of just about everything with this one, and the Komodo's moto-specific features are some of the best we've seen.
For starters you're getting a full 155L of capacity, which is large even by gear bag standards, and the largest on our list overall. That includes a large ventilated compartment for boots (along with a waterproof storage bag), as well as a main interior pocket with adjustable padded dividers to keep your helmet as protected as possible in transit.
Size and organization are top notch, but another place where the Komodo really earns its keep is durability. Alpinestars includes hard armored bumpers on the bottom four corners of the bag, and they also built the bottom and sides of the bag out of incredibly thick (and waterproof) tarpaulin to keep your gear protected from both abrasion and weather.
We think of the Komodo as a smart choice for travelers who want a premium and fully-featured bag, but aren't quite ready to drop $300+ on an Ogio Rig. It isn't quite as protective, but the overall build quality and feature set are some of the best in the business, and who wouldn't want a bag to match their shiny new Tech 10 boots?
Pros:
Extra large 155L capacity
Rugged and weather-resistant construction
Excellent modular internal organization
Cons:
Expensive
Size is overkill for some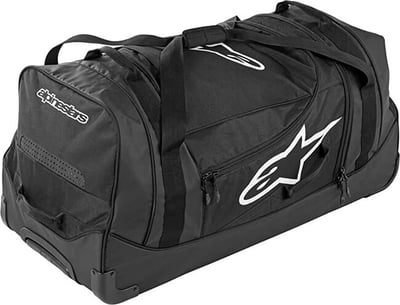 CHECK PRICE:
Alpinestars Komodo Gear Bag

4. Klim Team Gear Bag
Klim gear has a well-earned reputation for being expensive, but believe it or not, the Klim Team Gear Bag actually made our list for its quality-meets-affordability appeal.
Reading through the Team Gear Bag's spec sheet, you'd be excused for thinking this was one of the most expensive bags in our lineup: From its incredible 150L of space to its integrated changing mat, ventilated boot storage pocket, and modular internal helmet divider, there's no reason to doubt this motorcycle travel bag goes for well over $200, but alas...
Klim even includes features on their Team Gear Bag that other premium options lack including a waterproof rain cover and tie town points for hauling it on a roof rack or inside a truck bed. We also appreciate the Team Gear Bag's rigid base and integrated roller wheels, which look and feel like they'll last for years of hard travel.
Our main complaint with the Klim Team Gear Bag is that although it does include a rigid molded base, it doesn't have the same amount of structure that options like the Ogio Rig and Alpinestars Komodo above bring to the table. This makes it a bit less protective and more likely to tip and fall over when parked on its wheels, but considering the cost savings, both are welcome tradeoffs for this much quality.
Pros:
Outstanding quality, capacity, and features
Waterproof rain cover included
Great value for the money
Cons:
Lacks the padding and structure of more expensive bags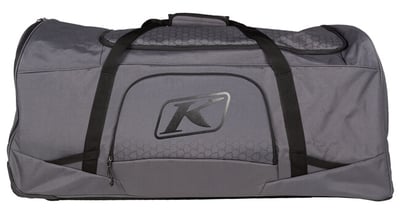 CHECK PRICE:
Klim Team Gear Bag

5. Fly Racing Roller Grande Motorcycle Travel Bag
If you're looking for a reliable gear hauler on a budget, Fly Racing's Roller Grande is an airport-friendly motorcycle travel bag that'll leave a few extra dollars in your bank account for in-flight beverages.
We're fans of the Roller Grande as a budget pick because although it costs a bit less than the competition, it still delivers an impressive amount of travel-focused features. Capacity certainly isn't an issue here, as the Roller Grande sports a solid 125 liters of storage space.
In addition to its healthy size, we also love that Fly includes a large vented pocket on either side of the bag. These are great for letting muddy boots/gear "air out" without getting too funkified in transit, and also make it easy to keep dirty items separate from your other gear.
You're also getting a fleece-lined goggle pocket, an integrated "mud mat" that folds up into the center of the bag, and a sturdy set of smooth-rolling wheels for easy transport. Truth be told the only real drawback we see with the Roller Grande is that its PVC-backed polyester construction doesn't feel quite as tough as more premium options we've tested, but it still feels plenty strong enough to survive the abuses of your typical airline baggage check.
Pros:
Great price
Plenty of space
Multiple ventilated pockets for dirty boots/gear
Cons:
Doesn't feel as tough as some premium options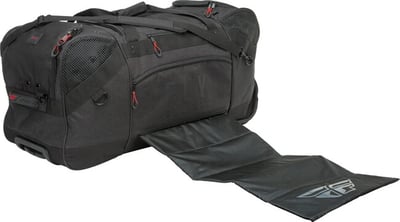 CHECK PRICE:
Fly Racing Roller Grande
Closing Thoughts on Motorcycle Travel Bags…
While traveling with motorcycle gear will never be the highlight of your trip, it shouldn't be a headache either. A good motorcycle travel bag takes all the guesswork out of how and where to pack your bulkiest gear, while also keeping crucial protective equipment like your helmet safe from loss and damage.
Motorcycle travel is our business, and we've been at it at for well over a decade at this point. Take our word for it here: Having a place to separately store your nasty boots after a week on the road is well worth the price of entry alone!
→Read More: 5 Best Motorcycle Luggage Options for the Long Haul and Best Motorcycle Helmet Bags.